Most of us left our sitting in the sun until we sizzle addiction where it belongs – in 2010, along with sun protection of less than SPF 30 and tan accelerators that turned our pale skin purple. Nowadays, we're all clued up about the importance of safe sun; long gone are the days where we would pass a tub of baby oil around the beach as if it were a bottle of Sauvignon Blanc.
Still, when the nights slowly draw in and the weather's vitamin D levels are just not cutting the mustard, our pasty skins are in dire need of some colour from somewhere. And so, here's where fake tan comes in…
Image Source/Independent
False tan ALWAYS seems like a great idea. Then you wake up sticky, streaky and smelling like a tin of dog biscuits. And then you get out of bed to find your entire bed sheets ruined by your orange murky mess. Sound familiar? Well, we've come up with the very best fake tans for tanning amateurs, when time is of the essence or when you just want a natural hint of colour. Trust, the tanning industry has come a LONG way since the days of palm-staining, stinky lotions.
Best For Dry Skin
St. Tropez Self Tan Bronzing Water Gel, £33
The lightweight water gel is infused with hyaluronic acid (aka ultra hydrating formula) so it feels more like a moisturiser than a tan. Oh – and there's the added bonus of a glowing tan in less than three hours.
Image Source/Look Fantastic
Best For Face
Lumene Nordic-C Midsummer Glow Self-Tan Drops, £25.90
Hot off the press, this face tanner is designed to be added to your favourite moisturiser. You simply add a few drops, mix together and massage into your face. It won't turn your super orange or be too pale as it complements your skin tone; its progress and leaves you with streak-free skin.
Image Source/Lumene
Best For Sweet Smelling Skin 
James Read Coconut Dry Oil Tan, £25
When it comes to smelling like holiday mixed with pina colada, this water mist is tough to beat. Plus it provides a tropical glow.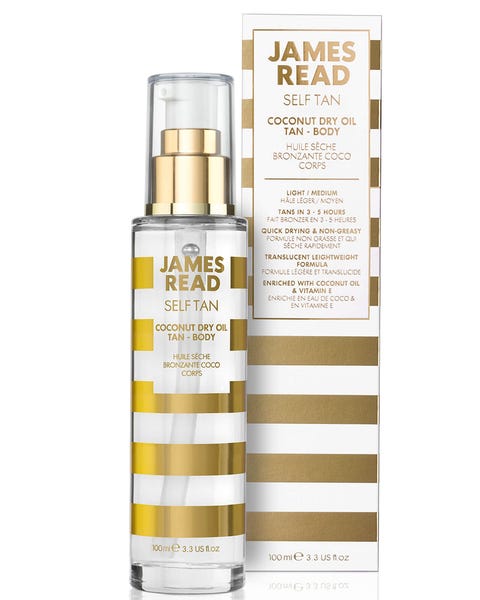 Image Source/Look Fantastic
Best For Legs
This Works Perfect Legs Gradual Tan, £38
As the name implies, it really does work. The Perfect Legs Tan is natural with a hint of shimmer.
Image Source/Net A Porter
Best For A Budget Buy
L'Oreal Sublime Bronze Gradual Self-Tan Body Lotion, £6.99
Giving a healthy glow and streak-free covering, without the need to spend loads of money. Smells really good too!
Image Source/Chemist Direct