Kim Kardashian
(Image source/ Daily Feed)
Kim Kardashian – the world's most followed fashion icon and beauty…started out like this. There's hope for us all yet. We all have one of those gawky high school pictures that haunts us. What we didn't realise that even the icon Kimmy K also has one too.
NOW
(Image source/ Daily Feed)
NOW
Now look at her…she's hardly recognisable from the previous photo. But, we can see why she's become a trend setter of pretty much the entire world. She is the definition of a glow up. And, of course some of that is about having a lot of money and a world's best makeup team following her around.
Lady Gaga
(Image source/ Daily Mail)
Whatever Lady Gaga was thinking with these eyelashes we are not sure… Can they even be clashed as lashes. Or shall we just call them bushes. But what we do know is that even this super star wasn't always so glamorous. – even if her fashion choices remain questionable
NOW
(Image source/ Glamour)
Now this is a very understated look for Lady Gaga which she does seem to be doing more and more now. And it definitely suits her (thank goodness she ditched the HUGE lashes) But we don't think that all of these changes are entirely to do with just a different makeup regime…
Rihanna
(Image source/ Daily Feed)
Rihanna…what can we say. We did not expect that this was a picture from one of the world's most beautiful celebs. And when this photo was leaked, she was not at all happy, to put it lightly. It's reassuring to know that even young Rihanna got pimples.
NOW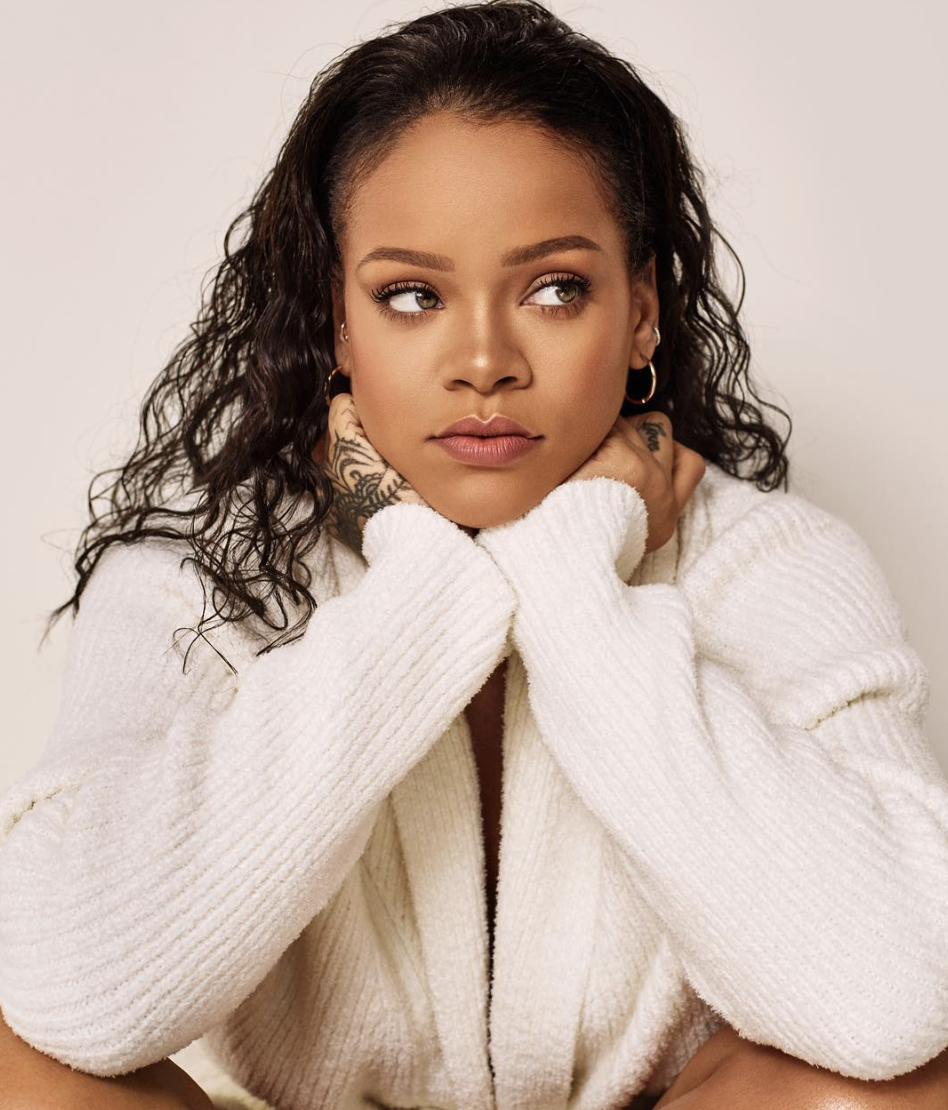 (Image source/ Daily Feed)
Here's the Rihanna we've all come to know and recognise. Not a hair or a spot out of place on her perfect head. It just shows what the power of money can do with the best beauticians/ products and facials that money can buy. At least we have an excuse…
Cristiano Ronaldo
(Image source/ Daily Feed)
Doesn't it make you feel better to know that RONALDO – the hunkiest hunk ever (2012s sexiest man alive) was once a goofy teenage kid too. It really is a wonder what the power of money can do. He's literally bought himself an entire new set of pearly whites.
NOW
(Image source/ Daily Feed)
Now here's the Ronaldo we all love…and fantasise about. Tall, dark and handsome. From the previous photo who would have known that this was the potential he had all long. Well, potential helped along massively by all the money he could possibly need.
Nicki Minaj
(Image source/ Daily Feed)
This was actually a mugshot from back in 2003 when she was arrested on the grounds of carrying a weapon with the intent to use it. Minaj wasn't best pleased when this photo resurfaced years later after she had already had a major restyle and complete revamp to what we know now.
NOW
(Image source/ Daily Feed)
Recognise her? Just about. From mugshot to international superstar… Thankfully she decided to drop the weapons and pick up a mic instead and as the money came flooding in, she decided to get herself a completely new look. Her makeup is certainly on point.
Adam Levine
(Image source/ Daily Feed)
If we hadn't already had told you, would you actually have ever known that this really was the famous Maroon 5 singer Adam Levine? We wouldn't. And not only is his look here in definite need of improving but he's also pulling a kind of creepy expression…
NOW
(Image source/ Daily Feed)
Now this is more like the Adam Levine we know. Someone clearly wanted a total new rebrand when he became a famous popstar. We're kind of glad about the haircut. It definitely compliments his chiselled features more and we are big fans of the short beard.
Taylor Swift
(Image source/ Daily Feed)
We can all relate to this one at least. Did you even go on holiday as a kid of you didn't end up with these kinds of braids? We love her cute and innocent look. All before she realised she would become one of the most successful female pop stars and make millions…
NOW
(Image source/ Daily Feed)
Whatever she invested in… we'd love to know what it is. She's definitely one of the most natural celebrities, but there's no denying that she has changed. And we are sure that money has had a lot to do with it even if it does look like she hasn't had much plastic surgery.
Chris Pratt
(Image source/ Daily Feed)
Okay…HOW adorable are Chris's red/brown curly locks in this photo. Who knew that the hunk we know today used to be so cute. Then again, he probably prefers to be known as the former rather than the latter. His stylist really came through with Chris Pratt's appearance.
NOW
(Image source/ Daily Feed)
Who prefers this look? Okay, yeah, the majority of people will certainly prefer Chris Pratt in this handsome way. So, it was definitely worth the money and the stylists. When you're a successful actor you get the very best of the best people working on you.
Zac Effron
(Image source/ Daily Feed)
We're all familiar with this guy (we know you had a poster on your bedroom wall too, come on). Effron seemed to go through two stages of extreme blossoming. One was when he appeared in High School Musical, and all the teenage girls fell in love with him. And then he seemed to glow up again into a real adult…
NOW
(Image source/ Daily Feed)
Now this is what we mean. Surely Zac Effron hasn't just gone through the normal teenage to adult glow up and puberty. He's had the help of all the beauty and fitness experts he could ever want. Whatever his secret is – there's no denying that it certainly worked.
Jennifer Anniston
(Image source/ Daily Feed)
Wow Jen…now this is a hair do and a half. We can see that the clear intention behind this hairdo was volume, volume and more volume. Probably the back-combing method – it's the only explanation for all that fuzz. We can still (just about) make out her pretty face behind all of that hair.
NOW
(Image source/ Daily Feed)
We're happy to say she's gone with the slick hair do. And it appears that she's one of those people who just blossoms with age. Infact, she gets better and better. Funny how celebrities manage to do that as though they're getting younger when everyone else starts to go grey and wrinkly….
Kylie Jenner
(Image source/ fabbon)
Kylie Jenner's drastic change in look has been a hot topic for many years now. This was amongst many photos which kept popping up as she continued to deny she'd never had work done. Thankfully, she finally realised it was no longer deniable and admitted to the work.
NOW
(Image source/ buzzbeagle)
Because let's face it, who looked at Kylie's transformation and believed it was natural in the hopes that we might too one day wake up and appear absolutely immaculate with half of our face changing? She's amongst many of the Kardashians who spend a hell of LOT of on how they look.
Megan Barton Hanson
Image source/ Glammag
Megan Bartin Hanson does look pretty unrecognisable in this photo. This was before she rose to fame, and before she spent a LOT of money investing into her appearance. There's not much about her now that looks anything like this photo. She did reveal that it cost thousands.
NOW
Image source/ The cheat sheet
See, is this the same girl? Apparently so, because she's been very open about how she spent a lot of money on plastic surgery to get to a point where she looked exactly the way she wanted to. Included in this was a significant number of facial changes and also a breast enhancement procedure.
Ariana Grande
Image source/ hawtcelebs
Ariana definitely got away with that awful teenage phase of looking pretty terrible and being caught in between that goofy lanky kind of state. She's always looked good. That being said, how she is now is definitely far from what we can see in this picture.
NOW
Image source/ bustle
See, don't we all wish that we had Ariana's look. She's one of those people who manages to look effortlessly beautiful – even if it took a lot of time and money to look like that. We only wish we had a makeup team like this on hand at any time we wanted.
Christina Aguilera
Image source/ Dailymail
This look of Christina Aguilera is comfort to all of us who suffered that terrible stage in the beauty standards where for some unthinkable reason we all thought we should overpluck our brows into non-existent thin lines on our heads. Thankfully money has allowed hers to grow back which is more that can be said for a lot of us…
NOW
Image source/ blogspot
Well, they're still thin but nicely shaped. And she's still gone for the same kind of smokey eye look but her flawless skin is apparent here. And, for a 41-year-old she has not a single crease on her head. Botox is definitely amongst the things Aguilera has invested in.
Heidi Montag
Image source/ Glamouruk
We have to say, Heidi looked glamourous even before she got all of her money and spent a heck of a lot changing her appearance. Here she definitely looks more natural here. The only thing we would say is that that eyeliner look is very heavy. But…each to their own.
NOW
Image source/ Glammag
Yes, she looks great and very glam. But sometimes you can have too much done and end up messing with the natural gifts you are given. Heidi opened up about having several cosmetic procedures done to her face as well as having a boob job and a bbl. That must be the temptation of having an awful lot of money and living in a culture of celebrities where comparisons to the next person are rife.
Kendall Jenner
Image Source / The Tab
Kendall Jenner had very similar looks to Kylie when she was younger – the thinner lips (though she showed off great shades of lip gloss!) and a baby face with brunette hair. She also seemed to favour a brighter colour palette for her face.
NOW
Image Source / Glamour
Needless to say, Kendall Jenner is now a style and beauty icon. She does appear to have work done on her lips, but she actually looks like she's had quite a natural glow-up compared to some plastic surgery cases. But it's great when you can afford it, right?
Ellie Brown
Image Source / The Tab
Ellie Brown (on the far right) from reality TV fame went into Love Island as a pretty blonde. She had a smaller physique (and smaller boobs) appeared to wear a highly different style of makeup and looks like a completely different person to what she does now!
NOW
Image Source / The Tab
It seems Ellie Brown has had a boob job for starters since leaving the villa. Her makeup style is also different, and her thicker and fuller eyebrows have completely changed the style of her face!
Laura Anderson
Image Source / The Tab
Television personality Laura Anderson, and another Love Island alumni, used to let out her natural skin, particularly with her blanket of pretty freckles. She also had darker hair and natural lips, opting for a more 'natural' make up look/no makeup altogether.
NOW
Image Source / The Tab
You wouldn't even think this was the same person! Not a freckle in sight, for starters, and she's opted for bright blonde hair instead of her natural colour. She's also clearly had lip fillers in and now opts for bolder and brighter makeup shades.
Amber Davies
Image Source / The Tab
Amber Davies was the winner of a previous series of Love Island, on which she appeared with a more petite face shape, thinner eyebrows and a more 'natural' look when it came to makeup shades and her brunette locks.
NOW
Image Source / The Tab
Now, Amber Davies – who is also an actress – has a much fuller face, a thick head of hair which has been lightened to blonde, and also does her makeup very differently. She now appears to have freckles where she didn't before, as well as much fuller eyebrows – which we all know, completely changes your look!
Charlotte Crosby
Image Source / The Mirror
TV personality Charlotte Crosby has undergone probably one of the most dramatic changes due to plastic surgery. She looks nothing like she used to do, when she had brunette locks, very thin lips and very thin eyebrows.
NOW
Image Source / The Tab
Charlotte has completely changed. Her hair is now bright blonde, but that's not even what makes her the most difference. Her lip fillers have plumped up her lips TO THE MAX and changed her face shape, while her eyebrows are thicker and more done. She always wears her makeup a lot differently than she used to.
Chloe Ferry
Image Source / The Tab
TV personality Chloe Ferry, from Geordie Shore and Celebrity Big Brother fame, used to look very different with dark red hair in a straighter style, and natural lips. Her makeup was more natural than it is these days, and her chest maybe a little bit smaller..
NOW
Image Source / The Tab
Is this even the same person? Chloe is now unrecognisable from that first pic with super-duper lip fillers, very blonde hair which is now a far cry from the straight style, shown in this curled messy bun look, and also wears lash extensions. She's possibly had a nose job looking at this pic, but the boob job is for certain!
Little Mix
Image Source / Capital FM
Not only did Little Mix start out looking completely different, they also started out as solo singers before they even became a band. Seeing as they were very young teenagers at the time, it's no surprise they look very different than they do now, with that quirky teenage style we can all relate to.
NOW
Image Source / BBC
Well, now they have money, of course. Which means much nicer outfits, accessories and definitely better hair. While Perri has kept her original blonde locks, the other members have explored with other colours like reds and purples, and some work has been done for Jesy Nelson!
Bella Hadid
Image Source / The Skincare Edit
It's no surprise that a supermodel is going to have undergone a huge transformation from what they looked like when they were younger, and Bella Hadid is no exception. When she was younger, Bella had a very different face shape, most noticeably with her nose.
NOW
Image Source / The Tab
Bella Hadid got plastic surgery when she was growing up, which was a nose job that has drastically altered her face from what she used to look like. Her eyebrows are also now fuller, and of course her flawless makeup choices go without saying when she's a model.
Khloe Kardasian
Image Source / Cosmopolitan
Another one of the Kardashians who looks completely different now than when they were a teen due to all that top dollar, Khloe Kardashian used to have very dark hair and an even more different makeup style.
NOW
Image Source / Eonline.com
A lot of Khloe's differing looks have come from her nose job. She has had face alterations and now opts for a bright platinum blonde look, as well as the latest makeup and style trends, of course. Her lips are fuller and her jawline is sharper.
Blake Lively
Image Source / Insider
Now, Blake Lively was never what you'd call ugly, but she definitely looks different – and looks like a million bucks these days because that's probably how much it cost, at least for the clothes. She's always been a pretty blonde, but one feature looks a little different these days…
NOW
Image Source / Vogue Singapore
Some consider that Lively has had a nose job, which has changed her face shape a little bit. She still has the iconic blonde hair, and her fashion choices are out of this world. But that's easy when you can afford it, right?