Here Are The 50 Most Impressive Airports From Around The World…
50. Changi, Singapore
image source/ national geographic
This airport's renowned as a layover destination for a lot of flight routes- and there's no surprise it's such a hit with travellers stopping by! It houses over 300 shops, 2 cinemas, and even a butterfly garden in Terminal 3. I'd want to go on a holiday just to stop by this airport and say I've been!
49. Denver International, Colorado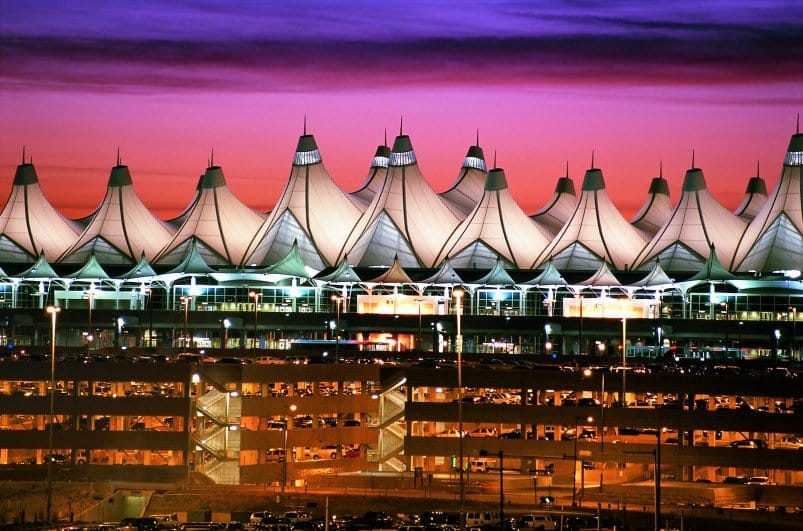 image source/ visit denver
If we're talking just surface area, then Denver airport stands as the biggest airport in the States at more than 33,000 acres (that's TWICE the size of Manhattan's). The airport opened its runways in 1995, after 110 million cubic yards of earth was dug up to house an underground tunnel system to move baggage, the 2nd-largest control tower in the country, and the nation's longest runway- at 16,000 feet. I'd give yourself plenty of time to arrive before your flight leaves- you'll more than likely get lost!
48. Madeira, Portugal
image source/conde nast traveler
Madeira airport wasn't much to write home about up until 2000, when the airport doubled its runway length in quite a dramatic way. The Portuguese didn't mess around, by building a runway extension on top of a 70 foot tall columns that reach out into the ocean. It makes for amazing views when you're taking off and landing!
47. Hamad International, Qatar
image source/ business insider
This one set Qatar back a modest $16 BILLION, but it doesn't take a genius to work out why. This is more of an architectural masterpiece, than just an airport! Qatar's new main airport has everything from a 200-room hotel, to a swimming pool for those needing a quick dip? It also houses a shopping centre and quite randomly, a 23-foot-tall sculpture of a yellow bear.
46. Beijing International, China
image source/ conde nast traveler
This one spans more than two miles in length (let's hope you're not running late for your flight, then!) This makes Beijing's Terminal 3, opened in 2003, one of the longest buildings on the planet. The building was supposed to symbolise a dragon in its design, using colors native to China. The airport boasts a roof that lets sunlight seep through, giving it a more sustainable light source. There's also a garden on the roof of the airport that adds to the picturesque view of the airport that welcomes you as you land.
45. Incheon, South Korea
image source/ youtube
The arc shape of Incheon's main terminal plays off the traditional Korean home design, and means travellers can sit and enjoy the view of the planes landing whilst waiting. Not only does this one look amazing from the outside, you could have a holiday itself just inside its terminals. Home to a golf-course, casino, museum, spa and ice rink, this is one to add to your airport tick-list. It's also usually ranked very highly on the world's cleanest airports, too.
44. King Abdulaziz, Saudi Arabia
image source/ kalzip gmbH
This takes the title of the closest airport to Islam's holy city of Mecca. Its tent-shaped roof has earned itself multiple design awards, and also means pilgrims are shielded from the blistering desert sun, whilst also getting a natural breeze thanks to the nature of the design. They;ve thought of it all here!
43. Barajas International, Spain
image source/ trip savvy
This Spanish airport is one of Europe's largest, dating back to 1927. Madrid's major airport was given a refurb back in 2006, to bring it up to date with current times. The historic building has been transformed by installing domes into the ceiling and using glass panes instead of walls, to allow lots of natural light in and making it more modernised.
42. Wellington, New Zealand
image source/ the guardinan
It's the rock-themed space that makes this one a winner. The lounge, appropriately named The Rock, imitates a rock-like structure that brings something different to the usual structure of airports. New Zealand's airport is a skeptical in itself, never-mind the actual country!
41. Courchevel Altiport, France
image source/ business airport internaitonal
Skiing is all about the jumps and bumps, so this ski-resort's airport is no different: don't expect the smoothest ride when landing into Courchevel's Altiport. If you're flying in to the French Alps for a skiing break, you'll likely fly into here. Be warned: its short runway has bump in the middle which makes for a tricky takeoff and landing.
40. Gibraltar International, UK
image source/ surinenglish
In Gibraltar, a major public road, Winston Churchill Avenue, runs right through the airport's runway which means there's a stoplight to ensure traffic stops and allows planes to land and take off without any interference. With its increasing popularity, there are future plans for a bypass of traffic around the runway, but for now, cars have no choice but to stop and wait.
39. Hong Kong International
image source/ aecom
This one boasts an Aviation Discovery centre and an IMAX. So, you can choose to keep yourself entertained in either, with their interactive rides and plane simulators in their discover centre or at the largest IMAX cinema in China.
38. Helsinki, Finland
image source/ airport tech
This is one for the artists out there! Its 24 hour art gallery and aviation museum keeps travellers entertained while they're waiting. As well as that offering, they also are very technically advanced too with a system that tracks phones to reroute passengers and move foot traffic away from busy areas.
37. Hartsfield- Jackson Atlanta International, Georgia
image source/ skytrax
This one takes the title of the busiest passenger airport in the world. With more than 250,000 passengers and about 2500 arrivals and departures daily, Hartsfield-Jackson serves more than 150 US destinations, 75 international ones and 50 countries.
36. O'Hare International, Illinois
image source/ wiki
Chicago's O'Hare airport was opened as a manufacturing plant for military aircraft but turned commercial in the 50s and has been growing ever since. It held the title as the busiest in the country until recently, but let's just say it doesn't struggle now by any means!
35. Princess Juliana, Saint Martin
image source/ carwiz.com
You don't even have to be a passenger, pilot or air hostess to experience the wonder of this one, with Saint Martin's airport being visible to all beachgoers and holiday makers. The aircrafts will almost brush your hair as they land and take-off from runway 10 so close to the beach on this beautiful Caribbean island. The noise might get a little bit annoying though!
34. Heathrow, UK
image source/ times of india
The UK's largest airport and Europe's busiest airport. London's Heathrow opened back in 1929 actually in the middle of farms, but since has expanded outwards after World War II for military reasons. This airport just seems to keep adding terminals, with it now having 5 and no plans of slowing down anytime soon.
33. Kansai International, Osaka, Japan
image source/ VINCI concessions
Japanese officials decided in the 80s to build a whole new 2.5-mile-long island in Osaka Bay. Then they hired famous architect Renzo Piano who came up with one of the world's longest terminal designs, a 1.1-mile-long terminal shaped like a wing that opened in 1994. But, it took its toll on the land, as the island is now sinking much faster than originally planned.
32. Carrasco International, Uruguay
image source/ archello
The rolling dunes along Uruguay's coastline inspired this design of he 1200 foot, gently curved roof that covers it. Opened in 2009, the new terminal features arrivals and departures across two separate floors which makes it easy navigating for the passenger.
31. Dubai, United Arab Emirates
image source/traveller.com
We all knew this one would make the cut didn't we? Five times larger than Chicago's O'Hare airport, the airport in Dubai is basically its own city. It covers more than 7000 acres and shows no signs of slowing down. It houses swimming pools (yes, plural), zen gardens and its own flower center.
30. Bangkok, Thailand
image source/hotels.com
This airport it just a thing of beauty, look at it! At 434 feet, this is one of the tallest free standing buildings in the world. It sits on top of what was once known as Cobra Swamp, just east of downtown Bangkok.
29. Cairo, Egypt
image source/airprot tec
This airport started as a US army base camp back in World War II. Since, its expansion has seen four terminals, making it the second busiest airport in Africa. Its latest renovation was back in 2016, but we're sure they'll be no doubt more to come in the near future.
28. Charles de Gaulle, France
image source/hotels.com
This Parisian airport was designed to mimic an octopus, which you can see is captured on the image above. Located just outside of the hustle and bustle of the city, it covers over 12 square miles of land which is a very impressive credential.
27. King Fahd, Saudi Arabia
image source/ arab news
This one is easily one of the world's largest at 192,000 acres. It wasn't until 1999 that commercial operations began at the six-story passenger terminal. You'll find a mosque on the roof of the carpark, and a separate terminal is in fact reserved strictly for the royal family.
26. Los Angeles, California
image source/ aecom
Maybe one of the most well-known airports in the world, often shortened to LAX (shoutout Miley Cyrus' Party In The USA famous song lyrics). This is America's second busiest airport in terms of air traffic. It houses 128 passenger gates, arranged in a giant U shape.
25. Munich, Germany
image source/kaetherin balermini
This one was opened in 1992 after Munich's original airport, Munich-Reim, ceased operations seeing the entire airport switch to its new location overnight. It's now the second busiest airport in Germany and one of the busiest in Europe as a whole, despite only having two runways.
24. Shanghai Pudong, China
image source/ shanghai airpoirt
The design of this one was made to mimic the flock of flying seagulls, to represent the rise and development of Shanghai. This airport is the fastest growing in the world, in true Shanghai style- they're always ahead of the game. It's also in the top 10 busiest airports in the world.
23. Schiphol, Netherlands
imagine source/traveller
Coming in at number three on the impressive scale, we have Netherlands' Schiphol airport. This one boasts an in-airport library and museum, not something you see everyday in an airport! Amsterdam's airport is one of the busiest on the continent, and really provides the goods for all its passengers.
22. Tokyo International, Japan
image source/ japan visa
The Tokyo International Airport was largely a domestic airport for over three decades, until the opening of its international terminal in 2010. The airport's located near the bay as early Japanese aviators used strips of the beach as runways.
21. Vancouver International, Canada
image source/ wikivogue
Last but certainly not least, we have our number one. Vancouver airport is hailed the busiest in Canada, but also the most impressive in the world. It's located on Sea Island in Richmond, B.C., south of Vancouver, which means it technically sits on an island outside of Vancouver. It houses the largest collection of Northwest Coast Native art in the world and has exhibits from Vancouver Aquarium.
20. Bangalore Airport, India
Image Source / www.bengaluruairport.com
Also known as Kempegowda International Airport, this airport boasts a huge, beautiful garden outside the building. It is among the busiest airports in India with over 30 million passengers, but you wouldn't think so based on how quiet and serene that garden looks!
19. Tallinn Airport, Estonia
Image Source / Skytrax
Tallinn Airport may be the largest airport in Estonia, but it's still tiny compared to some other giants, making it comfortable, efficient and kinda cosy. It has one passenger terminal, with fast security checks, and even has sleeping capsules.
18. Mumbai Airport, India
Image Source / Indian Eagle
This airport has been described as vibrant and classy, with around 50 million passengers a year and housing two terminals. The airport interior and its facilities make it a modern and functional place to be, with stunning overhead architecture.
17. UFA International Airport, Russia
Image Source / GetByBus
This is one of those airports that would look pretty all lit up on a Russian winter's night! This international airport is the main airport for the Russian state's capital city. It has around 3 millions passengers a year, and is clean, efficient and friendly.
16. Hyderabad Airport, India
Image Source / Business Traveller
Here's another airport with beautiful greenery as far as the eye can see. There's just something about an airport chock full of trees and plants like a greenhouse. This airport in India is clean and easy to navigate through, hosting only one passenger terminal and being among the top 10 busiest airports in India.
15. Afonso Pena International Airport, Brazil
Image Source / Sygic Travel
Also known as Curitiba Airport, this international airport in Brazil has around 6 million passengers per year, with modern decor, bright colours and even water features to enjoy inside. Luckily for passengers, too, it's one of those airports with excellent food.
14. Medan Airport, Indonesia
Image Source / www.medan-airport.com
Looks almost like a stroll around a relaxing botanical garden, doesn't it? Medan Airport - also known as Kualanamu International Airport - is one of the busiest airports in Indonesia, with over 12 million passengers a eyar. It's comfortable, easy to get around and - by the looks of those pathways and greenery - relaxing!
13. Delhi Airport, India
Image Source / Get By Bus
Delhi Airport - also known as Indira Gandhi International Airport - features stunning Indian statues and architecture to take in as you make your way around. It's the busiest airport in India, but you wouldn't think so looking at this pretty serene spot with beautiful interior.
12. Muscat International Airport, Oman
Image Source / Skytrax
Once known as Seeb International Airport, this stunning airport serves the capital city of Oman. It recently had an expansion - which clearly paid off - and has two terminals with an attractively modern exterior and impressive interior.
11. Medellin Airport, Colombia
Image Source / Airports Data
This airport, the second largest in Colombia, leaves you feeling nicely cocooned in a spiral black tunnel as you move around, with a stunning high roof and plenty of natural light. The Medellin Airport, also known as the José María Córdova International Airport, is the second largest in Colombia.
10. Zürich Airport, Switzerland
Image Source / GetByBus
You can trust the Swiss to make an airport feel luxurious and welcoming. Zurich Airport - also known as Kloten Airport - is one of the largest in Switzerland. It sees over 30 million passengers every year. The airport is clean, stylish and well organised, making for easy travel!
9. Tokyo Haneda Airport, Japan
Image Source / GetByBus
When you're dealing with Japanese design and layout, it's always going to look stunning as well as clean. Here is one of the markets you can expect to see in Tokyo Haneda Airport. It's one of the busiest airports in Asia, and includes an incredible observation deck.
8. Kochi Airport, India
Image Source / NDTV.com
Kochi Airport not only looks exciting, with its butterfly building outside, but it's also completely solar-powered and eco-friendly. That means you can enjoy a sustainable airport whilst getting excited about your next trip, too. It's one of the busiest airports in Kerala, with about 10 million passengers a year.
7. Surabaya Airport, Indonesia
Image Source / GetByBus
Moving through this airport will see you moving through one of the busiest in Indonesia, but it's all made worth it when you can enjoy the stunning interior, including the the floral arrangements painting on walls and columns. It's reported to be one of the best for quality of service, too!
6. Athens International Airport, Greece
Image Source / ACI Insights
Athens International is the main airport for - you guessed it - Athens, Greece. It's a modern and efficient airport, with a bright and clean interior and plenty of seating, shops and restaurants - just what the weary traveller needs!
5. Indianapolis International Airport, USA
Image Source / GetByBus
A stop in this great city will see you using one of the busiest airports in the USA, with 10 million passengers a year, but it's totally worth it when you see the vibrant and modern interior. With stunning colours and greenery, you won't mind waiting for your flight here.
4. Tampa International Airport, Florida
Image Source / HOK
If you're excited for a trip to Florida, at least you know you'll be in safe hands with this airport. It has great connections for cars and trains, a great security procedure and plenty to see and do - including stunning aesthetic and colourful features like this roof decoration!
3. New Chitose Airport, Japan
Image Source / GetByBus
Another stunning arrangement from Japan, this airport has around 20 million passengers every year, and that means a great deal of money made off the amazing souvenirs this airport offers, as well as the Asian cuisine. There is also this Shinto Shrine to visit close by.
2. Bali International Airport, Indonesia
Image Source / GetByBus
This airport makes a great first impression right when you step off the plane - this is just the exterior, can you believe! It shows off stunning Asian architecture, plants, trees and attractive walkways - and those paths see foot traffic of around 23 million passengers a year!
1. Copernicus Airport Wroclaw, Poland
Image Source / Pinterest
Serving the city of Wroclaw in Poland, this international airport has a cosy feel to it, with one terminal and 3 million passengers a year, and it also has an organised interior with easy security and boarding! The building itself is bright and airy glass with an attractive and clean exterior.