Nebraska – Dr. Jaime Seeman
Image Source/ Twitter
Dr. Jaime Seeman is as an obstetrician and gynaecologist. In her youth, she played softball for the Cornhuskers. She then went on to complete her OBGYN residency at The University of Nebraska Medical Center after graduating from medical school. It's safe to say she's one of the hottest doctors on this list!
Ohio – Dr. Alison Dzwonczyk Early
Image Source/ Pinterest
With her parents, three siblings, and other relatives, Dr. Early grew up in Avon Lake, Ohio. She finished her undergraduate studies at the University of Cincinnati, where she earned a Bachelor of Arts in Biopsychology and graduated with honours. I mean, you wouldn't be disappointed if you got her as your doctor!
Texas – Dr. Elizabeth Bahar Houshmand
Image Source/ Instagram
The founder of Houshmand Dermatology and Wellness in Dallas, Texas, and a double board-certified dermatologist, Dr. Elizabeth Houshmand specialises in cutaneous laser surgery and the dermatologic care of patients with a particular focus in cosmetic dermatology, hair loss, acne, and ethnic skin.
California – Dr. Anna Guanche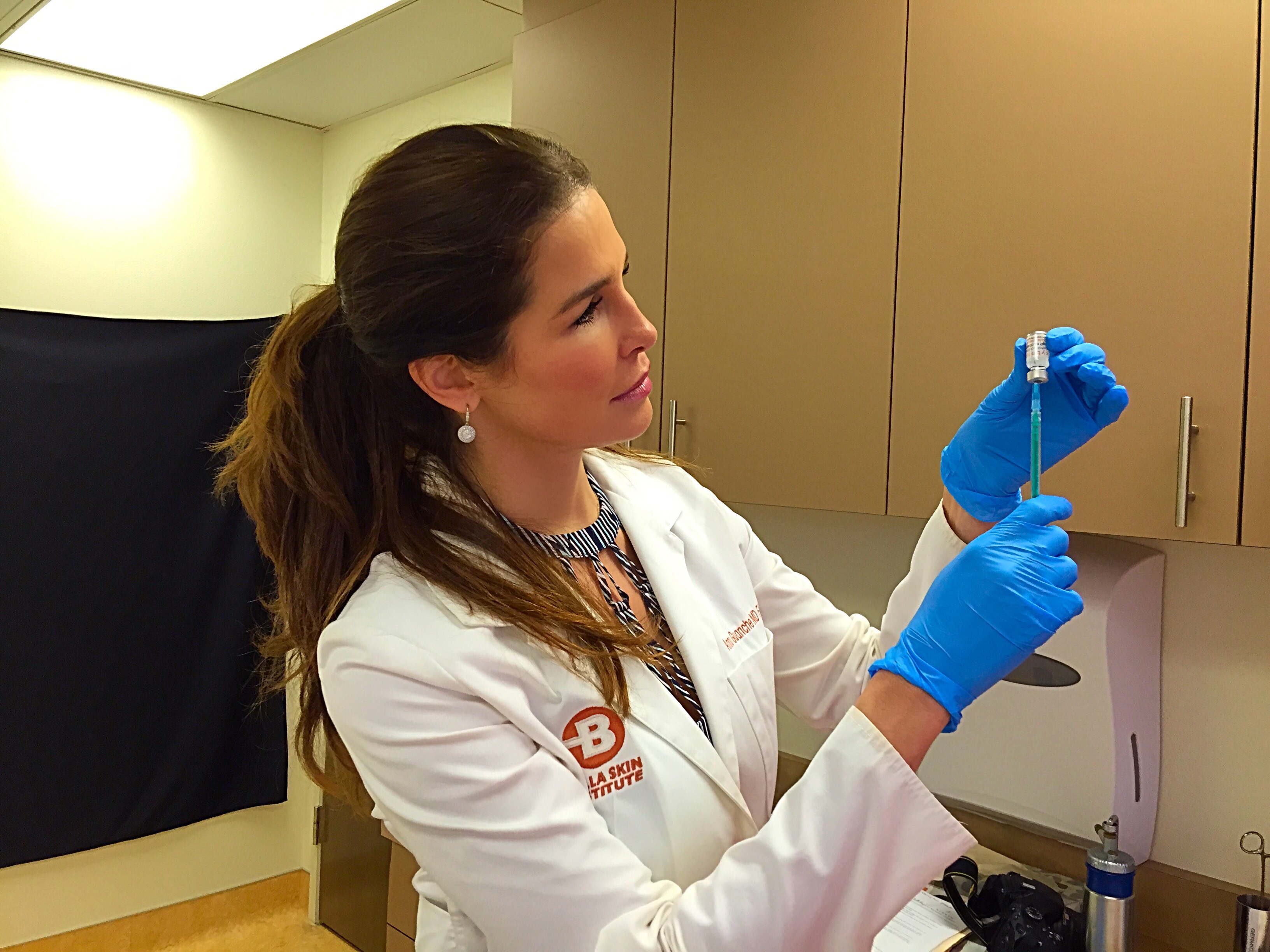 Image Source/ Prweb.com
Board-certified dermatologist and dermatologic surgeon Dr. Anna Guanche really does care about making people look good. She put together her ideal "derm" team of specialists at her office, the Bella Skin Institute in Calabasas, to address the insecurities of celebrities, CEOs, and Supermoms.
Kansas – Dr. Inna Lazar
Image Source/ Dr. Inna Lazar
Clinical training for Dr. Lazar includes complete primary eye care, paediatric and geriatric eye exams, specialised contact lens fittings, and the diagnosis and management of ocular illnesses. Dr. Lazar even volunteers in a Head Start programme dedicated to children. Wow!
Tennessee – Dr. Charis Chambers
Image Source/ Instagram
Born in Nashville and an OB/GYN with fellowship training in Pediatric & Adolescent Gynecology, Dr. Charis Chambers is also known as The Period Doctor. She is a speaker, a doctor, a believer in God, but most importantly, she is someone who is breaking the cycle.
South Florida – Dr. Amira Ogunleye
Image Source/ Bella Ninja
Dr. Amira was the youngest person to earn a doctorate in dentistry at the time of graduation at Howard University College of Dentistry. The stars trust Dr. A because of her enthusiasm and refined ability. She's treated celebrities like Lebron James, Gabrielle Union, and Dwyane Wade. What a woman!
Texas – Dr. Andrea Suarez
Image Source/ Pinterest
Dr. Dray, a dermatologist based in Houston, Texas, elevates skincare to a completely new level of attainability. Andrea is an expert in skincare and a board-certified dermatologist, so she is well-versed in matters of health and fitness. She has been posting videos every day since 2016 to help her audience develop a more effective skincare routine.
Georgia – Dr. Ashley Roxanne
Image Source/ Zenger News
Dr. Ashley Roxanne Peterson creates history as the nation's youngest Black woman to earn her osteopathic medical degree. Peterson enrolled in the Philadelphia College of Osteopathic Medicine at the age of 19 after being motivated by Dr. Andrew Taylor Still, the founder of the American School of Osteopathy. I think we can all agree she looks great!
Massachusetts – Dr. Rola Rabah
Image Source/ Facebook
As a qualified oral hygienist, Dr. Rabah is an oral surgeon by day, and on hell of a fashionista at night. Not to mention she is pretty much a guaranteed head-turner all the time. I don't think any of us would turn Dr. Rabah away as our dentist would we?
Los Angeles – Dr. Sonia Batra
Image Source/ SpA+CLINIC
Dermatologist Dr. Sonia Batra graduated with a Magna Cum Laude degree at Harvard, or while finishing her studies early! She went on to complete a Mohs fellowship and frequently serves as a media icon on several episodes of "The Doctors" alongside Dr. Travis Stork.
New York – Dr. Alexandra Kreps
Image Source/ GOSS Magazine
Introduce yourself to Dr. Kreps (right), a primary care physician and assistant clinical professor practising in Manhattan. She is a proud dual citizen of the United States and Canada, and her parents are from Montréal. Her natural certainty that she would one day become a doctor helped her build her grit and tenacity.
Illinois – Dr. Inna Husain
Image Source/ Instagram
You can find more amazing photos of Dr. Inna Husain on her Instagram; @innahusainmd. A successful laryngologist, Dr. Husain writes on her blog about motherhood, head and neck health, and working as a surgeon and doctor. Also, she's a very good looking woman!
North Carolina – Dr. Jasmine Johnson
Image Source/ Twitter
Dr. Jasmine Johnson is a third-year maternal-fetal medicine resident and clinical lecturer in the University of North Carolina Department of Obstetrics & Gynecology. Dr. Johnson shares advice on how women should speak up for themselves while speaking with healthcare professionals as well as solutions to these inequities.
Pennsylvania – Dr. Alyssa Cole
Image Source/ Instagram
Dr. Cole is an expert in physical health and rehabilitation who writes about diet, clothing, and fitness. She just completed her residency programme in Philadelphia and is now the first physician fellow with a specialty in cancer rehabilitation in the city.
Michigan – Dr. Fatima Fahs
Image Source/ Milled
Born and bred in Michigan, Dr. Fatima Fahs received an honours degree in biology and a minor in art as a MedStart scholar from Wayne State University. She finished her dermatology residency after completing her medical internship at Beaumont Hospital, where she also served as Chief Resident during her last year. An incredible woman!
North Carolina – Dr. Shruti Tannan
Image Source/ Sientra
Board-certified in plastic surgery, Dr. Tannan also has fellowship training in microvascular and hand surgery. She lived in North Carolina's triangle for a long time. It's fair to say that despite everything she has done, she seems to look so good too!
Oregon – Dr. Nancy Yen Shipley
Image Source/ Instagram
Doctor and Mom Dr. Yen Shipley is passionate about educating others about how she become a doctor. In addition to writing and speaking about bone and joint problems, Dr. Yen Shipley also produces and presents the popular podcast The 6% with NancyMD. She advocates for women and diversity in medical specialties as a mother and surgeon.
Oregon – Dr. Jessica Lubahn
Image Source/ Rx For Success Podcast
I know what we're all thinking, how can you work in urine and look so good? Urology is one of Dr. Jessica Lubahn's medical specialties. She's the creator of ONDRwear, which makes luxurious leak-proof underwear with the goal of de-stigmatizing urination, menstruation, and any other leaking through the development of items that are both stunning and very functional.
Minnesota – Dr. Jamie Hanson
Image Source/ Associated Skin Care Specialists
Now that's one hot doctor! In the Minnesota Twin Cities, dermatologist Dr. Hanson practises both general and aesthetic dermatology. She offers advice on skin care, product reviews, and other expert information, but as the mother of a young boy, she also enjoys sharing details of her personal life.
Nevada – Dr. Kendall Egan
Image Source/ GOSS Magazine
Dermatologist Dr. Kendall Egan focuses on surgical and cosmetic dermatology. She is dedicated in providing sensitive medical, surgical, and aesthetic care. She is interested in everything skin-related, including acne, skin cancer, hair loss, rashes, paediatrics, and integrative dermatology.
Virginia – Dr. Krupa Playforth
Image Source/ The Paediatrician Mom
Paediatrician Dr. Playforth focuses most of her writing on parenting two kids in a multi-cultural home and learning that parenting in real life is more chaotic, perplexing, and difficult than paediatrics textbooks and instructors ever let on. She gives the advice and tips over on her Insta, where she posts great selfies too.
New Jersey – Dr. Hadley C King
Image Source/ Real Self
General, medical, and surgical dermatology are the areas of expertise of board-certified dermatologist Dr. Hadley C. King. She received a biochemistry degree with honours from Harvard College and later graduated from Columbia University with a medical degree.
Vermont – Dr. Ashley DiMeola
Image Source/ Occupational Health Partners
Dr. DiMeola is the director of Glow Aesthetics. She started her career in the medical field by serving as a doctor in the US Navy before moving on to the field of beauty and aesthetics:
"I always wanted to be a doctor and always saw myself working in beauty aesthetics. I fulfilled both my lifelong dreams – even when originally I was told I wouldn't make it as a doctor – I put my head down and just made it happen."
California – Dr. Kimberly Lee
Image Source/ Dr. Archie Cheung and Associates
Dr. Kimberly J. Lee is a resident director at the Beverly Hills Facial Plastic Surgery Center and a female facial plastic and reconstructive surgeon. She is a member of the medical staff of Cedars-Sinai Medical Center and is one really hot doctor!
India – Dr. Asha Ayyagari Adams
Image Source/ Youngisthan
We already know that anybody who is able to call Dr. Asha their doctor is a lucky person and all of their problems just disappear when they sit down to visit her. When she's not working as a doctor she enjoys playing tennis and yoga. What a formidable woman!
Lebanon – Dr. Nina Chaya
Image Source/ Dr Nina Chaya Candidate for Tri-City Healthcare District Board
Doctor Nina Chaya is a self-certified "Glam Doc" as mentioned on her Insta. Dr. Nina is a board-certified anaesthesiologist, now working in San Diego. She describes herself as a doctor by day and a makeup addict by night and you can check out some of her makeup looks on the Gram.
Canada – Anne Soetikno
Image Source/ Pinterest
Dr. Anne received her Doctor of Dental Surgery degree from the University of Toronto and specialises in all dental procedures, including extractions, root canals, and fillings. She explains that she feels passionately about cosmetic dentistry because she enjoys making her patients feel good.
England – Anna Fogli
Image Source/ Twitter
Dr. Anna is a multilingual, aesthetic physician and advanced facial sculptor working in the fabulous London. She has committed the last ten years to aesthetic medicine, completed thousands of treatments, and maintains a busy practise, patients leaving with the best reviews!
Australia – Dr. Vanessa Sammons
Image Source/ Instagram
Dr. Sammons studies at the Uni of Sydney and practises neurosurgery at the Sydney Adventist Hospital. She takes delight in offering each patient individualised, considerate treatment and in applying her abilities to produce the finest results. Although she's from Australia, we had to include her!