30+ Pasta Dishes Enjoyed Around The World
1. Argentine Lasagna - Argentina
imagesource/facebookJust like the other South American countries, Argentina is a melting pot of cultures with a strong Italian heritage and large cattle ranches. One of Argentina's favourite Italian recipes is this lasagna packed with meat, cheese and veggies. The perfect meal to fill anyone up for a hard days work.
2. Penne alla Vodka - Italy
imagesource/twitterThis easy, yet impressing pasta dish is always on the menu in most Italian restaurants. Popular everywhere, the vodka helps the sauce become creamier, tomato-ier and although you can use wine as well, this way is often preferred. Putting Vodka in the sauce is a long standing Italian tradition.
3. Noodle Kugel - Israel
imagesource/twitterMany Jewish people make this speciality for an annual Hanukkah or Christmas party with their friends or family. Kugel is also eaten on Shabbat because it resembles the manna that fell from heaven to nourish the Jews during their 40-year sojourn in the desert.
4. Slow-cooker Short Rib Ragi over Pappardelle - New Jersey, USA
imagesource/twitterFan of a rich tasting sauce? This irresistible sauce gives this beef another dimension of flavor. Potatoes and Polenta both work with this dish making it both delicious and versatile. Short ribs are always the perfect go to for a rich and tasty dinner.
5. Greek Shrimp Orzo - Greece
imagesource/twitterA favourite amongst Greeks, this pasta dish makes for the perfect dinner option, and it tastes just as good heated up. Usually served with crusty bread and salad it doesn't leave you feeling too heavy and bloated like some rich pasta dishes do.
6. Italian Stuffed Shells - USA
imagesource/twitterMore commonly known as Conchiglioni, and often marketed as 'jumbo shells' in the US, this pasta is filled with ricotta cream, enriched with mozarella and marinara sauce before receiving a generous topping of parmesan to be baked in the oven...to perfection!
7. Greek Pasta Bake - Cyprus
imagesource/twitterThe tangy lemon flavor mixed with herbs and complimented by cinnamon makes this pasta dish a real home comfort. Similar to a lasagna, it's baked with ground meat and bechamel sauce with variations of the dish found in countries of the Mediterranean Sea.
8. Homemade Manicotti - USA
imagesource/twitterManicotti, also known as Cannelloni, are the Italian-American version of the traditional dish. Both made from pasta tubes, Manicotti tends to be larger and slightly thicker, but all the same, gives that same stuffed, satisfying feeling after eating it.
9. Polish Casserole - Poland
imagesource/twitterThe nice thing about this casserole, is it can be eaten any time of the year, with endless combinations, this sauerkraut casserole might seem a little strange to some but most people will find the tangy, cream based pasta dish, to die for!
10. Greek Salad Ravioli - Greece
imagesource/twitterTurning the fresh flavours of a Greek salad, into a war, dish for winter, this Pasta dish can be made in a large batch, frozen and dropped into simmering water again to be cooked in five minutes. The perfect quick dinner for cold winter nights in Greece.
11. Swedish Meatballs - Sweden
imagesource/twitterThis dish has been a delicacy around Swedish homes for years, a number 1 standby recipe, the leftovers also make for perfect meatball sandwiches the day after. The recipe has become a popular one, not only in Sweden, but all over the world.
12. Beef Paprikash with Fire-Roasted Tomatoes - Hungary
imagesource/twitterBeef Paprikash, a traditional Hungarian dish, makes for the perfect family Sunday dinner. Usually made with kluski egg noodles, it can also be made to taste just as nicely with mashed potatoes. A very popular dish amongst Hungarians in winter.
13. Argentinian Sorrentinos - Argentina
imagesource/instagramThis South American country boasts a proud tradition of Italian immigration and the link between the two cultures is never more obvious than in the cooking. If you ever get to visit Buenos Aires, street vendors pack the streets out selling Sorrentinos, which look like oversized Ravioli - stuffed with meat and cheese, typically doused in a rich cream sauce. 10/10 delicious.
14.  Naporitan - Japan
imagesource/twitterThis Japanese dish is made with a combination of overcooked spaghetti, ketchup, onions, green bell peppers, mushrooms and sausage, ham or bacon. A little odd sounding, right? The dish was created just after WWII by Shigetada Irie, head chef of the New Grand Hotel in Yokohama.
15. Texas-Style Lasagna - USA
imagesource/twitterWhen you think of your favourite Italian dish, Lasagna is usually up there for most people. With it's spicy flavor, this Texas-style Lasagna is a real crown pleaser, with side servings of picante sauce, guacamole and tortilla chips, it's a tasty little alternative to the traditional Italian Lasagna.
16. Austrian Krautfleckerl - Austria
imagesource/twitterOriginating from Vienna, this dish is made from pasta, onions, cabbage, butter, garlic or bacon, parsley, sugar, salt, pepper and caraway seeds. This Viennese speciality is usually served hot, making it the perfect winter warmer. Who doesn't love a bit of comfort food?
17. Gratin de Crozets - France
imagesource/twitterTraditionally a French dish, originating from the Savoie region, the grated cheese on top of the dish gives it that extra WOW factor. Smothered in creme fraiche before the cheese is grated on top, so once opened, the pasta is nice a creamy under the baked cheese top. Nom nom nom.
18. Kuhani štrukli - Croatia & Central Europe
imagesource/twitterŠtrukli are a traditional Croatian delicacy that is traditionally cooked in hot water, and topped with a combination of butter and breadcrumbs. The filling is usually a mixture of whipped butter, eggs, fresh cheese, sour cream and salt. Sounds a bit different, but delicious nonetheless.
19. Fuži s Bijelim Istarskim Tartufom - Central Europe
imagesource/mojeslatkocarstvoButter and truffles are the common items in this Istrian pasta. The dish is made with black truffle and tends to only be made with white truffle during the seasons between September and January. Making a nice wintery treat!
20. Cjarsons - Italy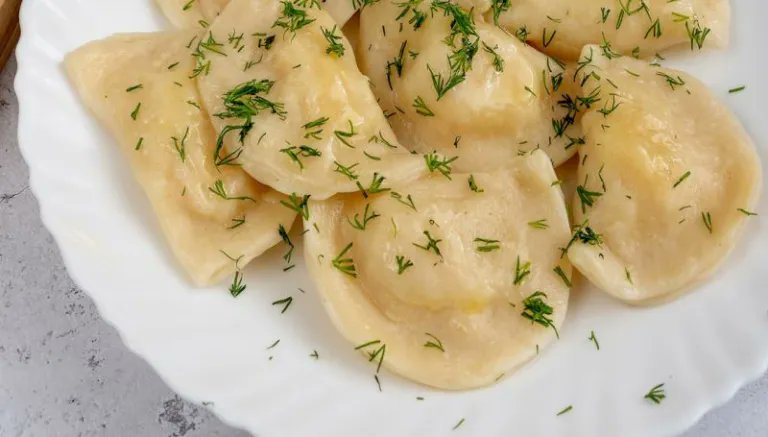 imagesource/twitterThis dish is very similar to the classic ravioli, this however, is made from potatoes, similar to gnocchi. Inside you'll find the filling is made of wild herbs, ricotta, raisins, potatoes, cocoa, cinnamon and other tasty spices. Its the perfect mix of sweet and savoury, handed down through generations, Italian families have all added their own twist on it.
21. American Goulash - Midwestern USA
imagesource/twitterThe perfect American comfort food consists of different types of pasta, like egg noodles or macaroni along with beef or hamburger (of course!), tomatoes, onions, paprika and garlic. The main reason for the popularity of this meal is the fact its easy to make and inexpensive.
22. Greek Tortellini Skillet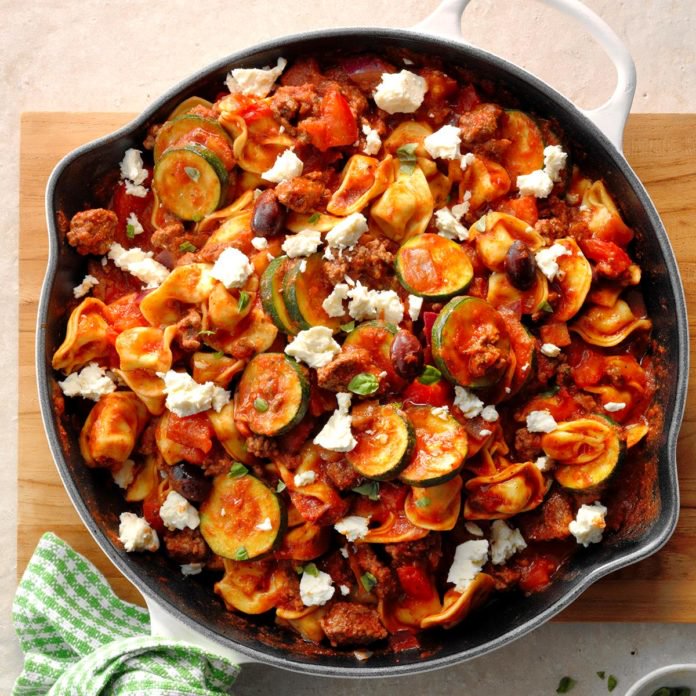 imagesource/twitterAny picky eaters out there? Well this dish surely
23. Kasspatzln - Austria, Germany, Liechtenstein & Switzerland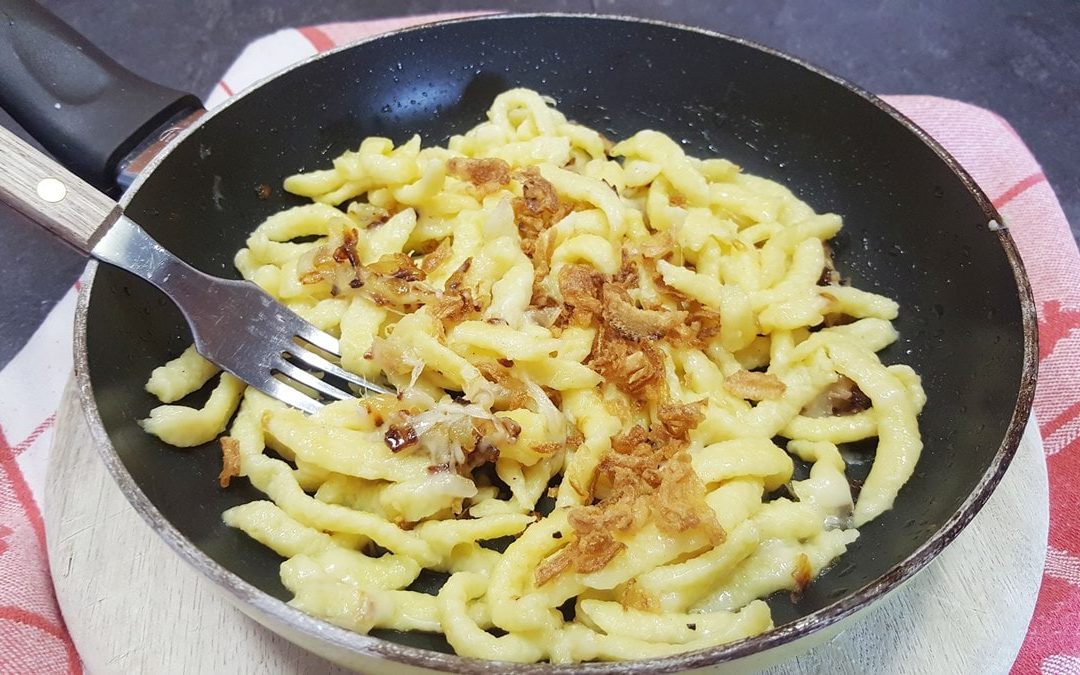 imagesource/gelesiThis traditional cheese based dish is a favourite in western Europe. The recipe is simple, with a soft, slightly runny dough used to create the pasta shapes that are boiled until firm! The pasta is the sauteed with onions followed with a generous heap of cheese...what more could you want?
24. Astakomakaronada - Skyros, Greece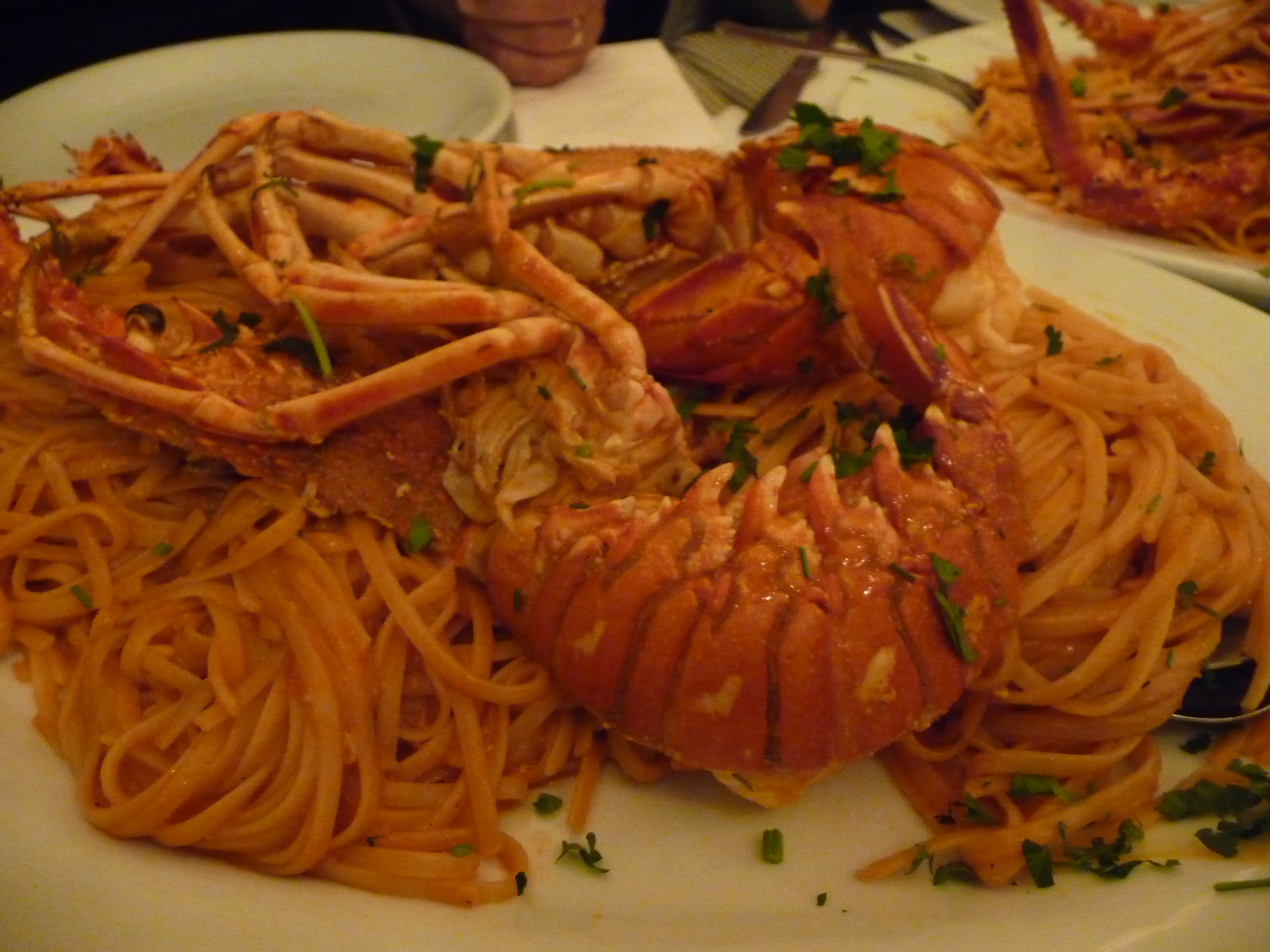 imagesource/twitterAnother Greek wonder, is this exquisite Greek dish made with Lobster meat. Need I say any more? It's typically prepared with spaghetti, while the sauce is usually made from wine and herbs and spice. Though it can be found in other Greek regions, astakomakaronda is mainly associated with the island of Skyros.
25. Lazanki - Belarus
imagesource/twitterLasanki is the Belarusian and Polish name for the type of pasta used in this dish. The flattened dough is shaped into squares or triangles, boiled then combined with onions and lard. After being introduced in the 16th century, the dish is traditionally combined with meat cabbage or sour cream to make it a more substantial meal.
26. Idrijski žlikrofi - Solvenia
imagesource/wikipediaPopular pasta dish Idrijski žlikrofi is made with two layers of thin pasta dough wrapped around the delicious potato filling. There's been different variations of this Slovenian dish but it's always been made on special occasions, typically filled with potatoes, meat and turnip mash.
27. Fregola ai frutti di mare - Sardinia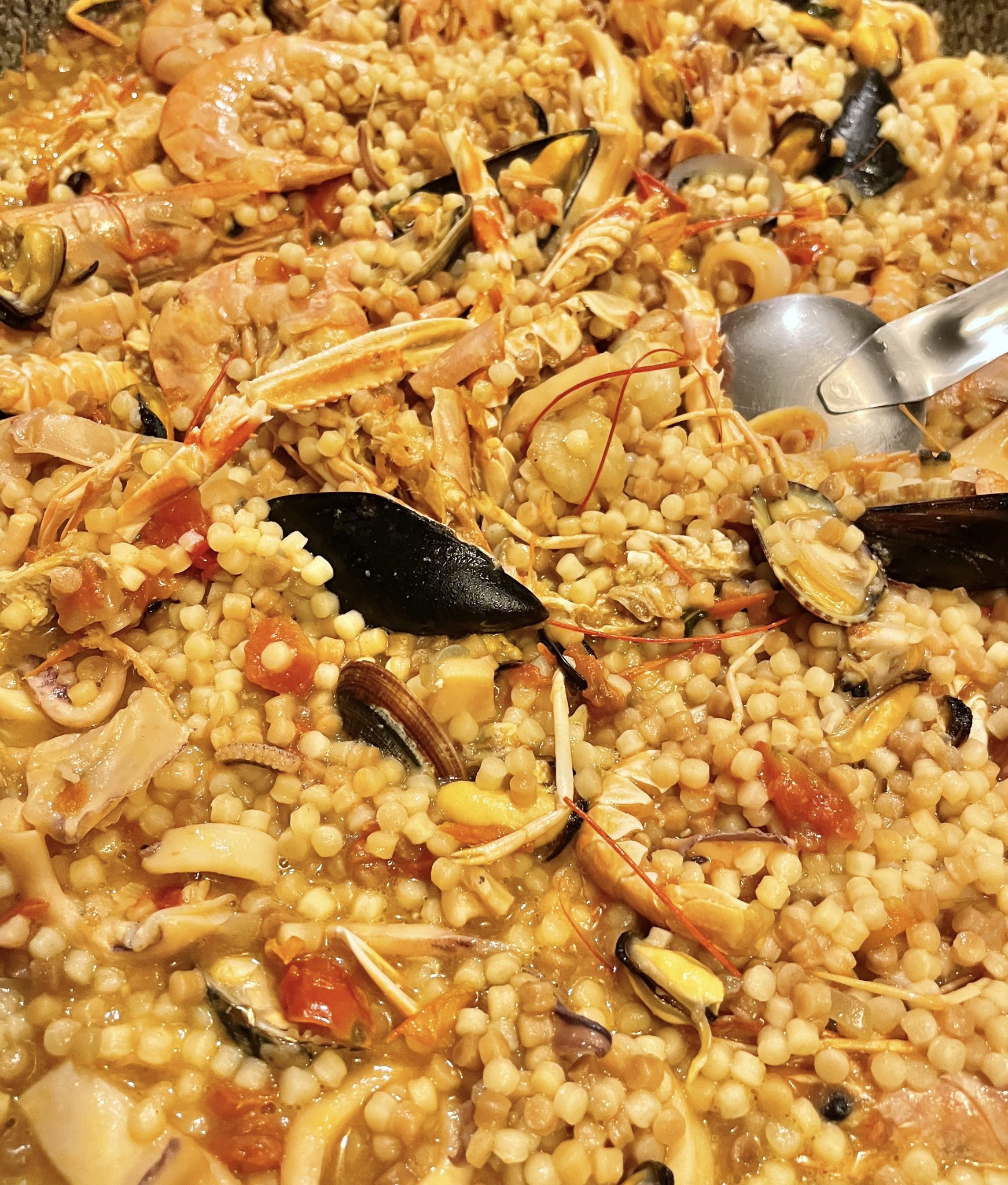 imagesource/twitterFregola or Fregula is made with semolina flour and water, then rolled into a thick spaghetti, toasted in the oven and voila, you have this popular Sardinian dish. It's usually paired with seafood with a mixture of olive oil, garlic and often clams or mussels or on the dish.
28. Túrós csusza - Hungary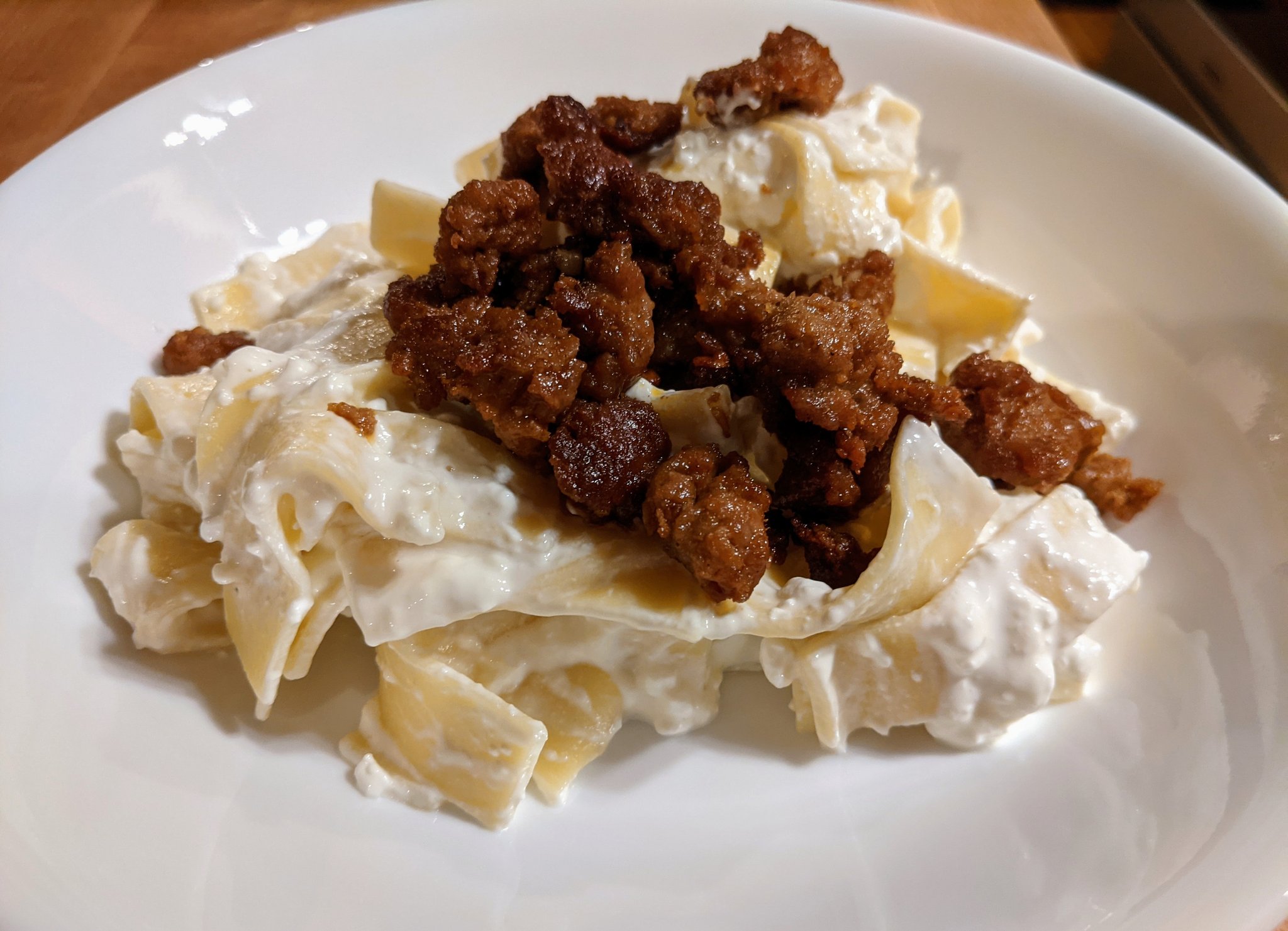 imagesource/twitterThis Hungarian classic dish combines pasta, cheese and crispy bacon bits. Now, I don't know about you, but that already sounds amazing. Cottage cheese is sometimes blended with sour cream to make this simple, budget friendly homemade meal.
29. Aletria - Portugal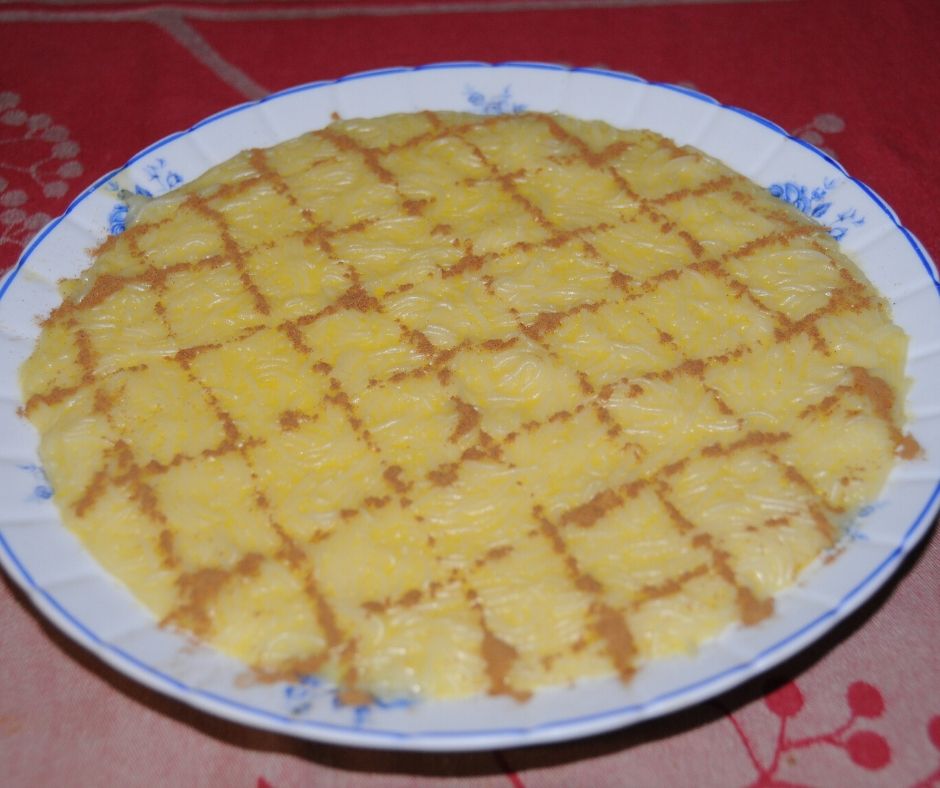 imagesource/tasteportoEver had a dessert made with pasta? Well, this traditional Portuguese dessert is made from typically thin variety of angel hair or capellini, which are cooked with milk, cinnamon and lemon. Before servings, its decorated with cinnamon, usually in a crisscross pattern making it a Christmas staple to be enjoyed warm or well-chilled.
30. Älplermagronen - Switzerland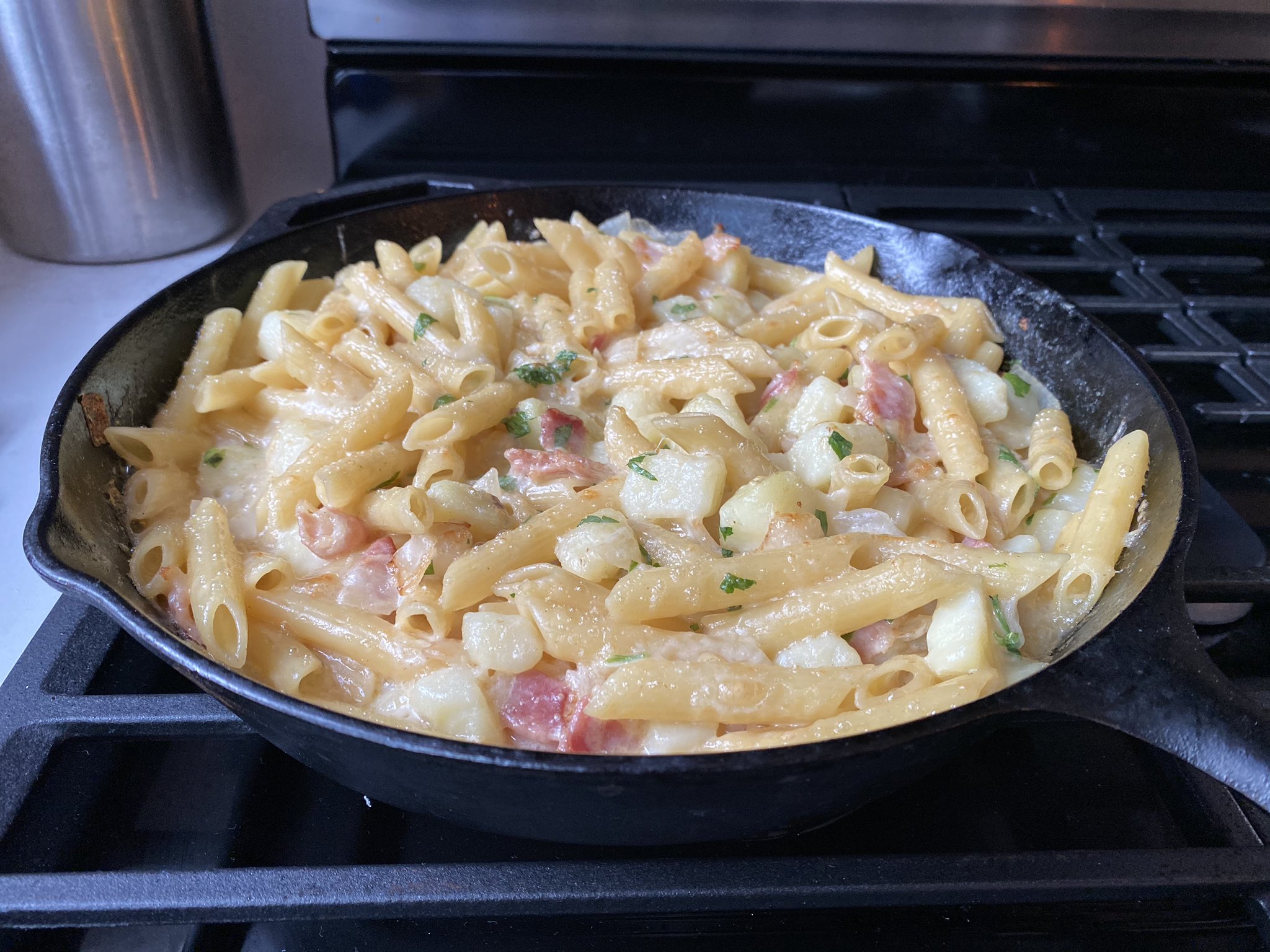 imagesource/twitterInvented in the 1930s, this Swiss rustic dish is translated as Alpine macaroni, more commonly known as Herdsman's Macaroni. The ingredients used in this dish were all available to herdsmen who were keeping an eye on their cows, hence the name. The combination of cooked pasta, potatoes, cheese and onions is baked in the oven and servied topped with onion rings or fried onions, applesauce and bacon.
31. Spaghetti Al Cartoccio - Italy
Image Source / The Pasta ProjectThis is a traditional Italian dish that comes from Abruzzo, and includes a method of cooking that involves all the ingredients being wrapped in foil and then baked. In this dish you can enjoy garlic, tomatoes, white wine and a variety of seafood including squid and shrimp.
32. Pastitsada - Greece
Image Source / Greek Gastronomy GuideHailing from Corfu, this traditional Greek dish uses rooster or beef, which is then seared and sautéed in a tomato-based sauce. This is then cooked with onions, olive olive, wine and garlic, but there are also some exciting spices added to the mix, including cinnamon and nutmeg.
33. Sagne E Fagioli - Italy
Image Source / cookpad.comThis pasta dish is made from beans being cooked in tomato sauce, with strips of pasta added near to the end of the cooking time. The strips of pasta should also usually be homemade, using flour and water. The sauce will usually include carrots, onions, celery and tomatoes, though other things can be added, such as meat.
34. Chicken Riggies - USA
Image Source / La Cucina ItalianaThis Italian-American dish comes from the Utica area of New York, and often includes rigatoni pasta, peppers, spicy cream and tomato sauce topped off with - you guessed it - chicken! You can usually find this dish in every Italian restaurant in Utica.
35. Pasta Alla Norcina - Italy
Image Source / The Pasta Project
This is another traditional Italian pasta dish, made from short pasta (penne or rigatoni) and cooked with sausage, white wine, cream, onions and topped off with pecorino cheese. Variations of this dish can also include a switch to longer paste, like spaghetti, and may include black truffles.
36. Fuži S Tartufima - Central Europe
Image Source / TripAdvisorThis dish combines the popular Fuzi pasta with Istrian truffles for a delectable dish. With this dish, however, comes the rule that you should always check whether your truffles are the real deal - as some use oil, butter or cheese as an alternative to real truffles.
37. Krpice Sa Zeljem - Croatia
Image Source / Food52Traditionally served in the northern parts of Croatia, this pasta dish is made by combining cabbages, seasonings, onions and, of course, pasta. The pasta used can be any size and any shape. Onions are a common addition these days, despite the fact that they weren't originally used.
38. American Chop Suey - USA
Image Source / RoadfoodThis huge contribution to the comfort food menu includes baked pasta, tomato sauce and ground beef. It can even be baked as a casserole. A popular addition to this dish is grated cheese over the top, while other recipes might also include garlic and onions.
39. Makaronia Me Kima - Greece
Image Source / Mama's TavernaThis traditional Greek dish can be found in many different varieties across the country, and offers a pasta made from tomato-based meat ragu. What allows this dish to stand out from the rest - or at least be recognised for what it is - is the use of fragrant spices, such as cinnamon. It's also usually topped off with grated cheese.
40. Giouvetsi - Greece
Image Source / Real Greek RecipesThis pasta dish is a classic casserole, using meat that has been braised in tomato and being cooked as an easy one-pot oven dish. Veal is a popular choice for this meal, but other types of meat can be used. The tomato sauce is usually seasoned, too, with red wine, cinnamon and allspice.
41. Cincinnati Chili - USA
Image Source / WikipediaThis popular chili dish from Cincinnati is made with meat, stock, spices (like cinnamon and allspice) and is also made with chocolate or cocoa. Yum! It's then served over spaghetti (or other types of pasta can be used) and topped with delicious cheese, fried beans and onions (or even crushed oyster crackers).
42. Spaghetti Pie - USA
Image Source / Invent Your Recipe
This traditional American pie, which hails from Colorado, is a savoury staple made from spaghetti (of course), onions, ground beef, delicious bell peppers, tomatoes, lots of cheese and even beaten eggs. Cheese options can include classics like mozzarella or ricotta.
43. Schwäbische Maultaschen - Germany
Image Source / Rehm FleischwarenThis traditional pasta dish includes savory pasta dumpling which have been filled with ground meat, spinach, onions and even bread. It's the perfect warm-up meal for those winter nights, and it can also be fried with eggs, simmered in broth or topped with butter.
44. Štruklji - Slovenia
Image Source / Kruh in potica
This dish is made up of different varieties of dough that has been rolled and filled with either savory or sweet ingredients. This could be fruit, seeds, cheese or nuts. These are then either baked or cooked. This was traditionally served as a celebratory dish.
45. Toasted Ravioli - USA
Image Source / Culture TripThis St. Louis specialty is made up of breaded pasta, cooked to a crunch, topped with cheese and then coupled with a marinara-like sauce. It can usually be served as an appetizer, and the name is actually a little misleading seeing as it's deep-fried and not toasted.
46. Spag Bol - Australia
Image Source / Australia's Best Recipes
Spaghetti bolognaise - affectionately known as spag bol for people who want to limit their message lengths - is an Australian national dish, which includes Australian beef, mushrooms, bacon, garlic, tomatoes and other delicious ingredients all paired with spaghetti pasta.
47. Kushari - Egypt
Image Source / The Architectural Review
This simple Egyptian dish, which is also known by other names including koshary or kosheri, is a national dish that consists of rice, lentils and pasta. This dish is also a popular street food in this country, and you can expect to find a big simmering pot of stock, vermicelli pasta and onions.
48. Kraft Dinner - Canada
Image Source / Wikimedia Commons
This national dish from Canada is also one of the most popular food items from a grocery store. It's a little box of macaroni and cheese, known for its value for money and easy, quick meal. If you were in the US, you would know this as macaroni and cheese rather than Kraft Dinner.
49. Fideuà - Spain
Image Source / Wikipedia This colourful pasta dish uses a variety of seafood options, but instead of the similar dish of paella, where rice is used, this one uses pasta called fideo, which is short and thin. The seafood can vary for this dish, including monkfish or shrimps.
50. Pasta Primavera - USA
Image Source / Grateful Grazer This dish combines pasta and vegetables with fresh herbs and spices. The recipe was originally invented during a hunting trip in Nova Scotia before the man responsible, Ed Giobbi, brought it back to New York City. The original recipe included tasty ingredients like chopped basil, tomatoes and garlic.