1. Alabama – Chicken Barbecue with White Sauce
imagesource/animmovablefeast
Chicken is charred on the grill and then covered in Alabama's signature white sauce which is a creamy, tangy and spicy combo mixed with cayenne for that added bit of spice. Oooh la la! The sauce is definitely what makes this sandwich so good, you won't want it to end.
2. Alaska – Yak Burger
imagesource/tripadvisor
Alaska is famous for it's red meat, Yak and locals absolutely love it. A Yak burger is one of the most popular restaurant orders in Alaska because the meat is so tender and lean like venison. The delicate and flavorful meat makes it perfect for a yak patty covered in cheddar cheese. Nom nom nom.
3. Arizona – Fry Bean Tacos Sandwich
imagesource/mountainmamacooks
I mean, technically this isn't a 'sandwich' as such, but it's definitely extremely popular in Arizona. The fry bread is quick to make in a deep fryer, making it crisp and chewy – this taco sandwich mix is piled high with seasoned beef, shredded lettuce, tomatoes and a big lump of cream.
4. Arkansas – Fried Bologna Sandwich
imagesource/twitter
Arkansas' fried bologna sandwich is the holy grail for this state. Big, juicy slices of salty bologna are fried until the edges curl (IYKYK) then the meat is neatly placed ontop of cheese, lettuce and crunchy dill pickles on a soft bun or bread…a piece of bread is preferred.
5. California – French Dip Sandwich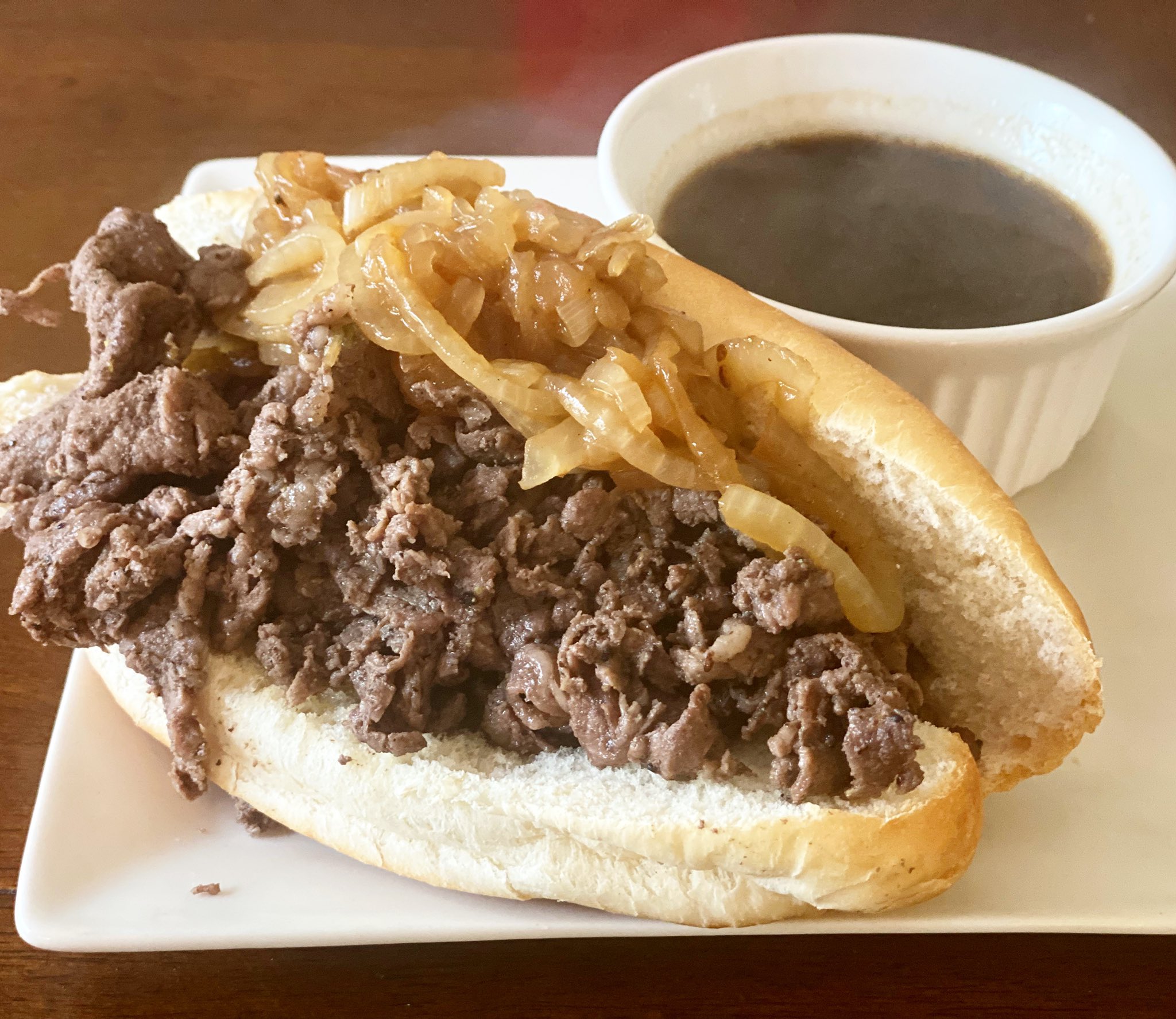 imagesource/twitter
Invented in sunny Los Angeles, the French Dip sandwich is a diner classic. Hot roast beef is thinly sliced and dipped into savoury jus, which is made from the meat's natural cooking juices. Then the meat is placed onto of a crusty baguette with caramalized onions and melted Swiss cheese. To top it off, it's served with a bowl of jus for dipping.
6. Colorado – Fool's Gold Loaf
imagesource/twitter
Denver's most famous sandwich owes its glory to the legend that is Elvis Presley, who once flew from Memphis to Denver to eat a Fool's Gold Loaf made at the Colorado Mine Company restaurant. It's basically a hallowed-out loaf of French bread stuffed with a whole load of peanut butter and jelly and crisp bacon.
7. Connecticut – Connecticut Lobster Roll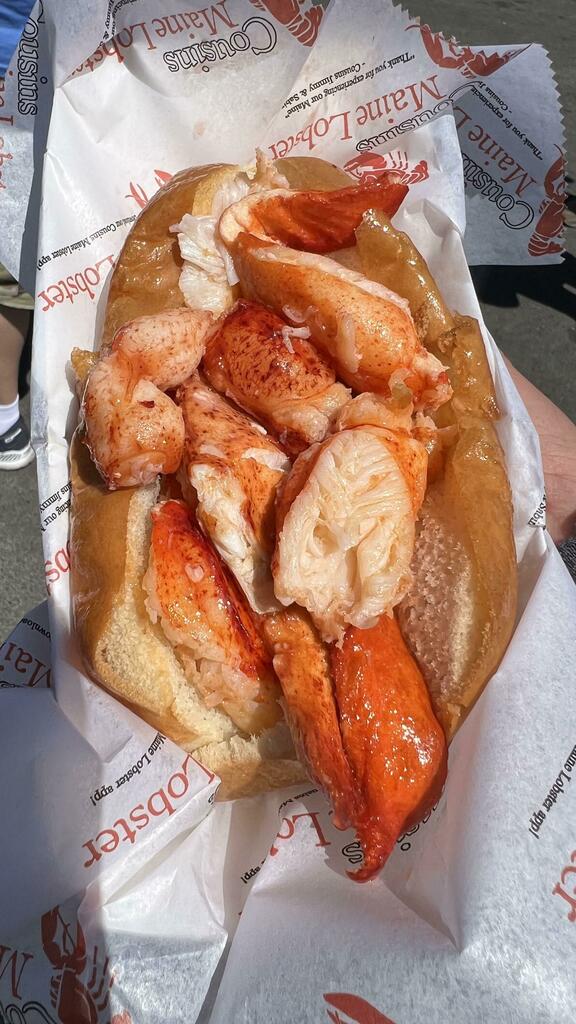 imagesource/twitter
Lobster rolls tend to be a real Maine tradition, but the cook's in Connecticut take a different approach to Maine's cold, mayo lobster roll. This version is made with sweet lobster meat, covered in butter and served hot. I wonder which one is better?
8. Delaware – The Bobbie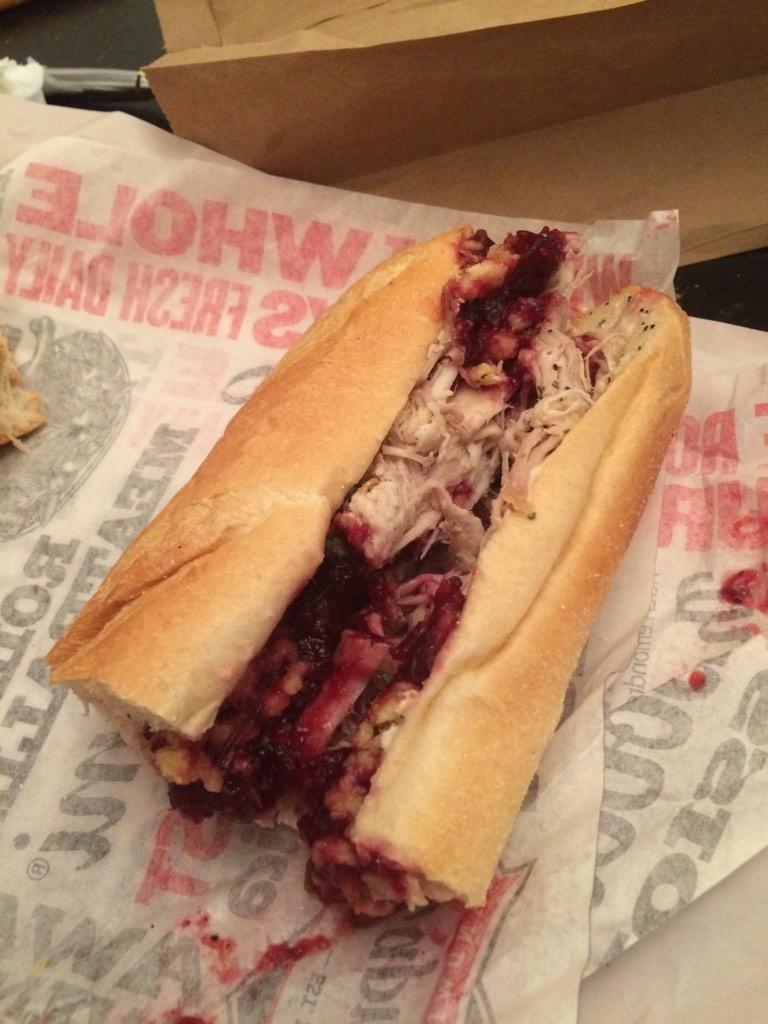 imagesource/twitter
Capriotti's sandwich shop created this signature sandwich over 40 years ago, which is made with roast Turkey and all of the tasty holiday trimmings. This sandwich was created after Thanksgiving with cranberry sauce added to it to give that added extra.
9. Florida – Cuban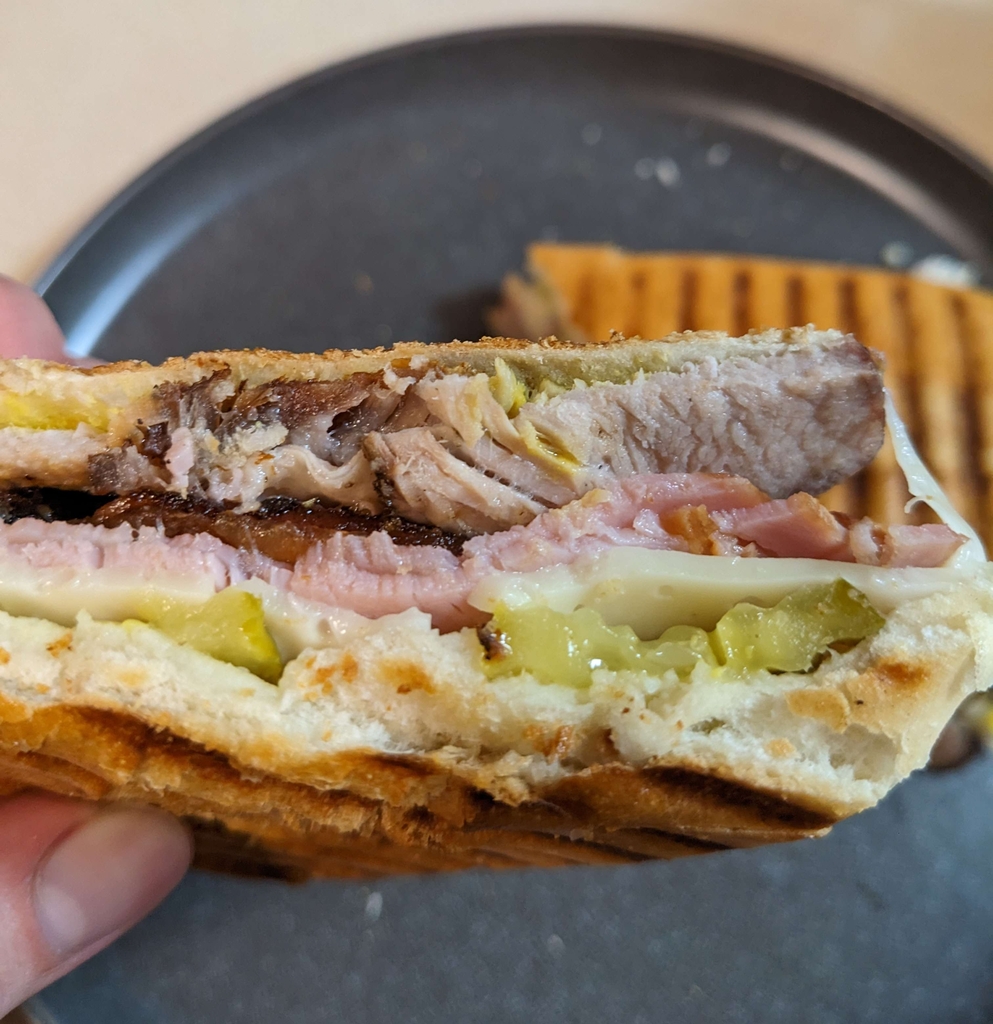 imagesource/twitter
When most people think of Miami, they think of Cuba too and this Cuban sandwich is a Florida favourite. Made with layers of ham, roast pork and Swiss cheese, this Cuban sandwich is smeared with butter and fried on a plancha until the toppers get melty and crisp.
10. Georgia – Pimento Cheese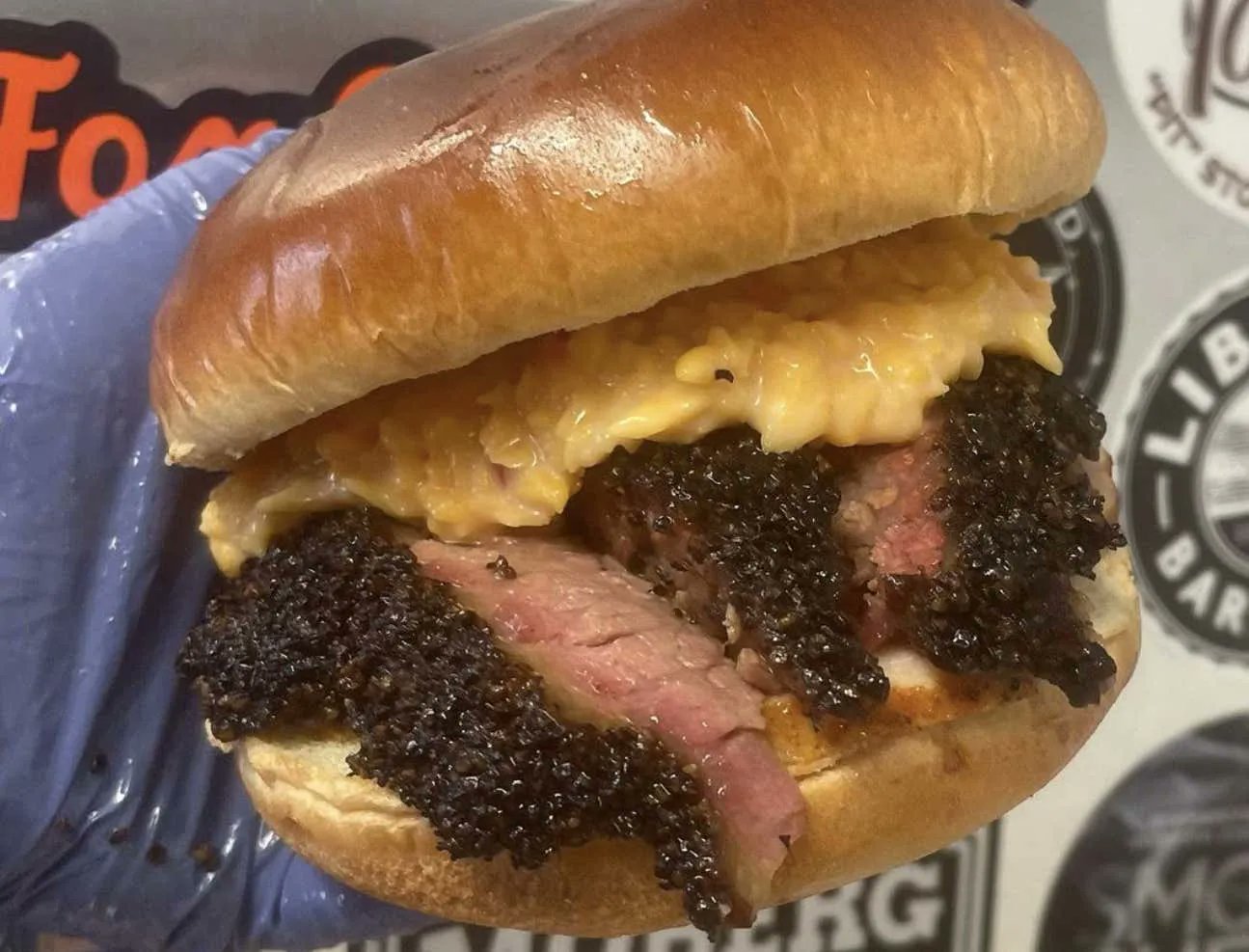 imagesource/twitter
In the Peach state, fresh Pimento cheese is made with sharp cheddar and pimento peppers spread on sandwich bread, then griddled with butter until it's gorgeous and toasty. Yes, it tastes just as good as it sounds as well.
11. Hawaii – Kalua Pork
imagesource/twitter
Slow roasted pork shoulder is placed into a bun with some tasty toppings like pickled kimchi and buttery lettuce. The salty flavours of the pork give that added oomph to this sandwich that full of smokey, rich flavours that get your taste buds tingling.
12. Idaho – Basque Lamb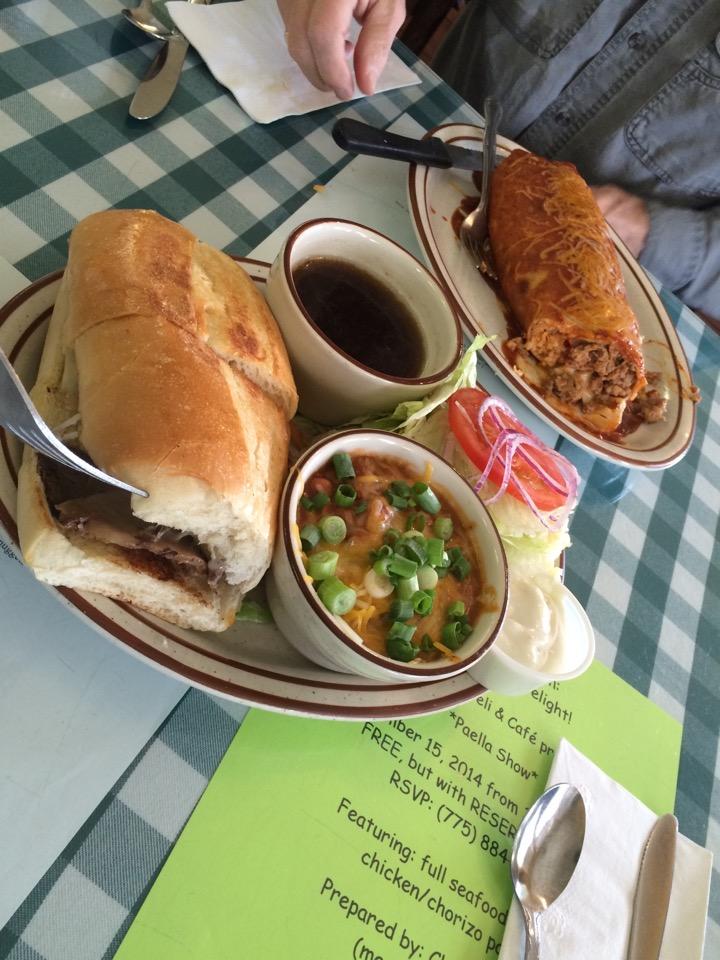 imagesource/twitter
Idaho have one of the largest Basque populations in the country and the Basque influence in Idaho's cuisine can clearly be tasted in this sandwich. The lamb grinder or sub sandwich is stuffed with roasted lamb, caramelized onions, melted cheese and jalapeños.
13. Illinois – Italian Beef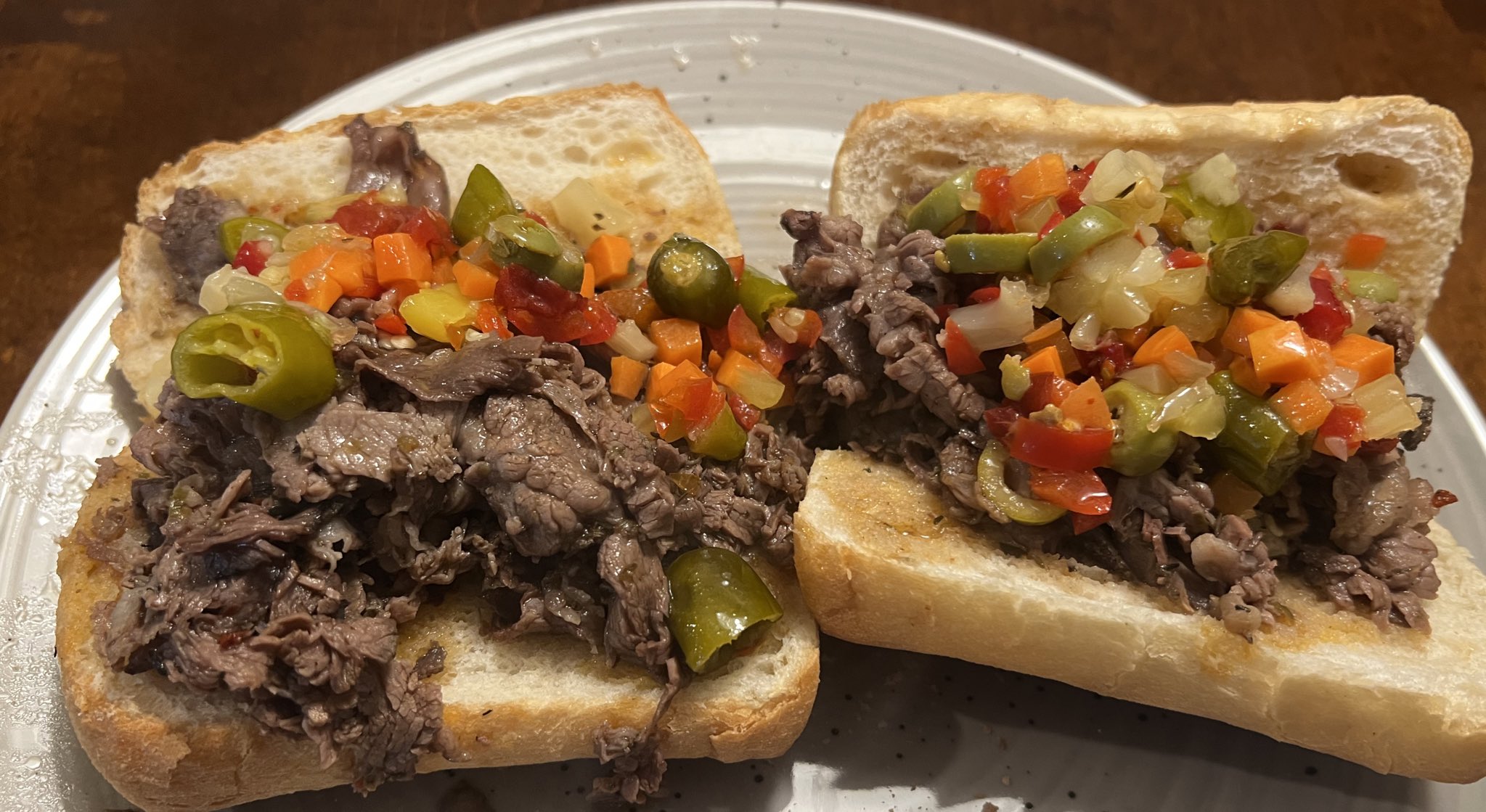 imagesource/twitter
This regional delicacy is made with Italian beef and dipped in savoury jus before being folded and layered on that crusty Italian bread we all know and love. It's then baked to soak up all the juiced and then caramelized onions and sweet peppers are added in at the end.
14. Indiana – Fried Pork Tenderloin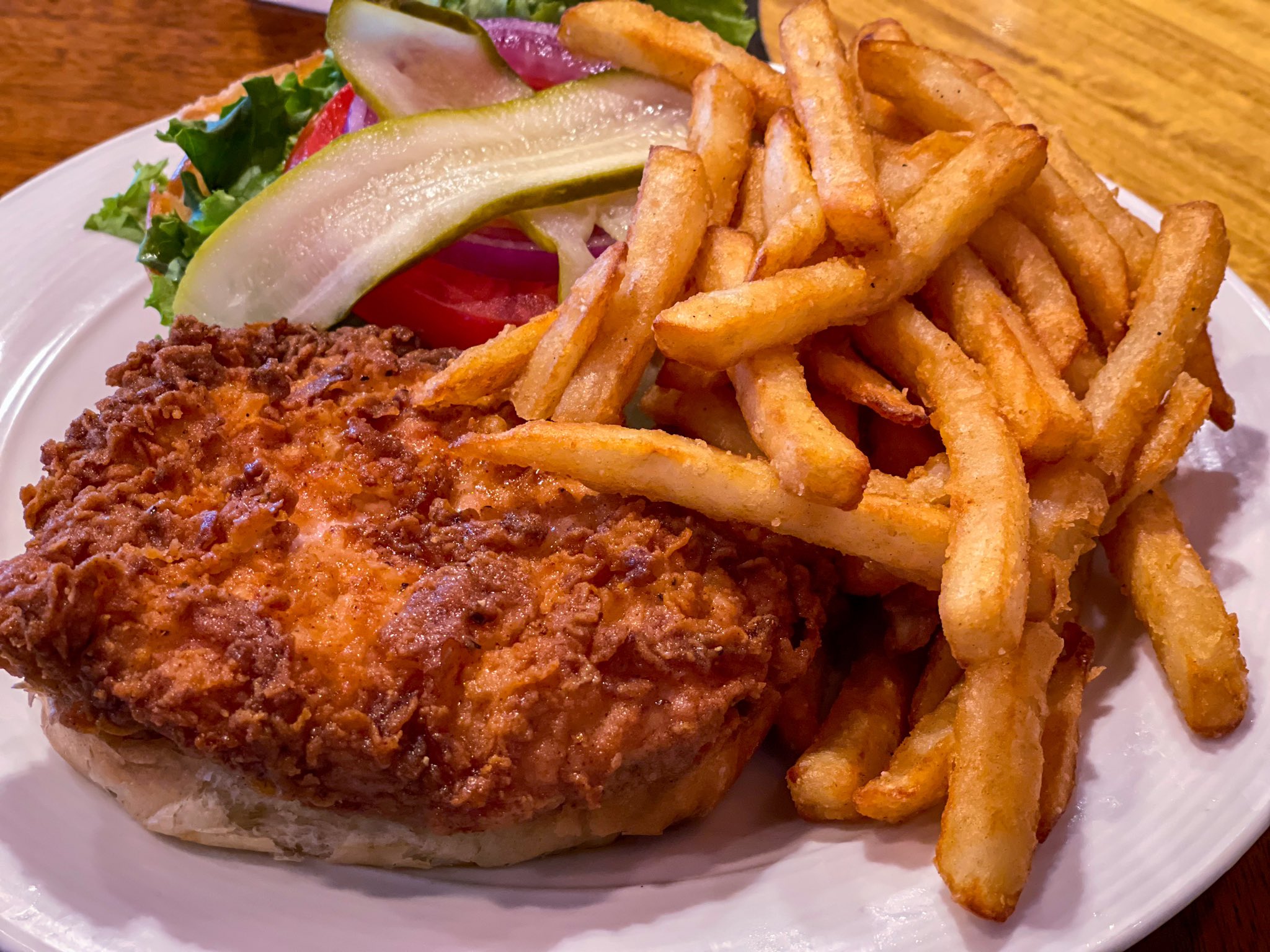 imagesource/twitter
Who doesn't love them a crispy pork cutlet stuffed in a sandwich? The pork is pounded into thin cuts, breaded and then fried until golden and crispy. The cutlet is left to cool down a little before pickles and tangy mayo are placed on top in between the pieces of bread.
15. Iowa – Loose Beef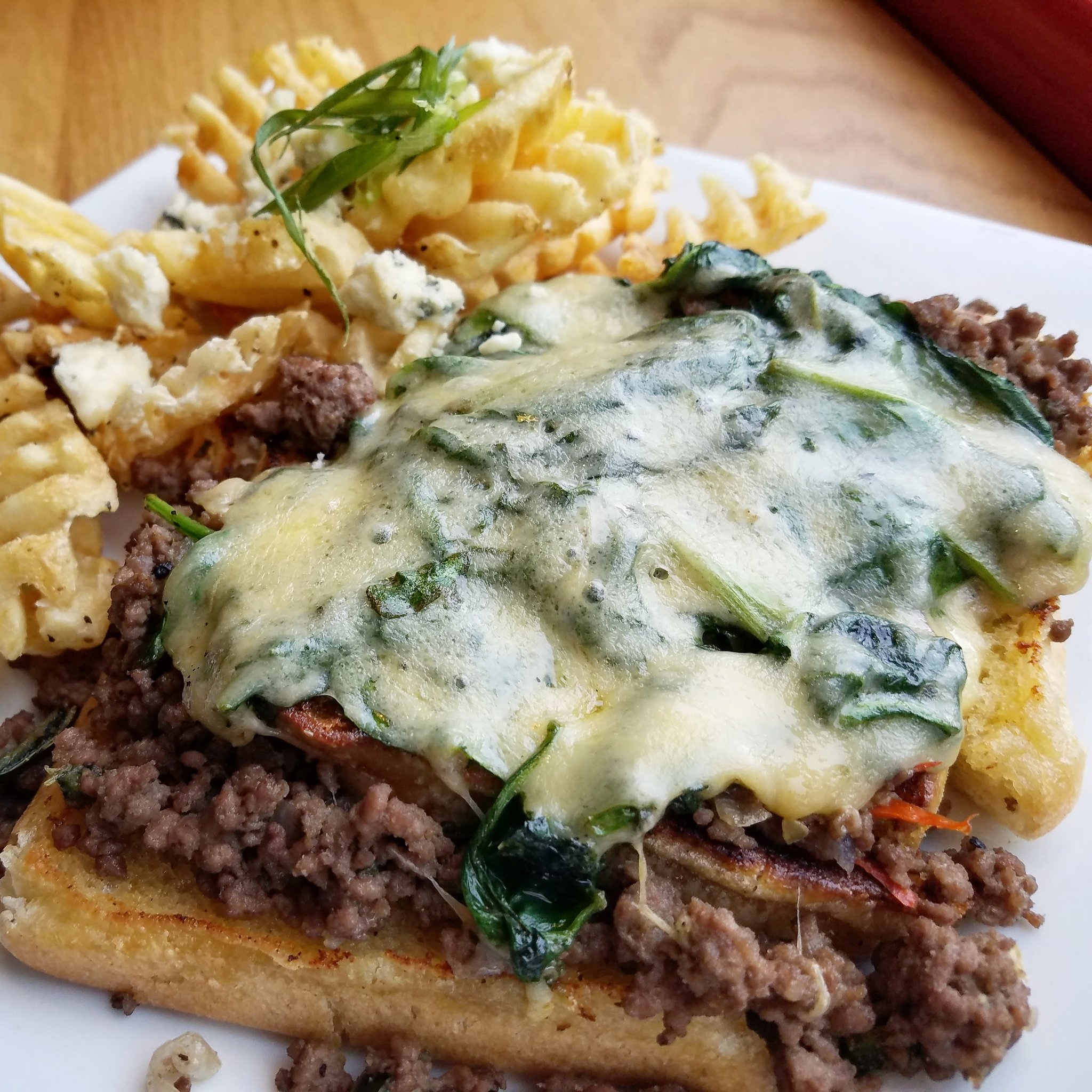 imagesource/twitter
Iowans love this ground beef sandwich thats covered in Barbecue sauce and transformed into what we know as a Sloppy Joe! The "loose beef" is sautéed with onions, a bit of paprika and placed into a soft white burger bun. Delicious!
16. Kansas – Burnt Ends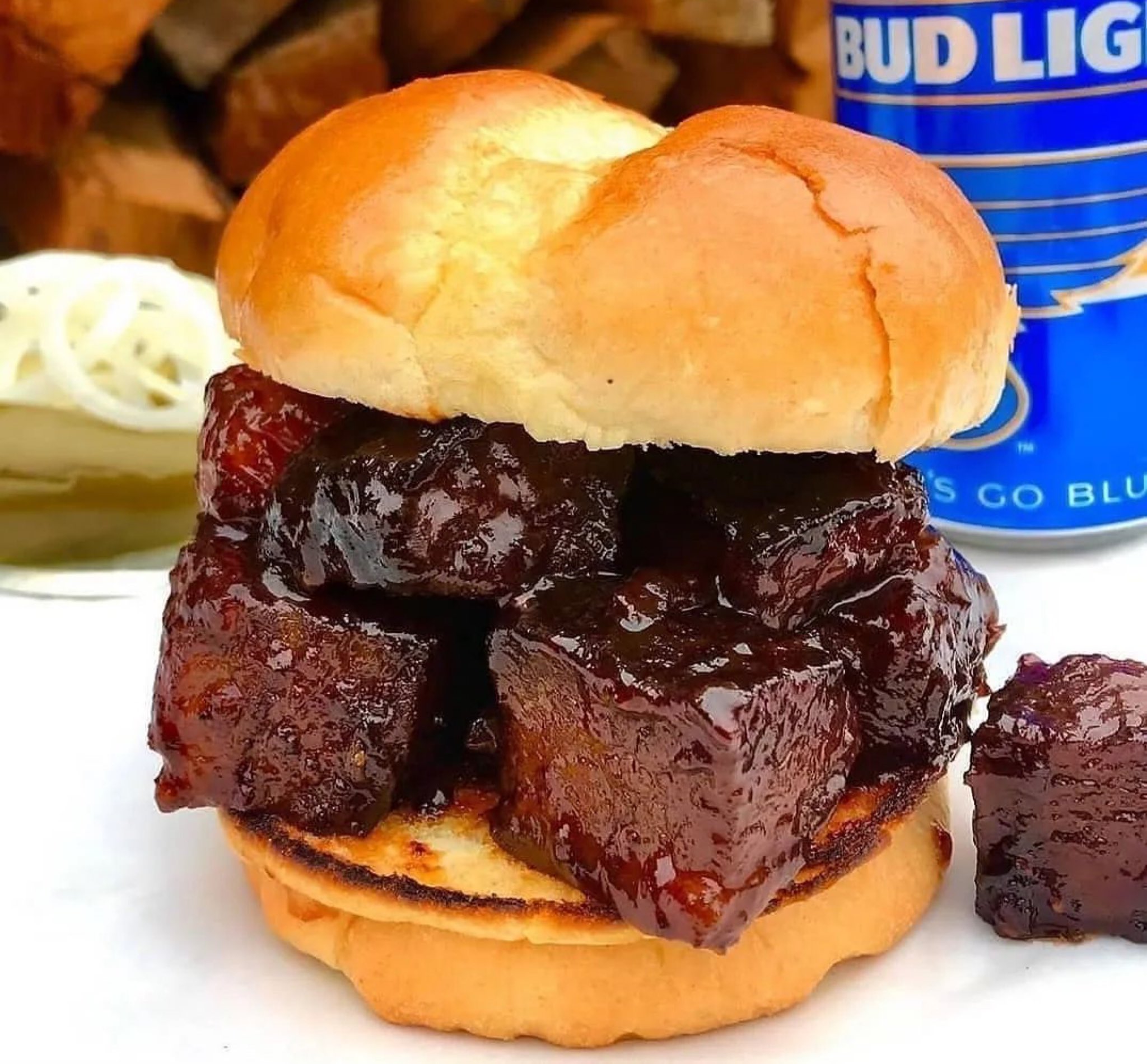 imagesource/twitter
If there's something that Kansas does well, it's a bit of barbecue food. The smoky, crusty tips from the barbecue brisket are slathered in barbecue sauce and thrown into the sandwich. When we say the tips, they're biggish pieces of brisket.
17. Kentucky – Hot Brown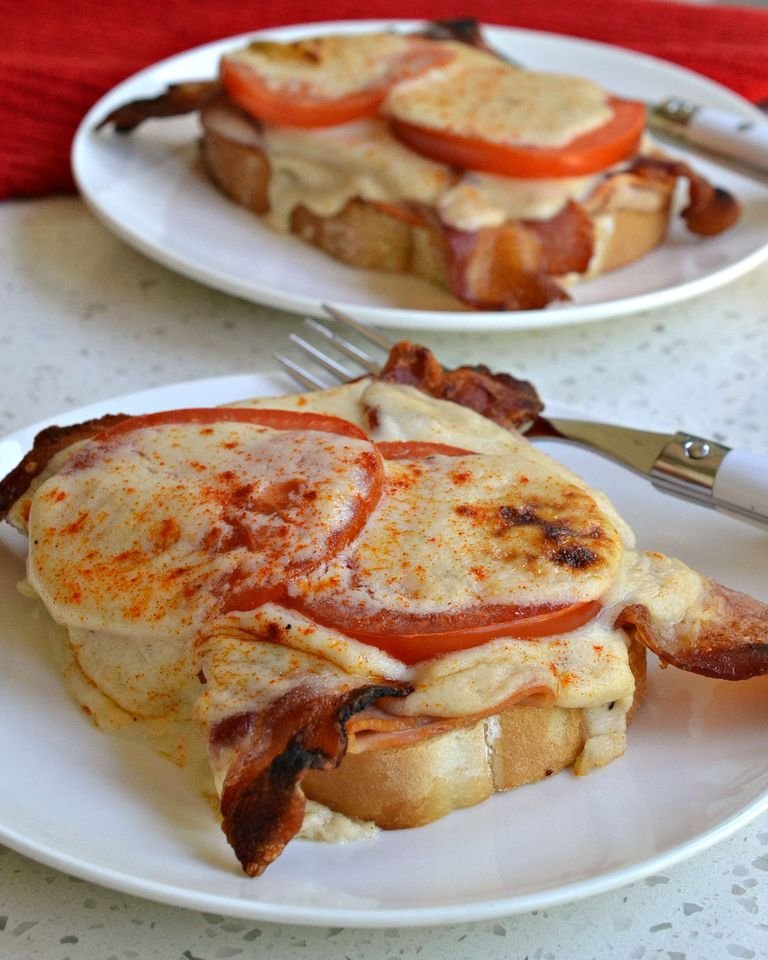 imagesource/twitter
The hot brown is an open faced sandwich created in Kentucky and filled with rich roast turkey then covered in creamy cheese sauce and topped of with a handful of Pecorino Romano. Crispy bacon and a juicy tomato is added for that bit of textural contrast.
18. Louisiana – Muffuletta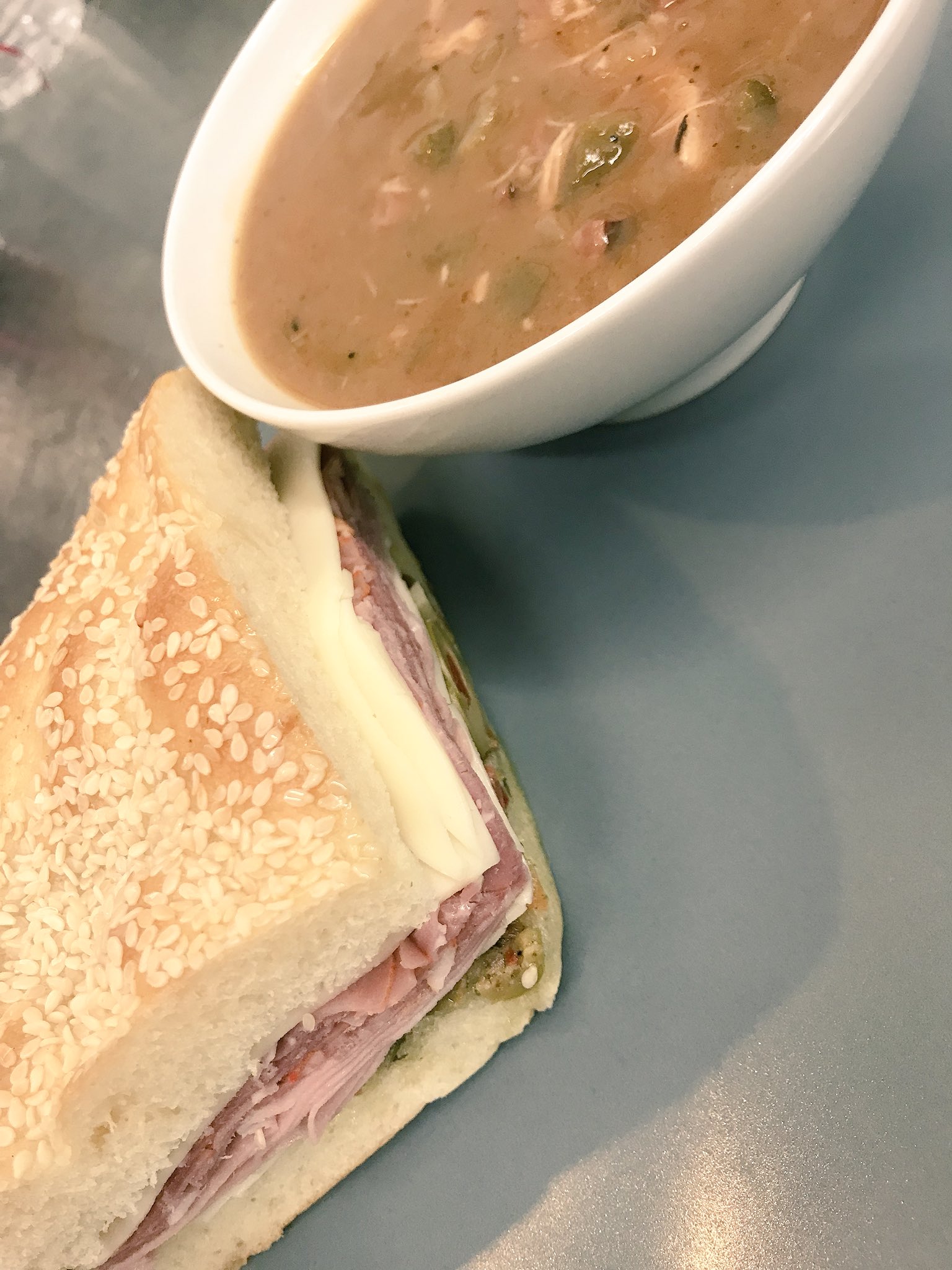 imagesource/twitter
This two sandwich king, the Muffuletta is hard to find outside the region of Louisiana. It's made from ham, salami, bologna, Swiss cheese and provolone cheese the served in a dense muffuletta loaf. The loaf is covered with olive spread to cut through the meaty richness.
19. Maine – Lobster Roll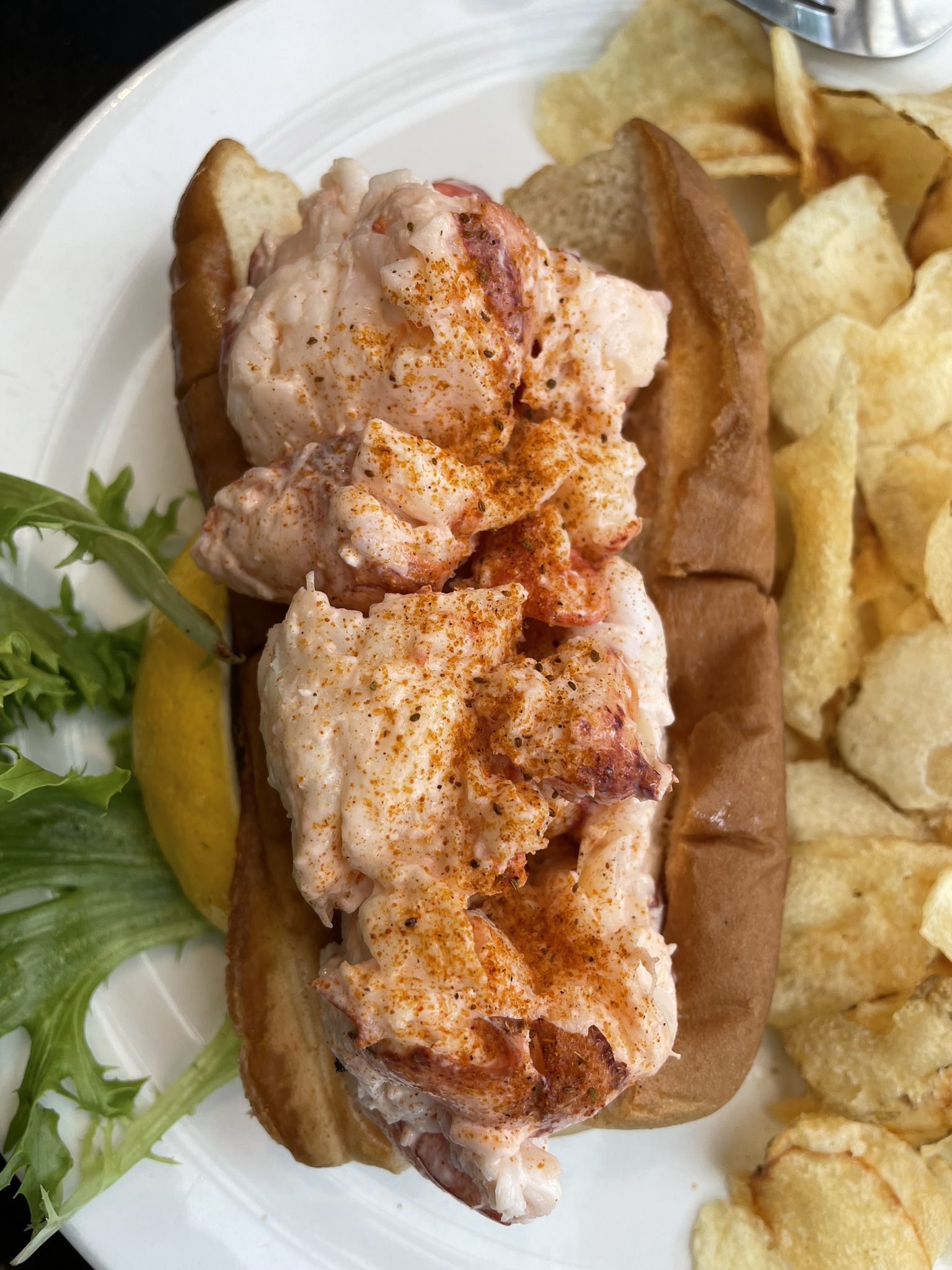 imagesource/twitter
This summer delicacy is a staple of Maine cooking. The fresh Lobster is tossed in dressing and served cold on a soft hot dog bun. The lobster meat is then covered in rich mayo, chopped celery and a squeeze of lemon. It's so fresh and tasty you won't want it to end.
20. Maryland – Crab Cake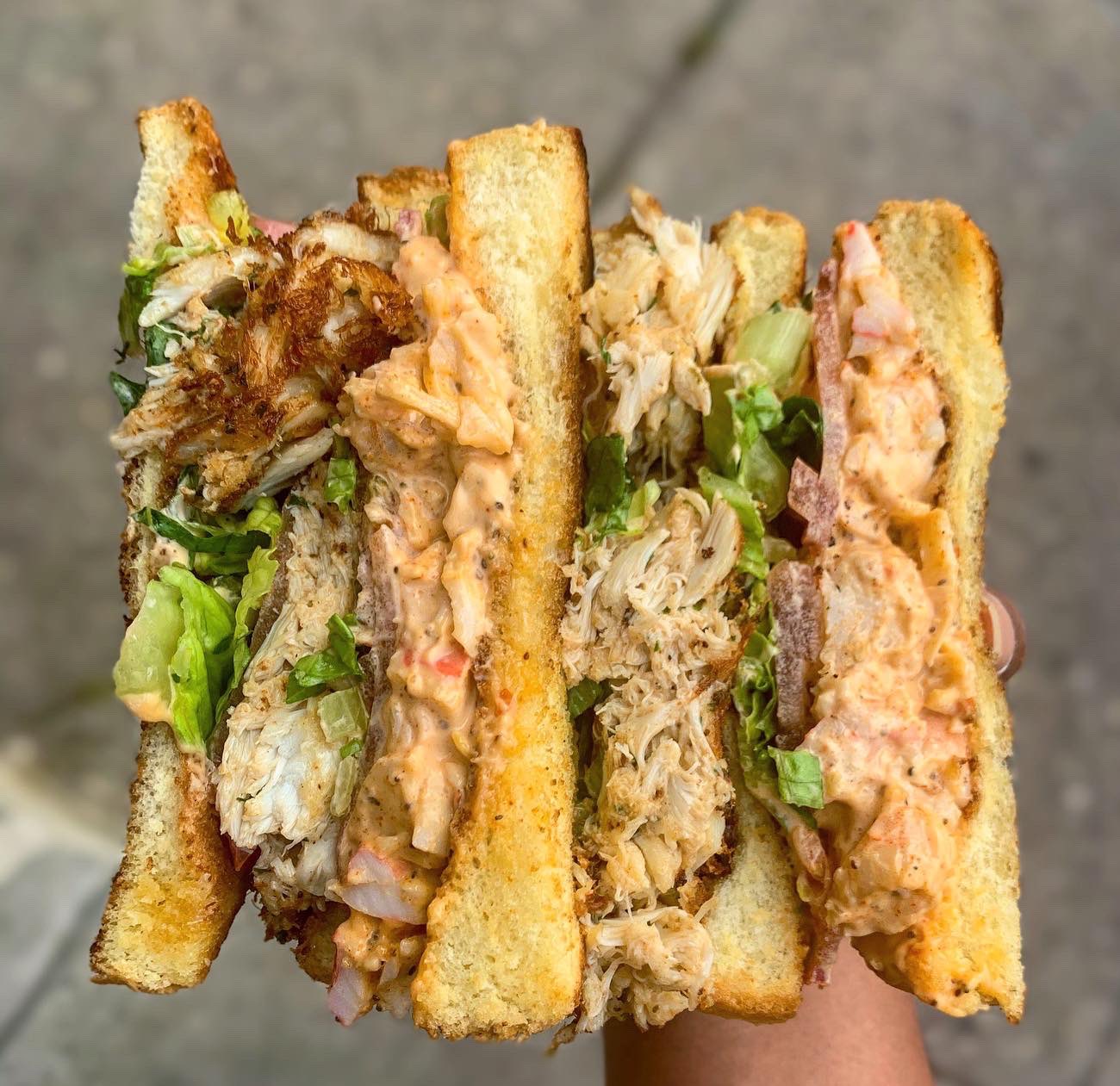 imagesource/twitter
Another state that's famous for it's sea food is Maryland with it's crab cakes. A big fresh lump of crab meat is dressed in mayo, dijo and a squeeze of lemon to accentuate the tasty crab flavour then made into a patty, breaded and fried until crisp before being placed on a hamburger bun.
21. Massachusetts – Fluffernutter
imagesource/yankeemagazine
The Fluffnutter is the perfect mix between sticky sweet and salty. The marshmallow fluff and peanut butter mix is a Massachusetts state delicacy and most residents will remember it from their childhood. The sandwich was actually invented in 1917 in Boston.
22. Michigan – Ham Sandwich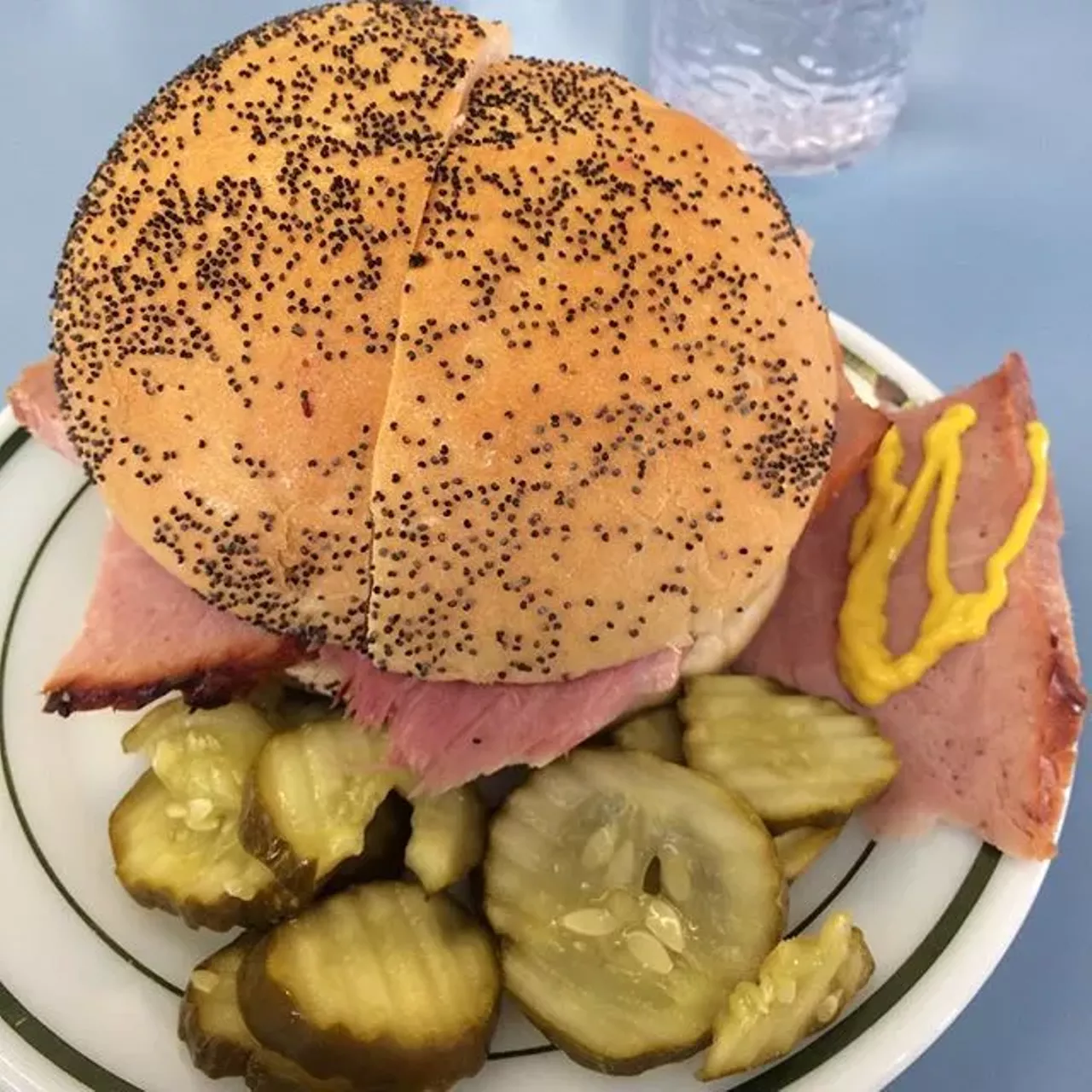 imagesource/detroitmetrotimes
As the home of America's auto industry, Detroit is famed for it's tasty ham sandwiches. Spiral cut ham is stuffed into a split onion roll with some Swiss cheese before being lathered in spicy mustard to punch up the flavour of the already delicious sandwich.
23. Minnesota – Juicy Lucy
imagesource/eatnyer
The Juicy Lucy is Minnesota's sandwich that still has restaurants battling over it's origins. The grilled hamburger contains a whole knob of cheese (so it's one to stay away from if you're on a diet!) which then oozes out of the sandwich as soon as you bite into it!
24. Mississippi – Grilled Shrimp Po'Boy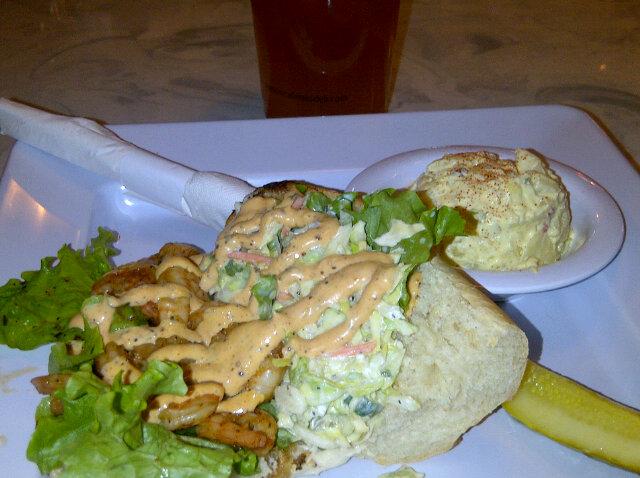 imagesource/twitter
Another Shrimp sandwich on the list, but this time, it comes from the Southern state of Mississippi. The garlicky sandwich is filled with marinated shrimp, grilled until lightly charred and served on a crusty baguette roll covered in delicious butter.
25. Missouri – Hot Salami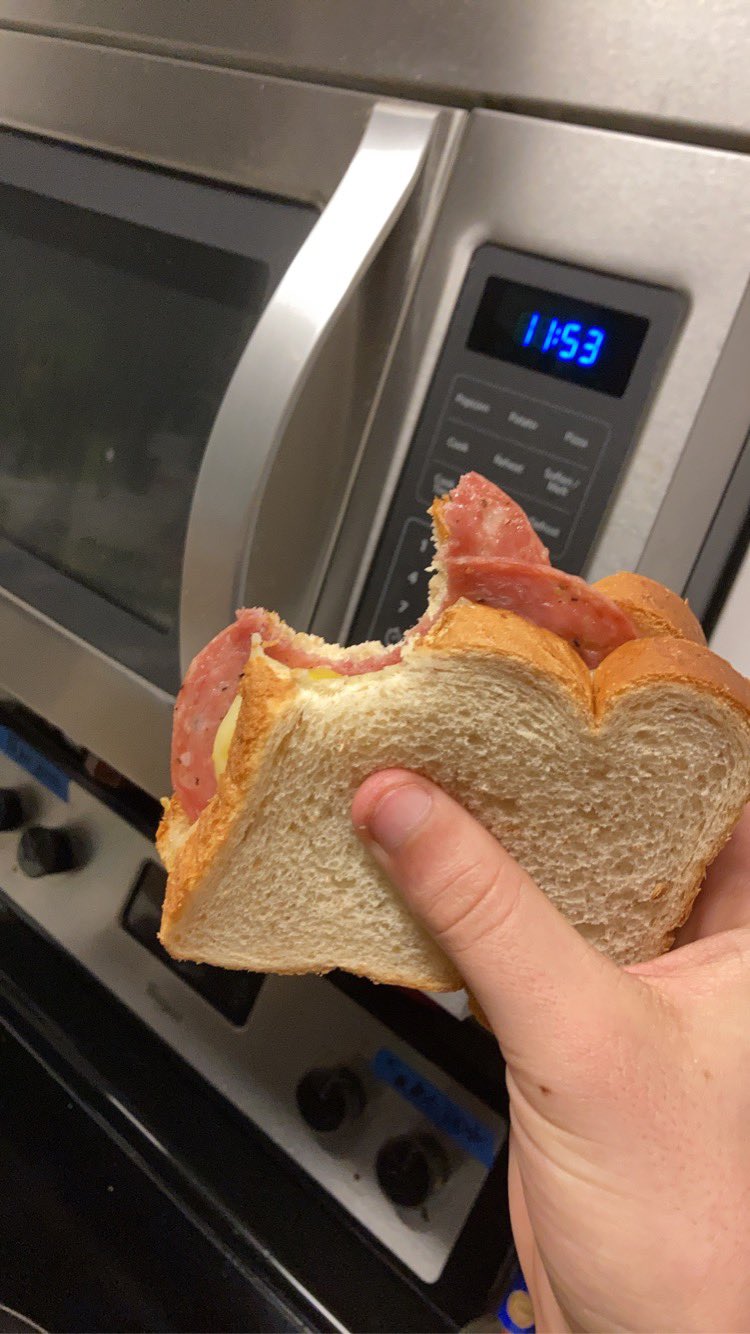 imagesource/twitter
If you're ever travelling through or in Missouri, you should NOT miss out on their famous salami sandwich at Gioia's Deli. The sandwich is made with salam de testa, a soft rich, pork filled sandwich. Slices of piping hot salami are piled high on a sub roll.
26. Montana – Pork Chop Sandwich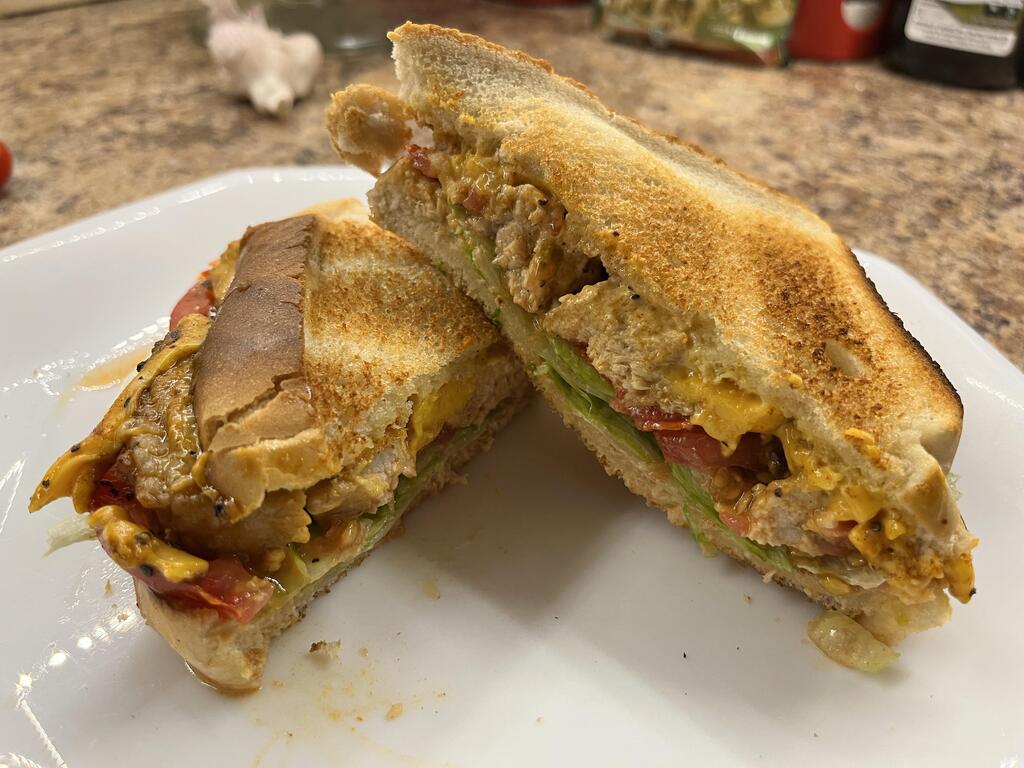 imagesource/twitter
This lightly battered and fried boneless pork chop sandwich has been a favourite amongst Montanans since the early 20s and we can completely see why. The crispy pork is placed on a hamburger bun with lettuce, tomato and onions and left to cool down before served.
27. Nebraska – Reuben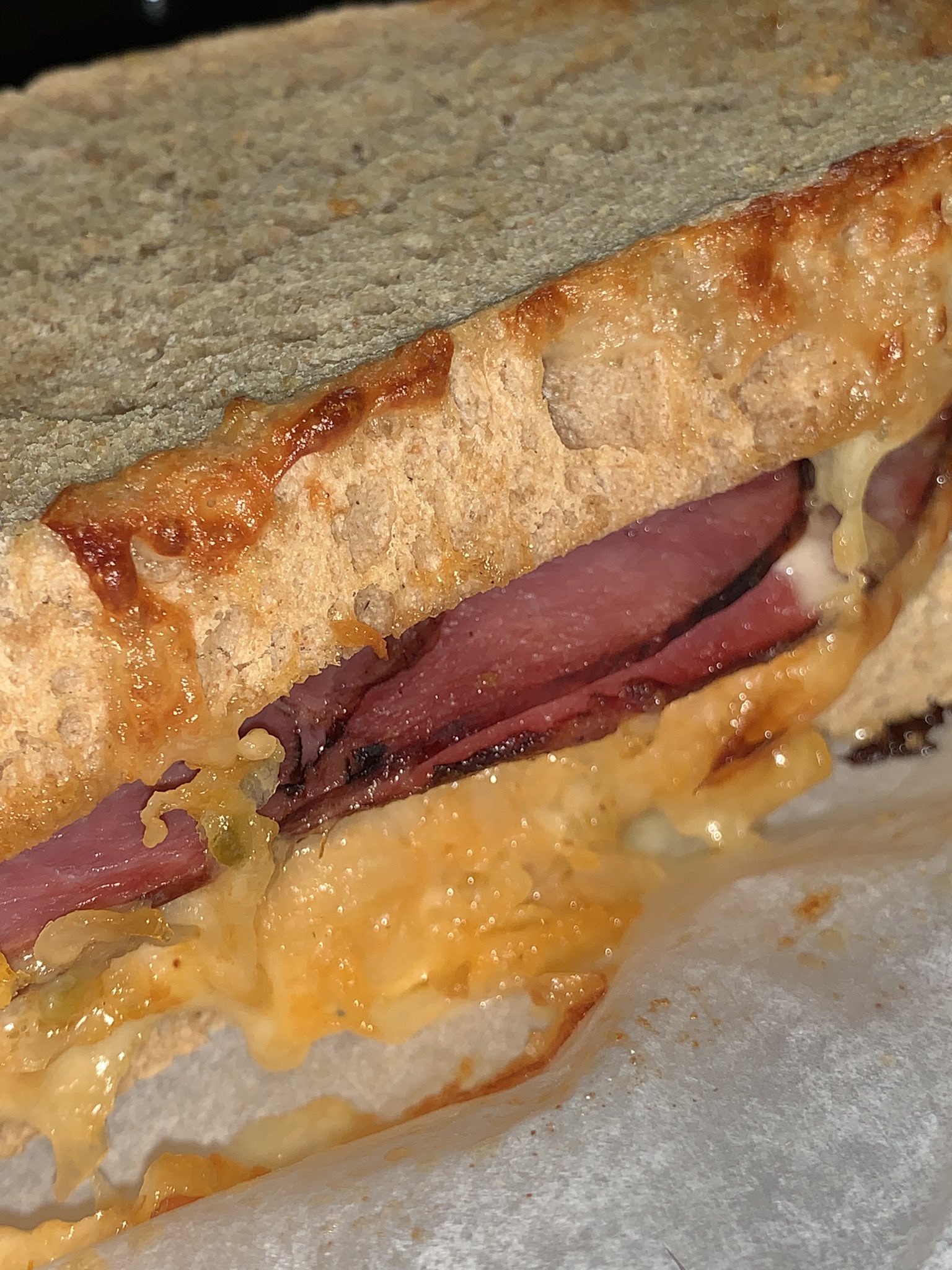 imagesource/twitter
Most people have heard of the Reuben and if you haven't, have you been living under a rock? The Reuben was invented in the 1950s and made with signature corned beef, sauerkraut, melted cheese and Russian dressing served on toasted rye.
28. Nevada – Patty Melt
imagesource/twitter
The Patty Melt is the perfect late night sandwich, after an evening of gambling and drinking. Served in a hamburger patty and dished up on toasted bread, smothered in cheese this Nevada special can be found in most Vegas takeout joints!
29. New Hampshire – Monte Cristo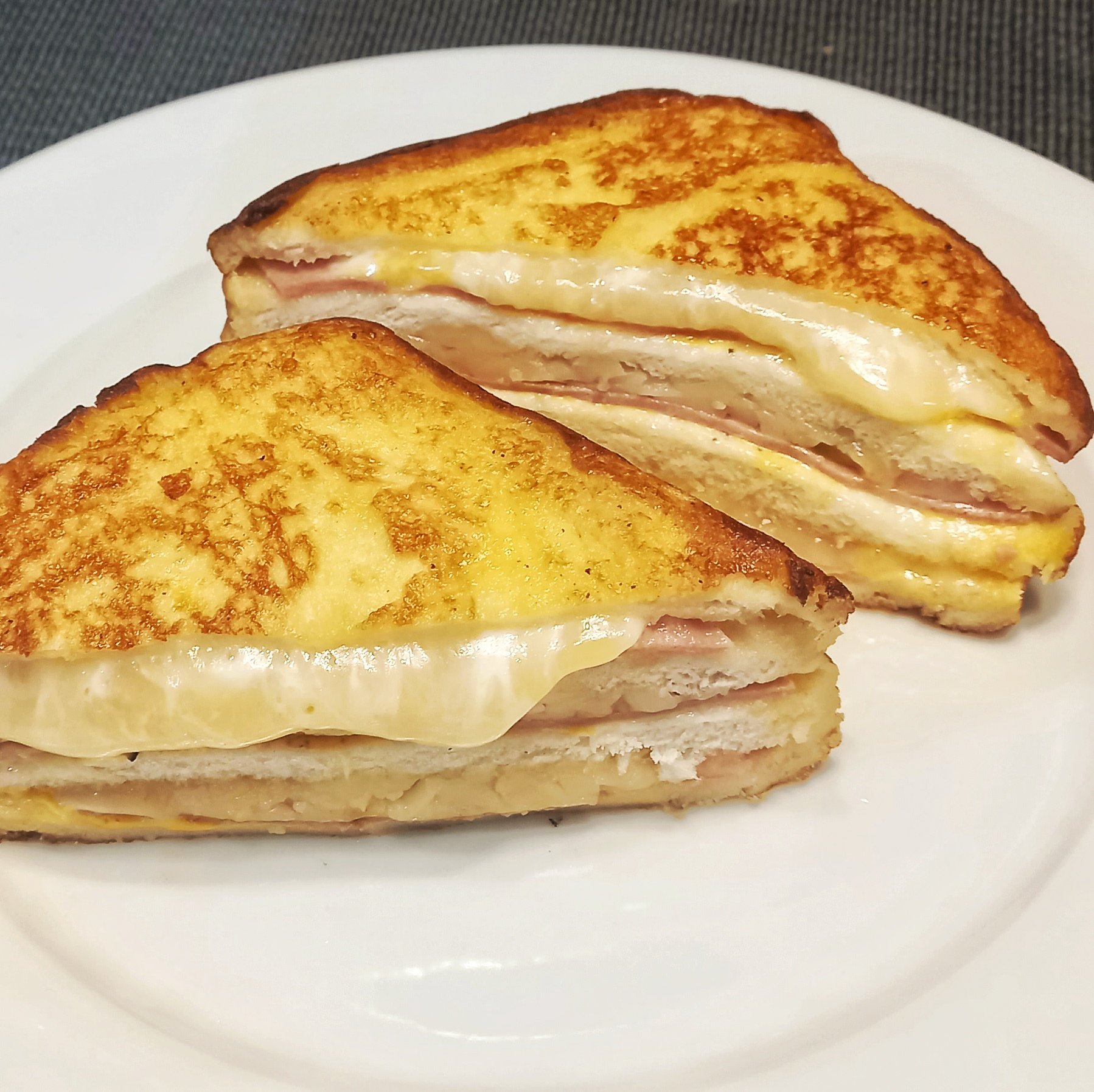 imagesource/twitter
New Hampshire residents embrace maple syrup – their most iconic product – and it's incorporated in their diner favourite, the Monte Cristo. Grilled ham or turkey is served on two slice of French toast with plenty of maple syrup of dipping.
30. New Jersey – Italian Sub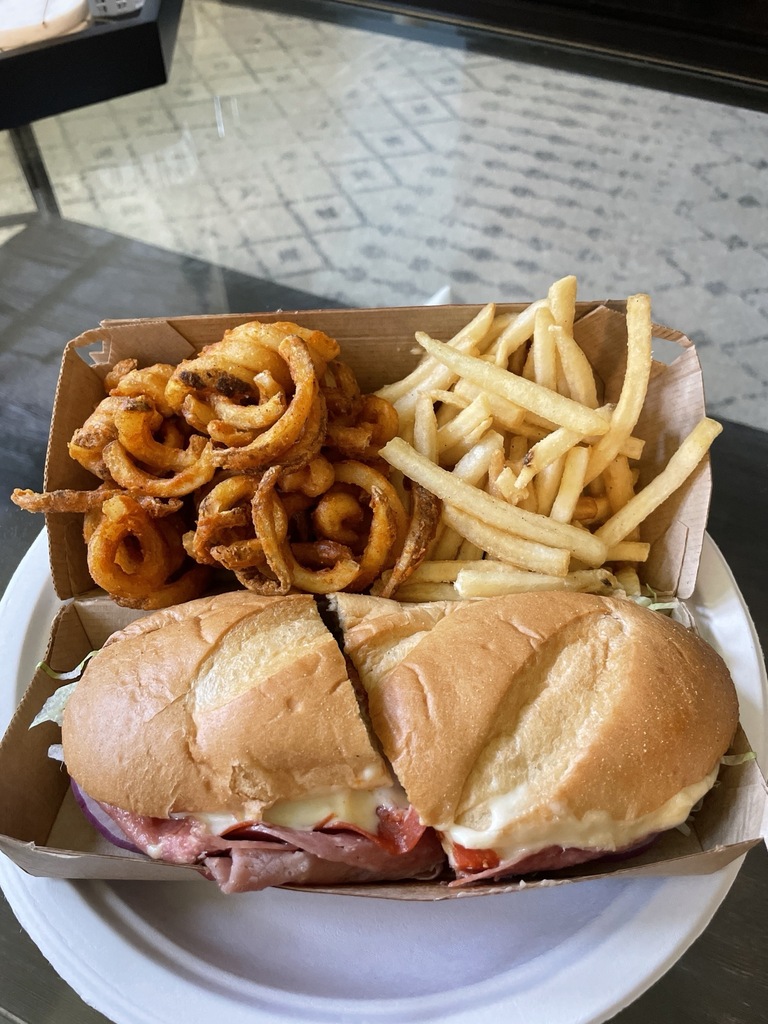 imagesource/twitter
The salami sub instantly makes anybody think of "the shore" and this iconic sandwich makes it such a memorable order. Sliced salami and provolone stuffed into an Italian roll makes this New Jersey special so very….well, special!
31. New Mexico – Green Chilli Cheeseburger
imagesource/10best
Now, a Cheeseburger is always a good idea. But if you've never tried a green chilli cheeseburger, then you're really missing out! The heat of the chilli adds extra oomph to this already stunning classic. New Mexico's signature green chillies make this sandwich really pop!
32. New York – Pastrami on Rye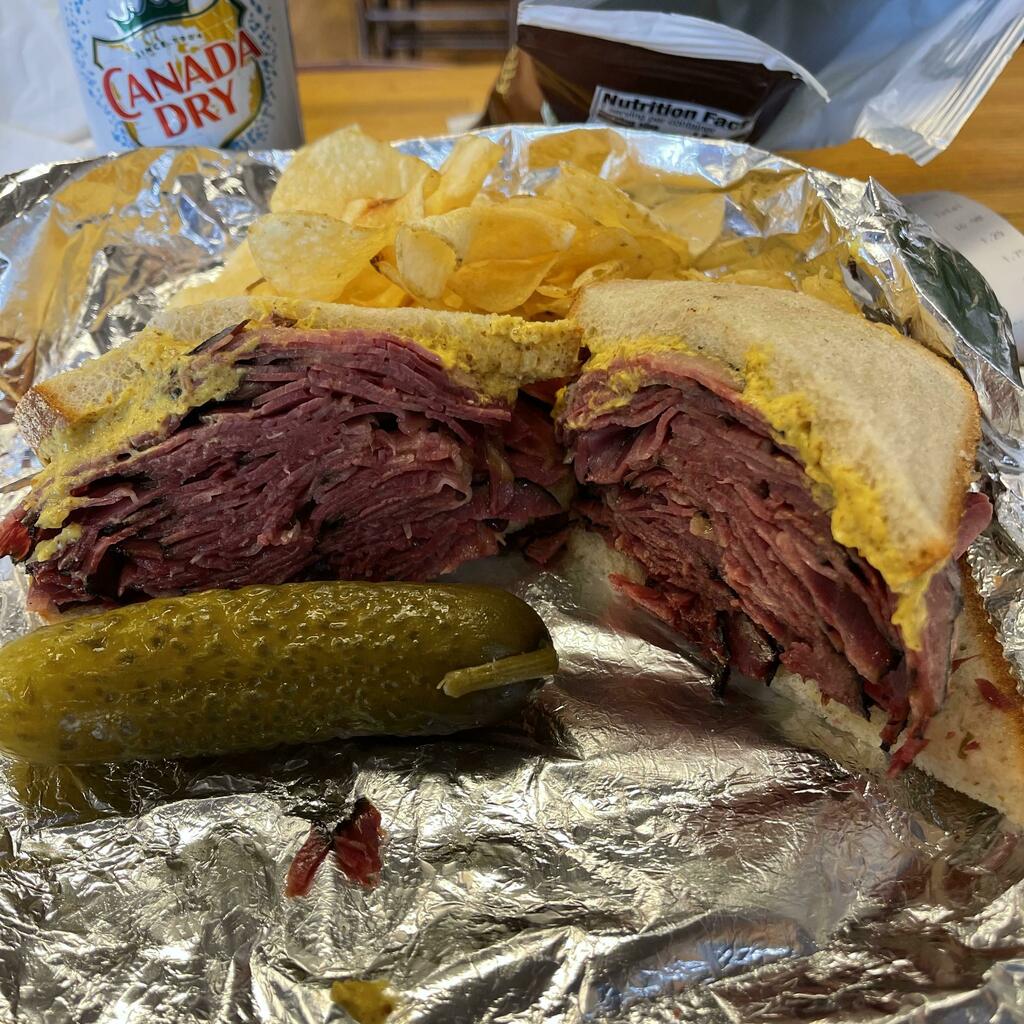 imagesource/twitter
When you think of the food in New York, your mind instantly goes to the deli sandwiches. This New York classic features brined and slow smoked pastrami on seeded rye then served with a crunchy dill pickle on the side. Because pickles always give that added oomph.
33. North Carolina – Pulled Pork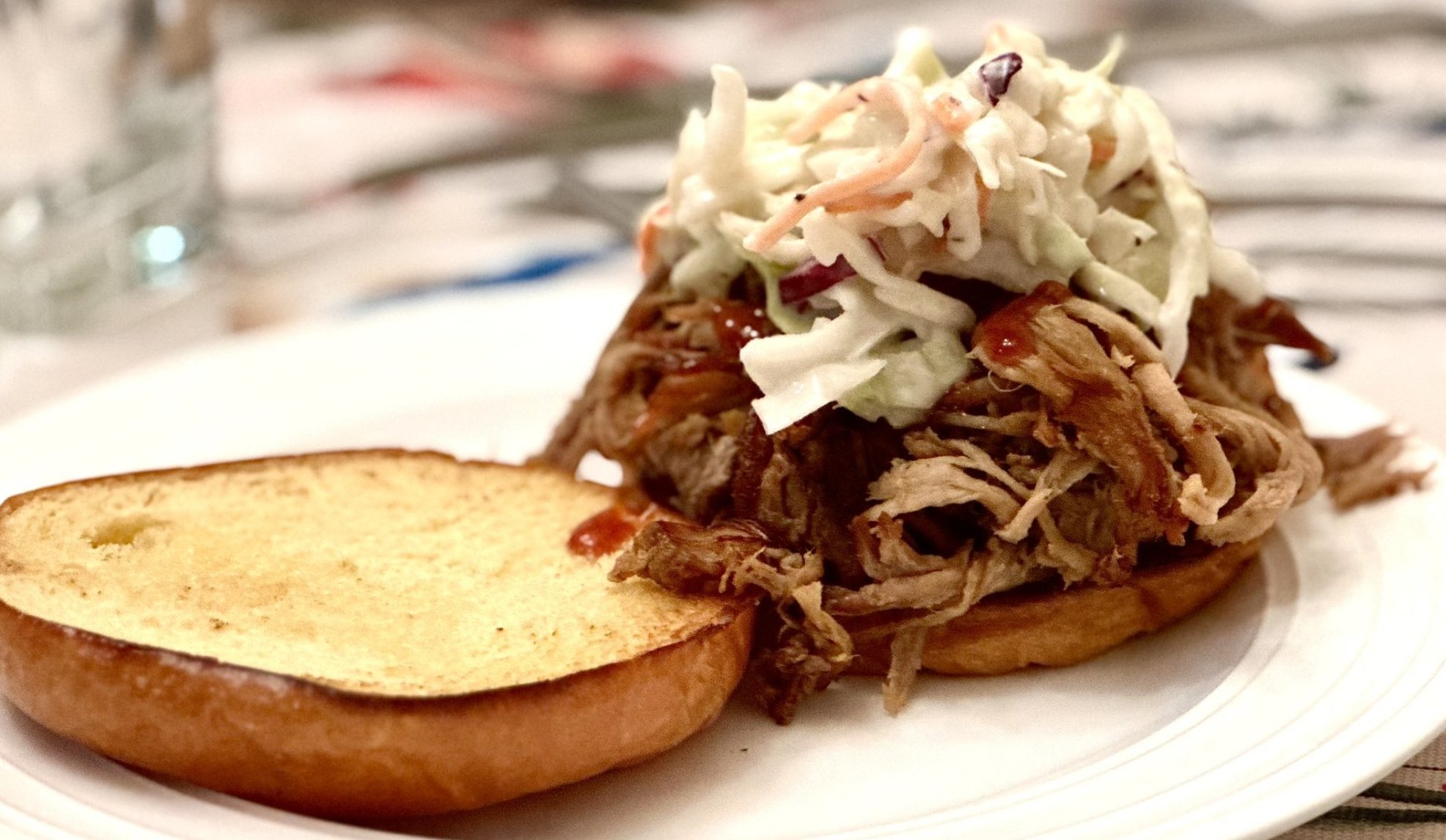 imagesource/twitter
No state is more passionate about pulled pork barbecue than North Carolina and this pork shoulder is dry rubbed and smoked before being tossed with a sweet, acidic barbecue sauce. This pulled pork sandwich is a MUST EAT if you're ever in North Carolina.
34. North Dakota – Barbecue (aka Sloppy Joe)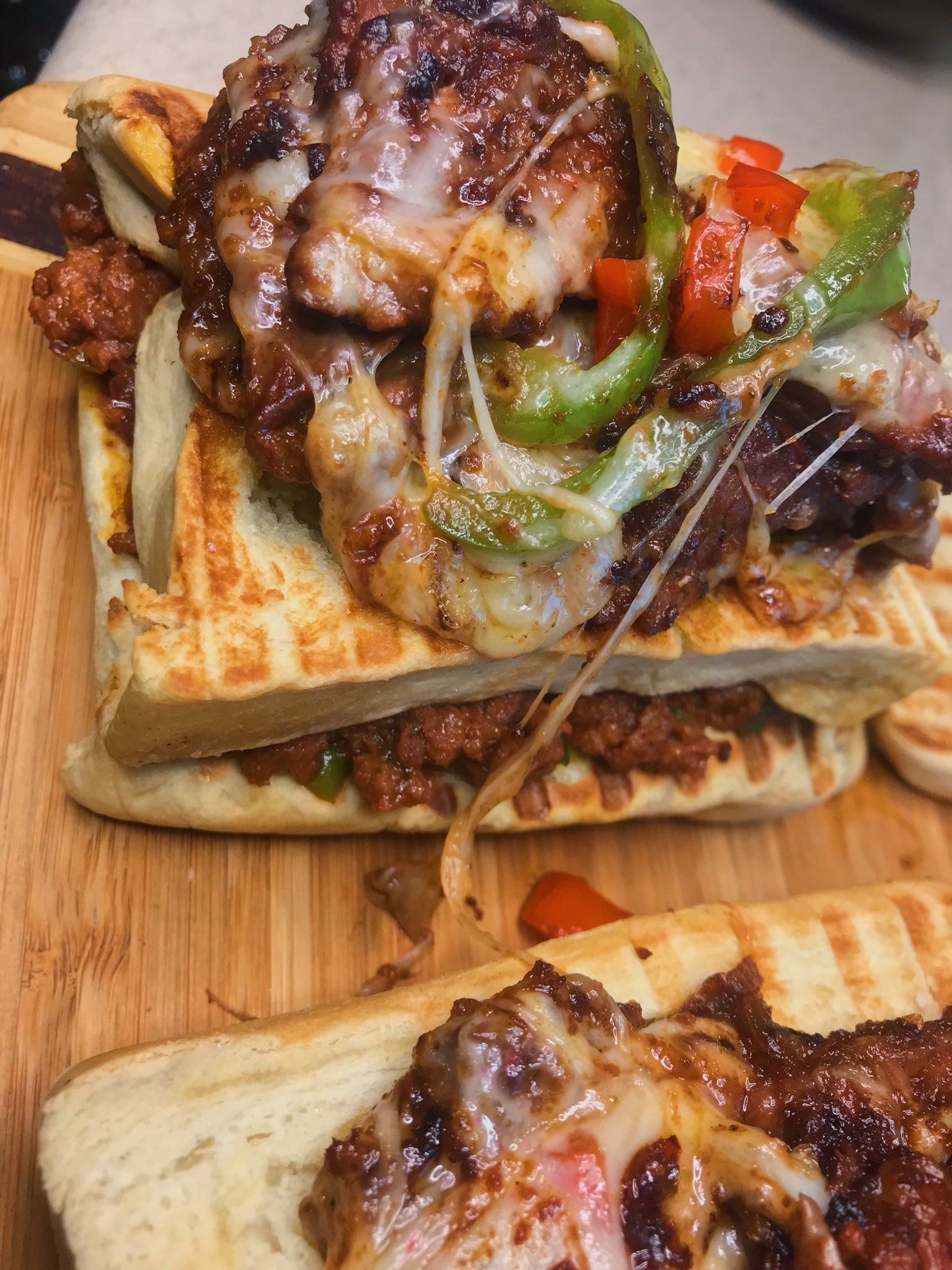 imagesource/twitter
Everyone in North Dakota loves a Sloppy Joe and it's also so simple to make! Ground beef is sautéed with onions and then slathered in either barbecue sauce of ketchup and then scooped into a hamburger bun. The Sloppy Joe is found in most burger joints around the US now!
35. Ohio – Polish Boy
imagesource/twitter
Ohio's famous 'Polish Boy' offers a little something extra in the form of French fries, hot sauce and coleslaw. After a tonne of pork and shrimp style sandwiches in this list, it's refreshing come across this spicy señorita. After being piled onto a spicy kielbasa and served onto a hot dog bun, this sandwich will have you dribbling.
36. Oklahoma – Chicken Fried Steak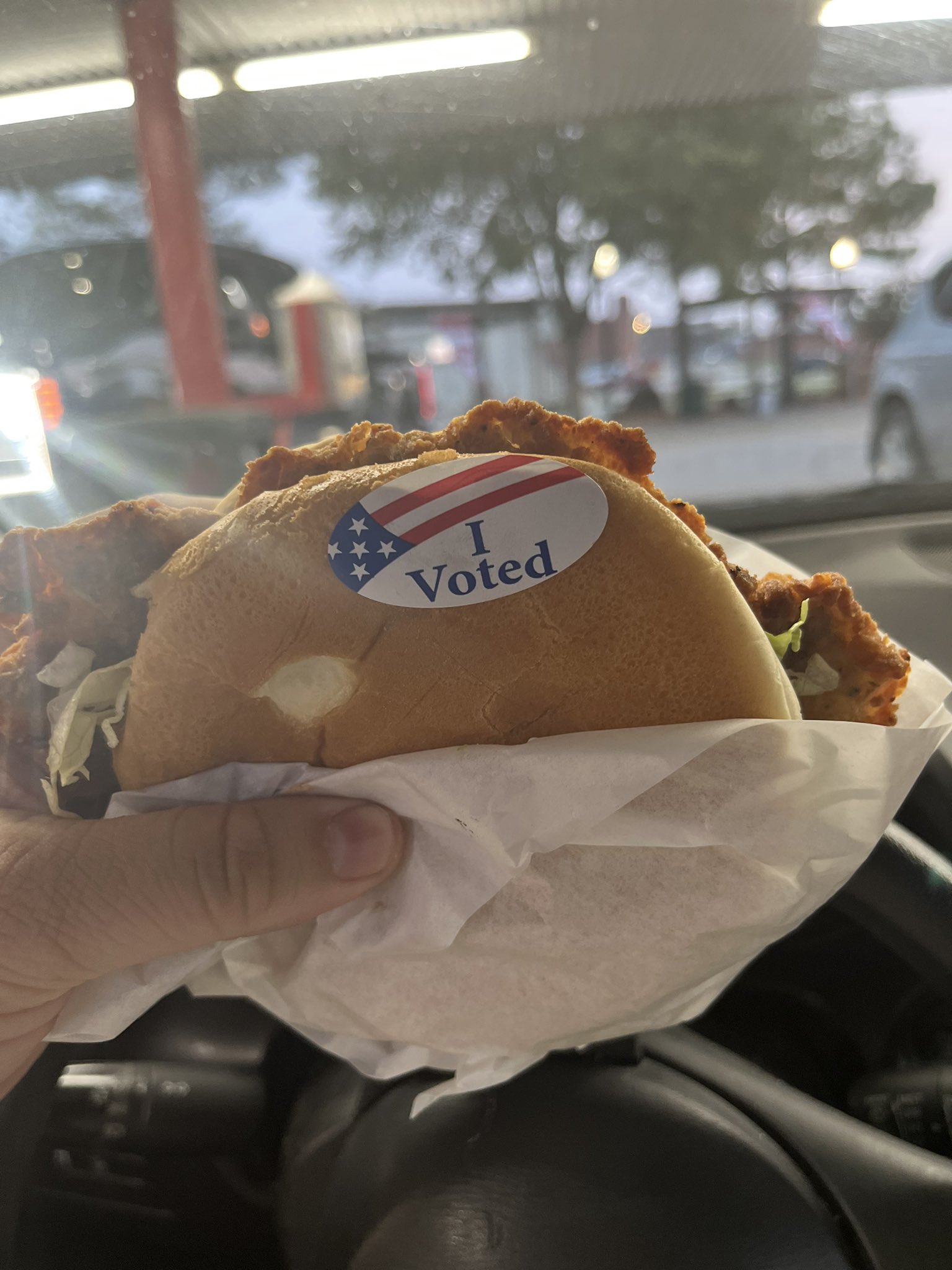 imagesource/twitter
This Southern classic is found on most Oklahoma menus. A beef cutlet is breaded and pan fried before being placed onto the pieces of bread and munched on. It's definitely one thats worth visiting for so next time you're in New Orleans…get yourself a chicken fried steak.
37. Oregon – Gardenburger
imagesource/maplespice
An old classic, which was invented in Oregon in 1981, the Gardenburger is made with mushrooms combined with brown rice and rolled oats with onions, cheese and garlic for this tasty veggie burger. This iconic sandwich is popular amongst all Oregonians!
38. Pennsylvania – Cheesesteak
imagesource/closetcooking
The 'Cheesesteak' is made from thin sliced meat which is covered in delicious melted American cheese making it the perfect sandwich for a decadent lunch in downtown Pennsylvania. Some like to add peppers and onions to add that extra little oomph.
39. Rhode Island – Fried Clam Roll
imagesource/omnivorous
Rhode Island's favourite sandwich – the fried clam roll – is usually made with delicious breaded clams and taste amazing in a grilled hot dog bun or when they're tossed in a basket, either or! Which ever way you prefer to eat them, they're delicious either way.
40. South Carolina – Pulled Pork with "Gold Sauce"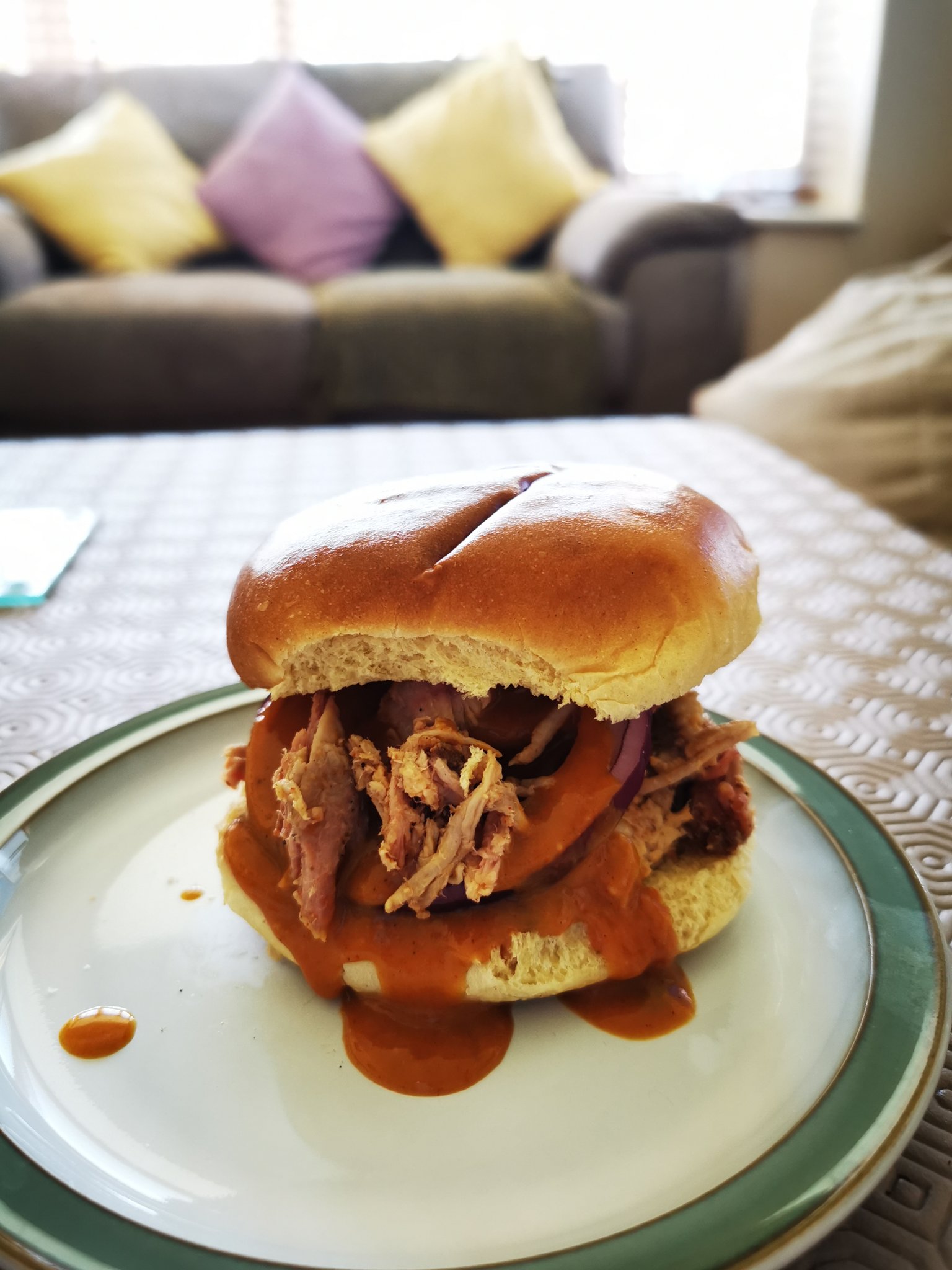 imagesource/twitter
The people of South Carolina love their pork barbecue sandwich. But what is it that sets them apart from their Northern counterpart? Well, the 'gold sauce', which is made from yellow mustard, brown sugar and vinegar makes this sandwich a whole lot different. It's gorgeous!
41. South Dakota – Pheasant Salad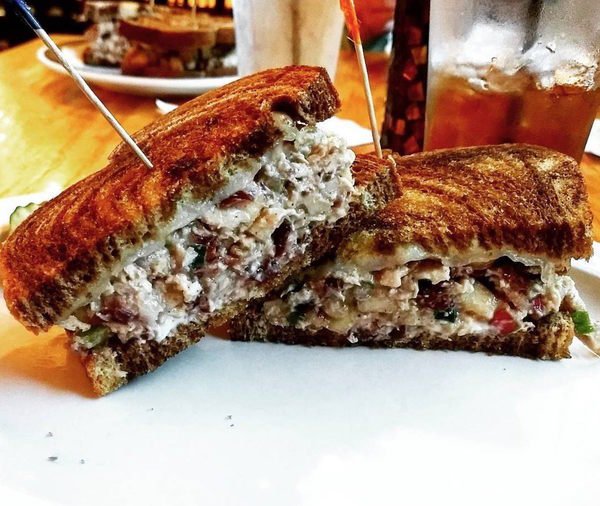 imagesource/twitter
Pheasant is prime game in the state of South Dakota and diners love a bit it in between their bread. Pheasant salad is shredded and tossed with mayonnaise, relish, onions and celery then placed in between two tasty buns to make this sandwich South Dakota's favourite!
42. Tennessee – Elvis Sandwich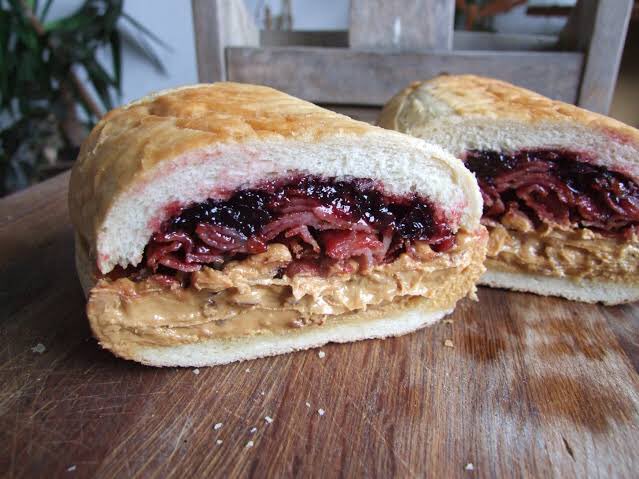 imagesource/twitter
You can't go to the deep south without thinking of Elvis really, can you? So what's more iconic that Elvis' favourite concoction. This fried peanut butter, banana and bacon sandwich is fit for a king, the king of rock to be exact – this was his all time favourite dinner time snack.
43. Texas – Smoked Brisket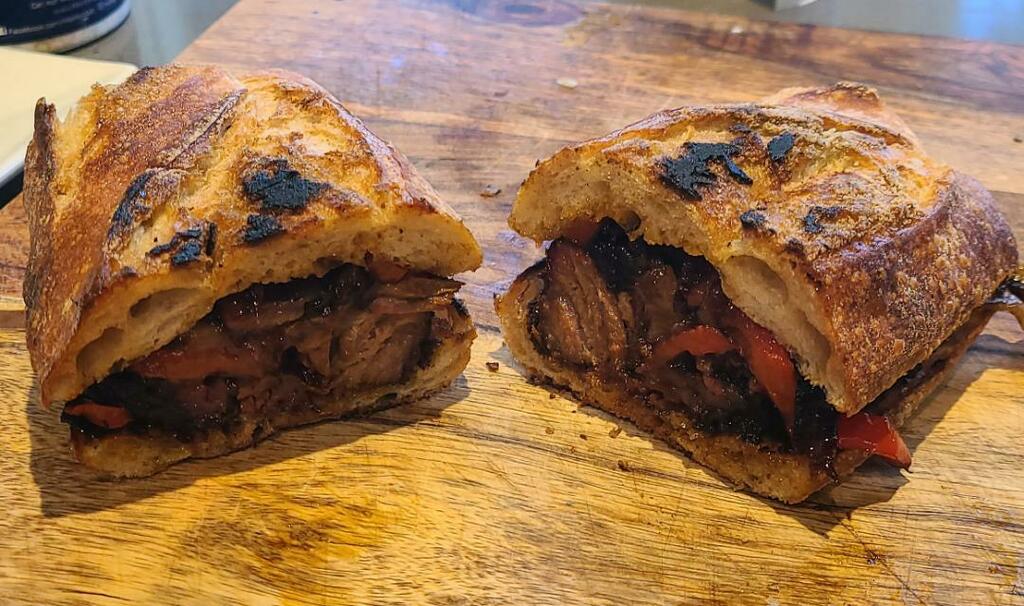 imagesource/twitter
The Lone Star state gives us this delightful smoked brisket sandwich that is often served with mayo and pickled onions on rich brioche bun. If you're travelling through Texas, you must stop of at one of the hundred joints that serve this state famous sandwich.
44. Utah – Pastrami Burger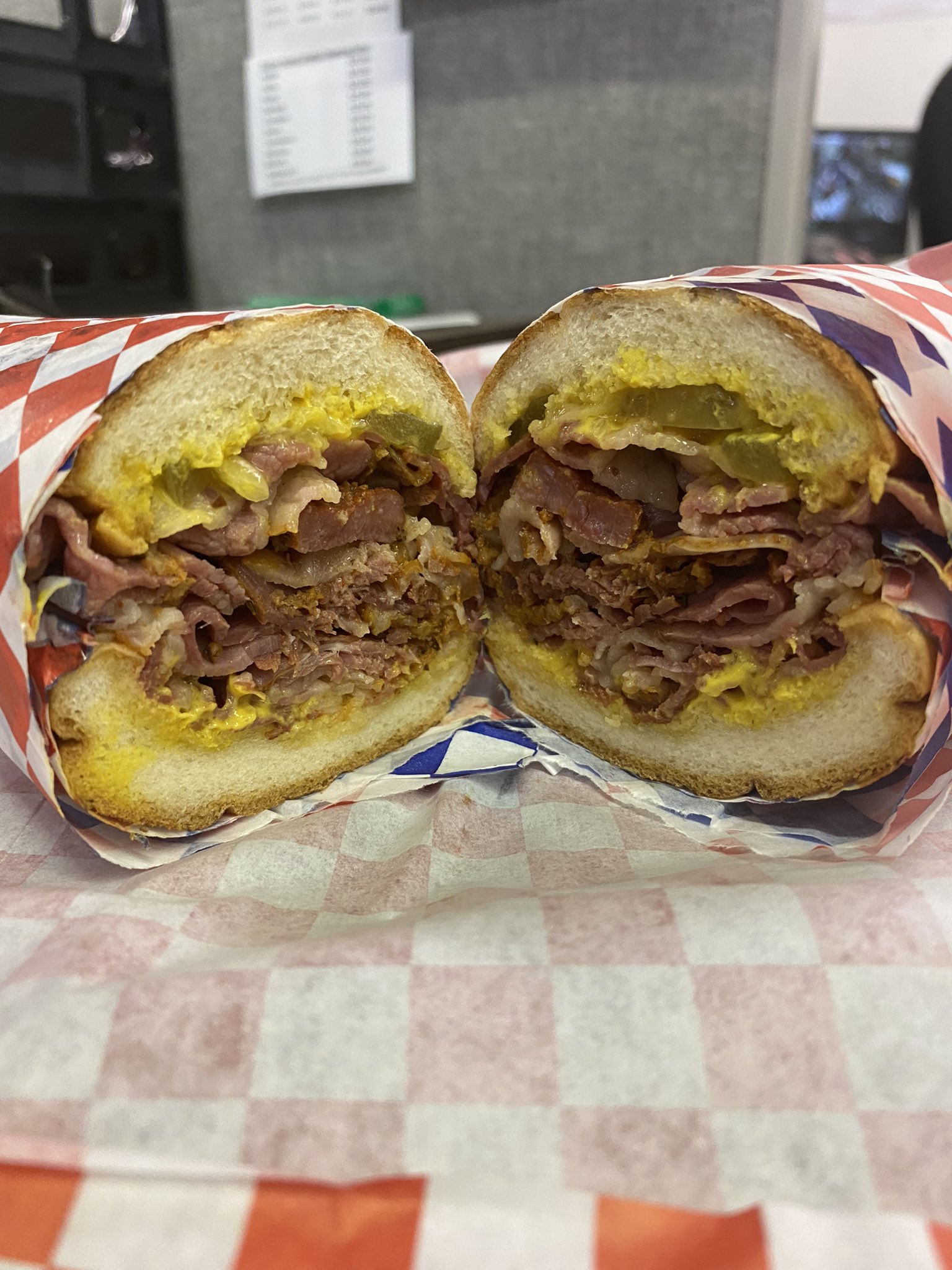 imagesource/twitter
This local dish is served all over around the region at chain Crown Burgers which combines two sandwiches: the pastrami and the Patty Melt. Pastrami, Thousand Island dressing, onions and cheese is plonked on top of a grilled beef patty for this mouthwatering sandwich.
45. Vermont – The Vermonter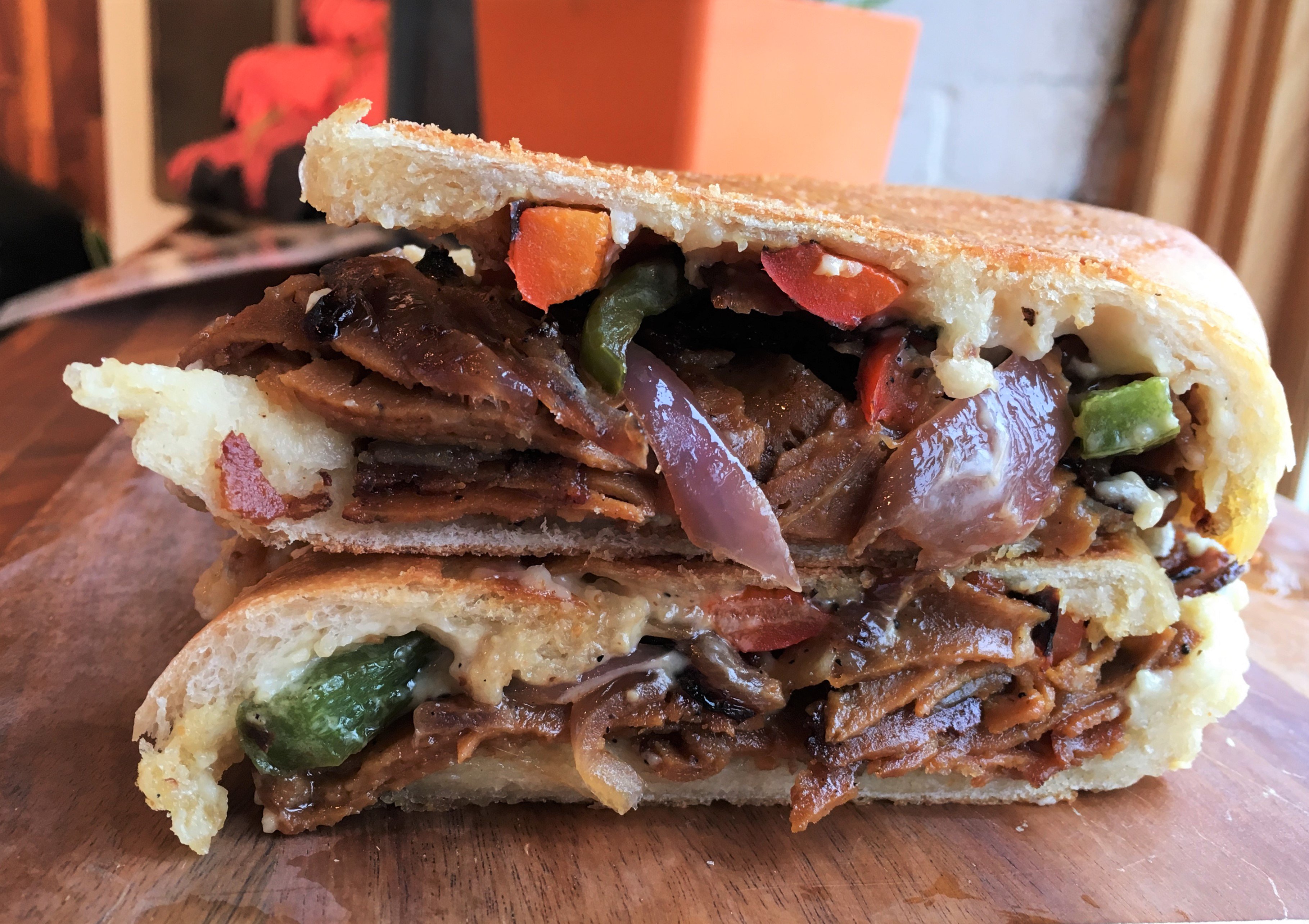 imagesource/twitter
Vermont's famous sandwich is so iconic, it's actually named after the state itself. Roast Turkey, thin sliced green apples, local cheddar and honey mustard all make up this tasty Turkey treat! The North Eastern state of Vermont is known for many things, but this sandwich is up there with one of the best.
46. Virginia – Country Ham
imagesource/twitter
No state does ham quite like Virginia and this country ham is piled high (when I say high, you should see this beaut!) on white bread, then covered in tasty mayonnaise for a simple yet mouthwateringly delicious meal. Top tip, add some salted chips on the side of it, you can thank me later.
47. Washington – Banh Mi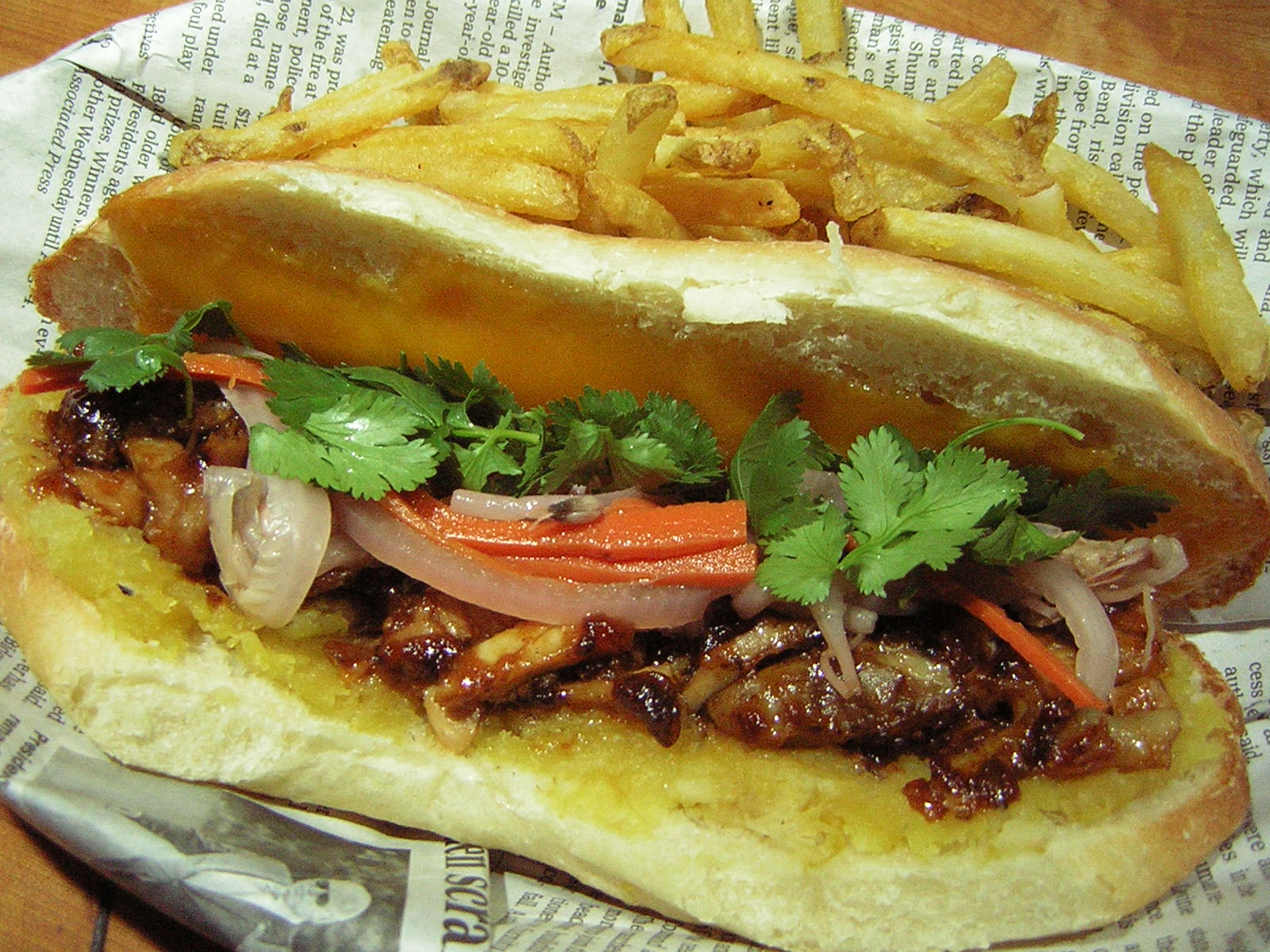 imagesource/twitter
Thanks to Washington state's large Vietnamese population, you don't have to walk far to find yourself a delicious banh mi on the menu somewhere. Almost everywhere you go you can find one, with roasted pork, pâté and pickled vegetables, served up on a crusty baguette.
48. West Virginia – Sausage Biscuit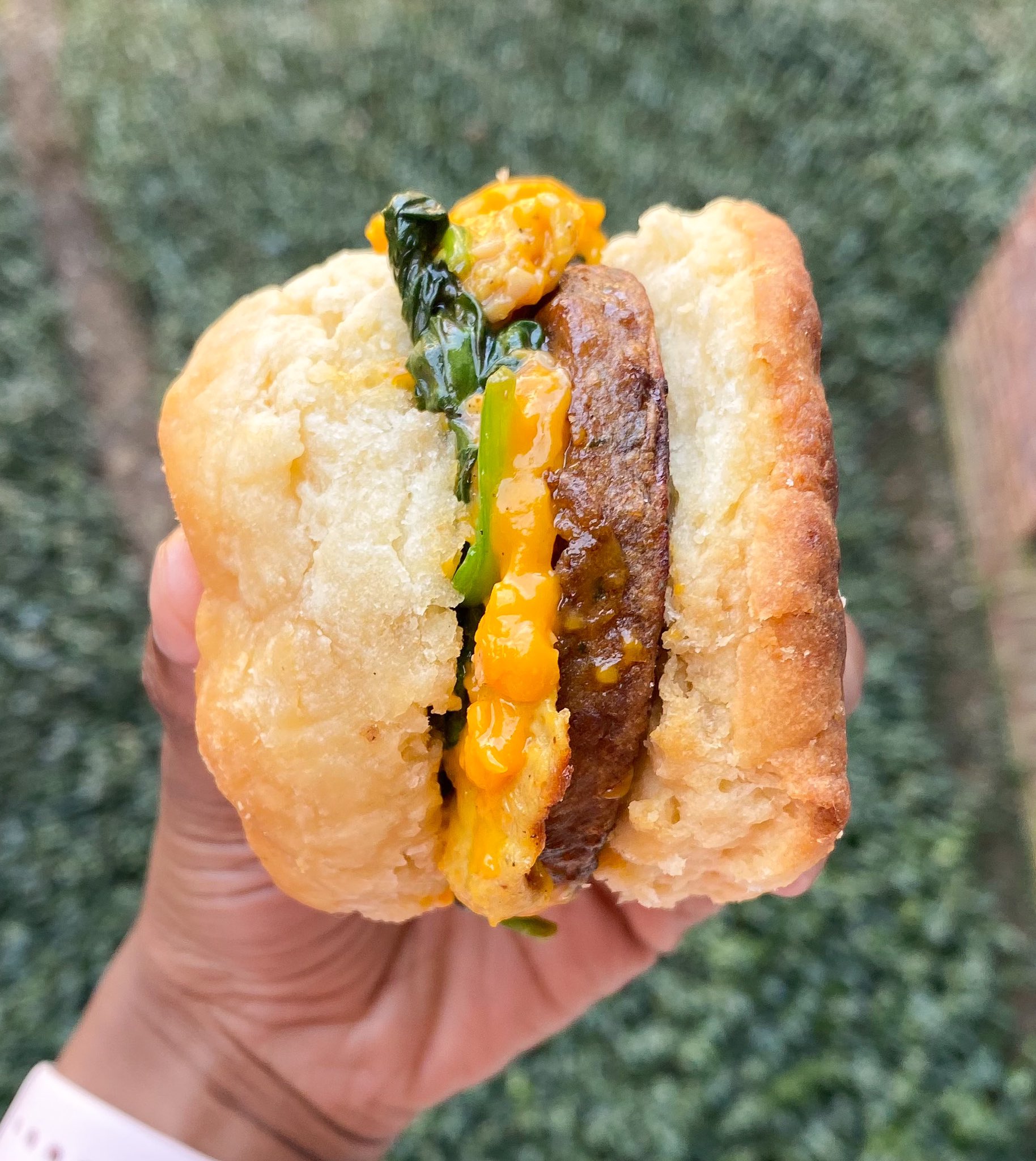 imagesource/twitter
Biscuits covered in rich sausage gravy make this breakfast sandwich a must order for anyone passing through the Mountain State. It might not sound like one of the nicest sandwiches on this list, but trust me, give this gravy soaked breakfast sandwich a go and you won't regret it!
49. Wisconsin – Bratwurst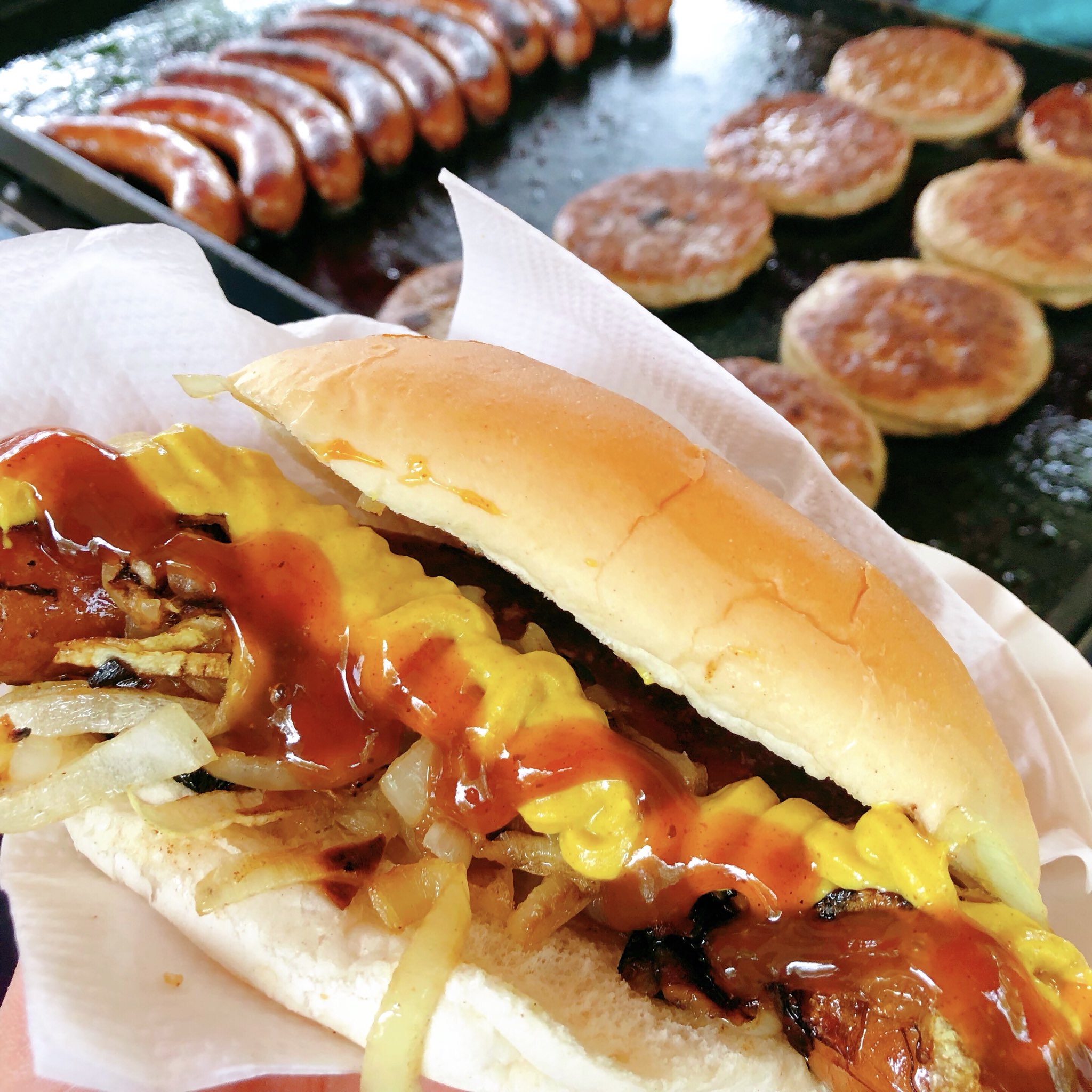 imagesource/twitter
Wisconsin's signature sausage is grilled to perfection (or until crispy) and served on a toasted hot dog bun, with some mustard, grilled onions and a sauerkraut. It's basically a fancy hot dog but it's no ordinary hot dog, it's a Wisconsin bratwurst.
50. Wyoming – Trout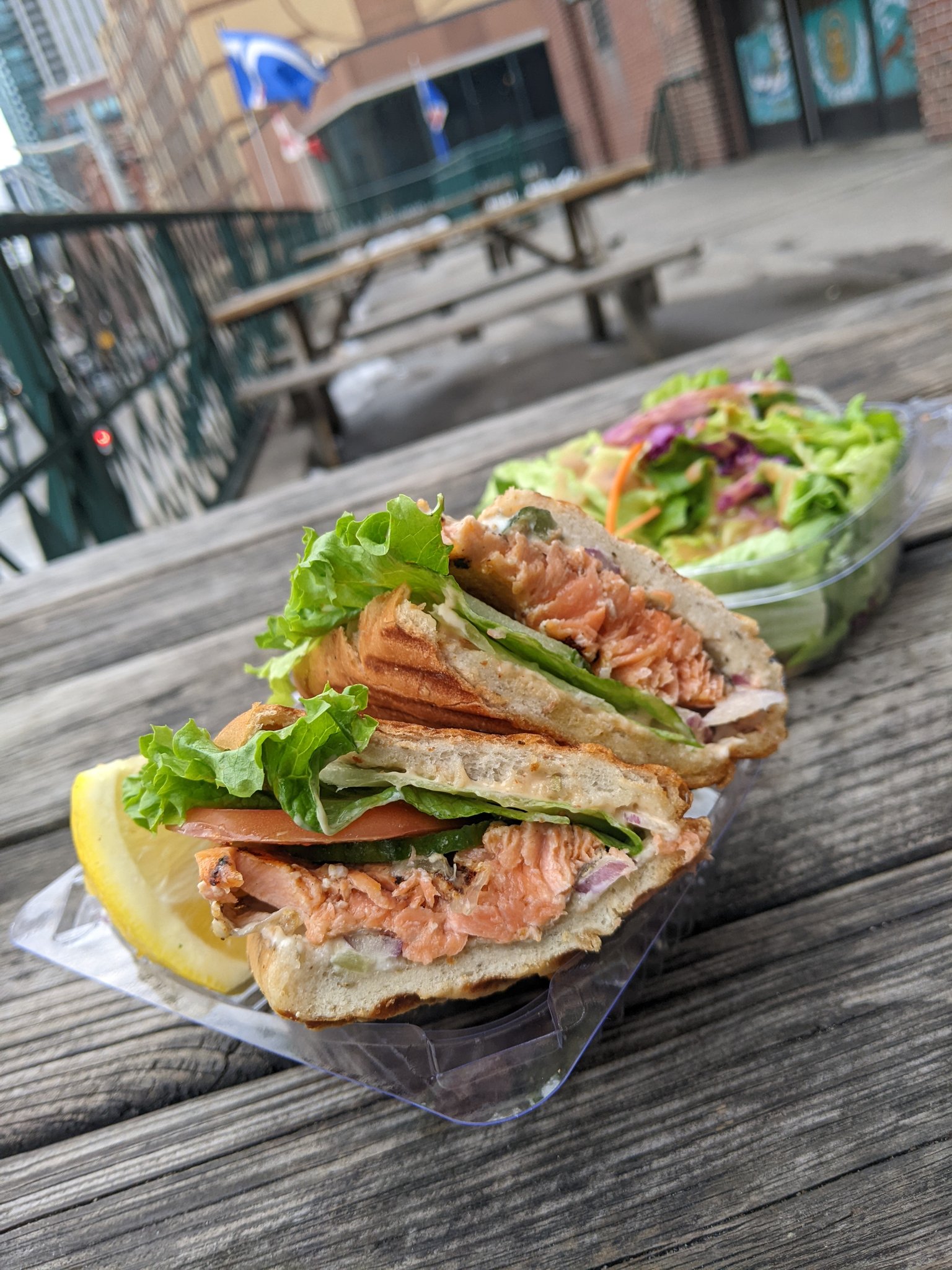 imagesource/twitter
People, especially hunters, come from all over the world to sample buffalo and elk, but the Rocky Mountain state does it to perfection. This lightly battered and fried trout sandwich is a popular amongst Wyomingians and tourists who visit this state.