The Healthiest Things To Get At These Fast Food Restaurants
By Sarah Jones
3 months ago
1. Egg McMuffin (with no Canadian bacon) - McDonald's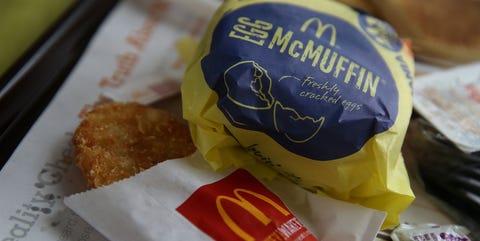 (Image/ Source: cosmopolitan.com)
If you're on the go and you need some breakfast food, don't feel too guilty about ordering an Egg McMuffin from McDonald's. If you ask for one without Canadian bacon, it will help keep your sodium levels in check. One Egg McMuffin sans bacon is just 290 calories, and has 13 grams of fat and 29 grams of carbs. It even has 14 grams of protein!
2. Rotisserie-style Chicken "No Bready Bowl" - Subway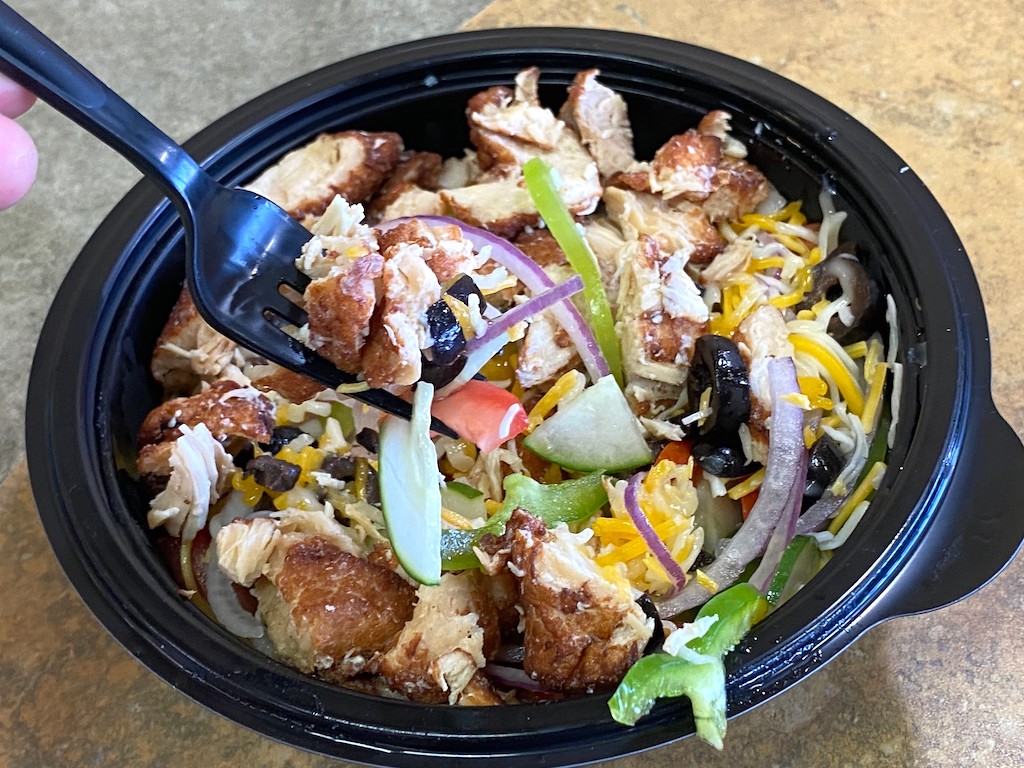 (Image/ Source: hip2keto.com)
These handy little lunch bowls were launched back in 2021, when they were originally known as Protein Bowls. However, Subway quickly decided to rebrand. The new name sums them up well; they're basically all the fillings of a sandwich, but without the bread. The rotisserie chicken bowl is our fave, and has just 220 calories.
3. Chicken and Hummus Protein Box - Starbucks
(Image/ Source: totallythebomb.com)
If you're busy on your lunch break and want to grab something healthy on your coffee run, go for this chicken and hummus box from Starbucks. With some grilled sous vide chicken, peas, carrots red pepper hummus and naan bread for just 300 calories, you can't really go wrong. It also contains 22 grams of protein, and 7 grams of fiber.
4. Vegetarian Power Bowl - Taco Bell
(Image/ Source: reddit)
This one's been getting a LOT of attention online – and we can see why! While you might think it impossible to find healthy options at Taco Bell, these power bowls are great for those looking to maintain a balanced diet. There are tons of beans of guacamole, as well as energy-boosting seasoned rice and vitamin-rich tomatoes. Oh, and it's only 420 calories.
5.Kale Crunch Side Salad with 8-Piece Grilled Nuggets and a Medium Fruit Cup - Chick-fil-a
(Image/ Source: The Diet Chef)
If you find yourself at Chick-fil-a and you're getting overwhelmed with unhealthy options, scan through to the Sides menu. Here you'll find the Kale Crunch Salad, which just about ticks every box in the major food groups. Pair this with the fruit cup of strawberries, blueberries and apple and mandarin orange slices, and you're looking at just 310 calories.
6. 4-Piece Chicken Nuggets with a Plain Baked Potato - Wendy's
(Image/ Source: tripadvisor.com)
The baked potatoes at Wendy's are a great option if you're looking to curb your calorie intake. Baked potatoes contain fiber, potassium and vitamin C, and they also happen to be rich in the right carbs for your body. Treat yourself to four chicken nuggets (which actually contain nearly as much protein as three eggs!) and you're eating just 450 calories. Just make sure you up your fruit and veg intake elsewhere.
7. Small Hamburger with a Side Salad - Hardee's/ Carl's Jr
(Image/ Source: reddit.com)
Let's face it- a healthy fast food burger choice is always good! This one is from Hardee's/ Carl's Jr. is 370 calories, so you don't need to feel guilty about treating yourself. This small burger has lower levels of sodium than everything else on the menu, especially compared to the Monster Double Thick Burger.
8. Vanilla Blue Sky Smoothie Bowl - Jamba Juice
(Image/ Source: reddit.com)
This is a healthy breakfast to start your day – especially if you have a sweet tooth! It contains blue spirulina (which is a great anti-inflammatory FYI) and is packed with fruits like banana, pineapple, strawberries, and blueberries. This 320-calorie meal is also topped with granola and coconut, and you can pick plenty of vegan options when it comes to milk and yogurt.
9. Avocado, Egg White, and Spinach on a Sprouted Grain Bagel Flat - Panera Bread
(Image/ Source: artfoodhome.com)
If fruit bowls aren't really your thing, grab this filling breakfast sandwich from Panera Bread. With five grams of fiber and plenty of protein, it contains egg whites, aged white cheddar, fresh avocado, vine-ripened tomato and spinach, as well as a dash of salt, and pepper. It comes in at just 350 calories.
10. Hamburger - Shake Shack
(Image/ Source: reddit.com)
Another low-calorie burger. This humble hamburger from Shake Shack might look indulgent, but its calorie count may surprise you! It comes in at 370 calories, but you can boost the nutritional value by loading up on veggies. Or, if you're a plant eater, you can opt for a Shroom burger instead, which is equally as good.
11. Spicy Monterey Sub - Quiznos
(Image/ Source: flickr.com)
Healthy options don't always mean sacrificing your favorite fast foods. The Spicy Monterey at Quiznos is a firm fan favorite, and it's not actually as bad for you as you might think. At just 300 calories per serving, it's piled high with oven-roasted turkey breast, smoked ham, melted provolone, LTO, pickles, mayo and chili sauce. Enjoy!
12. Pacific Veggie Thin Crust Pizza - Domino's
(Image/ Source: reddit.com)
It might not be the thick, carb-loaded pizza that you love at Domino's, but your body will thank you. The thin crust immediately shaves off tons of calories, but when you load up on those veggies and chicken, it delivers a punch of protein too. At 200 calories, 2 grams of fiber and 7 grams of protein, this pizza is a dinner time winner.
13. Roast Beef Gyro - Arby's
(Image/ Source: flikr.com)
A lot of meals on this list are veggie, but Arby's are on hand with a healthy beef option if you're a meat eater! This Greek-inspired sandwich is served in a warm pitta, and is filled with tons of tomato, lettuce, red onion and tzatziki sauce. It's a great lunch option if you're on the go, and contains just 540 calories.
14. Salad bowl - Chipotle
(Image/ Source: reddit)
Chipotle is pretty good at making filling health options, and this salad bowl is no different. We'd recommend going for either the chicken bowl or the sofritas (tofu-based), which are both packed with protein. Throw in fiber-rich sauces like salsa, as well as fiber superfoods like beans, and you're onto a winner at 300-400 calories (this will vary on what you add into your bowl). Just avoid the rice, cheese, and sour cream.
15. Wake-Up Wrap - Dunkin Donuts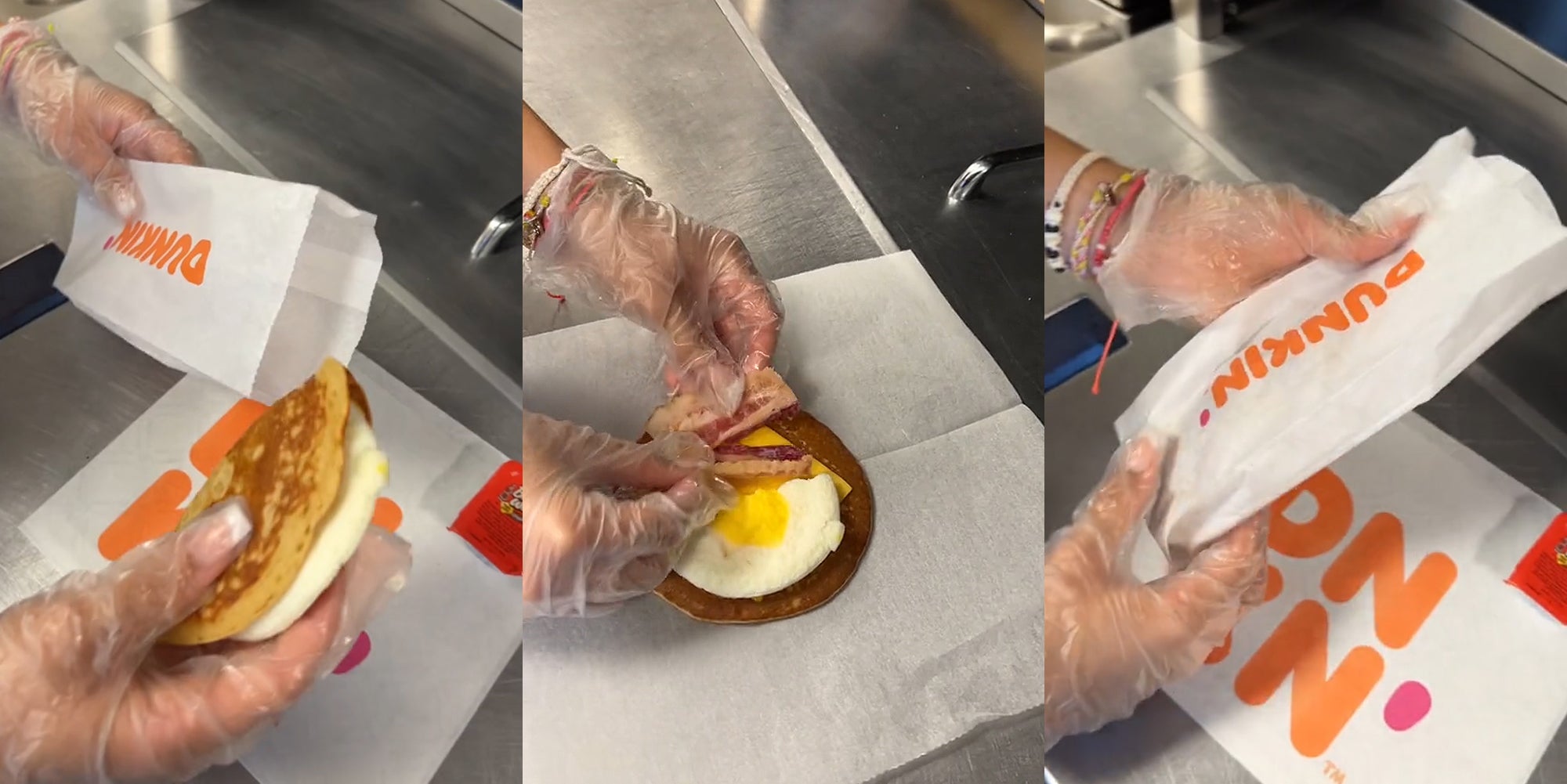 (Image/ Source: dailydot.com)
As fast food breakfasts go, this is up there as a surprisingly healthy option. If you want to go for the healthiest version of this Dunkin Donuts breakfast wrap, we'd recommend opting for just egg and cheese. However, if you want some meat to go with it, Dunkin's bacon is actually leaner than the turkey sausage! You're looking at around 170 calories per serving.
16. Garden Fresh Pizza - Papa John's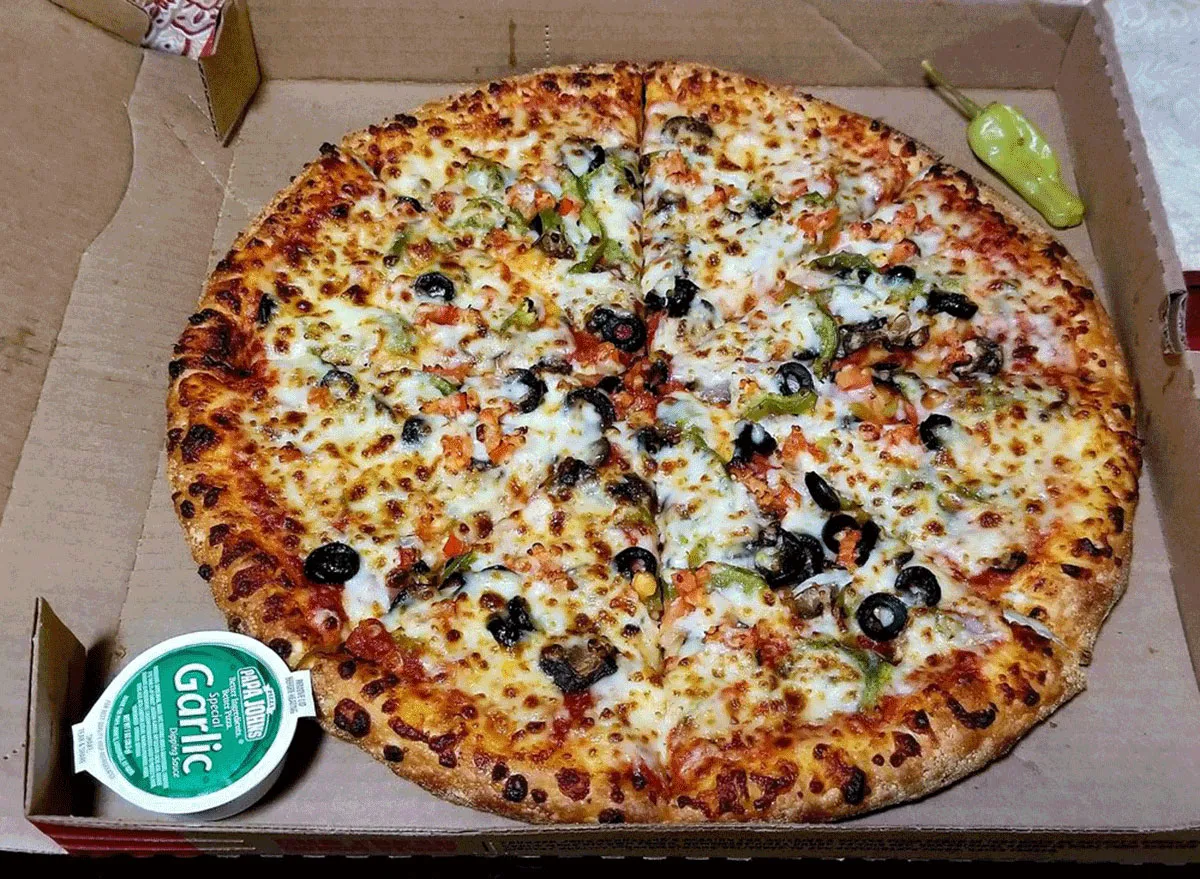 (Image/ Source: reddit.com)
With a thicker crust than Domino's, this veggie pizza is topped with tons of fiber-rich foods like olives, peppers, onions, mushrooms, and tomatoes. There's also more cheese on this one too! You also have the option of swapping to a thinner crust and adding extra veggies like spinach or hot peppers. Not bad for just 190 calories per serving!
17. Chicken Fajita Pita - Jack in the Box
(Image/ Source: brandeating.com)
Think of this Jack in the Box pita as a little handheld salad. It's packed with veggies, flame-grilled chicken and lashings of zesty salsa (if you're watching your sodium levels, skip the salsa and ask for extra veggies instead) which are all nestled into a whole-grain pita pocket. A great lunchtime meal for just 330 calories.
18. String Bean Chicken Breast - Panda Express
(Image/ Source: reddit.com)
If you're on the go and you don't fancy a stodgy burger or pizza, head to Panda Express for the String Bean Chicken Breast. Chicken is a great source of protein, and the veggies will go towards your daily fiber intake. If you're vegan, you can swap the chicken for eggplant tofu, which is just as filling! This comes in at 210 calories.
19. Mediterranean Salad - Au Bon Pain
(Image/ Source: aubonpain.com)
For those of you that want to go beyond your five fruit and veg a day, make sure you give this one a go. The Mediterranean Salad from Au Bon Pain features everything from greens and peppers to kalamata olives and chickpeas. There's even some feta cheese thrown in for good measure. And at 350 calories per serving, you can't really go wrong!
20. Rotisserie Chicken Bowl - Boston Market
(Image/ Source: brandeating.com)
Rather than being tempted by the calorific mac and cheese, opt for this healthy chicken bowl instead, which is just 300-450 calories per serving (depending on what you add to your meal). The chicken is full of protein, and the sweetcorn counts as one of your five a day. Make sure you load up on the steamed veggies for that super dose of fiber!
21. Loaded Veggie Omelet - Denny's
(Image/ Source: tripadvisor.com)
Denny's is a great place for those diner classics, but there are some healthier options too. If you've got a big appetite, the loaded veggie omelet is the perfect choice; it's a generous portion of protein-rich egg, tomatoes, onions, mushrooms and zucchini. This is 500 calories per serving, but you can ask for egg whites instead of whole eggs to lower the fat content.
22. Bacon, Avocado & Tomato Sandwich - Einstein Bros
(Image/ Source: restaurantbusinessonline.com)
Keen for a bagel at lunchtime? Instead of going for the classic cream cheese, drop into Einstein Bros for the Bacon, Avocado and Tomato bagel. Fluffy egg whites, fresh tomato, crispy bacon, and mashed avocado all combine on a toasty bagel (you can ask for whole wheat or multigrain if you want to cut your calories down further), which comes in at 420 calories.
23. Paleo Chicken Salad - Qdoba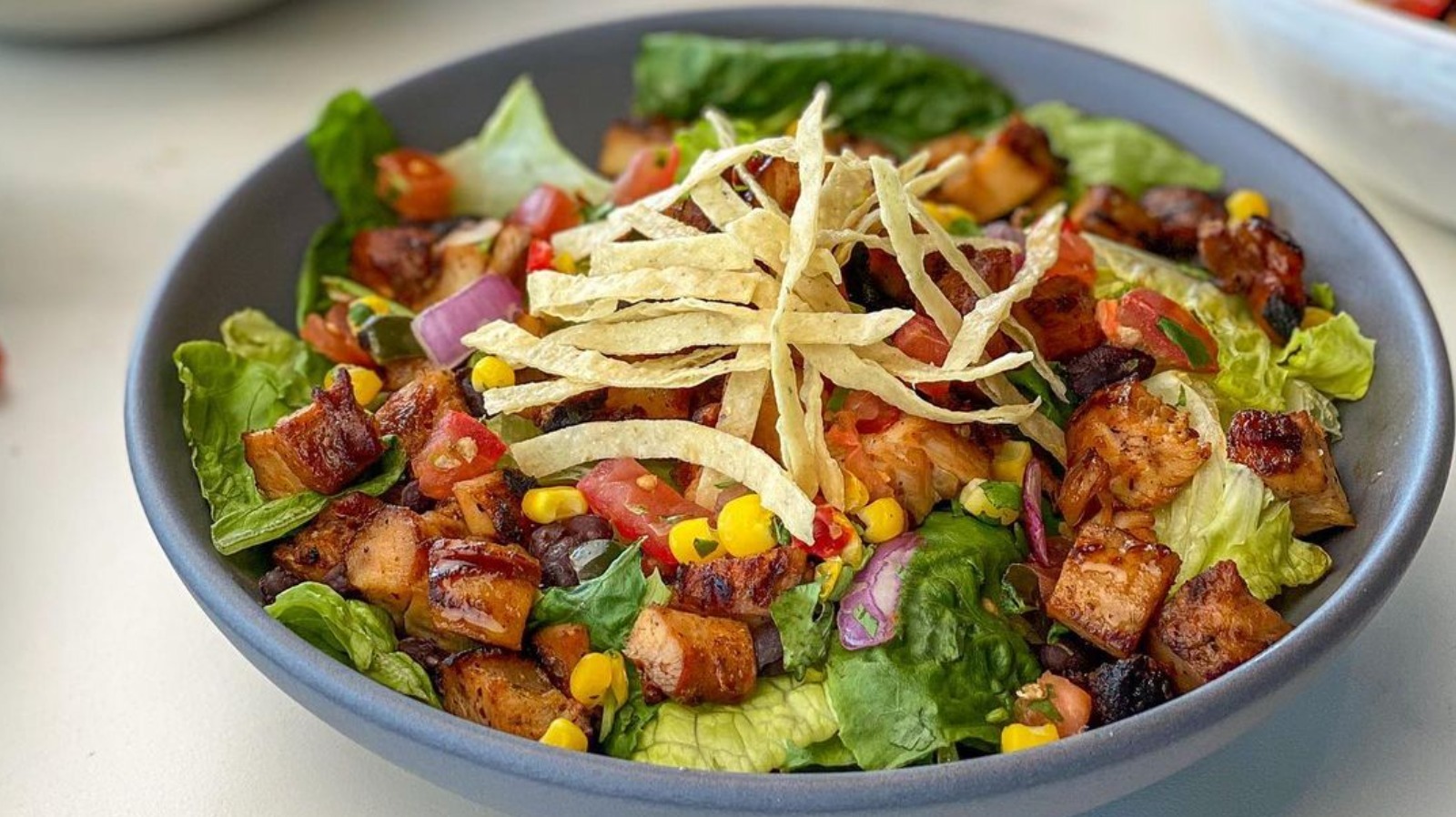 (Image/ Source: mashed.com)
This salad is full of all the good stuff. Crammed with spiced chicken, grilled veggies, pico de gallo and salsa verde, it makes the perfect filling lunch when you're on the go. The best part? You don't need to pay extra for the guacamole! At 300 calories, this meal has less sodium, saturated fat, and carbs, plus more fiber than other options on the menu.
24. Original Slider - White Castle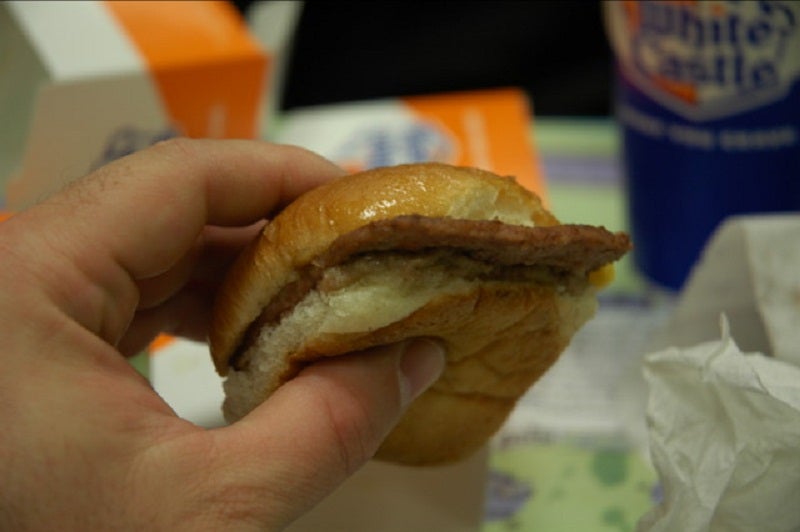 (Image/ Source: verdictfoodservice.com)
Don't feel guilty about grabbing one of these on your lunch break. The Original Slider actually scores better on the health scale than White Castle's chicken and fish options, which is pretty surprising! At just 140 calories, it's one of the better burgers you can have when those fast food cravings hit. Swap for a Veggie Slider if you're not a meat eater.
25. Little John Turkey - Jimmy John's
(Image/ Source: totallythebomb.com)
Think of this as a miniature version of the Turkey Tom. If you fancy regular sandwich bread, order the Slim #4 (which is also turkey) and ask for it to be made on whole wheat sliced bread. If you want to shave more calories off your lunch, you can also request your sandwich to be completely bun-less, and go for a straight turkey and veggie goodness. This comes in at 240 calories.
26. Protein Style Hamburger - In-N-Out Burger
(Image/ Source: eatthis.com)
These guys are famous for their lettuce-wrapped burgers, which is a good way to go if you want to opt for a healthier fast-food patty! The protein in this burger will give you enough energy to get through the day, and only contains 240 calories. You can also ask to hold the cheese to make this meal even healthier.
27. Burrito Bowl - Moe's Southwest Grill
(Image/ Source: eu.claironledger.com)
Let's face it- you can't go wrong with a burrito bowl! Filling and healthy, this is a great lunch for when you're out on the go. Opt for tofu or chicken to keep the calorie count down, and grab as many veggies as you can. We'd also recommend adding some guac and salsa, and you can even have a (very small) sprinkling of cheese if you fancy. The calorie count is roughly about 300-400 calories depending on your toppings and quantities.
28. Veggie Lovers Thin 'N Crispy - Pizza Hut
(Image/ Source: youtube.com)
You might not think you can get a healthy option at Pizza Hut, but the Thin 'N Crispy Veggie Lovers Pizza is a great one to go for. The dough for this pizza is a lot lighter than their traditional hand-tossed or stuffed crusts, so you don't need to feel guilty! This pizza comes in at just 100 calories per serving, which is pretty amazing really.
29. Mediterranean Sandwich Skinny - Potbelly
(Image/ Source: pandabytes.blogspot.com)
If you're going for this flavor bomb of hummus, feta, artichoke hearts, cucumbers, roasted red peppers and optional chicken, make sure you ask for Potbelly's multigrain skinny bread to keep the calories down. You can also ask for a half sandwich, half salad combo if you want to make this meal more health focused. This comes in at 410 calories per serving.
30. Jr. Burger - Sonic Drive-In
(Image/ Source: tripadvisor.com)
Sometimes less is definitely more. This Jr. Burger at Sonic Drive-In is from the kid's menu, so it's a great way to fix that fast-food craving without splurging the calories! Just make sure you're ordering this without the tots, as you'll then be able to stick to just 310 calories for an indulgent fast-food lunch.
31. Apple and Cranberry Chicken Salad - Whataburger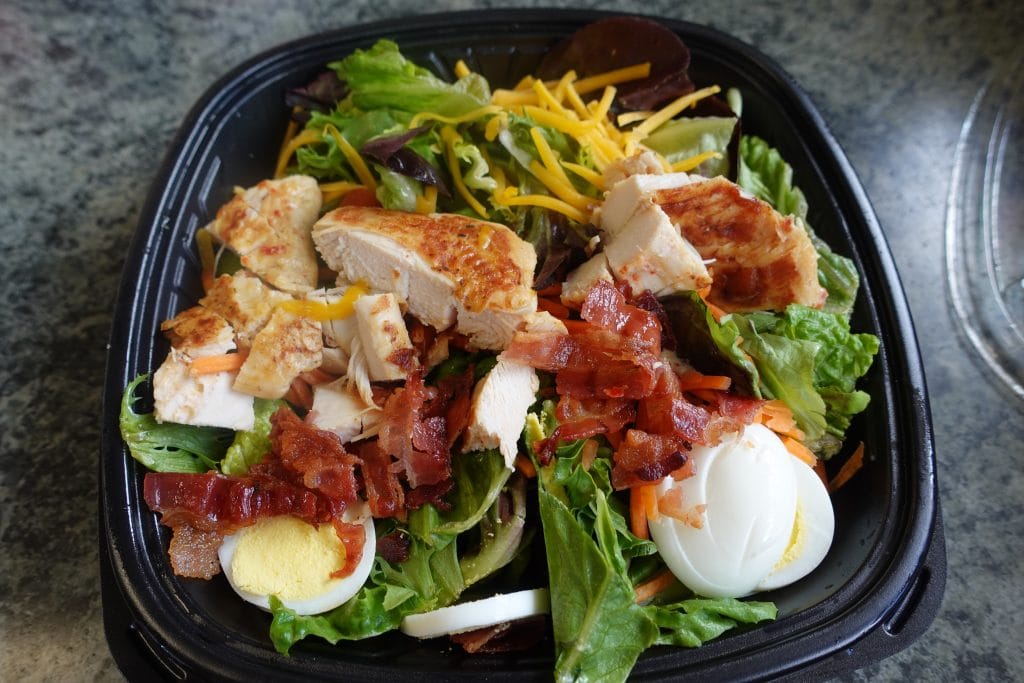 (Image/ Source: ketoconnect.net)
Yes, you can still go to Whataburger and get a healthy option. This salad consists of dried cranberries, apples, cheddar cheese, and grilled chicken, which all bring some serious flavor. Be sure to ask for minimal dressing, which should be on the side if you want to knock the sugar content down. This comes in at 385 calories, which isn't too shabby for a super-filling lunch!
Now For Some SUPER Unhealthy Things To Get At These Fast Food Restaurants... Triple Whopper With Cheese - Burger King
Image Source: Reddit
The Whopper is infamous at Burger King, coming in as the most popular item on their menu. Sometimes, the regular Whopper just doesn't cut it and we turn to the double, or even triple version of the burger. This burger, along with all of its other components, totals at a insane 1,216 calories... oh, and it also contains over half of the recommended amount of saturated fats!
Cobb Salad - Chick-Fil-A
Image Source: Trip Advisor
A salad? In a list of the most unhealthy fast food meals? Yes, sadly this isn't a joke. This salad, which is accompanied by an avocado, lime ranch dressing can reach heights of 910 calories depending on your choice of protein. We're not keeping count however, it's just good to note that you should always order what you want, not what you think you should have!
Large Fries - Five Guys
Image Source: Reddit
Now, it's no secret that the staff at Five Guys treat you well; a small fries can feed a family of five! So it shouldn't come as a surprise to find out that the largest size of fries they have to offer is one of the most unhealthy thing on the menu... totally worth it though!!
Mac N Cheese - Panera Bread
Image Source: Reddit
This tiny portion of mac n cheese really does pack a punch. Exceeding 900 calories is insane considering it will be over in about three mouthfuls! It is criminal to spend nearly half of your daily calorie intake on something so small! Please use your calories more wisely and go for something different on the menu!
Caramel Pecanbon - Cinnabon
Image Source: Reddit
I mean, it's not surprising that something that looks this good has landed a spot in this list! Cinnabon really outdo themselves with wonderful toppings and different combination of cinnamon buns, that just keeps you coming back for more! It's best to not mention how much of your recommended calories would be used after eating one of these...
Baconator - Wendy's
Image Source: Reddit
It's hard to comment on how many calories a Wendy's Baconator contain, when the amount of patties you can add are endless! The baconator has
no limits
, and (as the name suggests) is topped with lots of bacon, cheese, ketchup, and mayonnaise, making this one of the most unhealthy fast food items EVER!
Caniac Combo - Raising Cane's
Image Source: Reddit
We have all dreamt of dipping a chicken strip or some texas toast into a super-sized cup of Cane's special sauce... well you can with The Caniac Combo! Made up of 6 chicken fingers, crinkle-cut fries, TWO Cane's sauces, texas toast, coleslaw AND a large drink, you will be sure to never go hungry with Raising Canes!
Cinnamon Roll Frappuccino - Starbucks
Image Source: Reddit
The cinnamon roll is proving to be quite unhealthy, isn't it! This however, doesn't take away how yummy it is! If you go big, your body will have to digest a whopping 85 grams of sugar which, according to the World health Organization, is nearly four days worth of sugar... Yikes!
Beef 'N' Cheddar - Arby's
Image Source: Reddit
Now, if you've seen this advertised on TV, or at the drive-thru, then you would assume that the image above is a different fast food item than the title suggest... unfortunately not! This lackluster 'beef', smothered in cheese is very unhealthy, and isn't nice enough to waste calories on!
Meat Lover's Pizza - Pizza Hut
Image Source: Reddit
Pizza Hut's 'Meat Lover's Pizza' is fully equipped with pepperoni, italian sausage, ham, bacon, seasoned pork, beef, and of course, a shed load of cheese. Pizza is never good, for anyone, so what makes this more unhealthy than the rest? well, the sheer amount of greasy toppings, along with the stodgy, high-carb base is sure to fill anyones daily calorie intake!
XXL Burrito - Taco Bell
Image Source: Reddit
The XXL burrito from Taco Bell is featured firmly on this list, primarily due to how freaking big it is! Sadly, the classic XXL burrito from the chain has been discontinued but you can still get your hands on the regular size. The Grilled Stuft Burrito (XXL or not) consists of beef, guac, 3 cheeses, rice, sour cream, ranch, AND beans!
Big Breakfast With Hotcakes - McDonald's
Image Source: Reddit
This breakfast item has gained its popularity due to its inexpensive price point, and of course, the fact that it's SO tasty. However, id you know that the Big Breakfast With Hotcakes contains 67 percent the calories for the average American? The average calorie intake for an American is 2,000 calories...
Chicken Pot Pie - KFC
Image Source: Reddit
Surprisingly enough, the Chicken Pot Pie by KFC ranks as their most unhealthy menu item. When it's up against deep-fried chicken, a pie should NEVER be more unhealthy than that! This pie, as well as not looking very appetizing, contains 720 calories, 60 grams carbs, and 41 grams fat.
Large Pepperoni Pizza - Domino's
Image Source: Reddit
Is a Domino's pepperoni pizza really that bad for you? Short answer: YES! Long answer: just one slice of this specific pizza alone will take up 500 of your daily calories if you order a deep dish version of this pizza, so YES! As delicious as this pizza is, it might be best to have it in moderation, and maybe chose a different menu item.
Quad Quad - In-N-Out
Image Source: Reddit
This not-so-secret, secret menu item is sure to get your mouth watering! A quad quad is basically a double, double-double burger from In-N-Out. This means double the satisfaction, but double the calories. Get this animal style, and you're in for an In-N-Out OVERLOAD!
SmokeShack Burger - Shake Shack
Image Source: Reddit
According to the Shake Shack nutritional information sheet, the Double Smokeshack is 830 calories and is a burger with one of the highest sodium content. Too much sodium in your diet can lead to high blood pressure, heart disease, and even a stroke!
Large Royal Reese's Brownie - Dairy Queen
Image Source: Reddit
This is the ULTIMATE dessert! Reese's Peanut Butter Cups and brownies blended with Dairy Queen's signature soft serve... oh, and then it is filled with a peanut butter center! This Dairy Queen menu item comes in 4 different sizes, the large coming in at a whopping 1490 calories, yikes.
Chicken Po' Boy Sandwich - Popeyes
Image Source: Brand Eating
This sad looking sandwich is one of the most unhealthy items on the Popeyes menu, but also the most popular! The Chicken Po' Boy Sandwich is nearly 1,000 calories when you order it on it's own, with a sodium count of 1,770 milligrams (over half of your daily recommended intake).
The Heath Bar Shake - Baskin-Robbins
Image Source: Reddit
Based on 'The Heath' candy bar, this milkshake sold by Baskin-Robbins has been dubbed by Men's Health Magazine as "the unhealthiest drink in America"! The shake contains 2,310 calories, which is MORE than the recommended daily calorie intake of a woman in the US.