Most Dangerous Kids From Around the World
By Sarah Jones
2 months ago
1. Dequan Stribling
(Image/ Source: wkrg.com)
Instead of doing what other kids would do like going to the movies or playing video games, Dequan Stribling and two friends decided on something horrific; they killed a 70-year-old man. The callous crime took place in Mississippi, and Dequan was just 13 at the time. He and his friends were charged with murder.
2. Jayce West
(Image/ Source: nbc4.com)
14-year-old Jayce West was charged with murder along with his pal Dequan. After they decided to shoot a man in cold blood, it was revealed that their motive was a robbery gone wrong. Under Mississippi law, a minor who is charged with a felony can be charged as an adult in circuit court, so Jayce was tried as an adult for his crime.
3. Quindaris Burress
(Image/ Source: dailymail.co.uk)
After being charged with murder with friends Dequan and Jayce, Quindaris Burress is still awaiting trial. His sister has spoken out about his upbringing, and claims Quindaris was born into a chaotic household rife with dr*gs. He was taken to a behavioral treatment center aged 9, and he was two years behind at school by the time he was 11. He's still at an adult detention center in Tupelo.
4. Jasmine Richardson
(Image/ Source: allthat'sinteresting.com)
In 2006, the bodies of husband and wife Marc and Debra Richardson were found, alongside their eight-year-old son. Their 12-year-old daughter wasn't found at the scene, but many presumed she was also killed. Turns out she and her 23-year-old boyfriend Jeremy Allan Steinke had decided to murder them. Their motivation? Marc and Debra weren't happy about their eleven-year age gap.
5. Eric Smith
(Image/ Source: knopnews2.com)
While riding his bike in Steuben County, New York in 1993, 13-year-old Eric Smith bumped into a four-year-old boy called Derrick Robie. He lured Derrick to a wooden area and strangled him before dropping two large rocks on his head. Eric is serving life in prison, and has been refused parole eight times. Psychologists believe he'll never be able to be released back into society.
6. Lionel Tate
(Image/ Source: nbcnews.com)
Lionel Tate killed six-year-old Tiffany Eunick while his mother babysat her. He was just 13 at the time. After playing with her for 45 minutes, he told his mum she wasn't breathing. He had got her in a headlock and smashed her head against a table. Lionel is the youngest ever person to be sentenced to life in prison without the possibility of parole in the US.
7. Craig Price
(Image/ Source: swordandscale.com)
Craig Price had become a serial killer before his 16
th
birthday. After breaking into properties in Rhode Island while high on LSD at 13 years old, he st*bbed Rebecca Spencer 58 times. He then went on to kill three more of his neighbours. He's mocked the victims of his crimes, and will spend his entire life in prison.
8. Alyssa Bustamante
(Image/ Source: allthatsinteresting.com)
Back in 2009, Alyssa Bustamante lured her 9-year-old neighbour Elizabeth Olten to some woods and strangled her. She sl*t her throat and wrist and buried her in a shallow grave. Alyssa later wrote in her diary that the killing was "pretty enjoyable". She was later charged with first-degree murder and tried as an adult, getting a life sentence.
9. Morgan Leppert
(Image/ Source: thesun.co.uk)
Morgan was 15 years old when she and her boyfriend, Toby Lee Lowry, killed pensioner James Stewart at his home in Florida. She later told detectives that her boyfriend told her to st*b him, and he testified against her to avoid the death penalty. The pair claim they only wanted to steal his car, and never intended to kill him.
10. Joshua Phillips
(Image/ Source: youtube.com)
When he was playing with a baseball bat at home in Jacksonville, Florida, he struck 8-year-old Maddie Clifton in the eye by accident. As her eye started to bleed, he panicked, and strangled her with a phone cord. He went on to st*b her repeatedly. While he'd shown no prior signs of violence, he was charged as an adult with murder and sentenced to life in prison.
11. Jon Venables
(Image/ Source: theguardian.com)
Jon Venables, along with his friend and accomplice, was just ten years old when he became a murderer. He killed 2-year-old James Bulger in 1993, making him and his friend the youngest convicted murderers in England. After he was released from prison in 2001, he has reoffended four times on charges including child p*rn*graphy.
12. Robert Thompson
(Image/ Source: thesun.co.uk)
Along with his friend Jon Venables, Robert Thompson was charged with the murder and torture of James Bulger. He was released from prison at 18 with a new identity, and has not reoffended since. This identity is protected by a worldwide injunction, which means that you could end up in jail if you try and find out where he lives.
13. Danny Preddie
(Image/ Source: thesun.co.uk)
Danny was just 13 years old when he and his brother Ricky decided to attack 10-year-old Damiola Taylor in 2000. He was walking home from the library when he received a gash from a broken bottle by the brothers, and he eventually bled to death. Danny and Ricky were sentenced to eight years in custody and charged with manslaughter.
14. Ricky Preddie
(Image/ Source: mirror.co.uk)
Ricky is one year older than brother Danny. He's been in and out of trouble with the police since he was sentenced for killing Damiola; he's been in gangs, breached his bail conditions, and has repeatedly beat up other prisoners in jail. And in 2019, he was sentenced for trying to run over a police officer.
15. Aaron Campbell
(Image/ Source: dailyrecord.com)
Aaron Campbell abducted, r*ped and killed 6-year-old Alesha MacPhail in his native Scotland in 2018. He caused catastrophic injuries before dumping her in the middle of a wood. He was found guilty of murder, and has apparently shown no remorse whatsoever for his crimes. His fellow prison inmates have attack him on a regular basis.
16. Cristian Fernandez
(Image/ Source: actionnewsjax.com)
Cristian's crimes are controversial. He was twelve when he smashed his 2 year old brother's head against a wall. When his mom arrived home, his brother was still unconscious, but his mom just wiped the blood off his head and left it at that. Cristian was initially tried as an adult for murder when his brother succumbed to his injuries, but the charges were eventually changed to manslaughter.
17. Jordan Brown
(Image/ Source: post-gazette.com)
Back in 2009, Jordan Brown shot his dad's fiance, Kenzie Houk, who was eight months pregnant at the time. Jordan was just eleven years old at the time, and had killed Kenzie with a gun his father had gifted him. He was tried as an adult for his crime and served part of his sentence until he was exonerated in 2018.
18. Daniel Bartlam
(Image/ Source: nottinghampost.co.uk)
Daniel Bartlam was fourteen when he decided to kill his mom. His mother Jacqui had recently split from his dad, and Daniel started showing some worrying behavior. He was becoming increasingly violent at his new state school, and became obsessed with other children who had become killers. He's been jailed for life.
19. Santre Sanchez Gayle
(Image/ Source: theguardian.com)
Santre is known as the UK's youngest 'contract' killer. He was involved in gangs from a young age after growing up in a dysfunctional household, and would often take part in violent crimes and robberies to impress his fellow gang members. He was contracted to kill Turkish mom Gulistan Subasi in 2010 for just over 200 dollars.
20. Alex King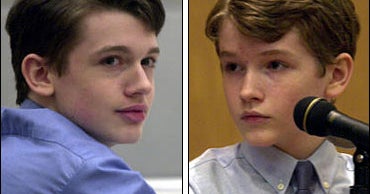 (Image/ Source: cbsnews.com)
Alex and his brother Derek decided to murder their own father while he slept on the couch of their Florida home in 2001. Alex and Derek had lived in separate foster homes for most of their lives, but something clearly went wrong when the pair reunited. They beat their dad with a baseball bat and then set the house on fire.
21. Derek King
(Image/ Source: nbcnews.com)
After the both turned themselves in on the advice of family friend Rick Chavis, the boys confessed. They were charged with third-degree arson and murder after it was revealed that Rick has persuaded the boys to kill their dad. They have no both been released from prison and attend the same community college.
22. Simon Evans
(Image/ Source: bbc.com)
In the summer of 2012, Simon Evans caused shockwaves across the world when it was discovered he and two friends had murdered a homeless man. Simon was just 14 at the time. He spent a lot of time with Connor and Brandon Doran, brothers from a troubled background, and they all tried to blame each other for the man's murder in court. Simon was sentenced to eight years in prison.
23. Brandon Doran
(Image/ Source: liverpoolecho.co.uk)
Fourteen-year-old Brandon Doran kept watch for Simon and Connor while they kicked their victim to death. He and his brother ran wild most evenings in Liverpool, England, and rarely attended school. Brendan was sentenced to six years in prison, and applied for an early chance of parole, which he later lost.
24. Connor Doran
(Image/ Source: irishmirror.co.uk)
Connor Doran was the ringleader of his group. The seventeen-year-old was the one who initiated the murder of homeless man Kevin Bennett, and showed no remorse for his crimes. He was sentenced to at least twelve years in prison, and his mom was sentenced to thirty months for providing false alibis for Connor after she claimed he was "sick in bed" at the time of the murder.
25. Amarjeet Sada
(Image/Source: mamamia.com)
Amarjeet Sada is the youngest known serial killer in the world. Living in the village of Mushahari in India, the seven-year-old reportedly killed his six-year-old cousin before killing his eight-month-old sister. Apparently his family members tried to protect him from the law, but they caught up with him after he kidnapped a neighfbor's baby and killed her.
26. James Fairweather
(Image/ Source: guardian.co.uk)
James Fairweather was fifteen years old when he carried out multiple murders. When he encountered dad of five James Attfield lying on the grass in a park, he decided to st*b him 102 times before fleeing the scene. He then killed student Nadia Alamanea months later. James was eventually spotted by police holding a knife when he was looking for his next victim. He confessed to his crimes, and told police that voices in his head were telling him to kill people and burn babies.
27. Mary Flora Bell
(Image/ Source: auralcrave.com)
Back in 1968, eleven-year-old Mary Flora Bell claimed her first murder victim. She strangled four-year-old Martin Brown, and abandoned him outside an old house. She apparently killed because she thought it was fun, so she went on to murder a three-year-old just a few months later. Mary was released from prison in 1980, and won a court ruling that gave her daughter and granddaughter anonymity.
28. Willie James Bosket Jr
(Image/ Source: nytimes.com)
Willie Bosket is apparently THE most dangerous inmate in New York. He hit the headlines back in the 1970s when the fifteen-year-old shot two men during a robbery attempt, and was jailed for five years. After he was released, he carried on his crimes spree, and later confessed to about 2000 crimes in total. This forced the state of New York to change its juvenile law to sentence children from 13 years of age just as adults, which is now known as the Willie Bosket Law.
29. Harvey Robinson
(Image/ Source: allthatsinteresting.com)
Harvey was just seventeen years old when he started killing women in Allentown, Pennsylvania. He murdered and r*ped three women and tried to kill a fourth, but she managed to escape and alert the authorities. He was sentenced to 97 years at 19 years of age, and he's currently sat on death row for his crimes.
30. Jesse Pomeroy
(Image/ Source: allthatsinteresting.com)
Jesse is described as one of the most savage child killers in history. The fourteen-year-old brutally tortured his victims with knives and s*xually abused younger boys. He killed three children before he was sentenced, and later released an autobiography that claimed that he must be insane if he can commit such crimes.
31. The Bever Brothers
image source: ktul.com
These two brothers hail from Oklahoma, USA, and they decided that they wanted to commit a crime even worse than the Columbine shooting that had recently happened. What they decided would be worse was to brutally stab to death both of their parents, their 2 younger brothers and their 5-year-old sister. Their 13 year old sister, whose throat they'd slit, managed to survive.
32. Joseph McVay
image source: thecrimewire.com
Back in this 2011, 11-year-old Joseph McVay was asked by his mother to bring in some firewood. Instead, Joseph went upstairs to get a gun because he didn't want to do chores. He shot his mother in the head, killing her, and a concerned neighbor called the police.
33. Kim Edwards And Lucas Markham
image source: bbc.com
Double trouble you might say, this murderous couple at only 15 years old decided to kill Edwards' mother and little sister. This apparently happened because Kim thought she wasn't getting enough attention from her mother, so killed them in their sleep by attacking them with a knife and then smothering them to death.
34. Will Cornick
image source: theguardian.com
Will Cornick wouldn't be the first 15-year-old to get annoyed by his teacher - but what he was to his 61-year-old Spanish tutor was unforgivable. While teacher Ann Maguire was leaning over another student's desk, Will took out a knife and attacked her in front of the whole class. She died from her wounds.
35. Nehemiah Griego
image source: lasvegassun.com
This 15 year old woke up one day and decided to murder his family. For no reason. He got a rifle and then went and shot his mother while she slept. When his young brother came in, he shot him too. He then went to the room of his two young sisters and killed them both. When his father came home from work, he shot him as well.
36. Jake Evans
image source: fortworthstartelegram.com
Inspired by the remake of the movie Halloween, 15-year-old Jake set out to murder his family. His initial plan was to kill his mother and sister who he shared a home with, and then go to his grandparents' to kill them and his older sister. He got as far as killing his mom and sister before calling 911 on himself.
37. Jarrell Milton
image source: skynews.com
At only 12 years old, Jarrell Milton had planned to rob a couple of drug dealers. When the pair of dealers arrived in the park chosen for the exchange - in Omaha, Nebraska - they were attacked by Milton, his brother and his friend. One of the dealers was shot in the head and neck and died, while the other was shot in the shoulder and survived.
38. William Schultz
image source: cbsnews.com
At 18 years old, William Shultz for some reason thought the world was ending, and he wanted to try a few things he'd never done before - including killing another person. He decided to choose a child, because they were "weak", and proceeded to break into a house and stab a 9-year-old to death while he slept.
39. Bobby Woods Jr.
image source: cbsnews.com
At 17 years old, Bobby was in a relationship with a woman who was pregnant, and was living with her along with a 3-year-old who was his girlfriend's nephew. When he decided their house was too small for two kids, he took the 3-year-old to a pond and pushed him in, where he drowned.
40. Graham Young
image source: themirror.com
Graham Young was a 14 year old who was very interested in chemistry - nothing suspicious about that if a young teen enjoys a bit of science. The problem was when he started experimenting on people - his own family and friends - with poison, causing more than one death.
41. Edmund Kemper
image source: top10ish.com
You may have heard of the serial killer Edmund Kemper, after shows like Mindhunter. The killer actually started very young, though. At only 15 years old, he shot and killed both his grandfather and grandmother. After serving his jail sentenced, he was released at 21 years old and then went on to become one of the world's most famous killers.
42. The Girls Who Murdered Angela Wrightson
image source: bbc.com
The two teenage girls who murdered Angela Wrightson (pictured here) in 2014 remain unnamed due to legal reasons - but the horrors they committed aren't secret. The 13 and 14 year olds had gone into the home of vulnerable adult Wrightson and subjected her to slow torture with a variety of objects before they eventually killed her.
43. Sharon Carr
image source: emadion.com
Sharon Carr was only 12 years old when she stabbed and killed an 18 year old woman - and when once wasn't enough, she stabbed her 32 times. Some of them were so forceful they went completely through the victim's body. Some of the stab wounds included to her vagina and anus, as killer Carr said she got 'sexual pleasure' from killing.
44. Carl Newton Mahan
image source: murderpedia.org
This 6 year old boy from Kentucky became a murderer when he killed his young friend after a simple argument. He went home to get his father's shotgun and then ran back outside to tell his 8 year old friend that he was going to shoot him - and that's exactly what he did.
45. Dedrick Owens
image source: youtube.com
6 year old Dedrick Owens was at school one day when he got into an argument with his 6 year old classmate, Kayla Rolland. In the middle of class, he pulled out a gun and after telling Kayla that he didn't like her, he shot her. Dedrick put the gun back in his desk, while Kayla died from her wounds.
46. Carroll Cole
image source: vocalmedia.com
Famous serial killer Carroll Cole was only 8 years old when he first committed murder - the problem was, nobody knew he'd done it at 8 years old until he confessed to all his murders in adulthood. He had murdered a classmate at the time by drowning him in a lake.
47. Patrick Knowles
image source: teessidelive.com
When the body of a baby boy was found in an old ironworks, buried under rubble and sand, it was later discovered the baby - only 15 months old - had died from suffocation after being buried alive. Patrick Knowles later turned out to be the 8 year old responsible.
48. Christian Romero
image source: dailymail.com
Romero was only 8 years old when he killed his own father, and another man. He only admitted to the murder when he was in his teenage years. He became one of America's youngest killers when he used a hunting rifle to shoot his father and his father's friend. The boy's photo was never released, and this picture shows his defense attorney.
49. Kyle Alwood
image source: cbsnews.com
Kyle Alwood was not only a dangerous murdering kid, but an arsonist. At only 9 years old, he started a fire in a mobile home which killed five of his family members inside, burning them to death. The tragic deaths were of three children, all under three years old, along with two adults.
50. The Sasebo Slasher
image source: medium.com
The girl referred to only as 'Girl A' and responsible for the Sasebo Slashing was an 11-year-old girl in Japan who fatally stabbed her classmate, Satomi Mitari. The murderous 11-year-old had proceeded to cut Mitari's throat and arms with a box cutter in an empty classroom on their lunch break.