The Worst Dressed At Coachella 2023
By Ange Arnal
7 months ago
1. Desert chic...?
imagesource: whowhatwear
Some of our favorite celebs dusted off their dancing shoes (or cowboy boots more like) to attend the desert festival which takes place each year in Palm Desert, California. Leaving us from our homes to just watch from afar, feeling nothing but envy... and FOMO!
2. ...or just a complete fail?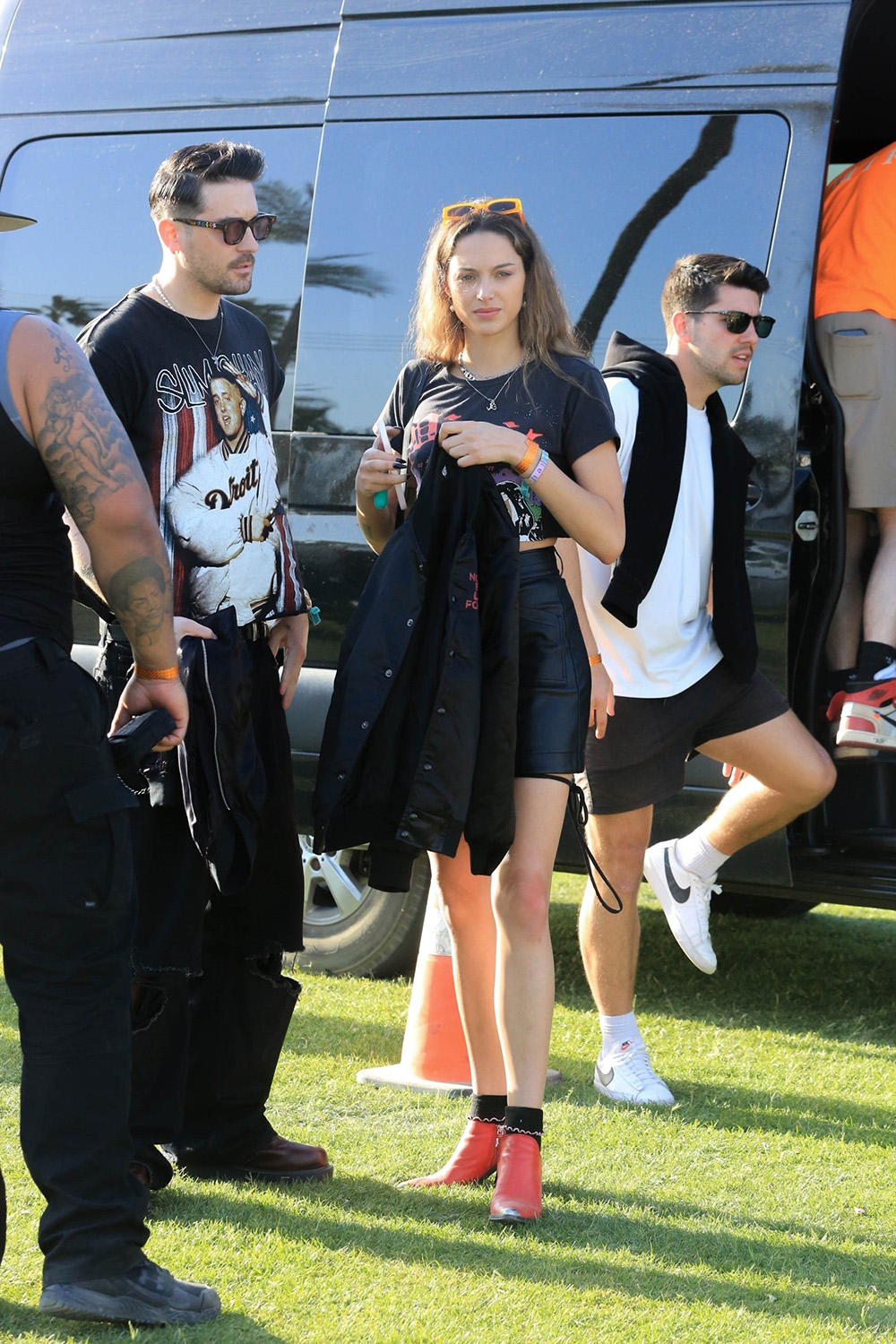 imagesource: hollywoodlife
Whether it's swimsuit tops they've opted for, ripped daisy dukes or boho chic fashion, each and every person attending this festival goes all out! However, it's not always great - don't get me wrong, we all love seeing those gorgeous outfits but who doesn't love seeing an outfit fail...
3. Nothing but love!
imagesource: entertainmentonight
This article by no means is throwing any shade at these celebrities or influencers, we're just having a bit of a slight joke about their outfits and how they chose to present themselves at this years most fabulous festival! It's just a bit of fun... all love!
4. Lewis Hamilton
imagesource: thesun
F1 superstar, Lewis Hamilton stepped out looking... bright! Some people call it style, we call it something else. I mean, it's a good job he's a good looking guy, and the bright colours do suit his complexion... but it's the strange floral print we just can't get our heads around.
5. Emma Roberts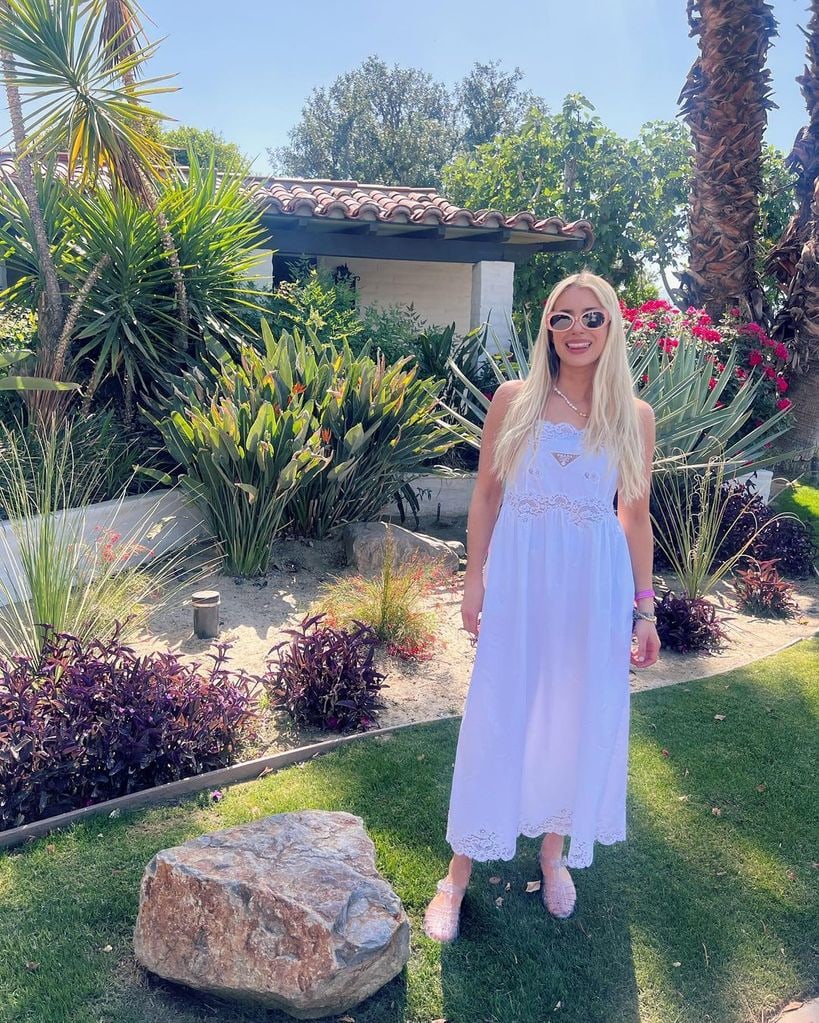 imagesource: hellomagazine
Emma Roberts stepped out in a funky, fun, cut-out black dress and neon yellow wedge heels. She looked cool, she looked chic. But what happened with this outfit? I mean, it's all wrong, everything! She looked so good in her other outfits too! I guess 2 out of 3 is good enough!
6. Charli D'Amelio
imagesource: hawtcelebs
The rules for Coachella are 'don't go to impress other people with your statement outfits' and 'don't try too hard' - all of what Charli & her sister, Dixie decided to ignore. Trying to flex a little too hard just isn't the one when it comes to this Californian festival.
7. Dixie D'Amelio
imagesource: J-14
The internet was screaming, literally screaming about what the D'Amelio sisters wore to Coachella this weekend, and not for the right reasons! The sister are examples of what you SHOULDN'T do at Coachella - they just screamed 'uneducated influencers'...
8. Landon Barker
imagesource: hollywoodlife
Rocking up to Coachella with Charli D'Amelio, Landan looked like Britney Spears and Justin Timberlake's denim disaster love child whilst watching his dad, Travis along with his new step-mom, Kourtney Kardashian. This was Travis' first show at Coachella in 9 years!
9. Stassie Karanikolaou
imagesource: hollywoodlife
Kylie Jenner's best, Stassie Karanikolaou rocked up to Coachella's REVOLVE with her washboard abs out in tiny shorts, a black leather vest, a loose leather belt AND black knee high leather boots. Giving off very very Y2K biker vibes. It was the boots for me... a hard pass!
10. Saweetie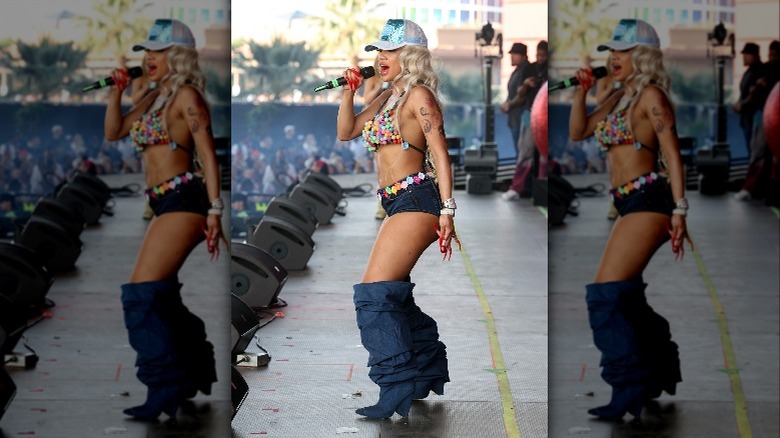 imagesource: glam
Rapper Saweetie performed in a string bikini top covered in plastic bobbles, a pair of denim boy shorts and a bright flower belt with slouchy denim boots and a sequined trucker hat. Who put her down to this?! Saweetie always usually gets it right, unfortunately not this time.
11. Kali Uchis
imagesource: rollingstone
We know double denim is on trend at the minute, but some people can overdo it. I'm getting Britney vibes with this one...IYKYK. This ensemble stole the show for all the wrong reasons, and the big hoops and denim boots added to the disaster that was this outfit... great performance as always though!
12. Michelle Joy
imagesource: gettyimages
Pulling out all of the stops with this 70s inspired look, Michelle Joy looked like a literal disco ball whilst performing on stage. Whilst we appreciate the nod the possibly the best era of all time, but she completely missed it when it came to the outfit choice.
13. Bjork
imagesource: consequence
Bjork confused festival attendees this year when she dressed in thousands of fiberoptic tendrils with blood-red beads at the end of each spine. The spines covered her white dress, face and amazingly retro hairstyle. It was all just a bit much! This was definitely a look that divided fashion lovers all across the globe.
14. Madison Bailey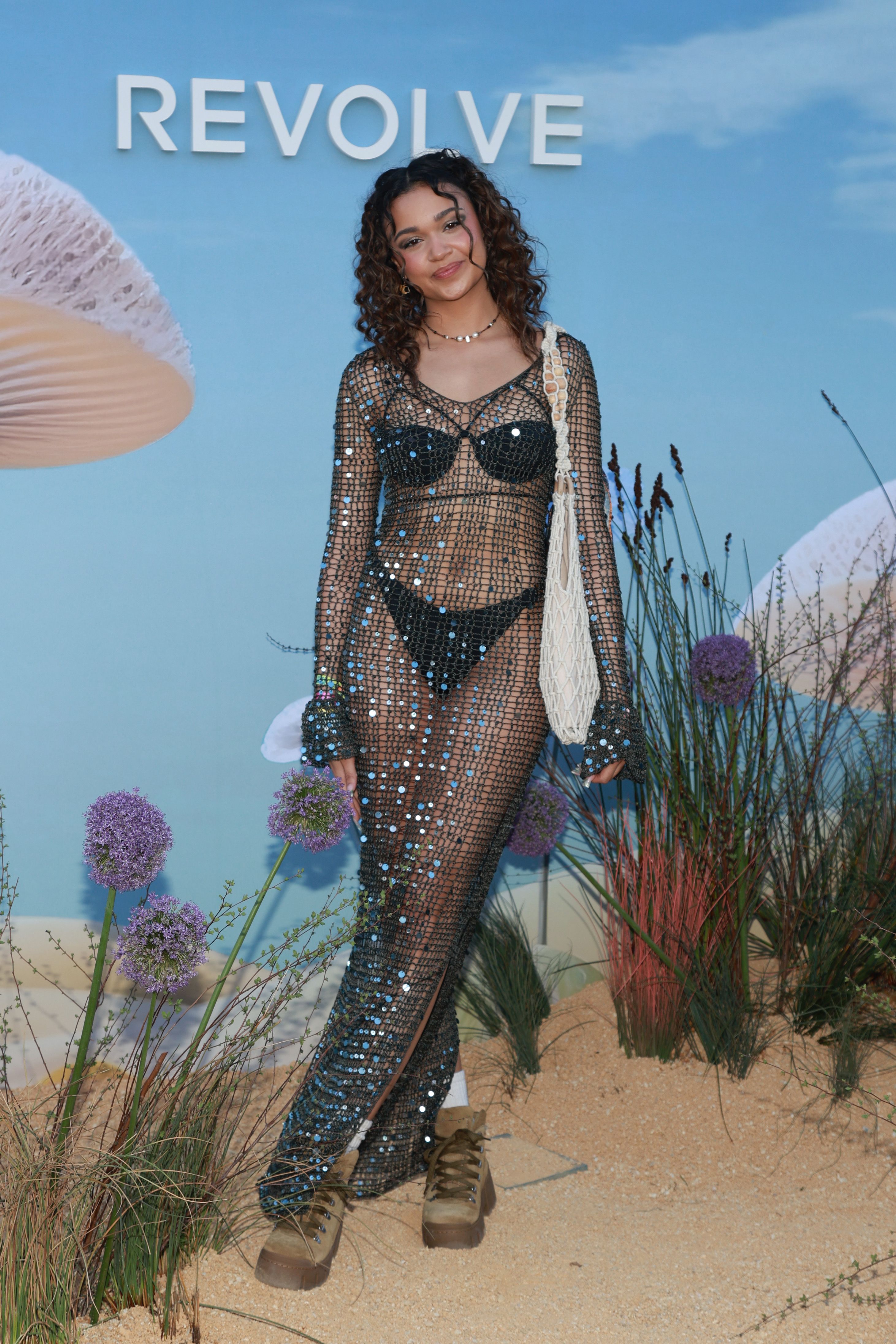 imagesource: cosmopolitan
The all black bedazzled chainmail gown over the black bikini and tan hiking boots was just not the one. Oh and with white crew socks and a cream macramé bag. It's all just so confusing and a bit overwhelming. The textures mixing were all wrong and the boots. Oh the boots!
15. Paris Jackson
imagesource: hawtcelebs
Daughter of mega-star Michael Jackson appeared at this years Coachella in a dress and boots that we're supposed to look like 90s grunge. But the rough cut outs of the dress and draping just made it look like she was wearing check drapes from her grandma's closet.
16. Madison Pettis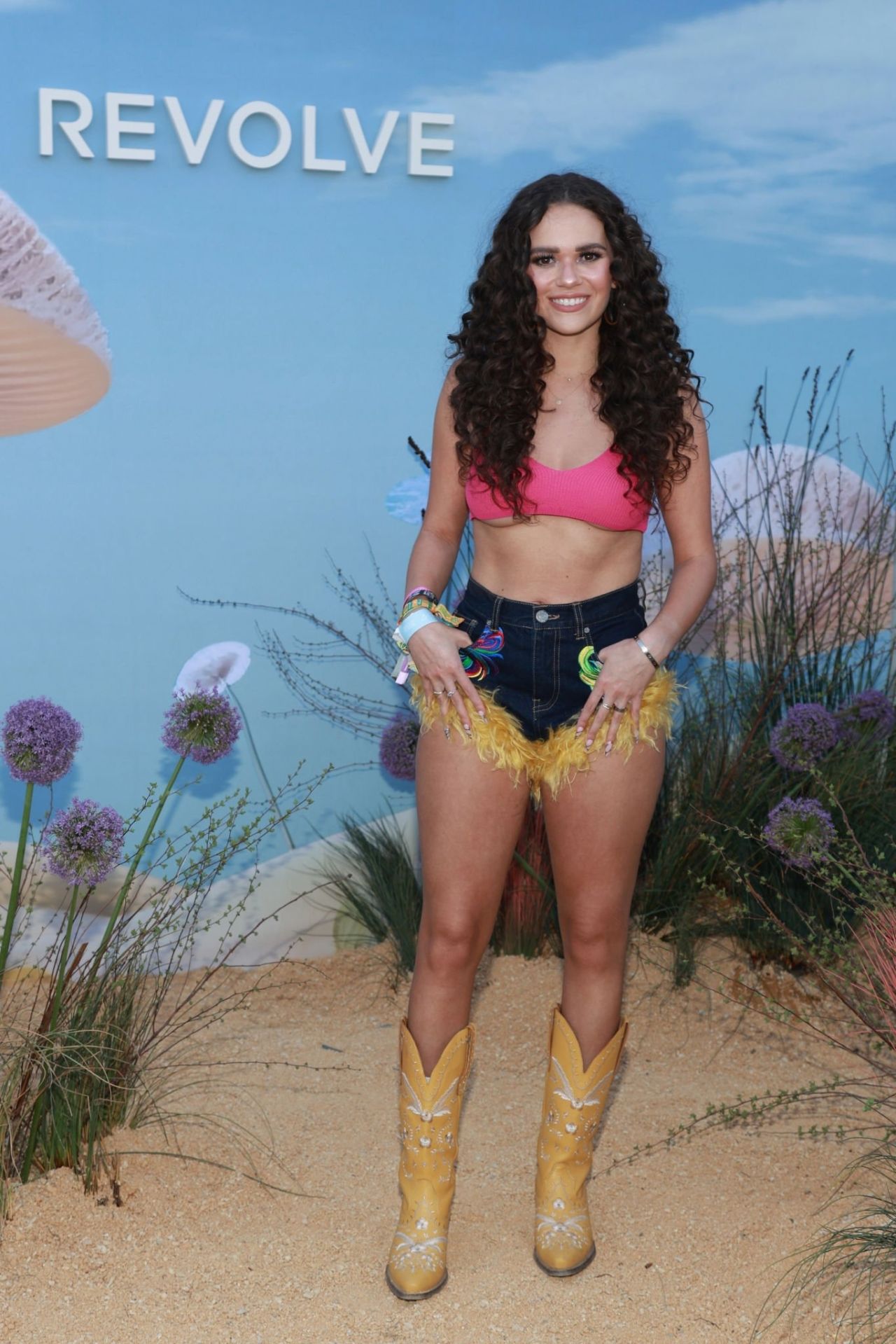 imagesource: celebmaffia
Attempting the fun festival look, Pettis was far from the worst dressed, but it was just too much. The fluff, the bright pink top, the gorgeous but extra volumized hair with the outfit. It all seems a bit too much! The combination created an awkward look.
17. Kourtney Kardashian
imagesource: theussun
Since marrying Travis Barker, Kourtney K seems to have completely transformed her look and she didn't disappoint this year at the festival. The TV personality and businesswoman rocked up in a low-cut grey corset dress and fur crop top jacket. How cliché
18. Scheana Shay
imagesource: people
The Vanderpump Rules star, Scheana rolled all the stops out this weekend whilst out with bestie, Ariana Maddix (who BTW looked sensational) and boyfriend Brock. However, Scheana's white netted looked just wasn't hitting. She may have had the time of her life, but her outfit screamed tacky. Meow!
19. BLACKPINK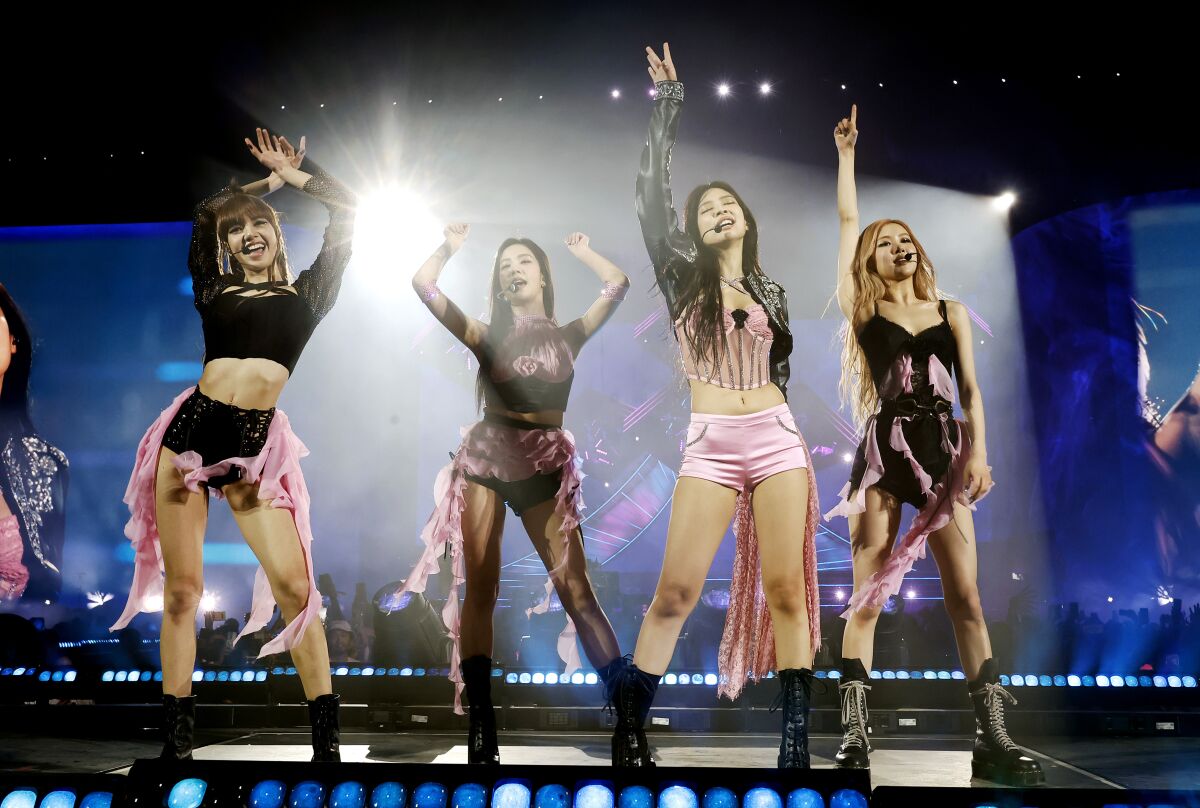 imagesource: losangelestimes
Now, no shade whatsoever, but this widely popular Korean popstar group, BLACKPINK may have brought the heat to this years Coachella, but when it came to their outfits, they certain missed. Too many ruffles, too much pink, it just wasn't the one!
20. Amber Rose

imagesource: lifeandstylemag
Amber Rose went for full disco this year during the NYLON event, with a floor length mustard coloured velour floral jumpsuit with matching gloves, bag and cap. The model wore black boots and big gold hoops just to add that extra tack to the outfit.
21. James Charles

imagesource: instagram
Another celeb/influencer who took the double denim trend a step too far is makeup artist and Youtube sensation, James Charles. His makeup looked outstanding as per, but the outfit and matching shoes just scream 'try hard'. Love the bag though hunni!
22. Teyana Taylor

imagesource: buzzfeed
Singer and dancer, Teyana Taylor rocked up looking cool as ever, only she could pull off this outfit - but we're still not keen on it. Green cargo trousers, with green wellie type boots with a long leather tasseled Pocahontas looking coat over the top.
23. Delilah Belle Hamlin & Madison Beer
imagesource: buzzfeed
Harry Hamlin and Lisa Rinna's eldest showed up looking very Paris Hilton 2006 in a black string bikini, a black glitter cut out top with baggy jeans black trainers and a black cap. Madison black cut out shorts and bikini top outfit with boots wasn't much better either.
24. Justine Skye
imagesource: buzzfeed
Usually someone who gets it right all the time, Skye decided to show up in the middle of the desert in a pair of thick, furry cargo pants, black boots, a black crop top & a thick biker leather jacket. All of which may have looked good at a winter fest...just not Coachella 2023.
25. Jaden Smith
imagesource: 
Will & Jada's eldest appeared at the festival in what can only be described as baggy, light washed jeans, a white shirt and a black tie with a multi coloured raincoat. Another celebrity who's screaming try hard...but we already knew that about Smith didn't we!
26. Irina Shayk

imagesource: thezoereport
Usually the stunner in every room, Russian model, Irina Shayk rocked up to Coachella this year looking a bit like Beetlejuice. Arriving at the H&M party, Shayk came to the festival with actress Emma Roberts and Zoey Deutch, both of which looked very stylish on this day!
27. Kathryn Newton

imagesource: thezoereport
Another celebrity to arrive at the H&M event was Kathryn Newton who showed up in a yellow embellished trouser and shirt set from H&Ms Innovation Re-Enchantment Collection. The outfit is gorgeous, just not the colour on Newton, it was completely wrong for her...but that's just our opinion!
28. Paris Jackson...again

imagesource: hellomagazine
Again, we love Paris but this outfit which was gothic lace, merged with a Victorian satin corset. The star matched her outfit with heavy-duty walking boots (again, why?!) for practicality and layer the gothic look with a sheer lace blouse! We think the gorgeous Paris is trying a bit too hard to look casual!
29. Inanna Sarkis

imagesource: hellomagazine
Actress Inanna was a Y2K throwback this weekend with denim low-rise cargo pants, platform heeled boots and a ditzy tie top. The top YES, cute, but its the boots & the accessories that were just TOO MUCH. Too try hard, yet again, another celebrity trying to do TOO much.
30. Camila Cabello
imagesource: hellomagazine
Camila Cabello was spotted kissing ex-boyfriend Shawn Mendes at Coachella this weekend and not only did fans react to this gossip...but this outfit too. This crafted leather and chocolate hued fabric jacket a trouser set just wasn't it. Not even the Shawn Mendes gossip could escape her from this questionable outfit!