Things Everyone Missed In Game Of Thrones
1. Lord of the Rings meets GOT
imagesource: pintrest
The infamous Iron Throne was made up of hundreds of swords but I bet you didn't notice the one that belonged to the set of Lord of the Rings? Yep you read the correctly, Gandalf's sword, Glamdring was intertwined between the rest of the swords. Did you spot this one?
2. George Bush's cameo
imagesource: flickr
Remember the scene with all the severed heads that King Joffrey had stuck on pikes at the end of season one? Well, you may not have noticed that there was a replica of George Bush's face stuck on a pike. D B Weiss said: "George Bush's head appears in a couple of beheading scenes. It's not a choice, it's not a political statement."
3. Littlefinger's predictions for the future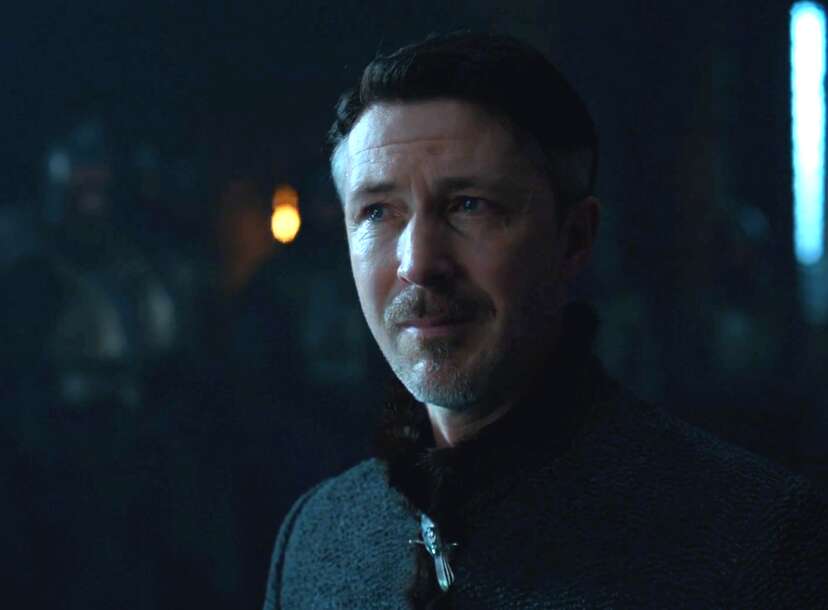 imagesource: thrillist
In episode 8 of season 4, he tells Robin Arryn, "People die at their dinner tables. They die in their beds. They die squatting over their chamber pots. Everybody dies sooner or later." His words had a hidden meaning and he foreshadowed the future. We won't spoil it for you!
4. Jamie Lannister's Star Wars tribute
imagesource: BT
Both Jamie Lannister and Luke Skywalker had twin sisters and evil fathers, but Jamie Lannister also has his hand cut off like Luke did in The Empire Strikes Back. Some people say that this is GOT's way of paying tribute to the legendary Star Wars. I bet you missed this one!
5. Superstar cameos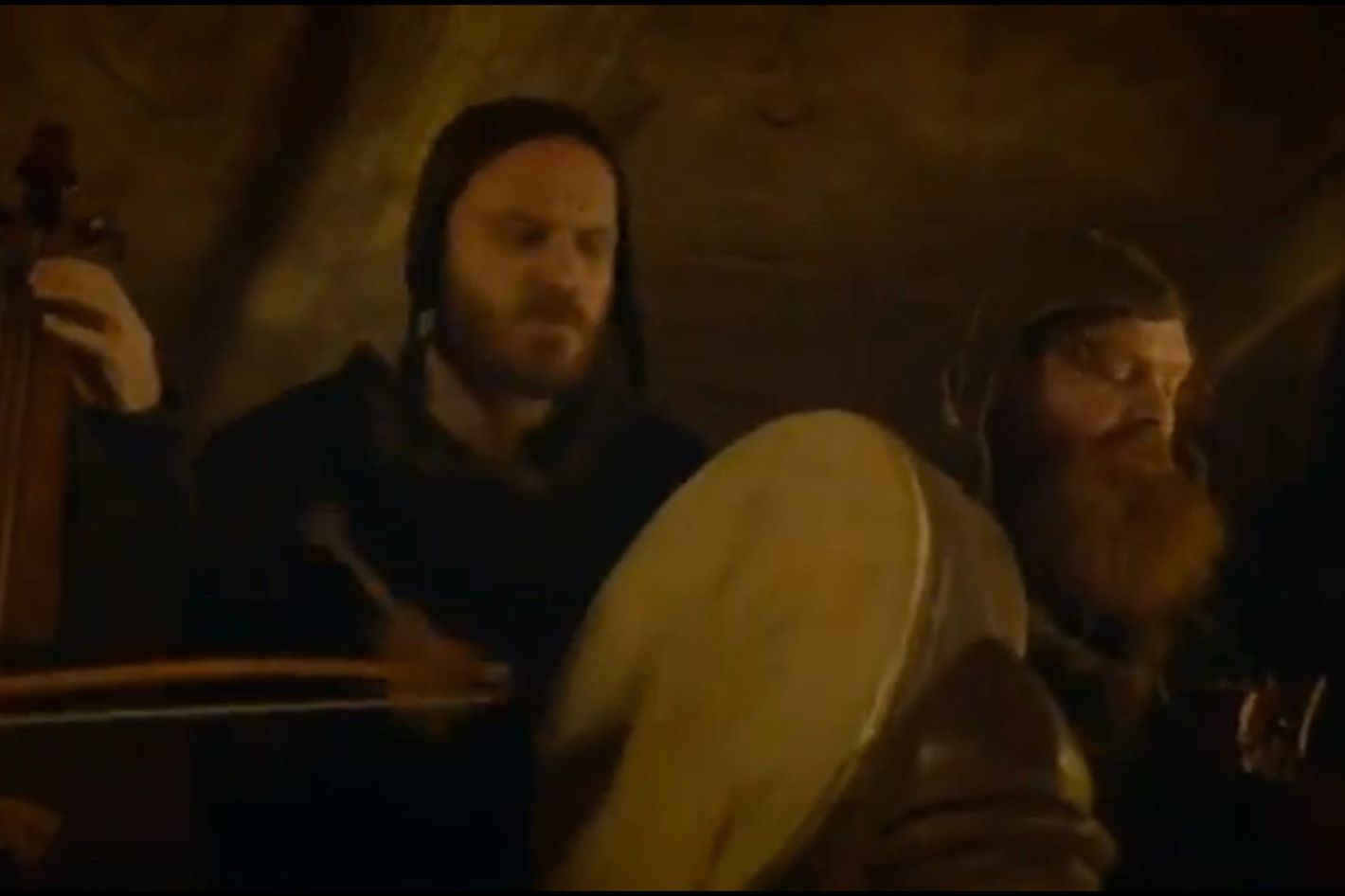 imagesource: vulture
The Red Wedding is indisputably the best episode of the entire show and one of the most unforgettable episodes of all time. Well, there were some stars that appeared in this episode, like Coldplay who played the musicians playing the Rains of Castamere.
6. Recognise the map of Westeros?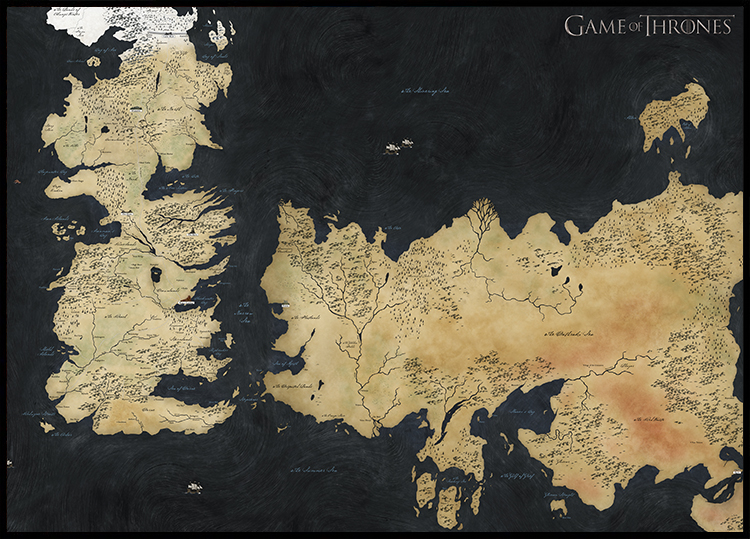 imagesource: posterstore
Maybe you didn't put two and two together, but if you notice the map of Game of Thrones looks quite familiar. It's basically an inverted map of Ireland above Britain. It doesn't come as much of a surprise considering a lot of the show was filmed in Ireland and is based on historical events.
7. Brienne & Tormund's fighting technique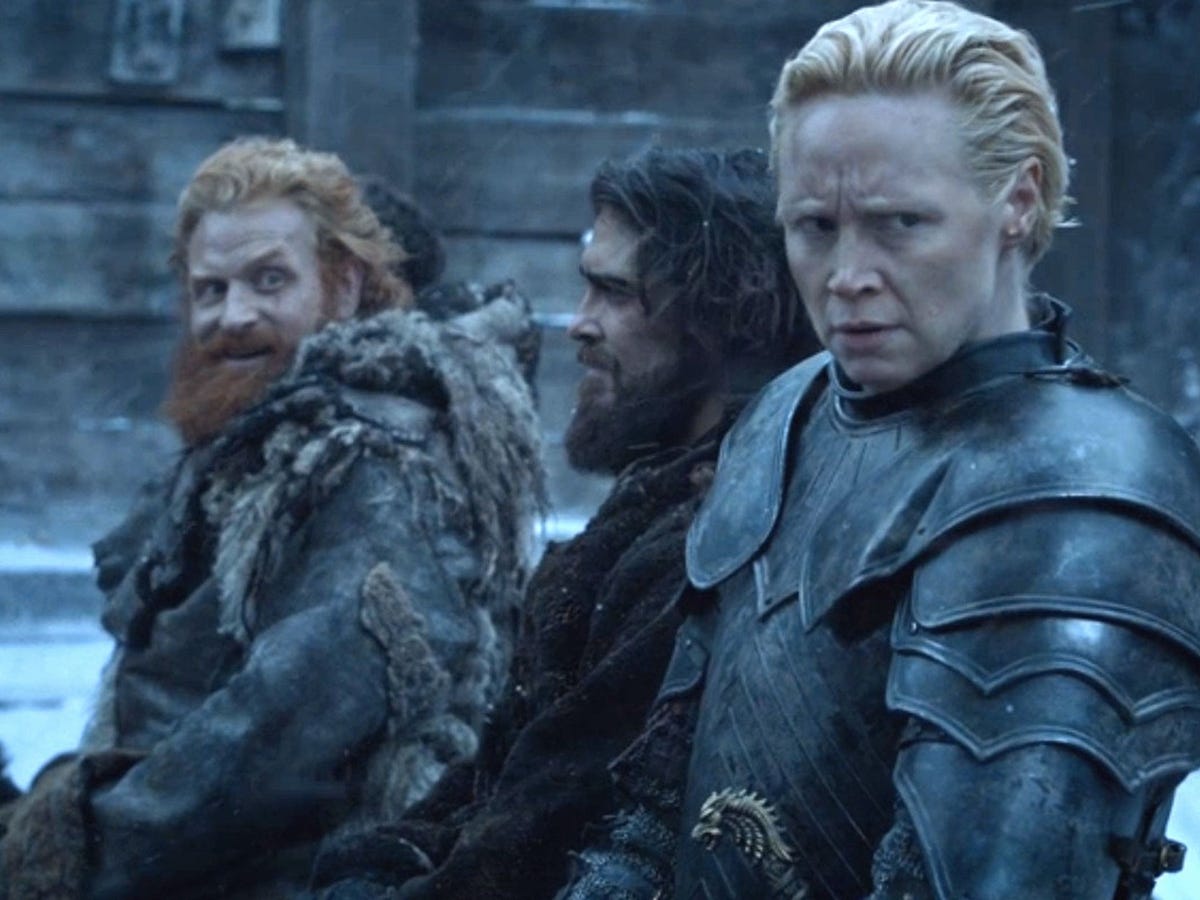 imagesource: menshealth
Remember when Brienne savagely ripped The Hound's ears off with her teeth? Well, her defense strategy was the same as her future admirer, Tormund. Tormund dug his teeth into his enemy in the Battle of the Basterds during that chaotic fight. How romantic...
8. R + L = J
imagesource: quora
Back in episode 4 of season one, Jon mentions to Sam about knowing who his mother is and if you look closely, you'll notice a hidden message in the background. There are carvings one the tree next to him that write "RL". The theory was proven a long time before we found out.
9. Jon Snow & Daenerys Targaryn
imagesource: insider
When Jon emerged from the pile in Battle of the Basterds, it reflected the moment Daenerys rose above all her followers in season three. This mirror image implied Jon Snow and Daenerys were related. Taking us right back to the R + L = J theory. Pretty cool, hey!
10. The little secret in the opening sequence
imagesource: thetelegraph
One of the most memorable opening sequences of all time features a sneaky secret - the locations where the episode will be taking place. Every episode's map must contain King's Landing, Winterfell, The Wall and wherever Daenerys was at that moment. Did you notice that?
11. Jon Snow & Frodo Baggins
imagesource: Iuth
George R.R Martin 100% loves Lord of the Rings. Frodo Baggins' best friends in LOTR are named Sam and Pyp. Is it a coincidence that Jon Snow's friends were also Sam and Pyp?! And did you even notice that, because that fun fact went straight over most people's heads.
12. The Viper's death was teased a long time before
imagesource: instagram
The cast of GOT all became extremely good friends, this Easter egg was teased long before the Viper's death. Lena Headey and Pedro Pascal took this photo and posted it before the episode aired in season four long foreshadowing the character's gruesome ending.
13. The Harry Potter Tribute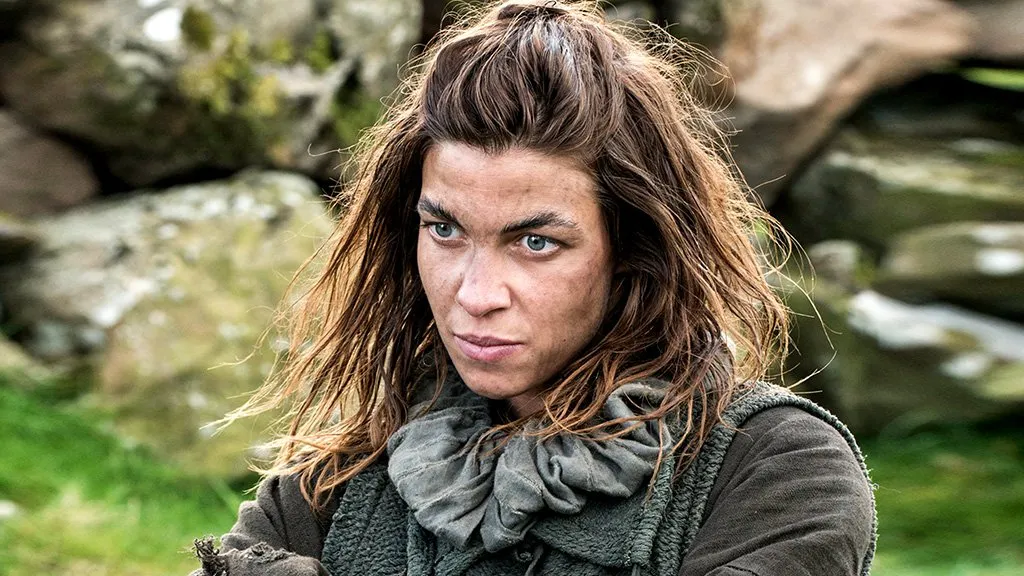 imagesource: hellogiggles
Did you recognise Osha? She played Nymphadora Tonks in the Harry Potter movies. Game of Thrones paid tribute to her witch character in season one when she was seen making brooms - brooms also featured in several shots with Osha as well. JK Rowling would be proud of this one!
14. Walkers and the Starks
imagesource: buzzfeed
If you look very closely at this picture, it looks as though the White Walkers formed a Stark sigil, a direwolf, at the end of this scene. Was this the show throwing in a easter egg for us all? Or is it our minds playing tricks on us? What do you think?
15. A nod to the Three Stooges
imagesource: thenewyorktimes
This easter egg was actually originally hidden in the first book. Remember when Catelyn arrests Tyrion? Well, the three knights who helped her were named Lharys, Mohor and Kurleket - a nod to the Three Stooges, Larry, Moe and Curly. This one is pretty cool, did you notice it?
16. The hall of faces cameos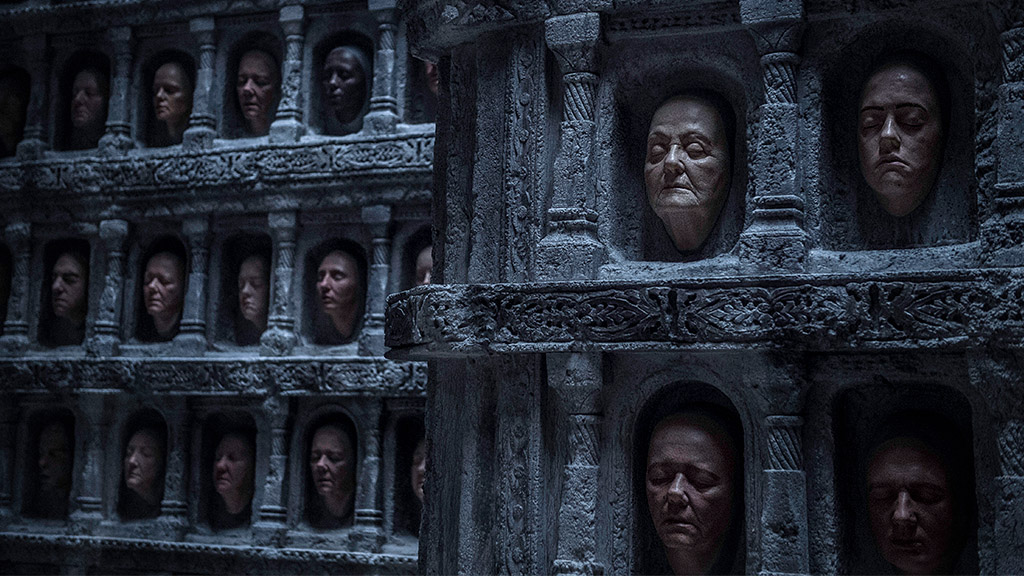 imagesource: makinggameofthrones
If you look closely at the Hall of Faces, you'll spot a few more familiar faces other than Daenerys, Jon and Arya. Co-creators David Benioff and Dan Weiss were among some of the faces featuring in the hall. Did you recognise any others? We loved this sneaky cameo so much!
17. Daenerys' hair

imagesource: Ozzy Man
As you can see in this picture, you will notice Daenerys' hairstyle and plaits become more and more elaborate as the seasons go on. This basically depicts the growing strength and power as a Targaryen. Just like Sansa's style changed, so did Daenerys'.
18. Daenerys & Ygritte
imagesource: winteriscoming
You'll recognise one of Daenerys' lines to Jon Snow during the season 8 premiere. When the pair fly away on their dragons and find themselves at the hidden waterfall, Dany says "We could stay here for a thousand years and no one would know". Ygiritte said something similar at the cave – "I don't ever want to leave this cave Jon Snow, not ever".
19. #NotToday
imagesource: DNAindia
#NotToday was trending on Twitter after the famous GOT quote "not today" was said by Arya in episode 3 of season 8. This was her answer when Syrio Forel asked her, "What do we say to the God of Death?" back in season 1 right before her father was killed.
20. A little Starbucks cameo
imagesource: hindustantimes
If you kept your eyes peeled back in season 8, you'll have spotted in one shot during the feast of Winterfell that there's a Starbucks cup next to Daenerys. A lot of people noticed this and weren't sure whether this was accidental or not! How funny though!
21. David Benioff & D.B Weiss were Wildlings
imagesource: reddit
During that same feast, you may have recognised a few familiar faces. Some of the wildlings were played by the showrunners David Benioff and DB Weiss and fans spotted them pretty much immediately. They really suited the scruffy, unwashed look! They sure do love sneaking themselves in.
22. The Lannister sigil
imagesource: insider
If you kept an eye out on the nitty gritty details, you'll have spotted that during the opening credits of the final episode, the usual Lannister sigil above the Iron Throne is smashed which signified the fall of Queen Cersei in the previous episode.
23. Season One's parallel
imagesource: youtube
Remember Daenerys' and Jon's iconic entrance at Winterfell at the start of season 8? Well, viewers noticed the parallel of Robert Baratheon and Cersei Lannister back in season 1 - and it even featured the same music. Each and every detail is so precise.
24. The house of undying vision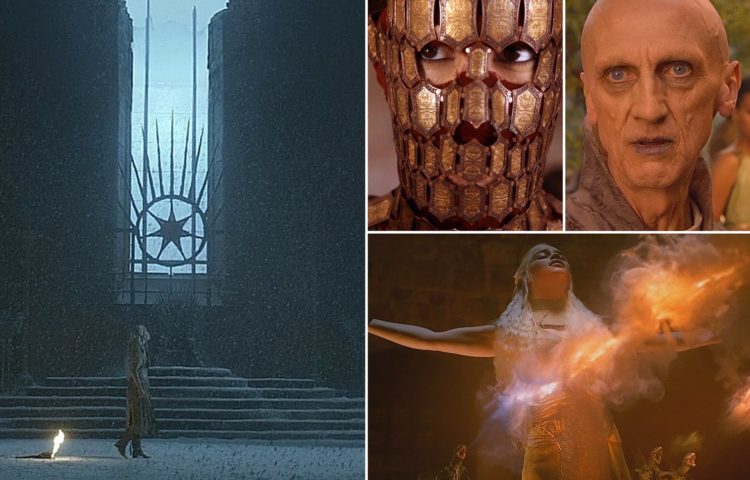 imagesource: ablogofthrones
Maybe not an easter egg, but we felt this needed to be included. Daenerys entering the Throne room in the finale recalls her vision in the House of the Underlying back in season 2. From the falling ash to the destroyed throne room, this vision was proved to be true. Dany got to touch the throne however, before it was destroyed.
25. Jon Snow's banner
imagesource: reddit
For all of you who may have missed this, Basterds like Jon Snow were not allowed the fly banners of their houses. The Stark banner which is a grey wolf on white background became a white wolf on grey for Jon, hence his name "white wolf". Only true Game Of Thrones fans spotted this one, did you?
26. Maggy the Frog's prophecy
imagesource: reddit
Surely most of you will remember this one? Cersei's prophecy has always played a part in the background of the books, but faded into the past when it came to the series. Maggy the Frog was talking about Daenerys Targeryen all along. Have you read the books and watched the series too?
27. The hint about Bran
imagesource: watchersonthewall
This truly obvious hint about Bran will make you furious you completely missed it back in episode one which told us all that Bran was going to become the King of Westeros. When Jamie is introduced as "the Kingslayer" - this theory says that we were told Bran would be king since Jamie tried to kill him by pushing him out of the window.
28. Daenerys' bath scene
imagesource: NZherald
Daenerys' bath scene when she's preparing to marry her war lord in the first season of Game of Thrones isn't just any old episode. In fact, it actually foreshadows Daenerys's future as the Mother of Dragons. It's a subtle hint to what's about to happen.
29. Tywin's dinner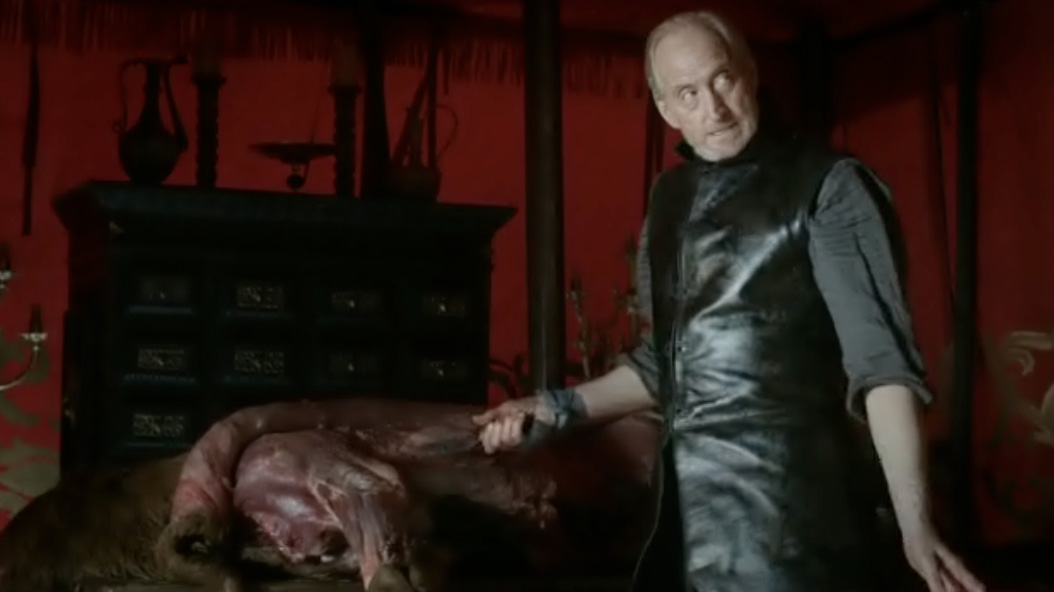 imagesource: fandomania
In the episode 'You Win Or You Die', there's a scene at the beginning of the episode where Tyrion skins a dead stag (poor thing!), and this symbolises that the Lannisters will destroy House Baratheon. Tywin's dinner shows the Lannisters would destroy the house.
30. The three eyed raven & Arya's sword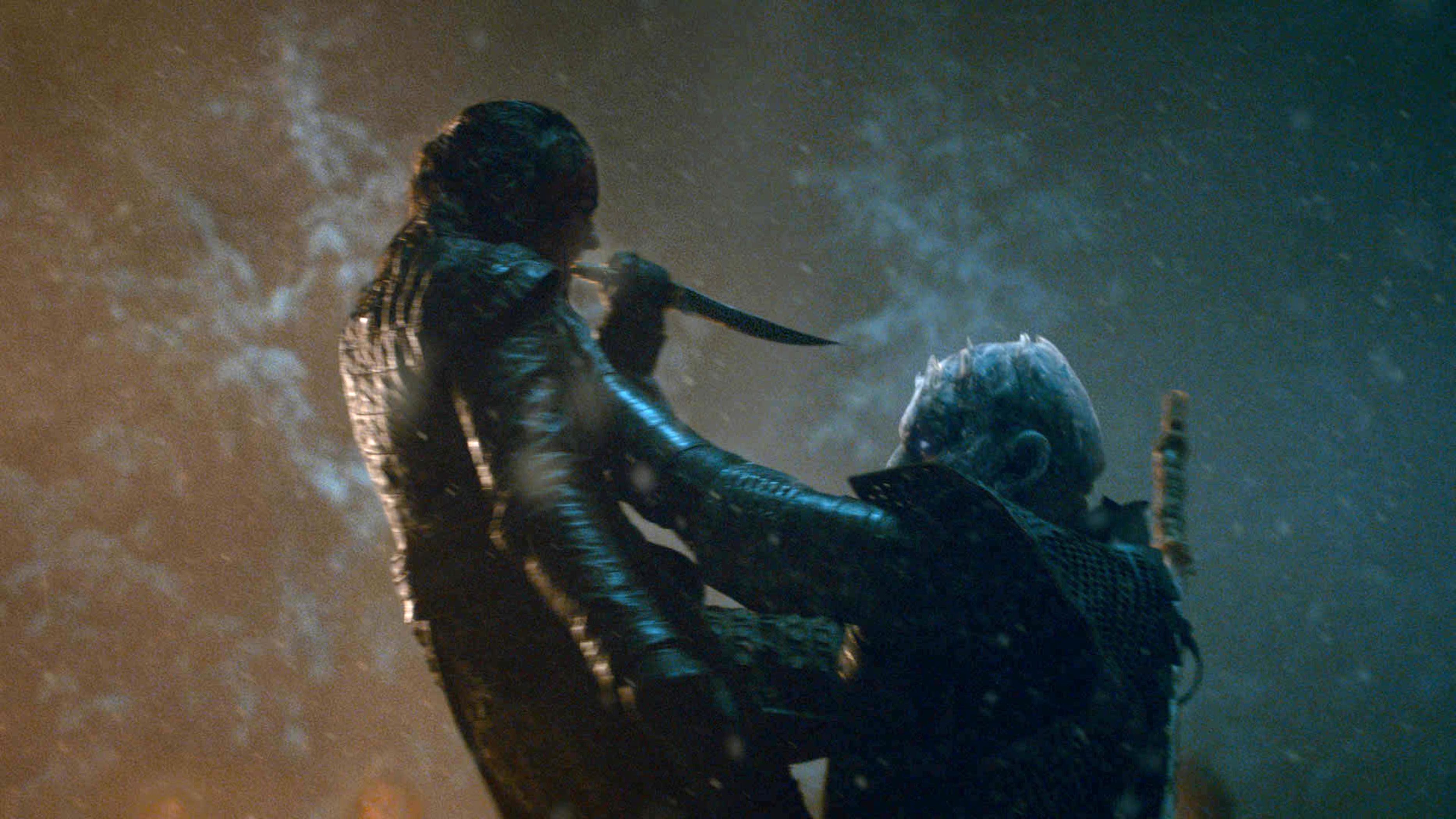 imagesource: harpersbazaaar
In season seven, Bran handed Arya the famous Valyrian steel dagger in Winterfell Godswood. Have a little think about it...why do you recognise Winterfell Godswood? This is the exact location where Arya killed the night king. So clever, did you miss this one?