1. Zulu Love Letters – South Africa
imagesource: Earth Africa
In Zulu culture, women show men that they're fond of them by writing love letters (very Jane Austen of them). Along with the love letters, they send them beaded necklaces made up of the yellow which shows desire and red which can also mean anger, however, the colours used on the beaded necklaces can often confuse Zulu men.
2. Boxed Lunches – Japan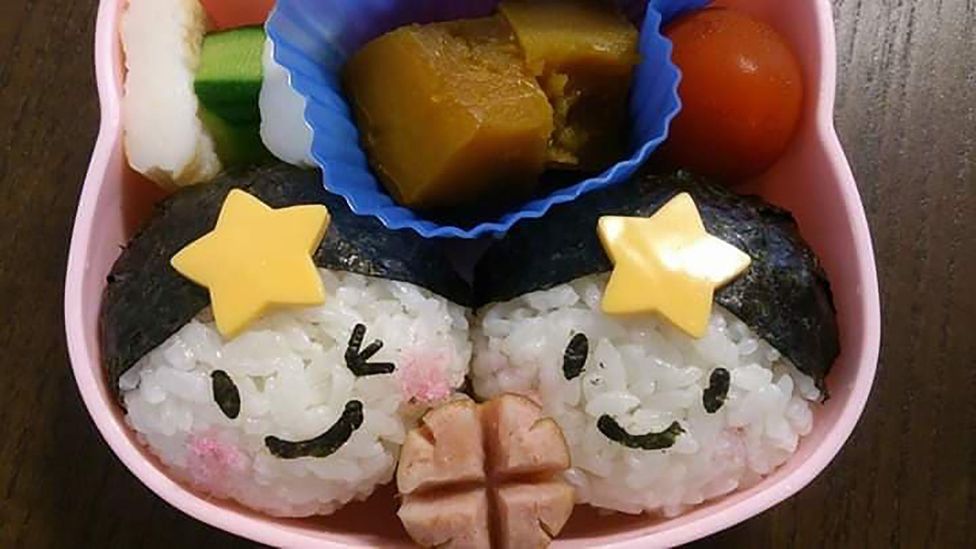 imagesource: BBC
PDA is a big no no in Japan but a way for women to show their love to their men is to make them elaborate packed lunches. We're not taking a juice box and a ham sandwich, we mean the more elaborate the better! The Japanese are all about pleasing the people they love.
3. Wife Carrying – Finland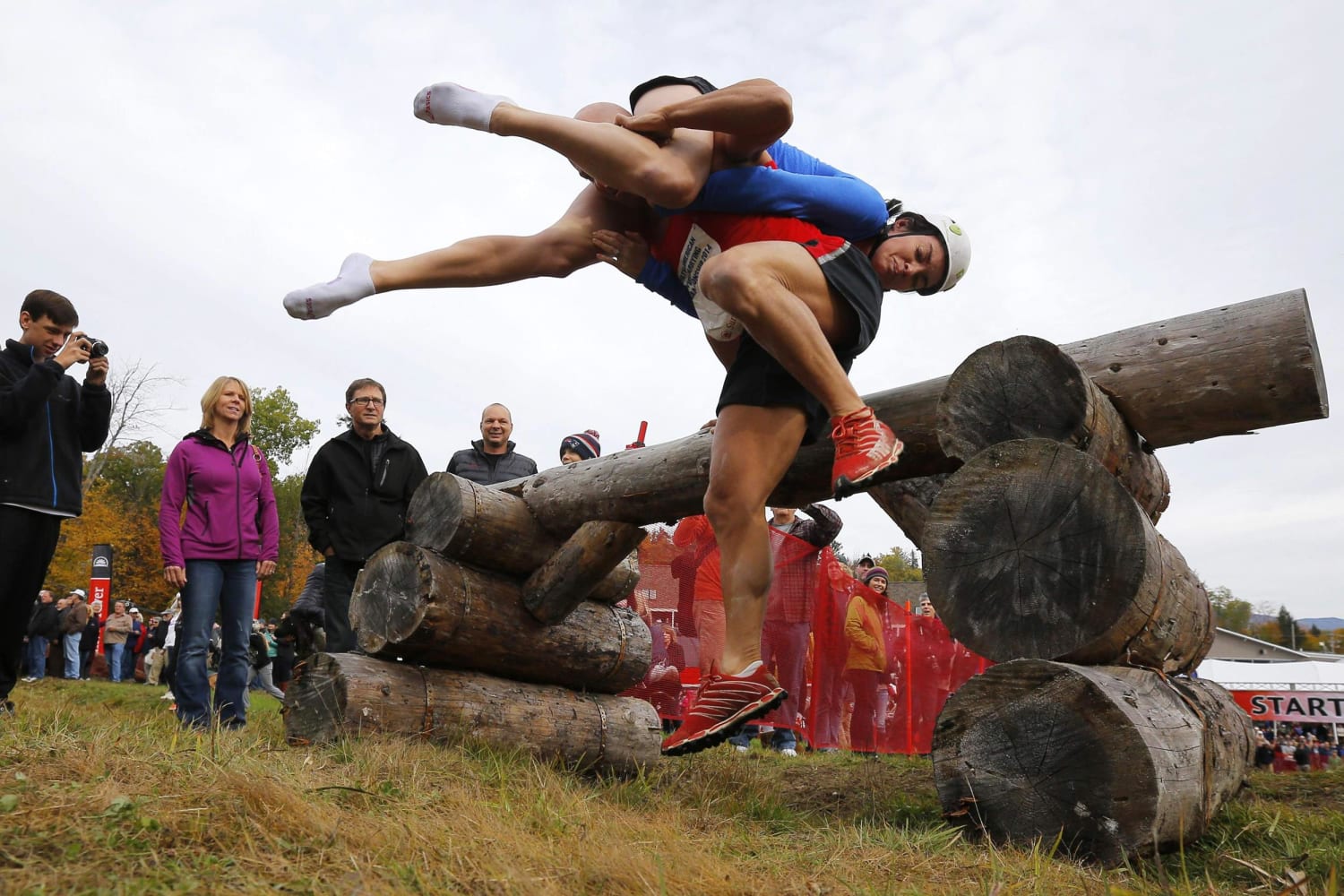 imagesource: NBCnews
Every July, Sonjajärvi, Finland hosts the Wife Carrying Championships where people flock from around the globe to watch the event. Wives are thrown over shoulders as their dragged through a series of challenges.
4. Gifting A Whale's Tooth – Fiji
imagesource: reddit
If you're looking for a partner to be in Fiji, then handing their father a whale's tooth is what you would have to do to win them over. Whales' teeth are traditionally given as offerings for war or peace but in some instances, they're exchanged for marriage.
5. Valentine's Style Celebrations Every Month – South Korea
imagesource: thedeclaration
Valentine's Day is stressful for a lot of people, especially men who've forgotten to order flowers for their wives for the fifth year running. But spare a thought for South Korea where couple's based celebrations happen on the 14th of every month, with a separate day set aside for the singletons out there! They need to feel the love too!
6. Walking Barefoot – Slovenia
imagesource: reddit
Rather than getting your other half a box of chocolates or a bunch of roses, in Slovenia, it's completely normal to walk barefoot across snow on February 14th each year. Slovenians believe that birds of the fields get married on this day so they must walk barefoot through fields to watch the ceremony of birds.
7. Pigs – Germany
imagesource: reddit
Now this I could definitely be a part of! In Germany pigs are meant to bring you good luck as well as symbolise lust for your partner. Forget about handing your other half chocolates, cakes or soft toys it's all about the pigs, images of pigs, pig themed presents or just a pig.
8. Male Beauty Pageant – Niger
imagesource: reddit
The Guéerol is a courtship ritual competition for the Wodaabe Fula people of Niger but rather than it being men ogling women, its the other way around. It's the men of the community who get themselves dressed up in order to win a lady over who will hopefully become their wife.
9. One Kiss – Western Culture
imagesource: reddit
A kiss is a common act of displaying affection in places like the UK, America and Australia. Americans in particular have a lot of kiss related traditions like kissing under the mistletoe, kissing at midnight on NYE and obviously the kiss at the alter on your wedding day.
10. Two Kisses – Europeans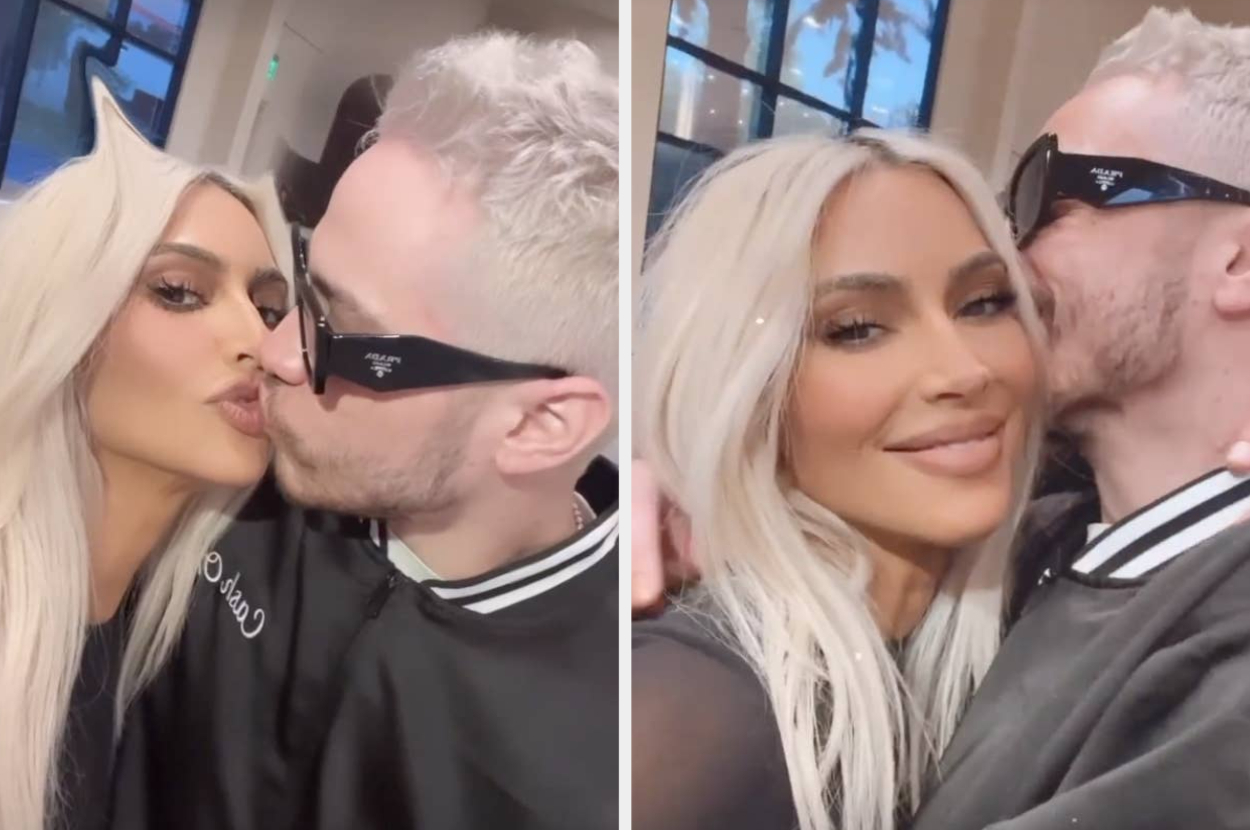 imagesource: buzzfeednews
Europeans are known for being more passionate, the French, Italians & Spanish in particular. In Italy and France, it's standard to greet each other with two kisses, one on each cheek. The French also didn't actually invent 'the French kiss', it came from British & American soldiers returning home from Europe after WWI who greeted their partners as they saw the "sexually adventurous" French do.
11. Three Kisses – Holland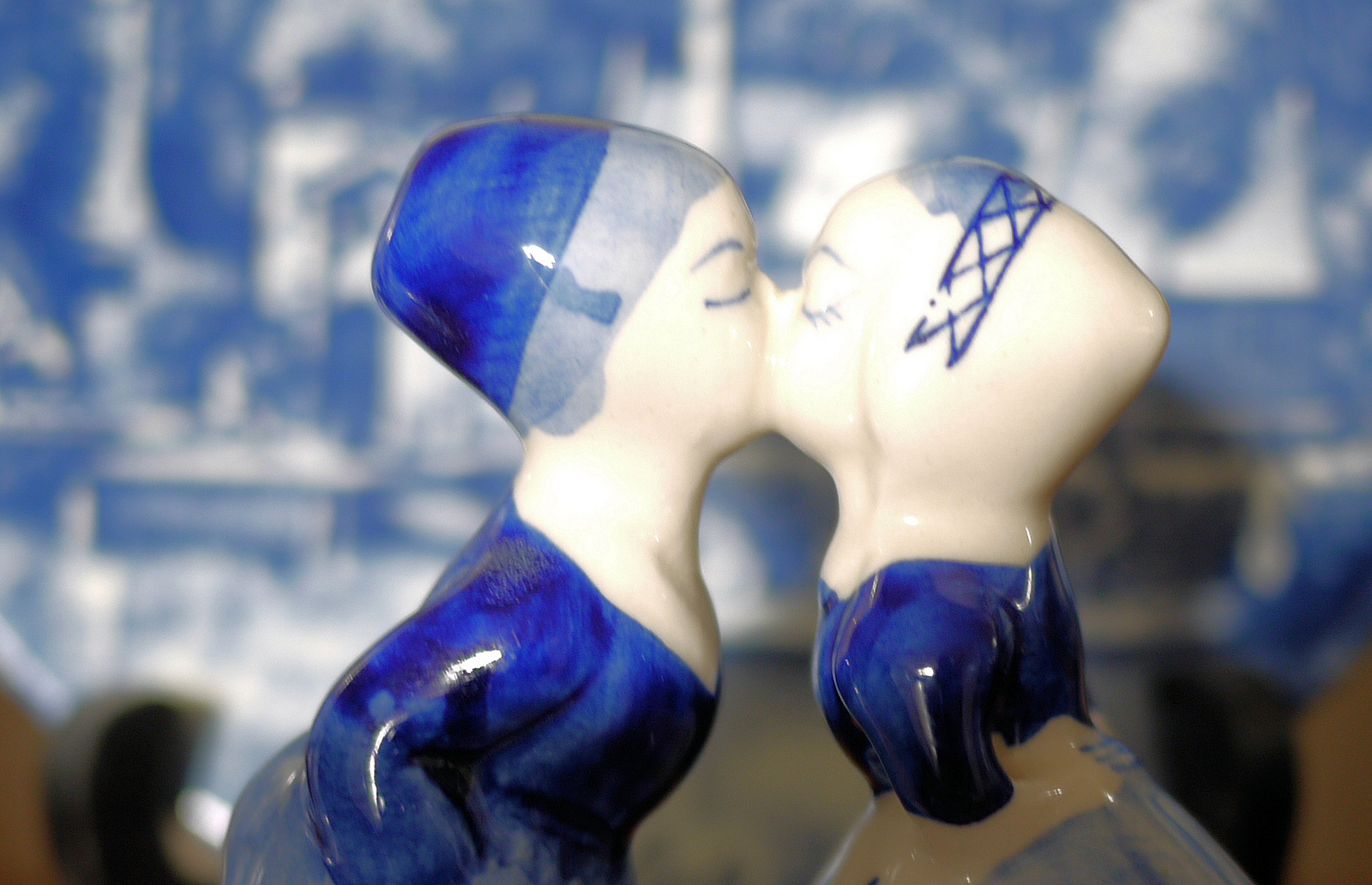 imagesource: stuffdutchpeoplelike
Dutch people greet each other by kissing each other's cheeks three times. It goes right, left, right. The issue with this is that a lot of people go for the one kiss or even two kiss then the other person is left lerching…waiting there.
12. Eskimo Kiss – Arctic Circle
imagesource: reddit
The Eskimo kiss is a traditional way of showing love or greeting people of the Arctic circle, known as 'Kunik'. People who live in cold climates tend to have a lot of their face covered, only leaving their eyes and noses exposed. The Eskimo kiss allows them to sniff each other's skin to remind themselves of their scents.
13. Gift Giving Kitchen Gadgets – Wales
imagesource: reddit
Who knew kitchen gadgets could be romantic? Back in the seventeenth century, lovespoons (carved wooden utensil etched with hearts, locks, crosses and other symbols) were gifted to the lady's of Wales and they symbolised an engagement ring.
14. Blossoming Love – USA
imagesource: reddit
The ancient Greeks and Romans gave roses and flowers to their loved ones as a romantic gesture. Which has now become customary to present a dozen roses on Valentine's Day in the US. In Russia, however, giving flowers in even numbers is seen as rude as flowers are only usually given at funerals.
15. Chocolate – America & Japan
imagesource: reddit
Just like Americans, the Japanese gift chocolate for Valentine's Day. The difference is, it's usually the women who gift the men with handmade chocolates – several men for that matter. So if a lady has several boyfriend, they're all getting treated with a box of handmade chocolates.
16. Claddagh Rings – Irish Americans
imagesource: reddit
A traditional Claddagh ring represents love, friendship and loyalty and you wear it to represent your relationship status. If you wear it on your left hand with the point heart towards your fingertips, it means you're engaged, or if you wear it with the heart towards your wrist, it means you're married!
17. The Sisters' Meal Festival – Asian Culture
imagesource: Easy Tour China
The Sisters' Meals festival is the oldest Valentine's Day tradition in Asian culture. Think rice, costumes, dancing, singing and a lot of displays of affection. The girls cook rice in four colours representing each season and present the rice to their suitors. If the man finds two red chopsticks, the girl who handed him the rice likes him.
18. Wearing Matching Outfits – South Korea
imagesource: reddit
When it comes to showing your love, South Koreans do not mess around. Couples show off their love by wearing matching outfits, they dress a like even down to their shoes that are either identical or very similar. Couples may even match their pyjamas and underwear. Very extra!
19. Dragobete's Day – Romania
imagesource: reddit
Legend has it that a half man, half god named Dragobete was chosen to be the Guardian of Love because of his kindness. Romanians honor him by celebrating Dragobete's Day on February 24th where it's also said that birds find their match and begin making their nests.
20. The Day of Sant Jordi – Spain
imagesource: youtube
The Northeastern region of Spain is known for its culture relative to the rest of the country. In Catalunya, the day of Sant Jordi coincides with World Book Day so men give women roses in exchange for books. In 2017, this holiday was reversed where men received flowers and women received books.
21. Dia Dos Namorados – Brazil
imagesource: reddit
Lover's Day is celebrated on June 12th to honor Saint Anthony, the patron saint of matchmaking and marriage. Couples exchange gifts and romantic gestures and singles perform superstitious rituals and spells known as "simpatias" which are believed to help the singleton find love!
22. Swapping Poems & Love Notes – Denmark
imagesource: reddit
In Denmark, couples gift each other funny poems or love notes known as gaekkebrev and on the front of each letter, the sender signs the message with dots instead of a name. If the recipient guesses the name correctly, they receive an egg at Easter. Cute!
23. 'Te Quiero' – Mexico
imagesource: spanishskullduggery
Valentine's Day in Mexico is all about celebrating love for a community and Mexicans make it an inclusive holiday. Men buy balloons and candy for the women in their lives and the women bake for their friends and neighbours hence the 'Te Quiero' – to your friends.
24. 'Mawadd' – Saudi Arabia & The Arabic World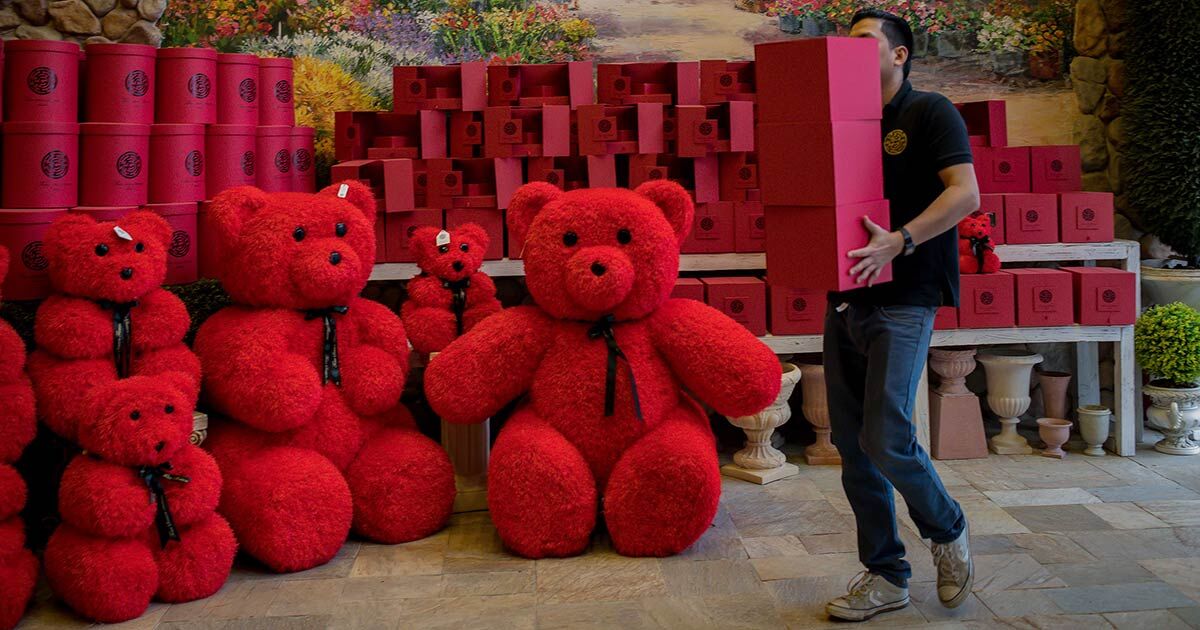 imagesource: bloomberg
Now, Valentine's Day is banned in this country, shop owners are not allowed to display hearts or red roses in their windows and devout muslins consider this holiday as Western corruption. However, places like Egypt and Dubai do flaunt roses and hearts on V Day and in Arabic speaking countries, the word Mawadd is used to convey friendship and loyalty and the love between a man and a woman.
25. Qixi Festival – China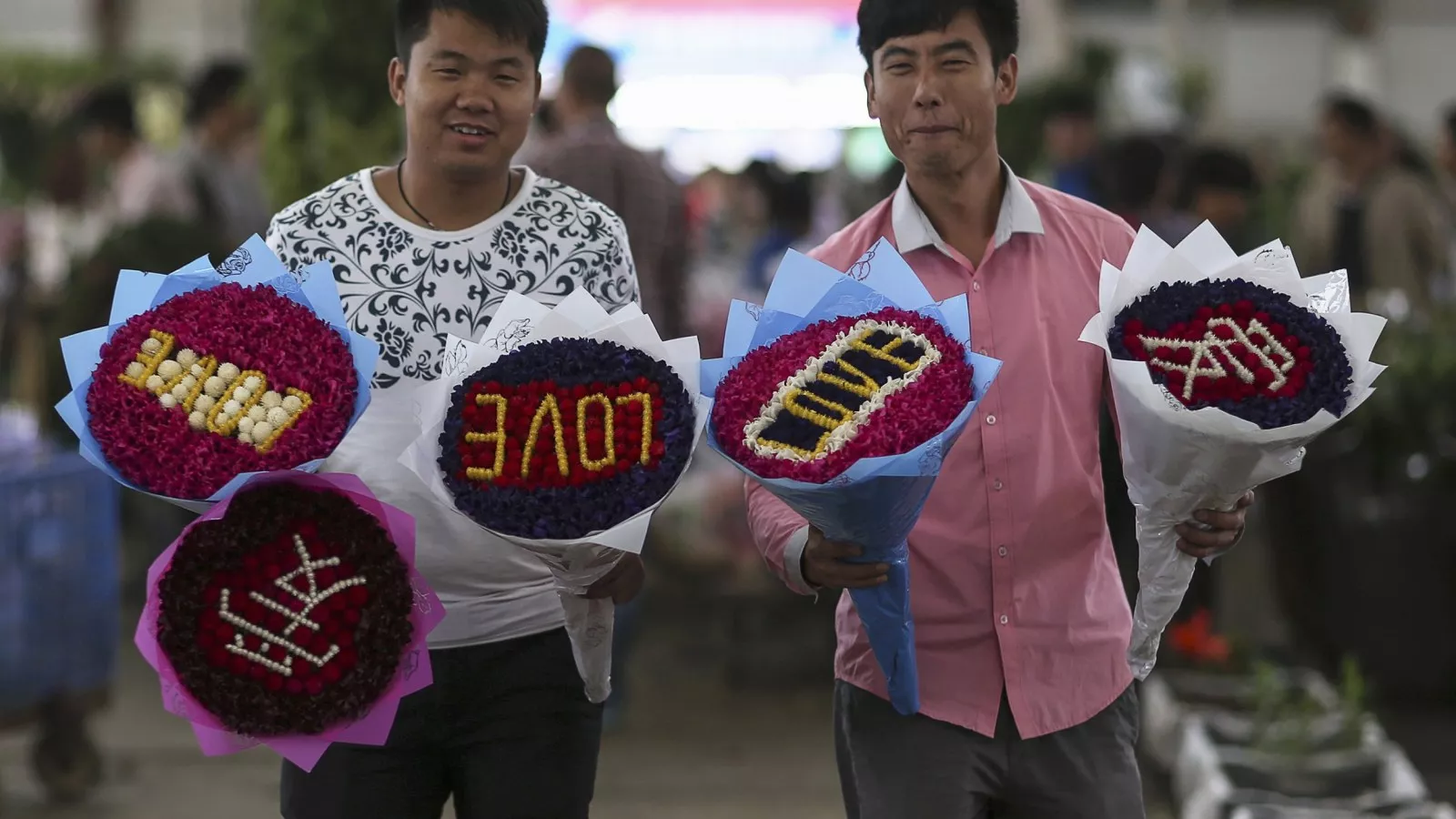 imagesource: newsweek
In China, their version of Valentine's Day is the Qixi Festival which comes on the seventh day of the seventh month on the Lunar calendar (usually mid August). Its a popular day for weddings and a day for couples and families to celebrate their love for each other.
26. Man's Day & Women's Day – Iceland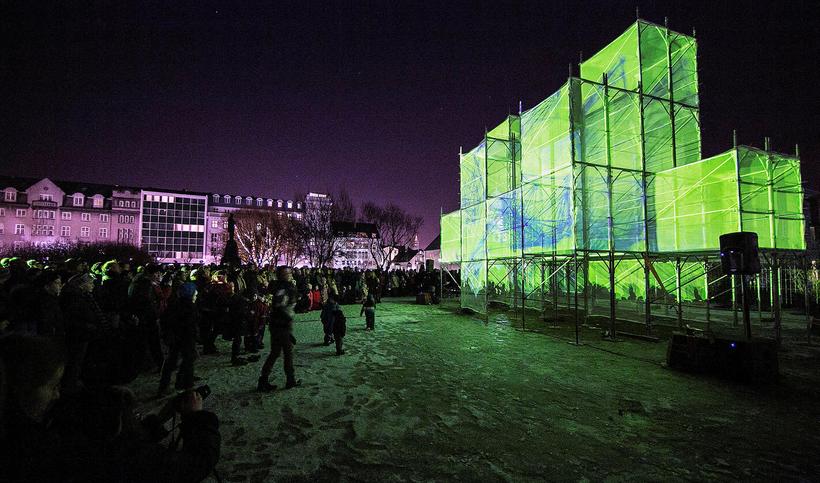 imagesource: icelandmonitor
On February the 12th, Reykjavik celebrates "Museum Night" where people dress up in costumes, recite love poems and songs and walk around a lake which is full of swans and glowing lanterns. This is a way for Icelanders to prep for Valentine's Day and museums and music venues are free and open until midnight.
27. The Search For A Date – Scotland
imagesource: mylondon
Scotland's 'search for a Valentine' is a different way of celebrating the tradition day of Valentine. While it's not practiced by all Scots, the first man or woman spotted on the street by the one looking for a date becomes the Valentine for the day. I wonder how many long-term partners have lasted from this traditional practice.
28. International Friendship Day – Paraguay
imagesource: inews
In this South American country, International Friendship Day has been a designated holiday since 2011. The holiday takes place on July 30th and the way it's celebrated is by just being nice to people for a day. So if you're a bit of a jerk, that day is your day to be a changed person.
29. Baci Perugina – Italy
imagesource: duegattiincucina
Italians are known for being very passionate and romantic and on Valentine's Day, they are known for sending multilingual love notes. A gift of Baci Perugina )chocolate covered in Hazelnut) is commonly gifted along with a love letter translated into four different languages.
30. Lupercalia – South Africa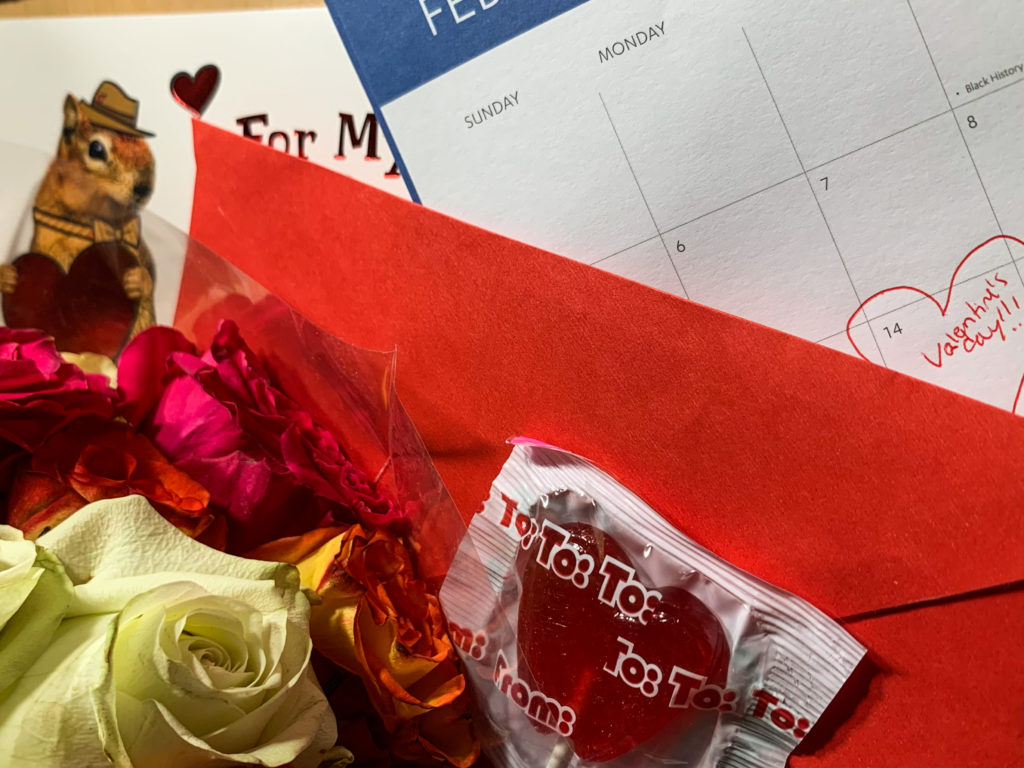 imagesource: dailybruin
Girls in South Africa celebrate this age old tradition called Lupercalia where young girls pin their lovers names on their sleeves for the whole world to see. In some regions, men do the exact same thing. This tradition usually happens amongst teens of South Africa.