Unseen Images Of Tina Turner
By Ange Arnal
4 months ago
1. "Proud Mary"

imagesource: pinterest
She is known for hits like "Proud Mary," "What's Love Got to Do with It," and "Simply the Best," and her energetic performances have made her a legendary figure in the music industry. The Queen of Rock n Roll gained popularity for her electrifying performances.
2. "What's love got to do with it"

imagesource: pinterest
She began her music career as a teenager, performing with the Kings of Rhythm, a band led by Ike Turner. After being spotted in The Manhattan Club in St. Louis, Tina started touring with Ike's band and developed a close friendship with him and the other band members.
3. "We don't need another hero"

imagesource: pintrest
After divorcing Ike Turner, she starred in the biographical film "What's Love Got to Do with It" in 1993, which depicted her life and abusive relationship with the lead singer, Ike Turner. Angela Bassett portrayed Tina Turner in the film which received great reviews.
4. "The best"

imagesource: pinterest
In 1991, she was welcomed into the Rock and Roll Hall of Fame with Ike Turner. She performed at the halftime show of Super Bowl XXXIV in 2000, captivating the audience with her energetic performance and she officially retired from performing in 2009 after her "Tina!: 50th Anniversary Tour."
5. "Nutbush city limits"

imagesource: pinterest
Tina Turner has won numerous awards throughout her career, including eight Grammy Awards. Her stage presence and fashion choices made her a style icon. She wasn't just known for being the "queen of rock n roll" selling over 200 million albums worldwide, she was also known for her style and bold personality.
6. "I don't wanna lose you"

imagesource: pinterest
Tina Turner's live performances were known for their high-energy and captivating nature, often leaving audiences in awe. Over the years, she collaborated with various artists, including Bryan Adams, David Bowie, Mick Jagger, and Eros Ramazzotti.
7. "Private dancer"

imagesource: pinterest
This dancing queen has been an inspiration to many artists and has influenced the music industry with her soulful voice and dynamic performances. She was included in Rolling Stone's list of the 100 Greatest Singers of All Time and obviously appears on the Hollywood Hall of Fame.
8. "Steamy windows"

imagesource: pinterest
Tina Turner was born Anna Mae Bullock on November 26, 1939, in Nutbush, a small town in Haywood County, Tennessee. She was the youngest daughter of Zelma Priscilla and Floyd Richard Bullock and enjoyed listening to and imitating the voices of singers like Mahalia Jackson and Bessie Smith - they were her inspirations.
9. "Better be good to me"

imagesource: pinterest
She had a difficult childhood and faced poverty and racial segregation growing up in the Jim Crow era. While in high school, Tina sang with various local bands where she developed her stage presence and performance skills. During this time, she went on to work part-time jobs, including working as a nurse's aide and a barmaid, to support herself.
10. "River deep"

imagesource: pinterest
She adopted the stage name "Tina Turner" at the suggestion of Ike Turner to fit with the band's image and despite facing a challenging and sometimes abusive relationship with Ike Turner, Tina's passion for music remained strong - she persevered through the bad times to pursue her career.
11. "Goldeneye"

imagesource: pinterest
Tina Turner's childhood experiences and struggles influenced her determination to create a better life for herself. Her upbringing in a small town and exposure to gospel music played a significant role in shaping her distinctive vocal style. She never gave up on her dreams.
12. "I don't wanna fight"

imagesource: pinterest
Turner's childhood in Nutbush served as the inspiration for her hit song "Nutbush City Limits," which was released in 1973. She has often spoken about the influence of the church and gospel music on her upbringing and musical style and her experiences of poverty and segregation.
13. "It's only love"

imagesource: pinterest
From the beginning it was instilled in her a drive for success and a desire to break barriers in the music industry. She was inspired by from artists like Little Richard and Chuck Berry, who defied not only racial prejudices but achieved success in the music industry.
14. "What you get is what you see"

imagesource: pinterest
Tina's early experiences of performing in local clubs and venues helped her develop resilience and stage presence, which became the trademarks of her career. Despite facing obstacles in her childhood, she emerged as a powerful and influential figure in the music industry.
15. "Addicted to love"

imagesource: pinterest
Tina Turner's journey from a small-town girl to an international music icon is a testament to her strength, talent, and resilience. But she endured a lot of hardships along the road to success, some of which were caused by her ex-husband, Ike Turner, her abuser.
16. "Sarvesham Svastir Bhavatu"

imagesource: pinterest
Together, they achieved success as a musical duo known as Ike & Tina Turner, and their energetic performances gained them popularity all over the world. They recorded numerous hit songs, including "River Deep - Mountain High" and their rendition of "Proud Mary."
17. "I can't stand the rain"

imagesource: pinterest
Despite their professional success, their marriage was plagued with physical and emotional abuse. Tina Turner endured years of domestic violence at the hands of Ike Turner, including physical beatings and emotional manipulation. She would often perform battered and bruised.
18. "Typical male"

imagesource: pintrest
The abuse took a toll on Tina's mental and physical well-being, but she felt trapped in the relationship due to the professional and financial dependence on Ike. Tina eventually found the courage to leave Ike Turner and their marriage in 1976 after a violent altercation in Dallas, Texas.
19. "Let's stay together"

imagesource: pintrest
She escaped with no more than 36 cents and a Mobil credit card, leaving behind all their shared assets and business endeavors - she couldn't take it anymore. After their divorce in 1978, Tina Turner struggled financially and had to rebuild her career from scratch but she got there in the end!
20. "State of shock"

imagesource: pinterest
Following her divorce, Tina Turner focused on rebuilding her career as a solo artist and achieved immense success in the 1980s and beyond. If anything, she came back bigger and better. She released the highly successful album "Private Dancer" in 1984, which marked her comeback.
21. "When the heartache is over"

imagesource: pinterest
Tina Turner's journey from an abusive marriage to reclaiming her independence and achieving success became an inspiration for many individuals who have faced similar situations. After years of turbulence, she finally felt happy, she was the queen of rock n roll and exactly where she wanted to be.
22. "River deep mountain"

imagesource: pinterest
Despite the hardships she endured, she finally found happiness in her personal life after her marriage to Ike. She married German music executive Erwin Bach in 2013, after being together for over 30 years, living happily ever after at their home in Switzerland.
23. "A fool in love"
imagesource: pinterest
After meeting at Dusseldorf airport, the 'Proud Mary' singer knew she had met someone special. Never intimidated by her fame, he was he constant rock and even donated his own kidney to save her life in April 2017. They were truly the perfect match.
24. "Look me in the heart"

imagesource: pinterest
Tina had four children, one of which she had with her first husband, Raymond Hill - Craig Turner. Ronnie was Tina and Ike's son and Ike Jr and Michael were Ike's sons from his first marriage who became very close to Tina when she and Ike married.
25. "One of the living"

imagesource: pinterest
Tina was in a relationship with Raymond Hill, a saxophonist for Ike Turner's band, prior to her marriage to Ike. After their divorce, Tina raised Craig as a single mother who tragically died on July 3, 2018, at the age of 59 from suicide. Another huge blow to Tina.
26. "Rolling on the river"

imagesource: pinterest
Ronnie is a musician and following in the footsteps of his mother and father he has pursued a career in the music industry, occasionally performing as a keyboardist and backing vocalist for his mother. He is also involved in songwriting and production.
27. "On silent wings"

imagesource: dailymail
Ike Turner Jr. is the son of Ike Turner and his first wife, Lorraine Taylor. After Tina Turner married Ike, she became Ike Jr.'s stepmother and played a significant role in raising him. Ike Jr. is also involved in the music industry and has performed as a musician alongside his mother.
28. "Two people"
imagesource: people
Tina faced challenges due to the demanding nature of her career and the tumultuous nature of her marriage to Ike Turner. However, she has spoken about her deep love for her children and the strength they gave her during difficult times. She was a total inspiration for many in the same position as her!
29. "It's gonna work out fine"

imagesource: pintrest
"The Best" and "Proud Mary" singer died peacefully at her home in Switzerland after a long battle with intestinal cancer. "With her, the world loses a music legend and a role model." her publicist said in a statement. She will forever be remembered for her strength through adversity.
30. "Great spirits"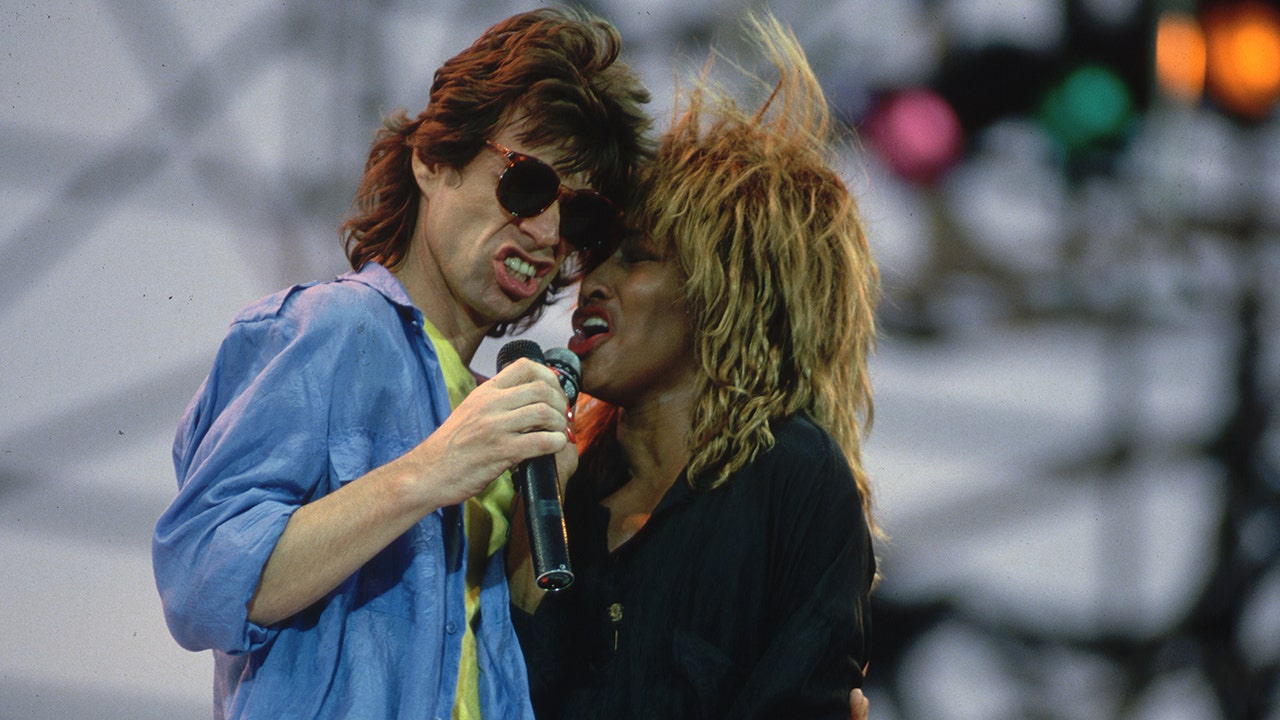 imagesource: foxnews
Despite facing numerous challenges throughout her life, Tina Turner always showed resilience and determination, becoming an inspiration for many people around the world. She will forever be remembered for her electrifying performances, her bold personality and of course her amazing style and wigs.