Most Embarrassing Celebrity Tweets
By Eloise Heath
1 month ago
Martha Stewart's cryptic 'oil' tweet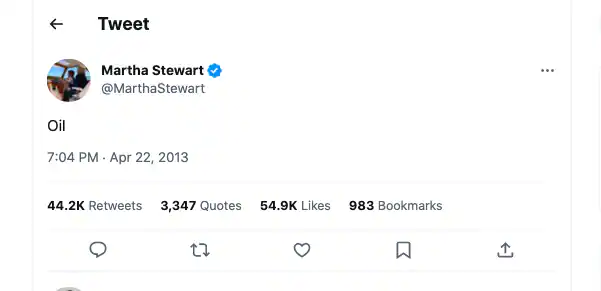 Image Source: Tuko
Martha Stewart is such a legend- a true icon, who I have nothing but respect for. It seems like maybe Twitter isn't one of her many, many skills though, as she posted this minimalist and very confusing Tweet, simply stating 'Oil'. Is it a protest against fossil fuels? The start of a recipe? We'll never know!
2. Liam Payne's bizarre pasta post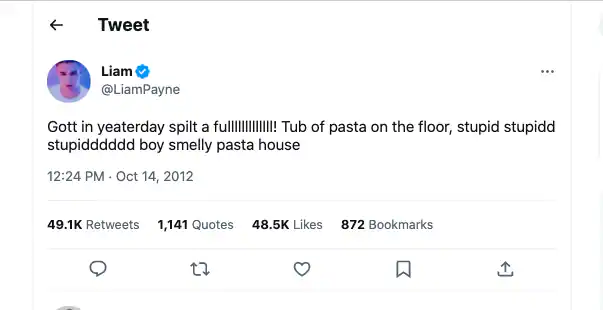 Image Source: Tuko
Listen, 2012 was in many ways a different time, but calling your house "Smelly pasta house" is still an ick. Liam Payne, former star of boyband One Direction, seems to have made a habit of odd comments in the media of late. He went viral after an interview where he used recounted bizarre stories and insisted that he is the most successful member of 1D.
3. Harry Style's burning revelation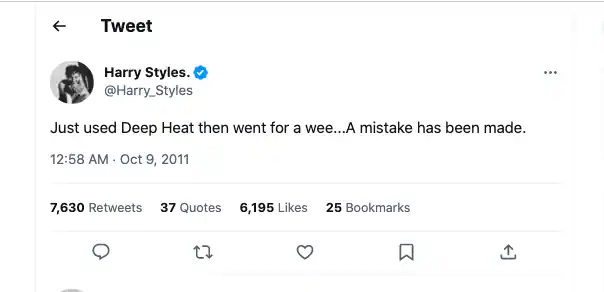 Image Source: Tuko
If you're lucky enough to be blessed with joints that don't creak and muscles that don't ache randomly for no reason, or if you're simply young and have all this ahead of you, Deep Heat is a pain relief cream. It's whole thing is that, well, it brings a deep heat, like a burning- the last thing you want near your privates!
4. Seth Rogen's mom's cringe worthy question!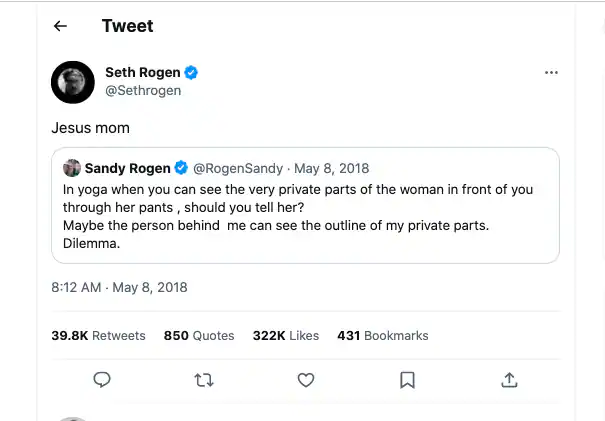 Image Source: Tuko
Cringe as this may have been for Seth Rogen, his mom Sandy is asking quite a good question. If someone near you is sporting whats commonly known as a 'camel toe', are you honour bound to tell them? If they're rocking a VPL (visible panty line), should you subtly tip them off? Truly a modern-day mystery.
5. This one's embarrassing, but not for the OP!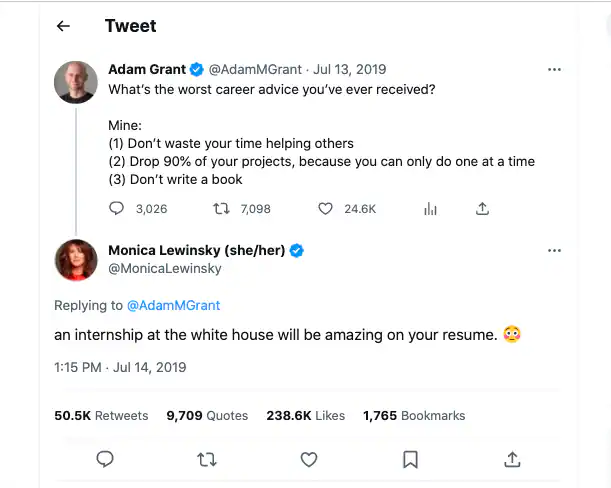 Image Source: Tuko
Monica Lewinsky was the subject of political and pop-culture gossip, and banter, for many years after her interactions with Bill Clinton. She's recently taken to owning the scandal, popping up on Twitter to burn Clinton in her hilarious tweets! This one's embarrassing for Bill!
6. Lil Jon shared TMI about his toilet crisis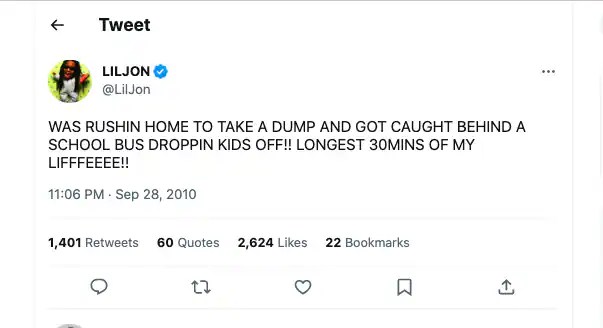 Image Source: Tuko
LIL JON TOOK TO TWITTER TO LET EVERYONE KNOW THAT HE'D NEARLY SOILED HIMSELF WHILST STUCK IN A TRAFFIC JAM BEHIND A SCHOOL BUS. FOR SOME REASON IT MAKES IT EVEN FUNNIER THAT IT'S ALL IN CAPS- IT REALLY CAPTURES THE SENSE OF URGENCY HE MUST HAVE BEEN FEELING AT THE TIME!
7. The mystery of Harry Style's 'handbag branch'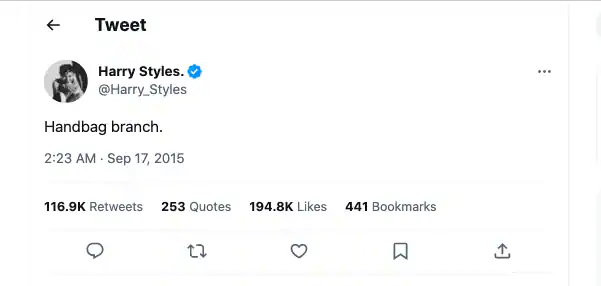 If Harry Styles posted simply the words 'Handbag Branch' today, I'd presume it was a follow up single to 'Watermelon Sugar' and 'Music For A Sushi Restaurant'. But this post from back in 2015 left fans scratching their heads. What is a handbag branch??
8. Britney Spears seemingly sticking up for global warming?!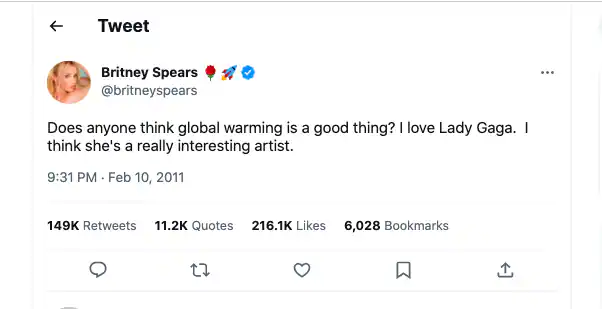 Image Source: Tuko
Oops, she did it again! Britney used her social media account to seemingly come out in favour of global warming, wondering if it's ocured to anyone that it might actually be a vibe. If that wasn't odd enough, she switches lanes completely to start talking about Lady Gaga?!
9. Justin Bieber commits himself to a singular body part...?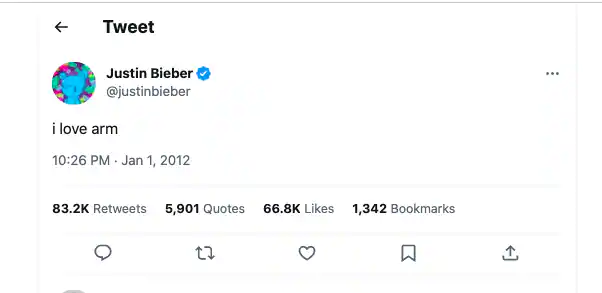 Image Source: Tuko
Justin Bieber started as a YouTube sensation and went on to be one of the biggest pop stars in the world. What does he use that immense platform for, you might ask. Well, in 2012 he brought the world the hard hitting, thought provoking insight "i love arm".
10. Rupert Murdoch, media tycoon, can't use Twitter!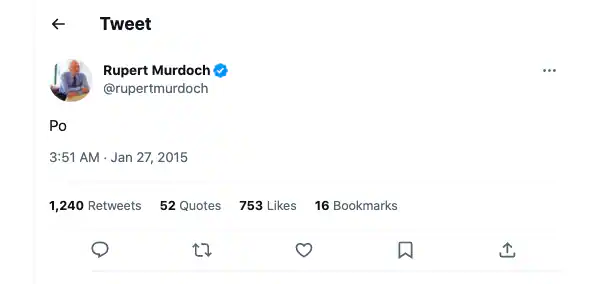 Image Source: Tuko
Rupert Murdoch, millionaire and media magnate, was the inspiration for the savvy but amoral and tyranical character Logan Roy, the patriarch in smash hit TV series Succession. But I didn't see Logan take to Twitter to tweet "po" at any point in the series...
11. Martha Stewart back at it again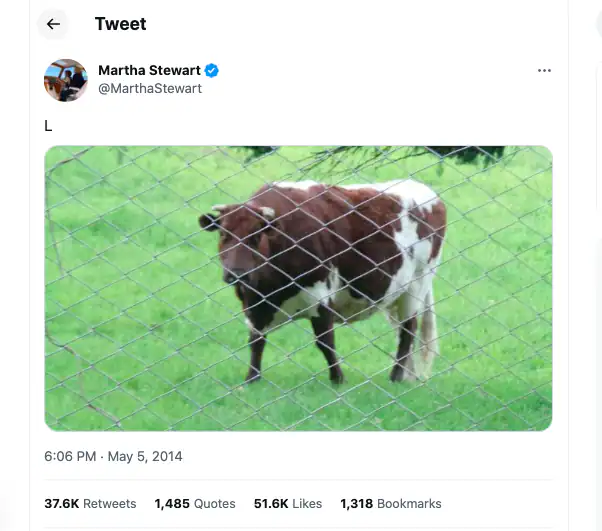 Image Source: Tuko
Martha makes out list twice today! I, for one, am utterly fascinated by this. Is the "L" caption pure typo, or was it the start of a comment like "Look at this cow"? Is the cow hers, or was she just driving past and decided to immortalise it on her camera roll? I need answers.
12. Nicki Minaj is looking for some personal info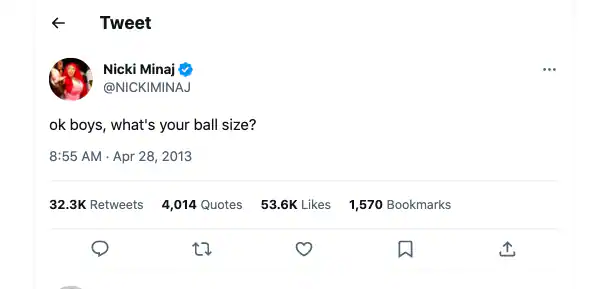 Image Source: Tuko
The best bit of this tweet, for me, is the fact that she provides no scale of reference for the answers she might receive. Is there some kind of generally accepted unit of measurement for testes that I don't know about it? Is she looking for length, volume, or circumference?
13. Kylie Jenner keeping it real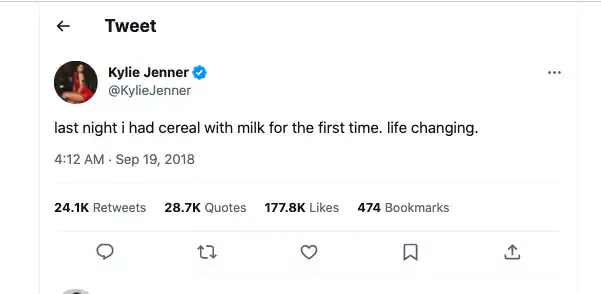 Image Source: Tuko
How was Kylie Jenner eating her cereal prior to this "life changing" revelation- just dry?! Hilariously, celeb chef Gordan Ramsey tweeted back, saying "wait until you try butter on f****** toast you little twerp". It's a cheeky response from Gordon, but we couldn't help but laugh!
14. Post Malone is VERY confused about meatballs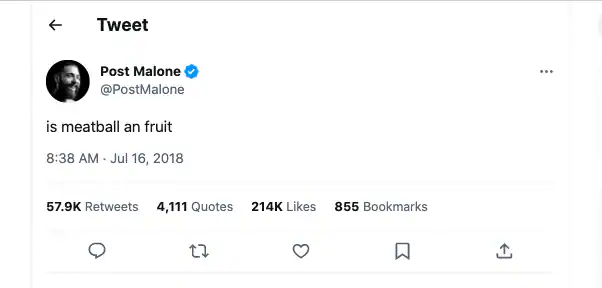 Image Source: Tuko
We can't even imagine what Gordon Ramsey would have had to say about this one? Post Malone may know how to rap, sing, and produce music, but he isn't quite sure if a meatball counts as a fruit. If only it did! It would be much easier to stay healthy!
15. Kevin Hart embarrassed himself out of a job
Image Source: The Mirror
This one takes embarrassing to the next level, as Kevin Hart showed himself up horrible with these bizarre comments. In light of the tweets, Hart resigned from hosting that years Oscars ceremony- a job he wouldn't get to do until 2022, and I think we all remember how that went!
16. Zoella had to apologise for her language

Image Source: The Mirror 
'Chav' is a deeply offensive word in Britain, referring to someone in a derrogative way and implying they come from a poor background. It originated as an acronym, from Council House And Violent. Zoella had to apologise after using the horrible word, and being fat phobic at the same time.
17. Nev Schulman upset a lot of people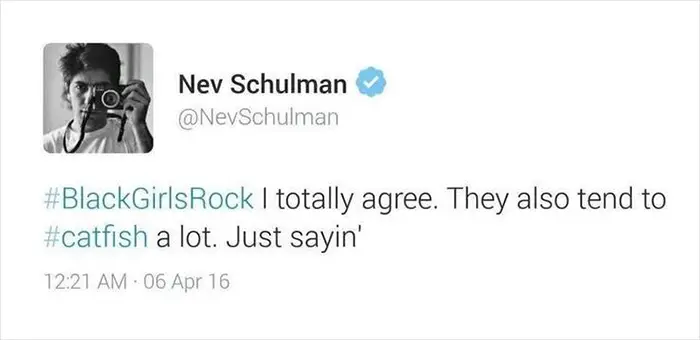 Image Source: Bored Panda
If you can believe it, presenter and filmmaker Nev Schulman chose to tweet this during an awards ceremony designed to celebrate and empower young black girls. It feels like an unnecessary, unsubstantiated and insensitive comment, made at the worst possible time.
18. Liam Payne got 'opinion' and 'onion' muddled up

Image Source: Bored Panda
Another hit for Liam Payne! This man has more embarrassing tweets than hit songs, if we're honest. In this particular gaff, he seems to be defending himself in some kind of argument. It was an unfortunate time to slip up on the typing though, as he ends up defending his 'onion' rather than his 'opinion'- oops!
19. Kris Jenner, we love you but we didn't need to know that!

Image Source: Bored Panda
Kris Jenner is an icon in many respects and, love her or hate her, she's a big personality for sure. On this occasions she gave us TMI- we just don't need to know that she accidentally followed through. It was considerate of her to explain a 'shart' for anyone who didn't know!
20. Kim K is many things, but not a comedian

Image Source: Bored Panda
Sticking with the Kardashian family, Kim had a bit of a social media slip up with this one. She's clearly a woman who wears a lot of hats- a TV star, and now pursuing a career in the law. But I wouldn't advise her to pursue a comedy career any time soon!
21. Did Kanye West think this was relatable?!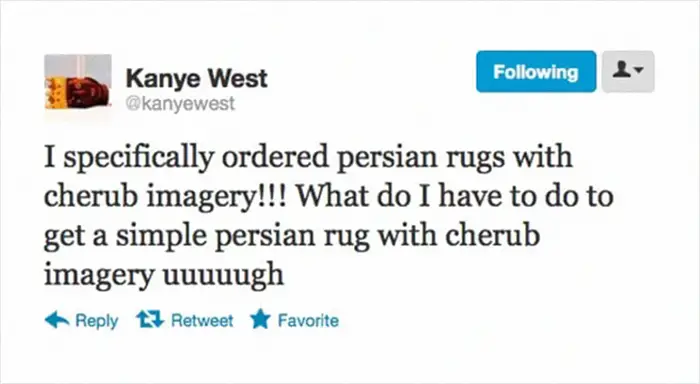 Image Source: Bored Panda
Was Kanye expecting people to pile in on the comments saying 'omg I know right?' and 'that 's so hard, hope ur ok'? It's such an out of touch complaint to make- no one else carries about his Persian rug orders, most people have much more pressing things to complain about!
22. Ted Cruz must have been MORTIFIED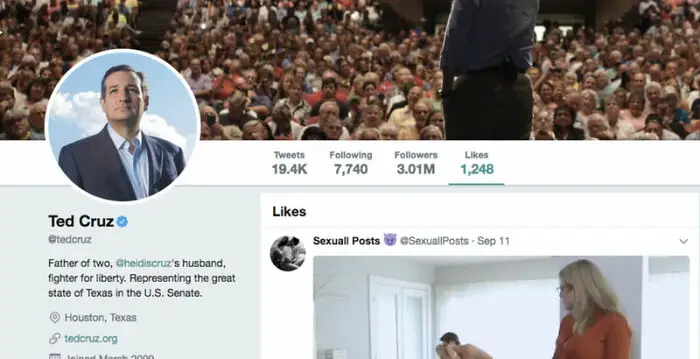 Image Source: Bored Panda
Back in 2017, Senator Ted Cruz's Twitter account liked a very raunchy post and people were scandalised. Talk about NSFW (not safe for work)! He must have been utterly mortified when he realised what had happened. Eventually it got played off as an innocent mistake
23. Joel Osteen didn't realise what he was saying...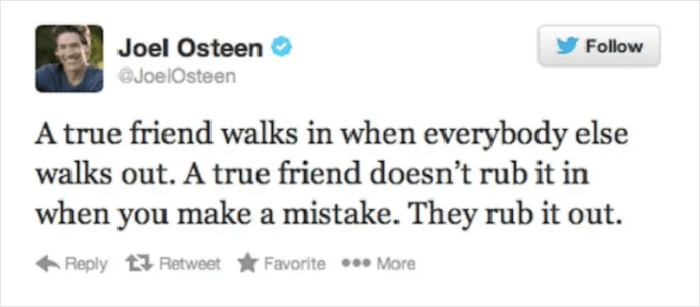 Image Source: Bored Panda
Sometimes, when people have very innocent minds, people don't quite understand the implications of what they're saying. Joel Osteen, an American pastor and televangelist, probably didn't realise that to 'rub it out' CAN mean something else rather cheeky...
24. Who's going to tell Bebe Rexha that she would be surrounded by Nazis?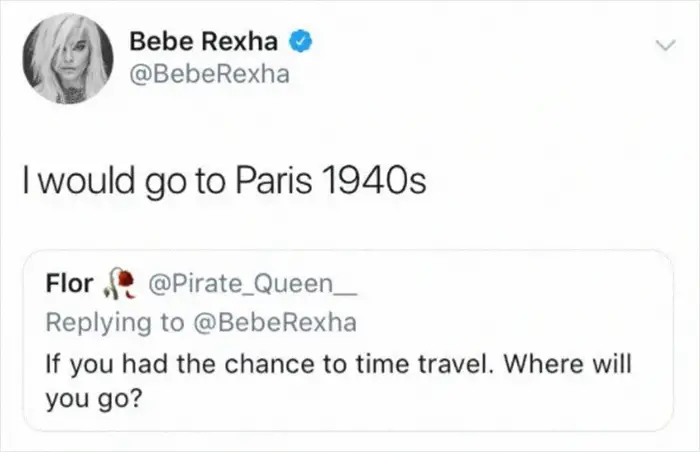 Image Source: Bored Panda
Bebe Rexha responded to a Tweet, saying that if she could time travel to anywhere, anytime, she'd choose Paris in the 1940s. Unfortunately, Paris was occupied by the Nazis from 1940 through to 1944. Maybe Bebe meant the late 40s, but post-war the city was still very troubled.
25. Taylor Swift fell into the 'kooky girl' trend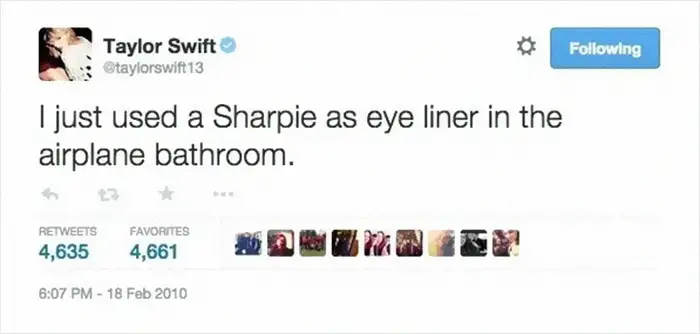 Image Source: Bored Panda
Before I mock Taylor for this, I want to admit- this is exactly the kind of thing I would have said back in 2010. We'd all gone crazy for the kooky woman, the manic pixie dream girl trope- and were desperate to appear 'not like other girls'. This Tweet was probably meant to be an example of something 'totally random' and down to Earth.
26. We think she was going for 'boobies', not 'bobbies'

Image Source: Bored Panda
To be fair, anyone who wears a bra regularly will understand what Tyra was going for here- that end of the day feeling is hard to beat! But unfortunately even world-famous supermodels are not safe from autocorrect! 'Boobies' ended up as 'bobbies', much to the world's amusement.
27. Ed Balls became a British icon when he tweeted his own name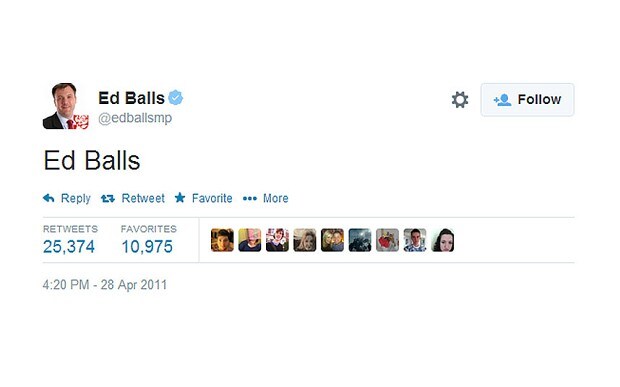 Image Source: The Telegraph 
British politician was a surprise internet sensation, on April 28th 2011. Having been urged by a colleague to use Twitter to read an article that had come up about him, he managed to confuse the search bar and just tweeted his own name: "Ed Balls'. It's a simple but beautiful gaff, that is celebrated every year on what has officially become known in the UK as Ed Balls Day.
28. Great British Bake Off judge revealed the result a day early by mistake!!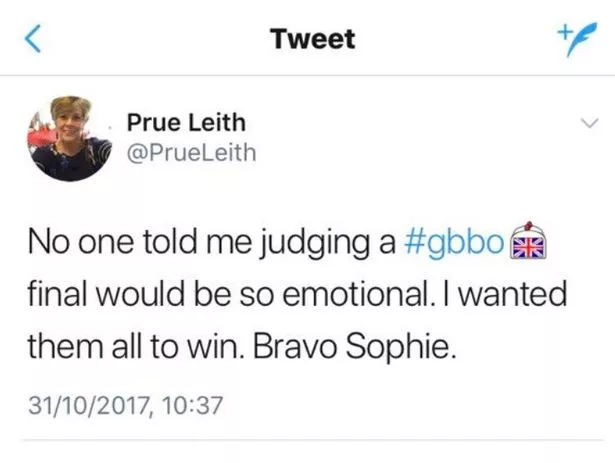 Image Source: The Mirror 
Presenter Prue Leith had an absolute mare, when she got confused and managed to announce the GBBO winner hours before the show aired!! Utterly distraught at her mistake, Prue explained that she was abroad and had gotten the time difference seriously muddled.
29.  Sen Scott Brown got caught in the heat of the moment

Image Source: Business Insider 
Anyone who's ever made a typo or a spelling mistake in a group chat will know: people never forget it, and they never miss a chance to tease you about it! Whilst in the middle of a Twitter row, Brown tried to sign off with a simple "whatever", but it didn't quite come out right...
30.  Trump got tricked!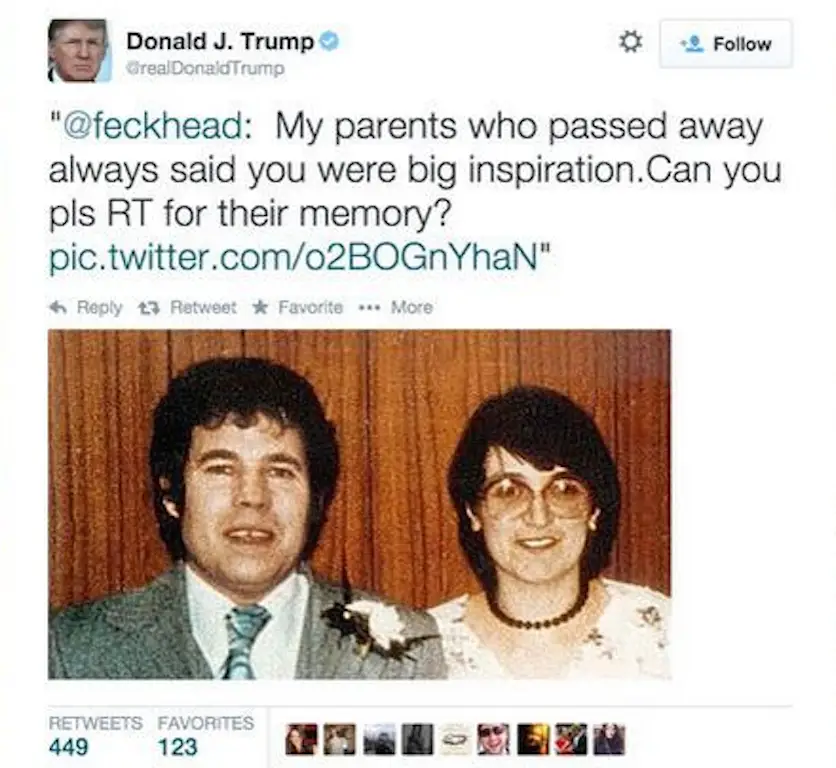 Image Source: Business Insider 
Former US President Donald Trump responded to someone on Twitter, who claimed his parents had been big fans of his before they passed away. Trump shared the post, in their memory. It wasn't until later that he realised he had been tricked into sharing a photo of prolific murderers Fred and Rose West.