Most Shocking Celebrity Hospital Visits
By Sarah Jones
1 month ago
1. Camila Cabello was rushed to the emergency room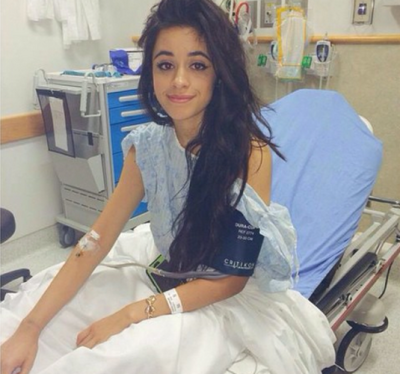 (Image/ Source: instagram.com)
Do you remember when Camila Cabello had that weird mystery illness? The singer was famously rushed to hospital before her show in Philadelphia with Fifth Harmony back in 2014. While she tweeted that it wasn't anything hugely serious, fans were super concerned for her when she shared a snap from her hospital bed.
2. Maddy Brum got hit by a car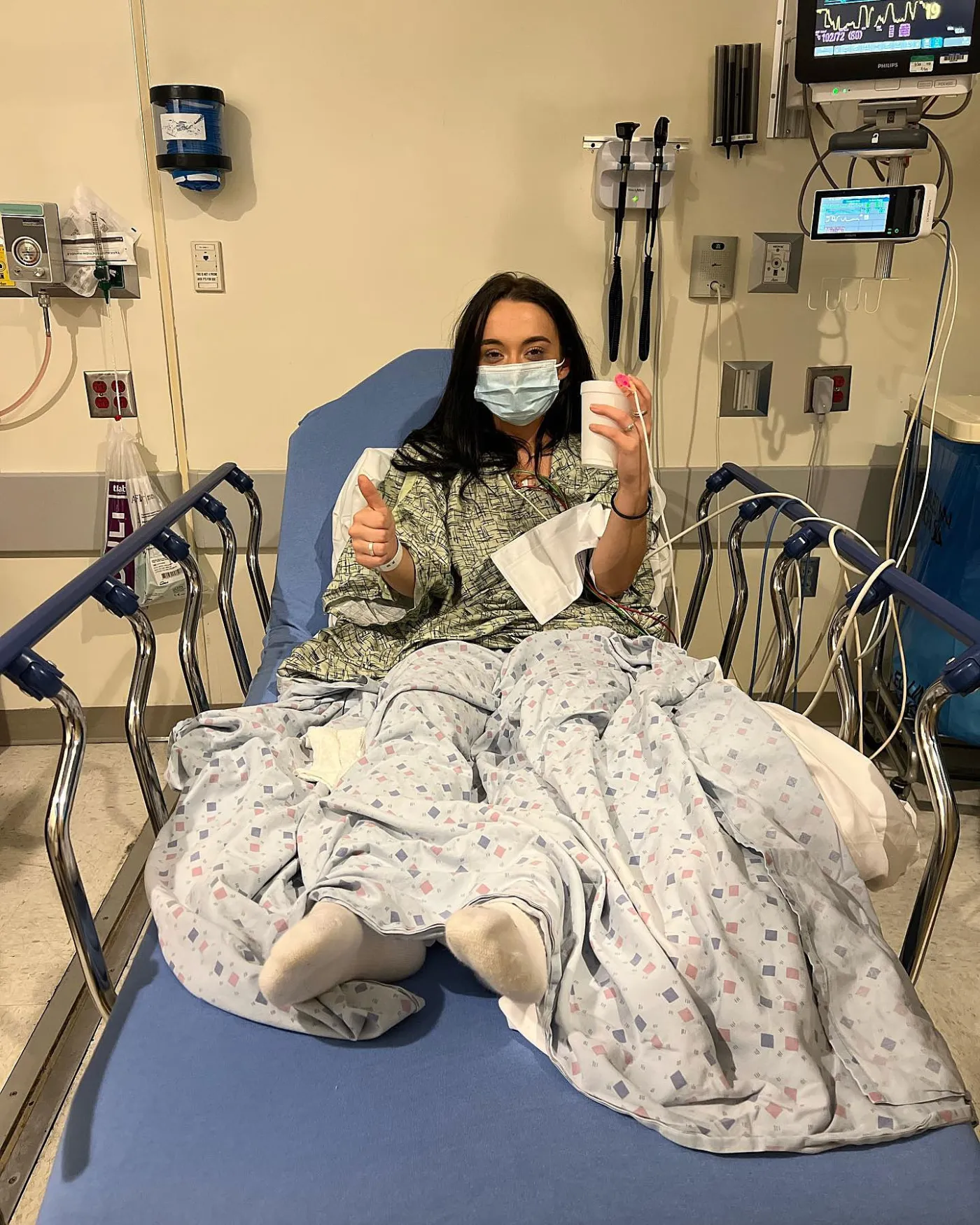 (Image/ Source: instagram.com)
This one sounds super scary. In 2022, The Cheer star was 'blessed to be alive' after she was hit by a moving car in a terrifying accident. Maddy somehow managed to walk away from the incident with just a few cuts and bruises, which is pretty lucky if you ask us!
3. Rita Ora collapsed during a photoshoot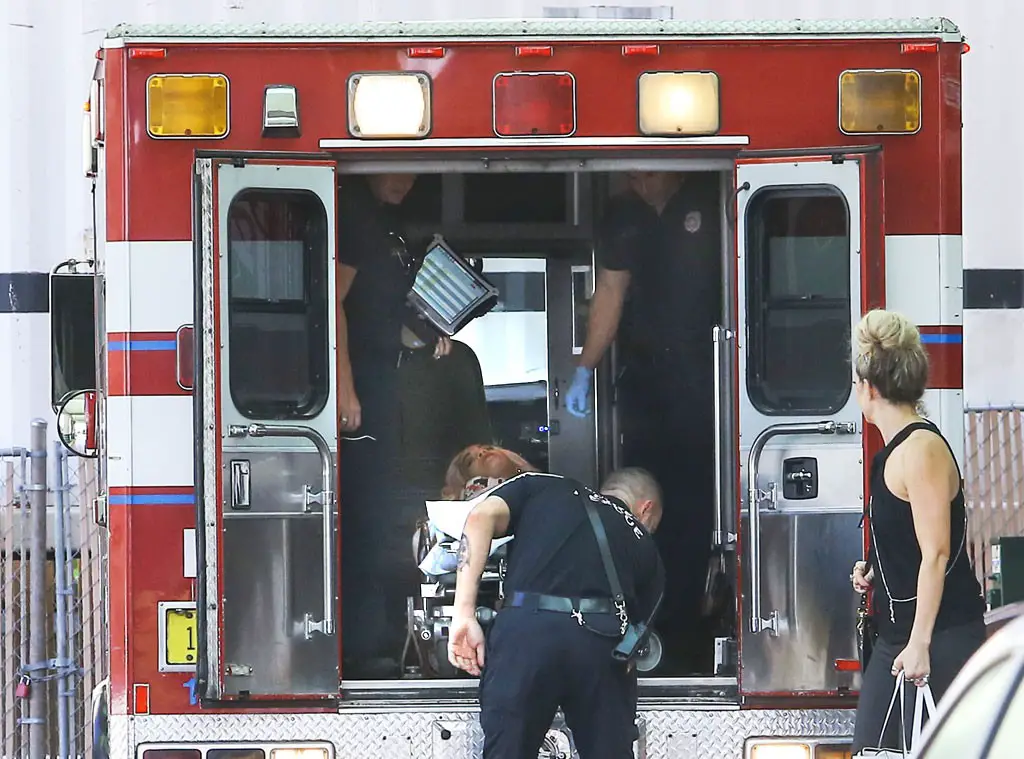 (Image/ Source: eonline.com)
Being snapped in the back of an ambulance can't have been all that fun for Rita. She suddenly collapsed during a glitzy photoshoot in Miami, and had to be rushed into the emergency room at Mount Sinai. She was said to have been treated for dehydration and heat stroke.
4. Will Smith decided to upload his colonoscopy to YouTube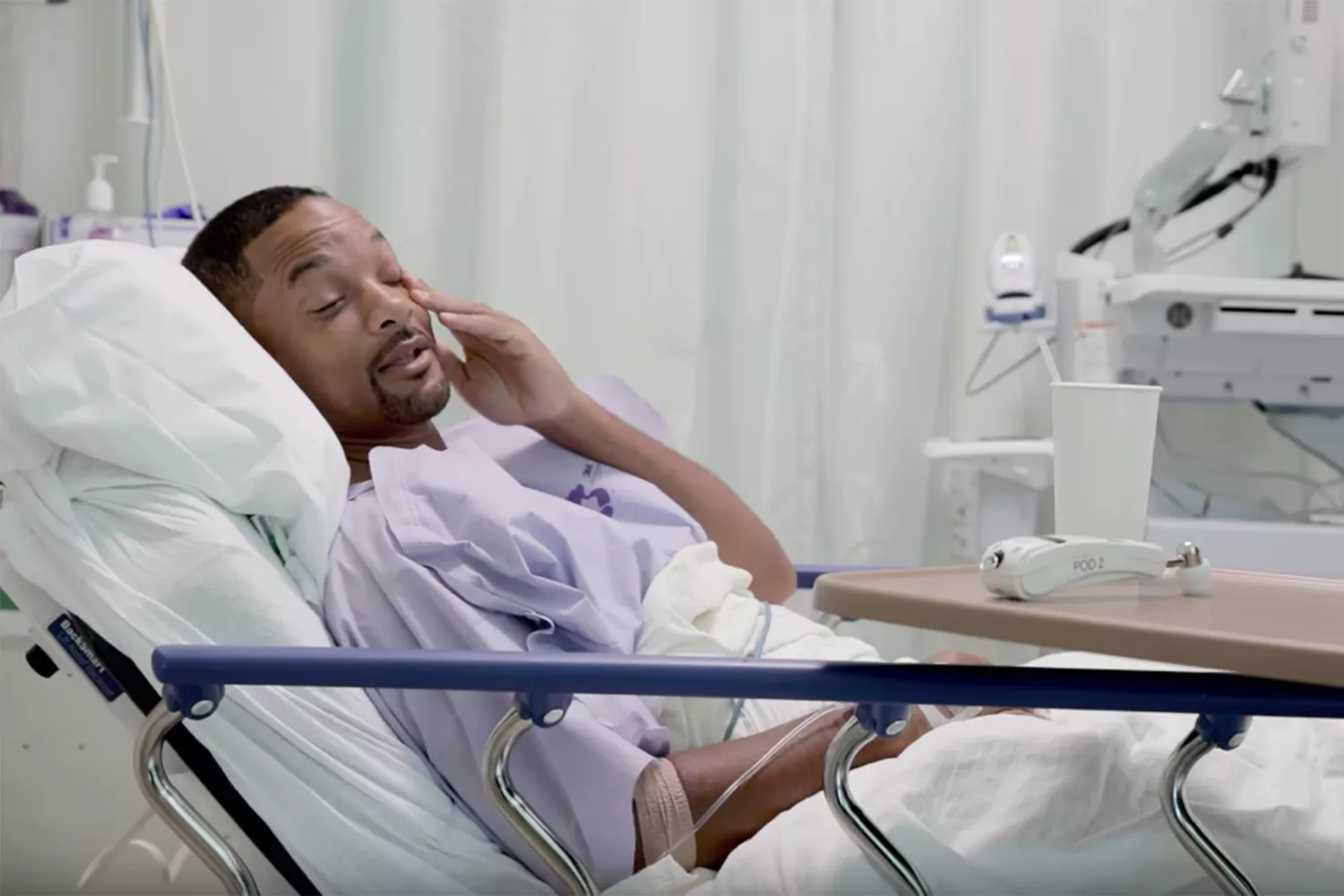 (Image/ Source: youtube.com)
Yep, this is actually true! The actor is keen to give his fans a VERY detailed insight into his health via his YouTube channel, which gets, erm, intimate to say the least. The former Fresh Prince of Bel Air star even has a video dedicated to his colonoscopy (which we're pretty sure nobody asked for).
5. Zac Efron and his skiing accident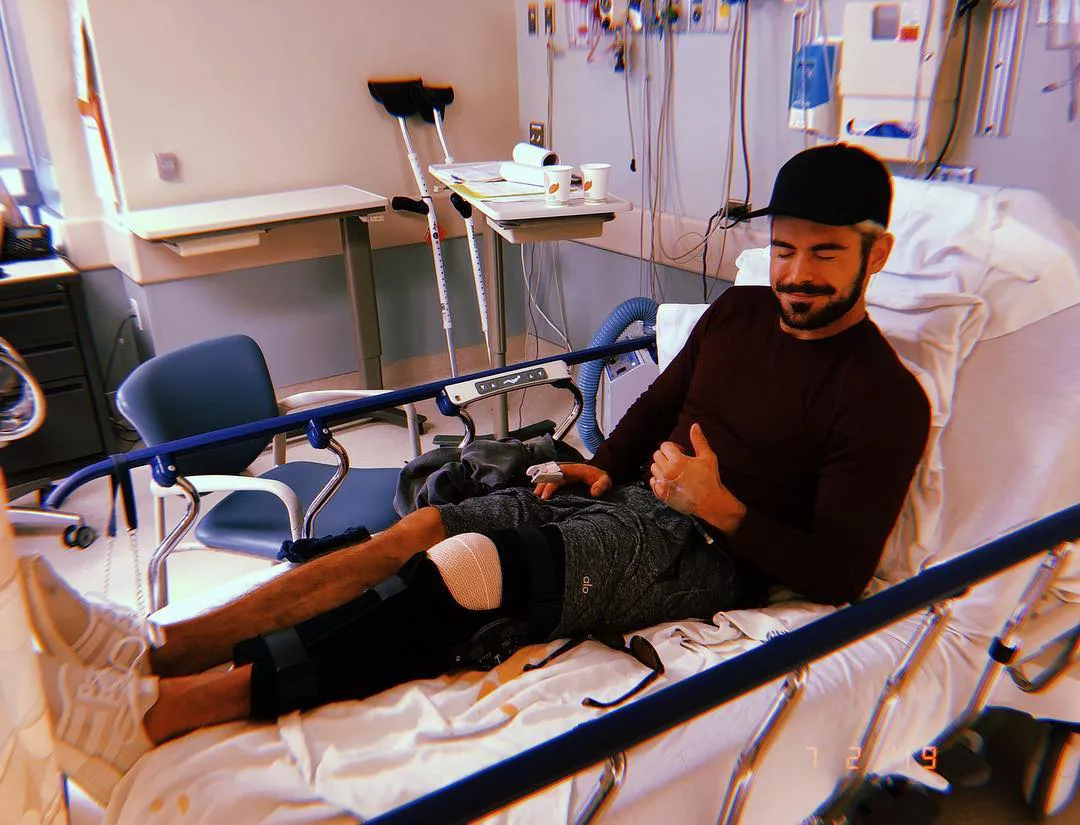 (Image/ Source: people.com)
When taking to the slopes, Zac Efron managed to tear the ACL in his knee joint. According to those in the know, this is referred to as "shredding the gnar" (nope, us neither). But it was all in a day's work for Zac. In an Instagram update, Zac said:
"All is good. I opted for surgery so I can come back stronger than ever."
6. Amy Schumer's 'bull****' hyperemesis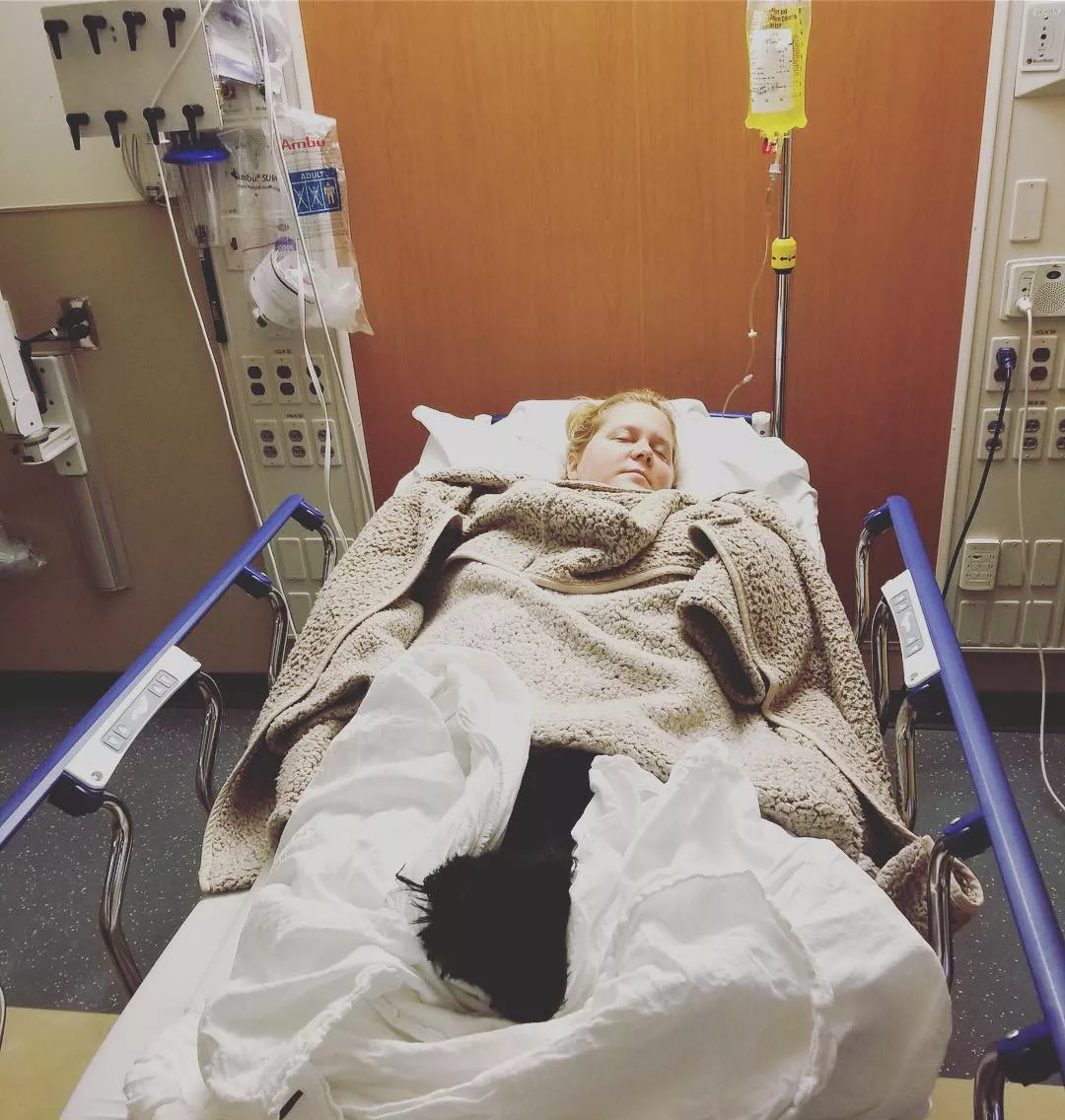 (Image/ Source: instagram.com)
Amy Schumer SHOCKED fans after she uploaded this snap to IG. The comedian was battling with a difficult pregnancy, and ended up in hospital with the dreaded hyperemesis gravidarum. Amy seethed:
"I've been even more ill this trimester. I have hyperemesis and it blows. Very lucky to be pregnant but this is some bulls---!".
7. Lady Gaga's altitude sickness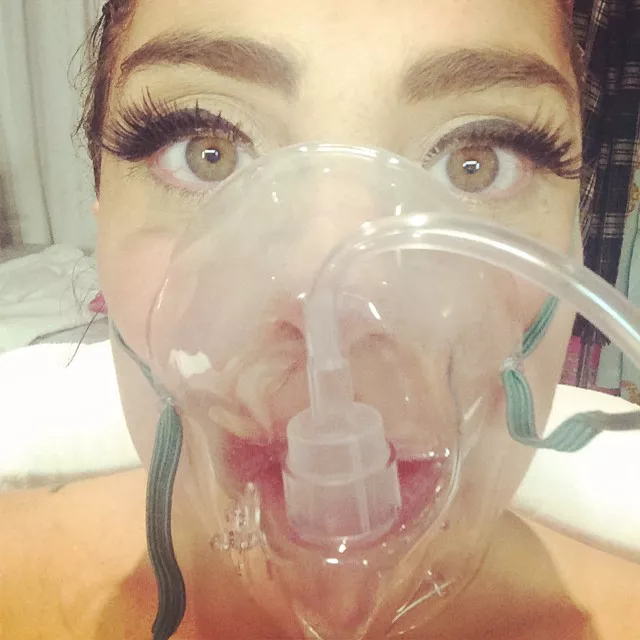 (Image/ Source: people.com)
Ever had altitude sickness? Lady Gaga has, and she's not amused. The Pokerface princess was touring across the US when she was suddenly admitted to hospital in Denver. She was pictured in full makeup and an oxygen mask in a candid hospital selfie, which was captioned with the words:
"Altitude Sickness is no Joke."
8. Mariah Carey - the diva with the dislocated shoulder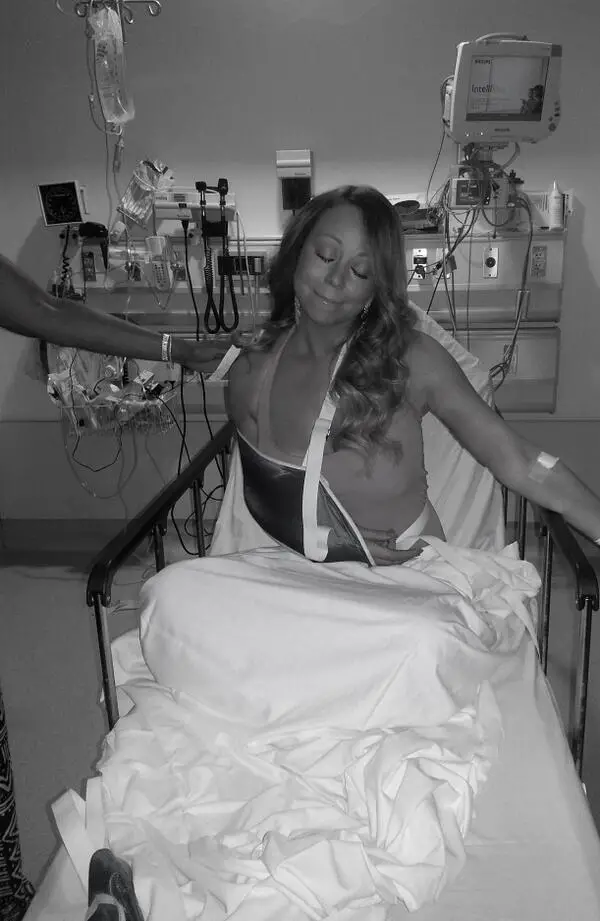 (Image/ Source: twitter.com)
If anyone can make a dislocated shoulder glam, Mariah Carey definitely can. After a short hospital stay, she posted an on-brand video to social media, which showed her preening through hospital corridors with a huge entourage of nurses. Forever a diva…
9. Selena Gomez's shocking kidney transplant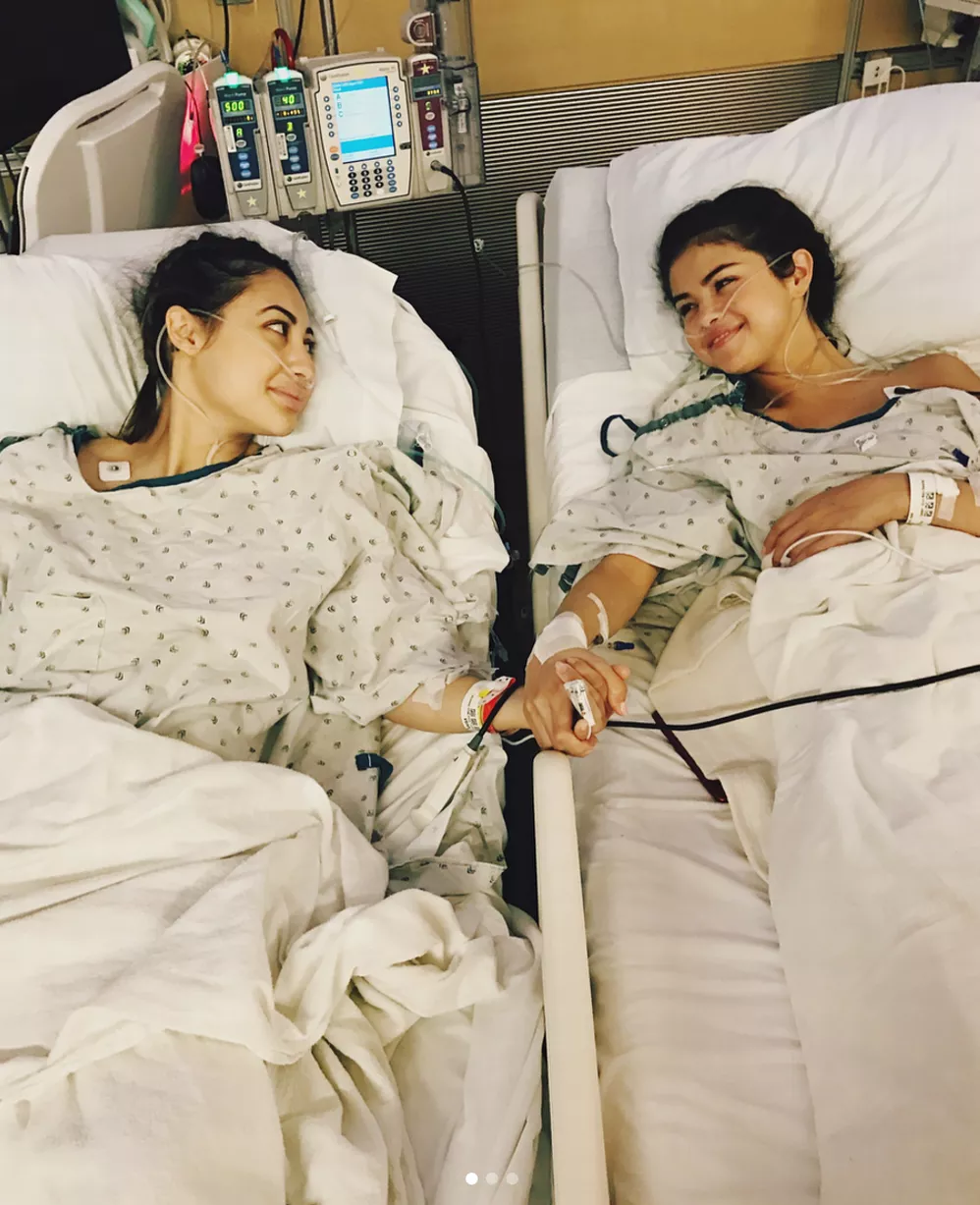 (Image/ Source: ok.co.uk)
Selena Gomez has been through a LOT. She has Lupus, which is a long-term condition that causes pain, tiredness and rashes. This condition meant she urgently needed a kidney transplant – and her best friend was happy to donate one of hers. A true friend if there ever was one!
10. Professor Green was nearly CRUSHED by two cars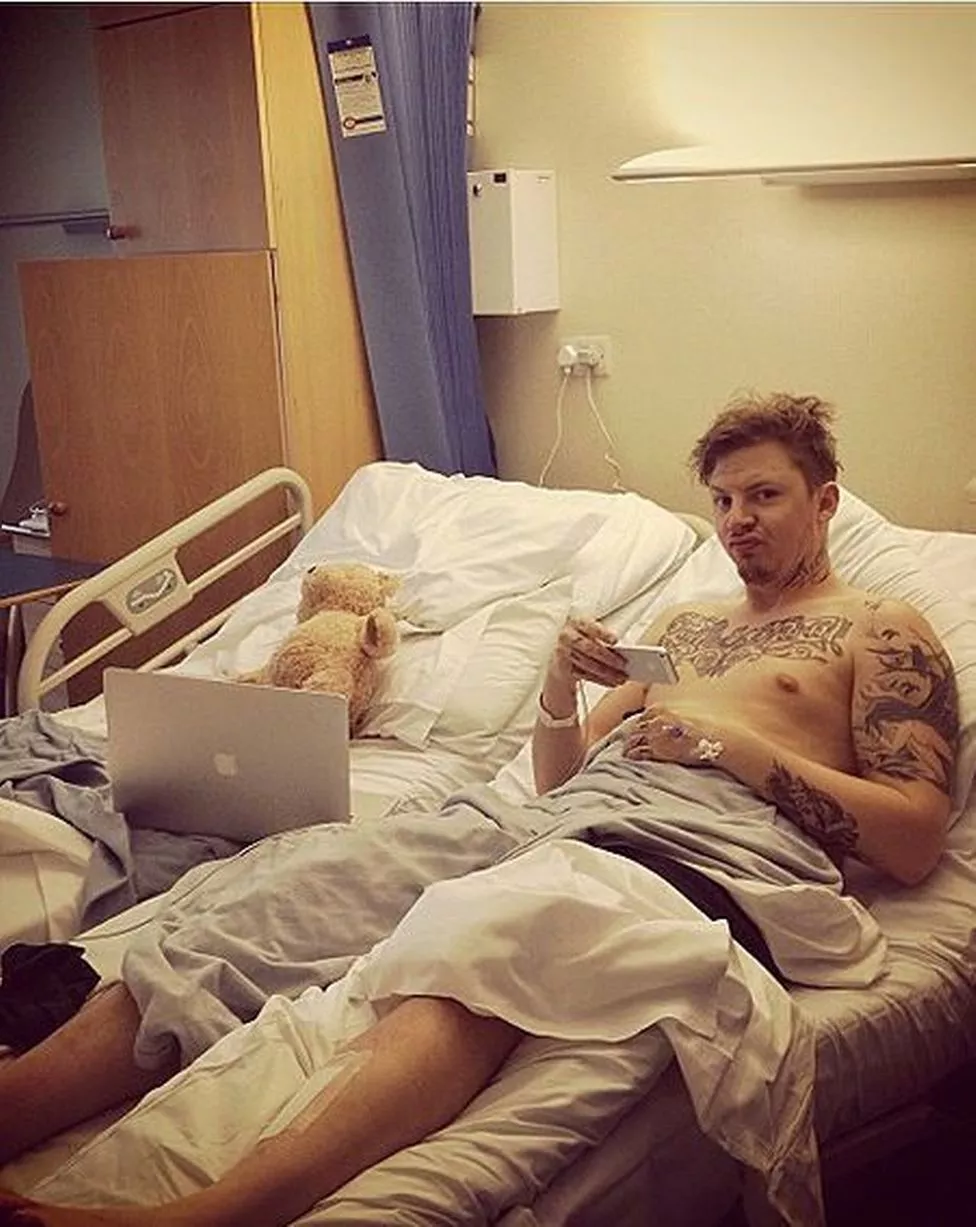 (Image/ Source: ok.co.uk)
He might have been nearly crushed to death, but Professor Green was still on hand with the positive vibes. The London rapper was on his way to a gig in Gloucestershire, England when he got crushed between two cars, but he somehow managed to escape with just a broken leg. Phew.
11. Chrissy Teigen and the foot bone drama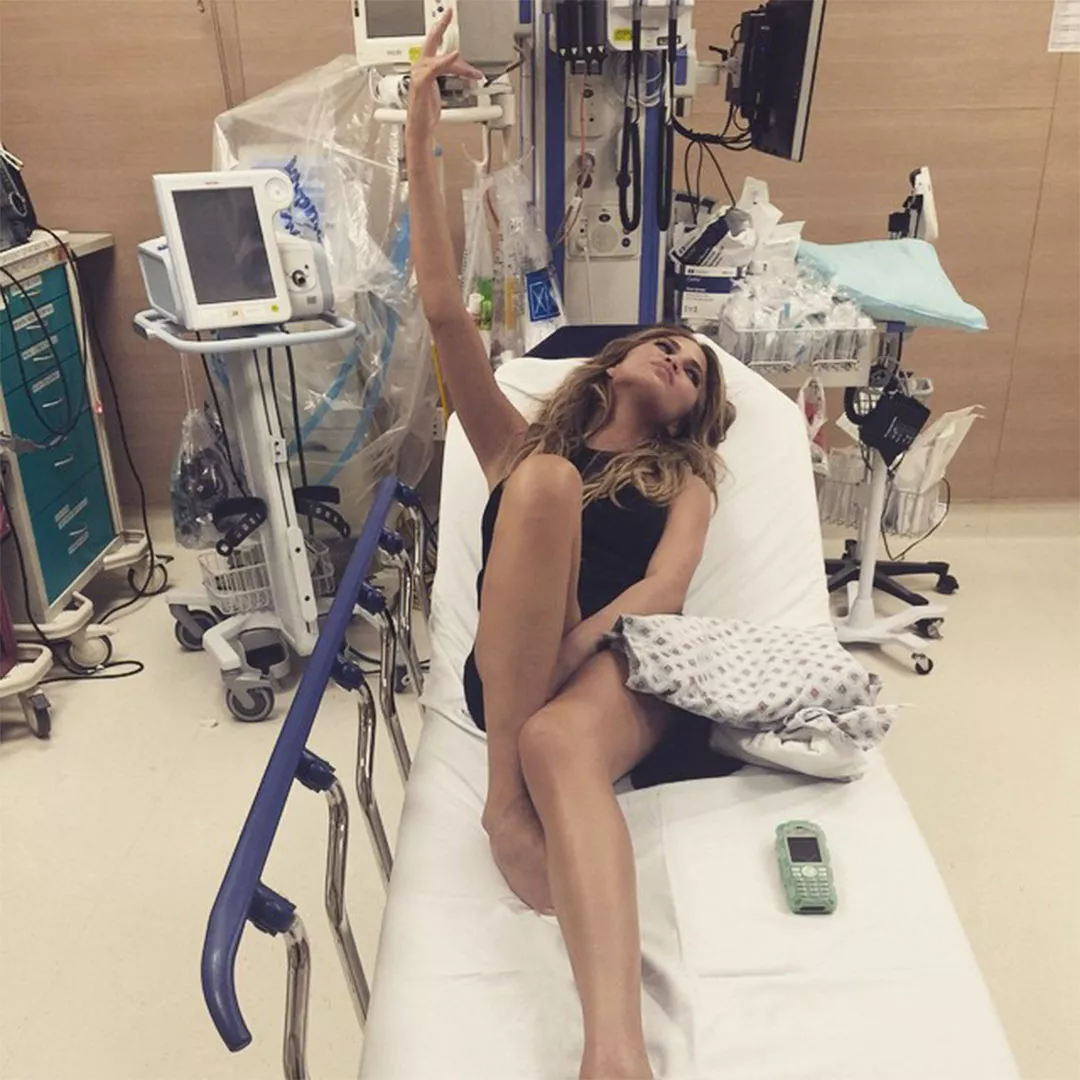 (Image/ Source: instagram.com)
Not everyone has the ability to look this glam in hospital! Chrissy Teigen ended up in the emergency room after she somehow managed to crack one of her foot bones during the filming of Lip Sync Battle in 2015. She handled it like an absolute pro though.
12. Maksim Chmerkovskiy's painful calf injury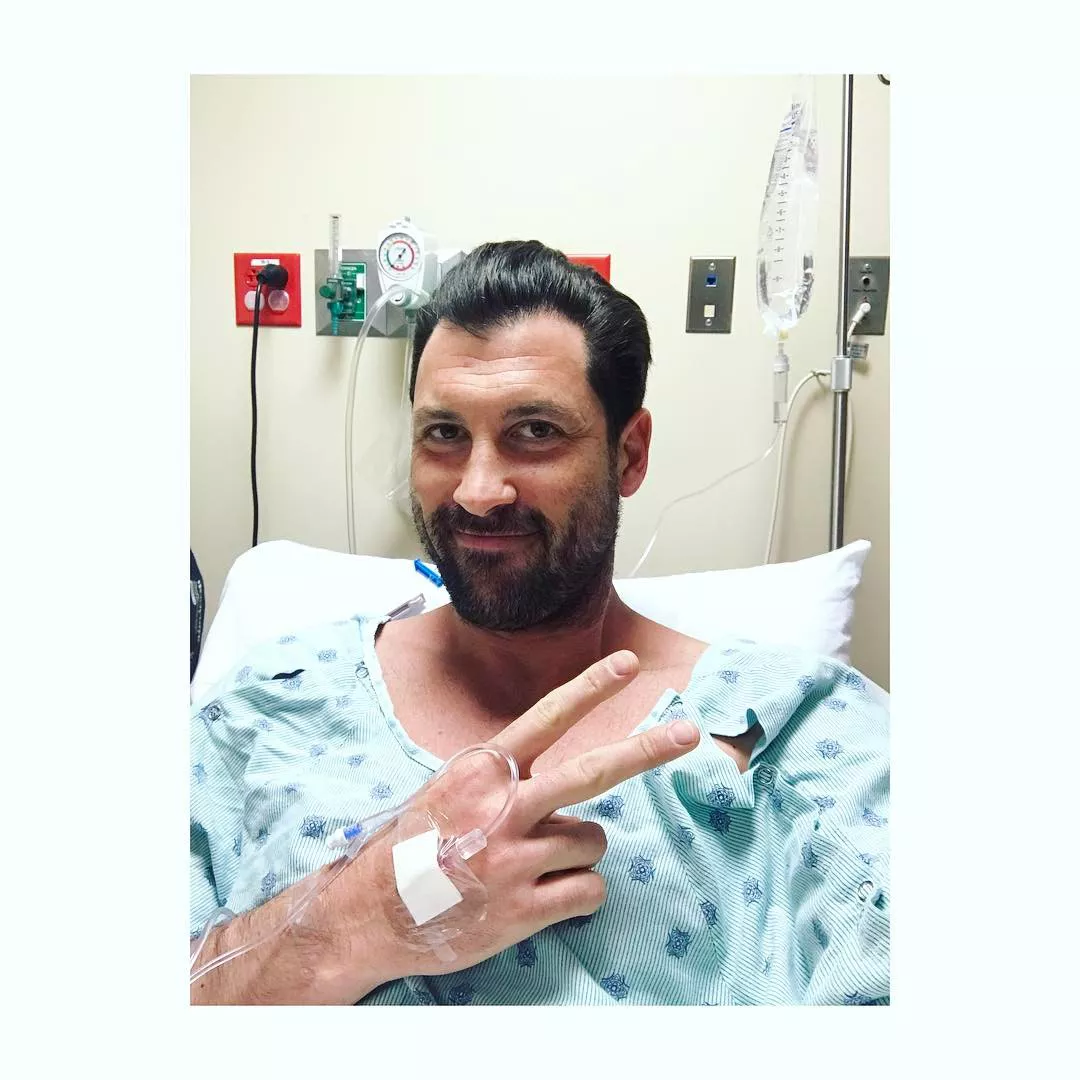 (Image/ Source: instagram.com)
During the 24
th
season of Dancing With the Stars, dancing pro Maksim Chmerkovskiy shared some pictures from his hospital bed after he sustained a calf injury during training. The dancer needed surgery to correct the injury, and told fans he needed to get 'un-broken'.
13. Mel B's spicy hospital visit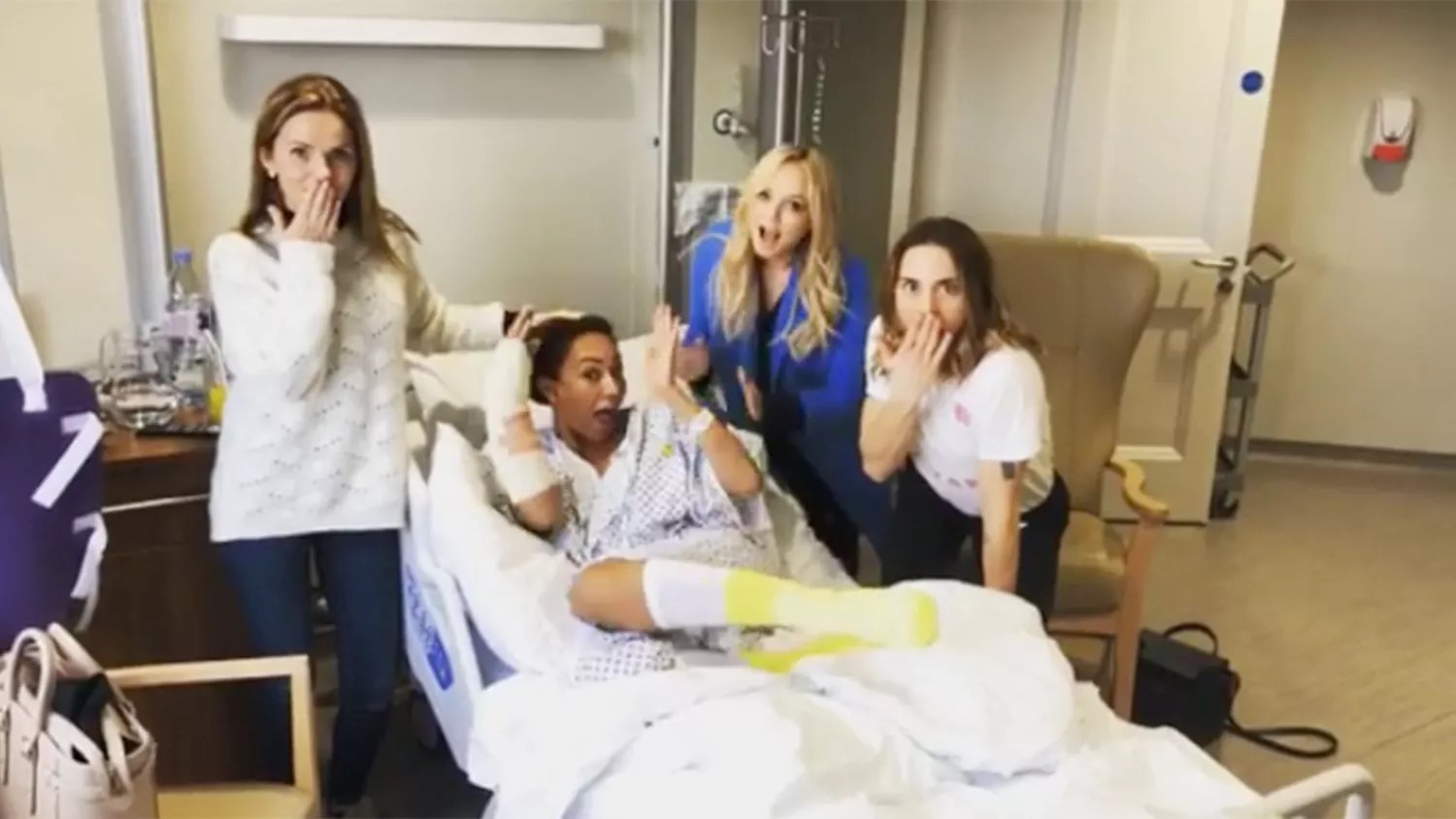 (Image/ Source: instagram.com)
As hospital visitors go, you won't often get a group as famous as this. Mel B was undergoing treatment in hospital when the Spice Girls (apart from Victoria Beckham) arrived to pay their friend a visit. It seems to have done Mel B some good to see the girls again!
14. Jesse Tyler Ferguson has a cancerous mole removed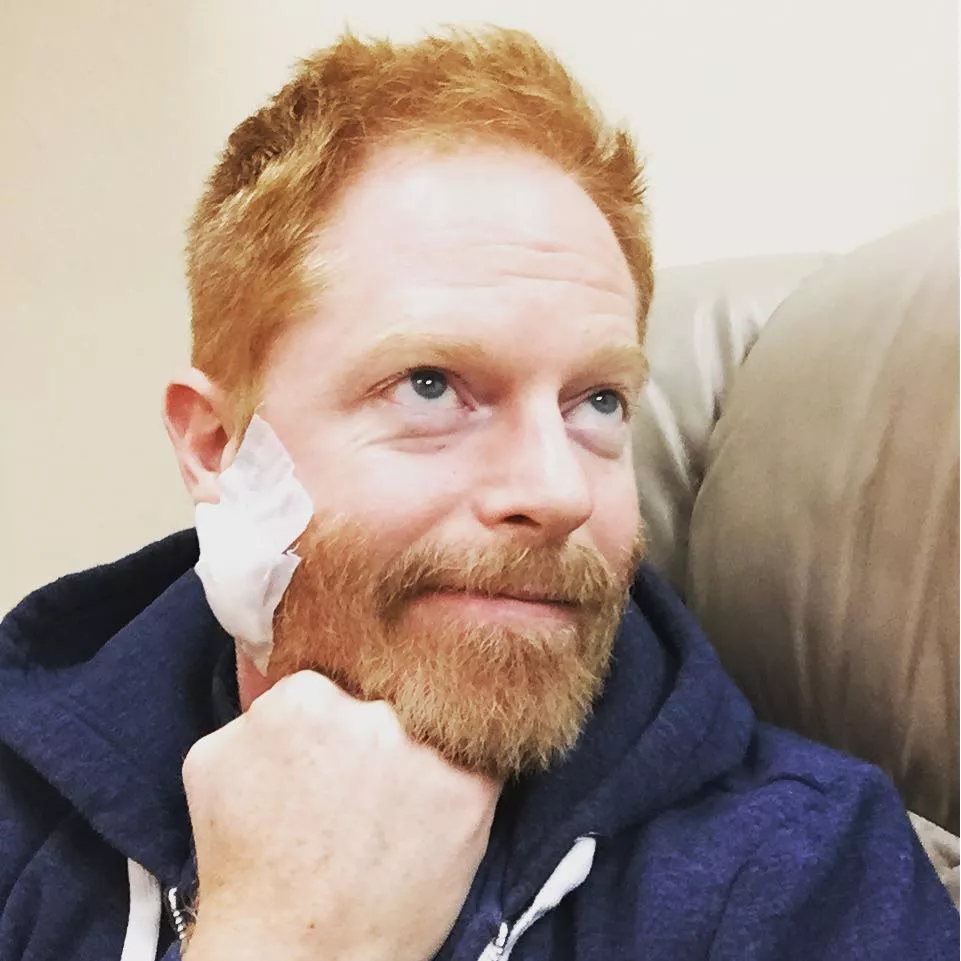 (Image/ Source: people.com)
It's really good to see celebs sharing stories like this. The Modern Family star showed off his bandage to fans on Instagram after he needed to have a cancerous mole removed. He encouraged others to get their moles checked out by a medical professional, and thanked his doctor for spotting the problem.
15. Kate Beckinsale's ovarian cyst RUPTURED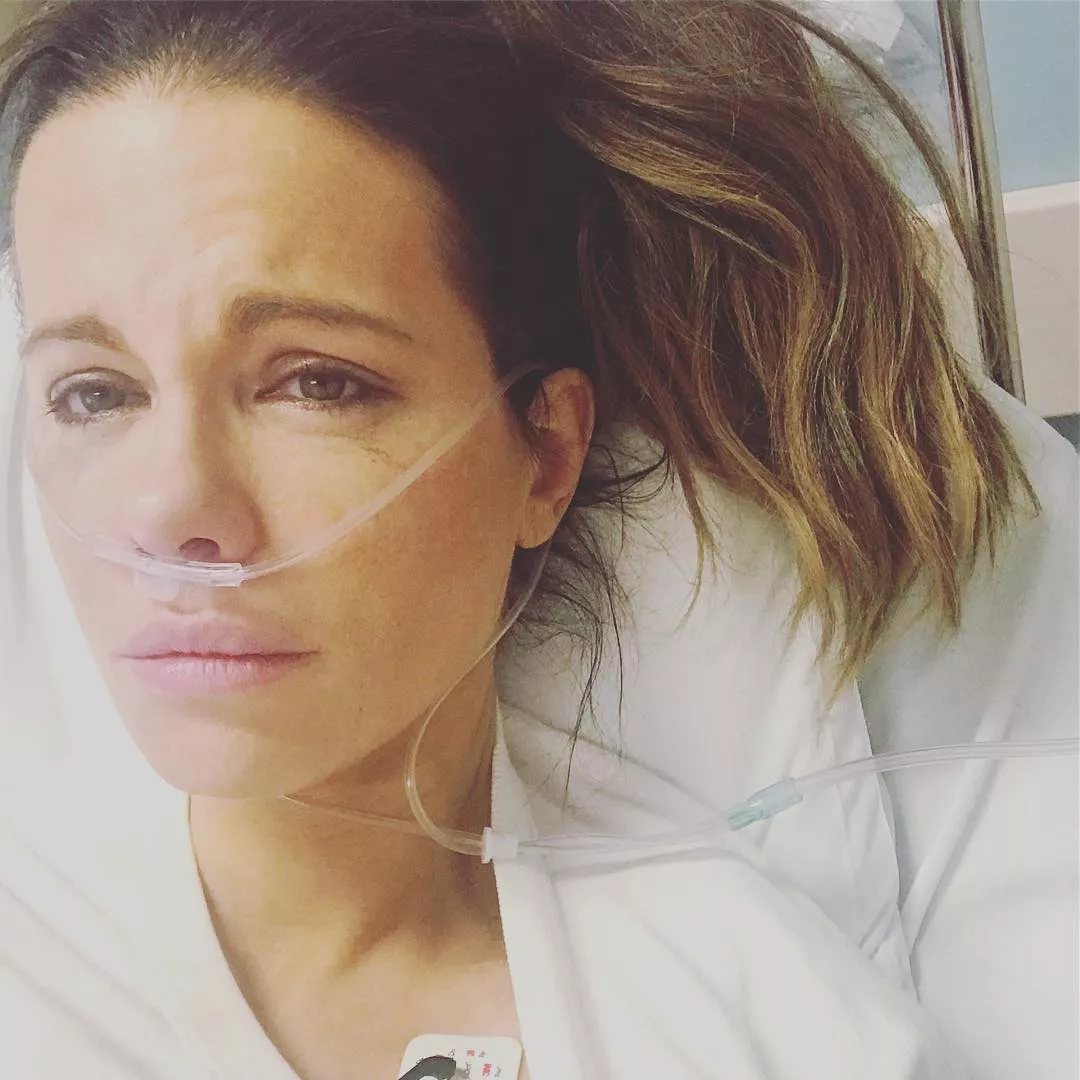 (Image/ Source: instagram.com)
Kate's not looking too well here – and we can totally understand why. The Underworld actress uploaded a selfie to her Instagram after an ovarian cyst ruptured, which is notoriously painful. She wrote:
"Turns out a ruptured ovarian cyst really hurts and morphine makes me cry."
16. Busy Phillips has 'shards of glass' in her eyes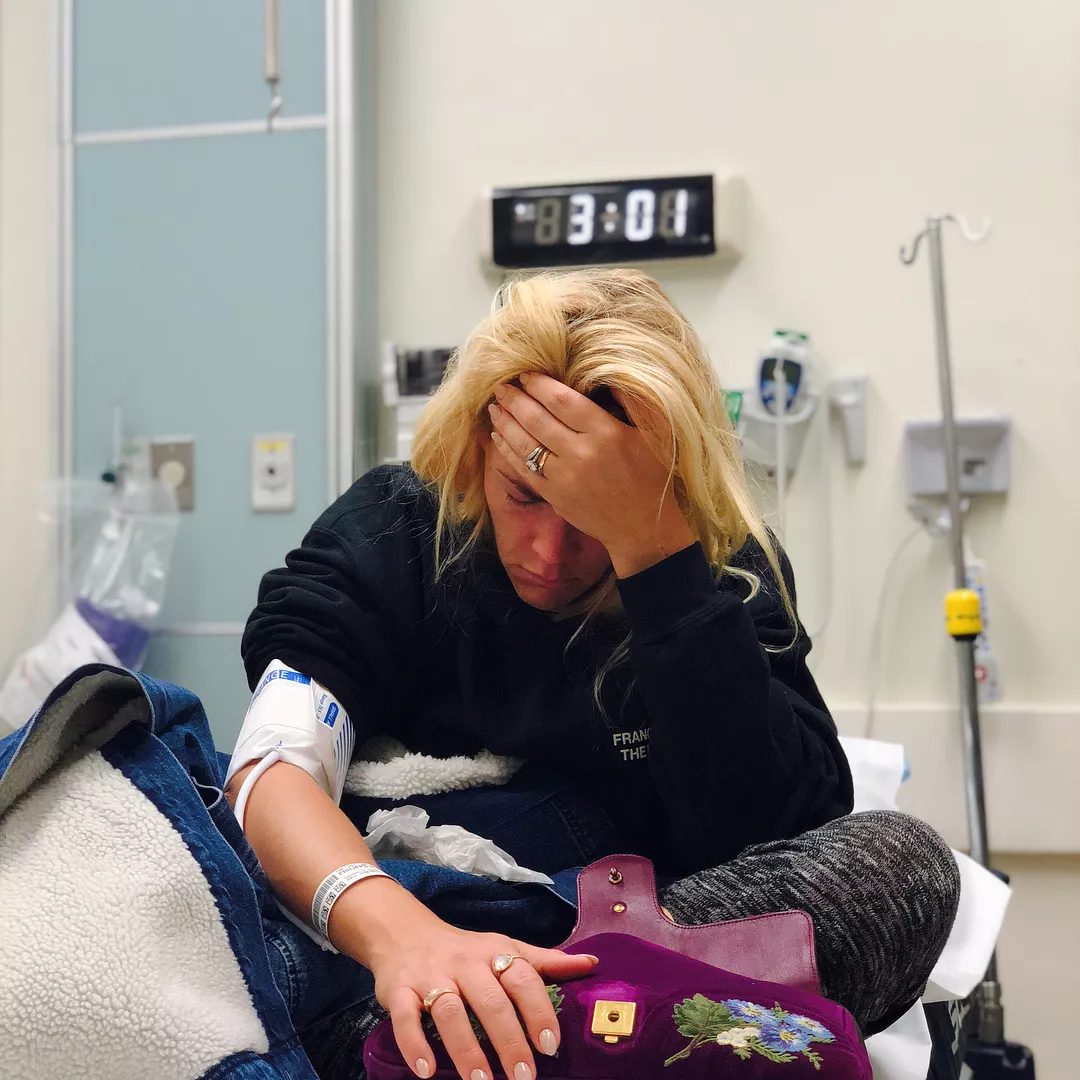 (Image/ Source: people.com)
Busy Phillips spent the night in agony before she ended up in the emergency room. Taking to Instagram, she wrote:
"Spent last night at Cedars[-Sinai] after I couldn't sleep because it felt like there were shards of glass in both my eyes…I have Photo Keratitis from bright lights/sun exposure!".
17. Miley Cyrus gets admitted for vocal chord surgery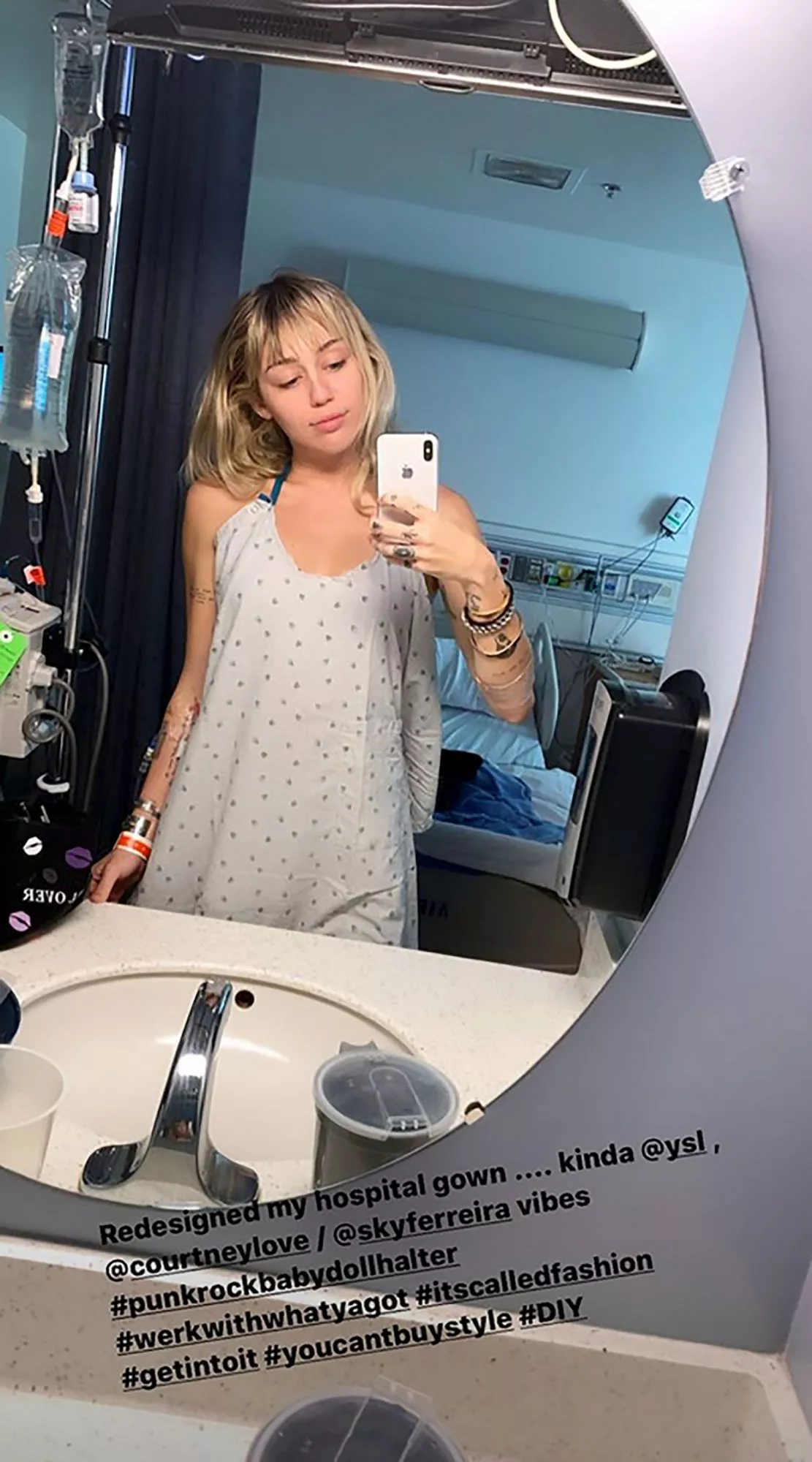 (Image/ Source: instagram.com)
Hospital chic never looked so good! Shortly after Miley Cyrus announced she was having surgery on her vocal chords, she shared a selfie with fans for her first appointment, where it was discovered she had tonsilitis. She seemed to bear the news fairly well though.
18. Kaley Cuoco's sinus problems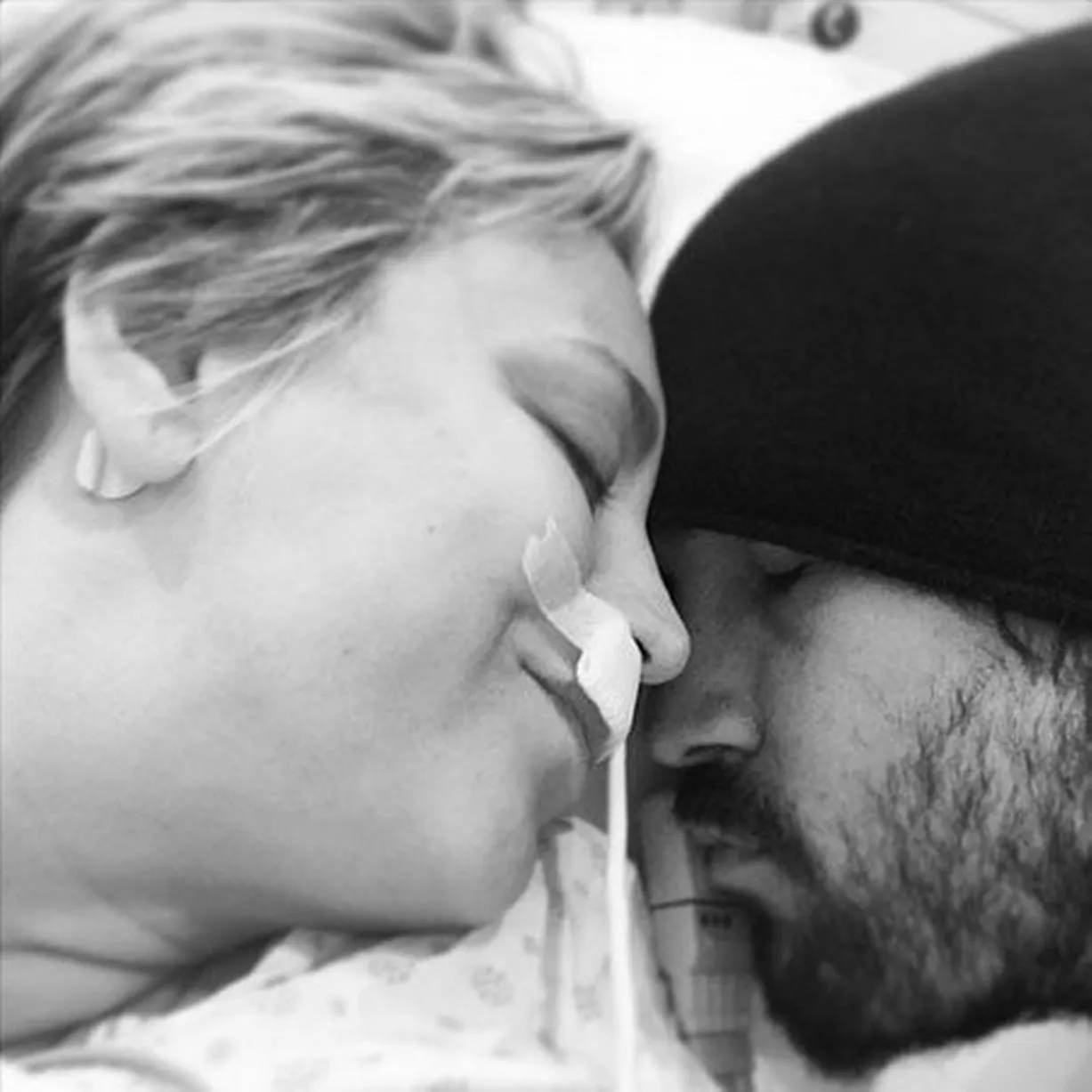 (Image/ Source: ok.co.uk)
The Big Bang Theory star shared an intimate update with fans when she was in hospital for surgery in 2014. While many suspected she was going under the knife for a nose job, the actress was actually undergoing sinus surgery, which she said she had put off for over a year.
19. Rihanna gets treated for exhaustion and dehydration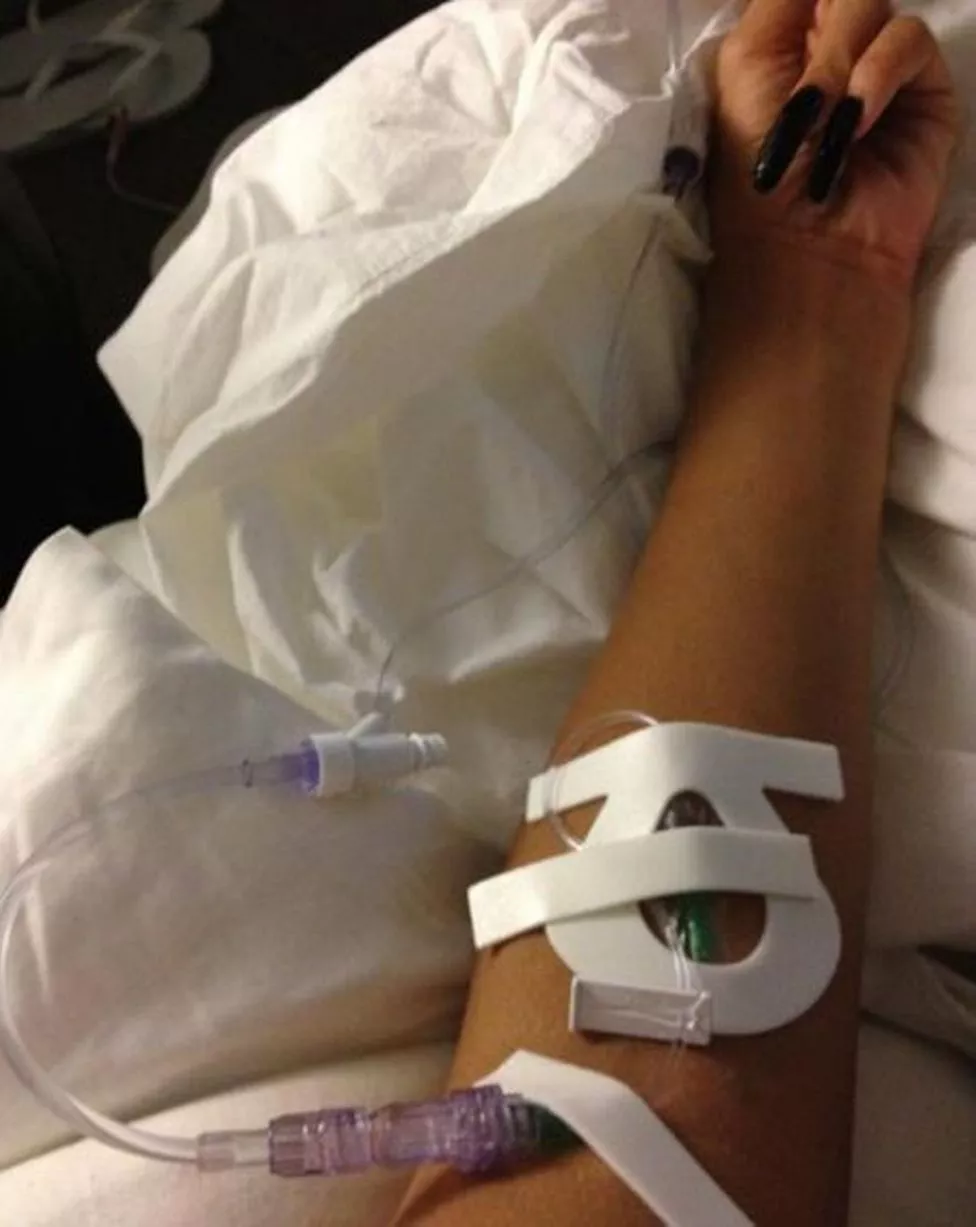 (Image/ Source: twitter.com)
The day after she attended the prestigious Met Gala in New York, Rihanna ended up seriously ill. She was rushed to hospital where she was treated for exhaustion and dehydration, and was discharged a few days later. The singer had mentioned she wasn't feeling well in the run-up to her hospital stay.
20. Justin Bieber collapsed during a performance in London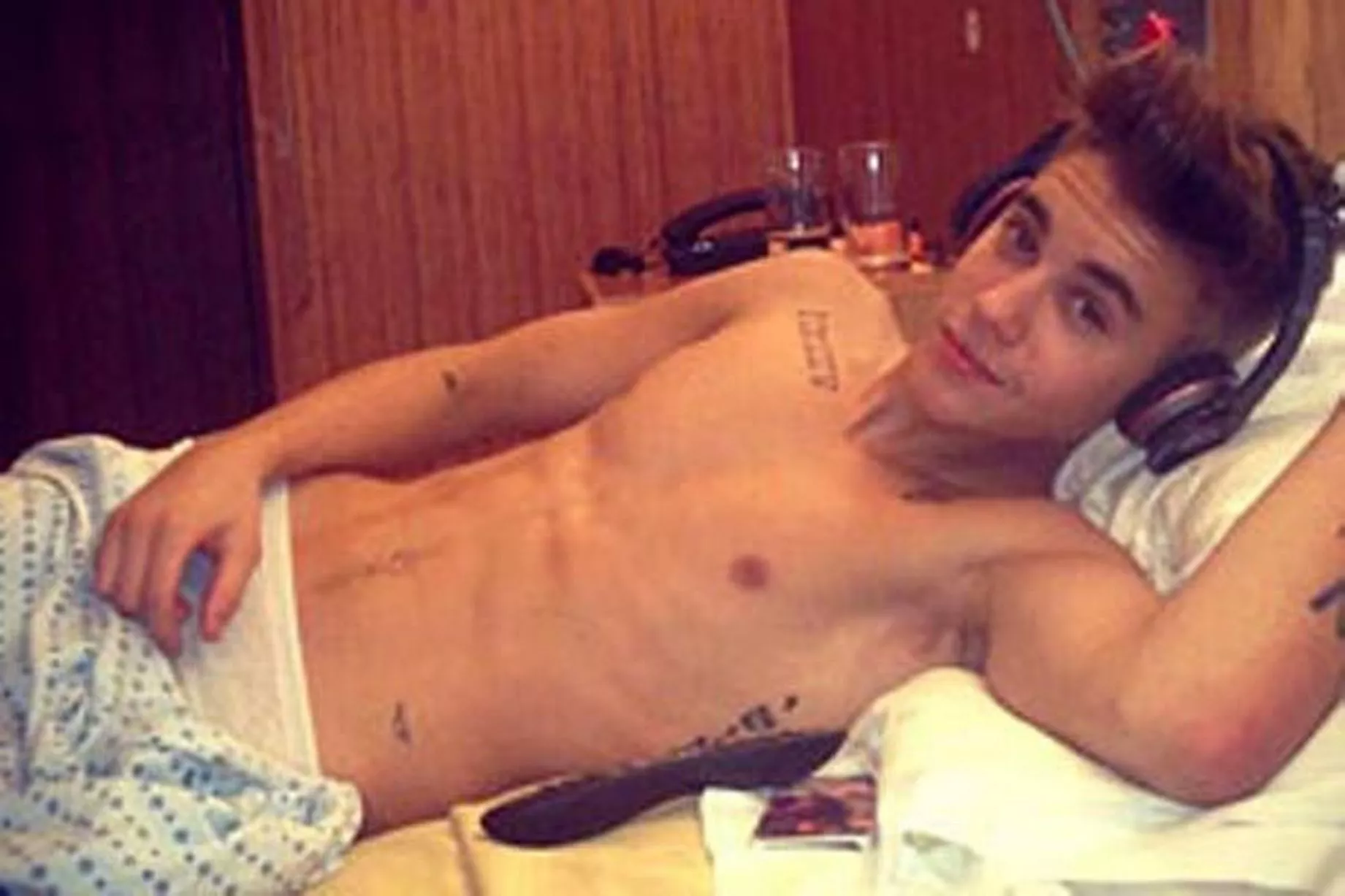 (Image/ Source: instagram.com)
When performing at the O2 Arena in London back in 2013, Justin Bieber collapsed backstage. He somehow managed to finish his remaining four songs before he was rushed to hospital, where he was immediately given oxygen. He was quick to thank his fans for their continual support.
21. Bindi Irwin's endometriosis battle
(Image/ Source: usweekly.com)
After being in pain for over a decade, Bindi Irwin finally had surgery for endometriosis in March 2023. This is a condition that sees the tissue that normally lines the uterus grow on the outside of it. She shared a selfie on her Instagram to encourage more women to seek treatment for this issue.
22. Bella Hadid gets yet more treatment for Lyme Disease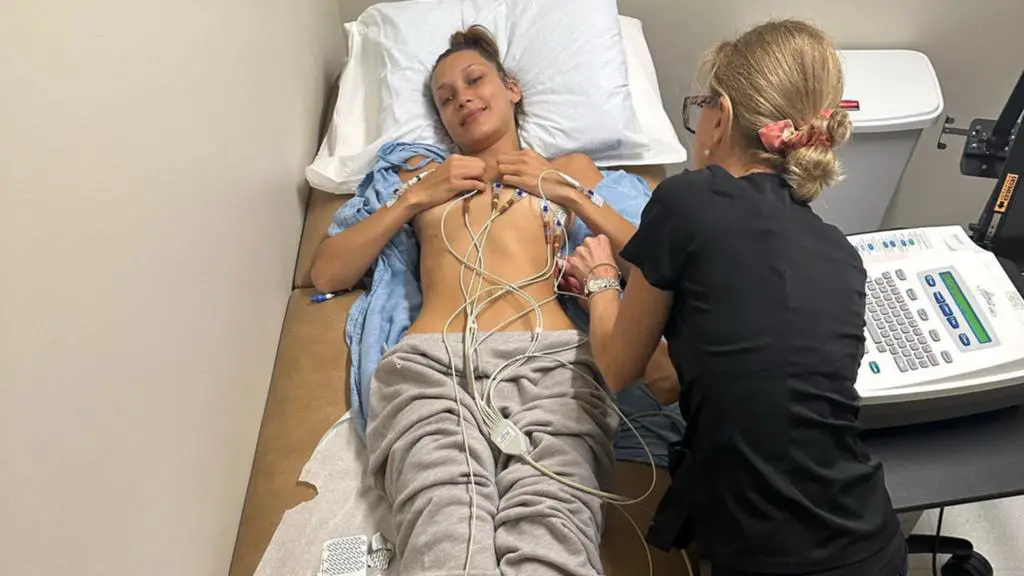 (Image/ Source: perthnow.com.au)
Bella has always been open about her struggles with Lyme Disease; she experiences regular tiredness and headaches, as well as severe muscle and joint pain. The model regularly shares snaps of her treatment with fans, and has spoken at length about how her battle with this disease takes its toll on her mental health.
23. Nick Cannon develops pneumonia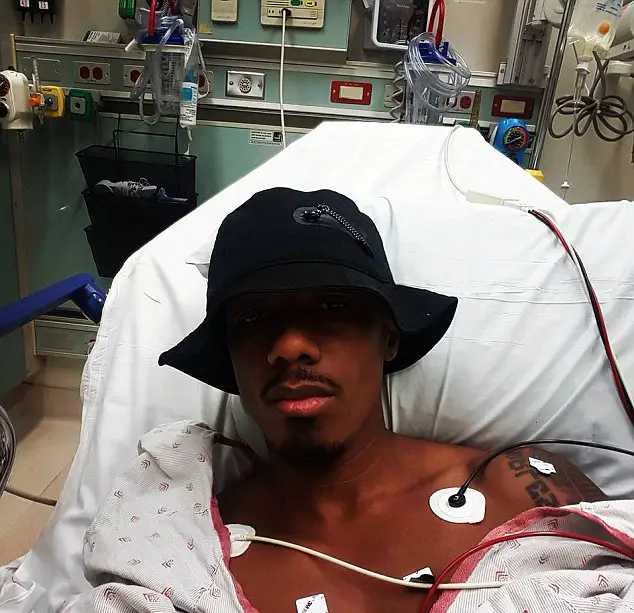 (Image/ Source: emirates247.com)
In December 2022, Nick Cannon shocked fans when she shared a picture of himself in hospital, where he was being treated for pneumonia. The Masked Singer host, who also has Lupus, wrote on Instagram:
"I promised myself I would never be back at this place again…".
24. Caitlyn Jenner gets knee surgery... which she put off for 25 years!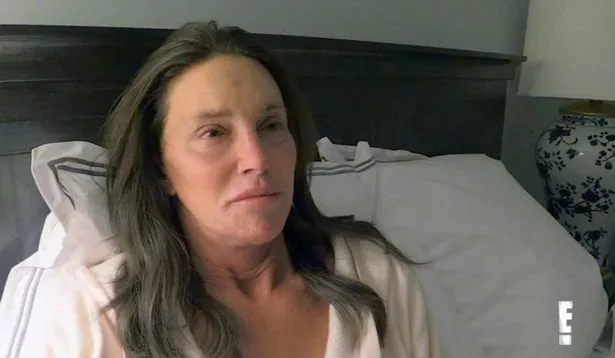 (Image/ Source: eonline.com)
Caitlyn Jenner went into hospital for knee surgery back in 2021 – and revealed she had been putting it off for 25 YEARS. Yes, really! She was treated at the popular celeb hospital Cedars-Sinai in Los Angeles, and documented her entire stay via Instagram.
25. Kevin Smith has a HEART ATTACK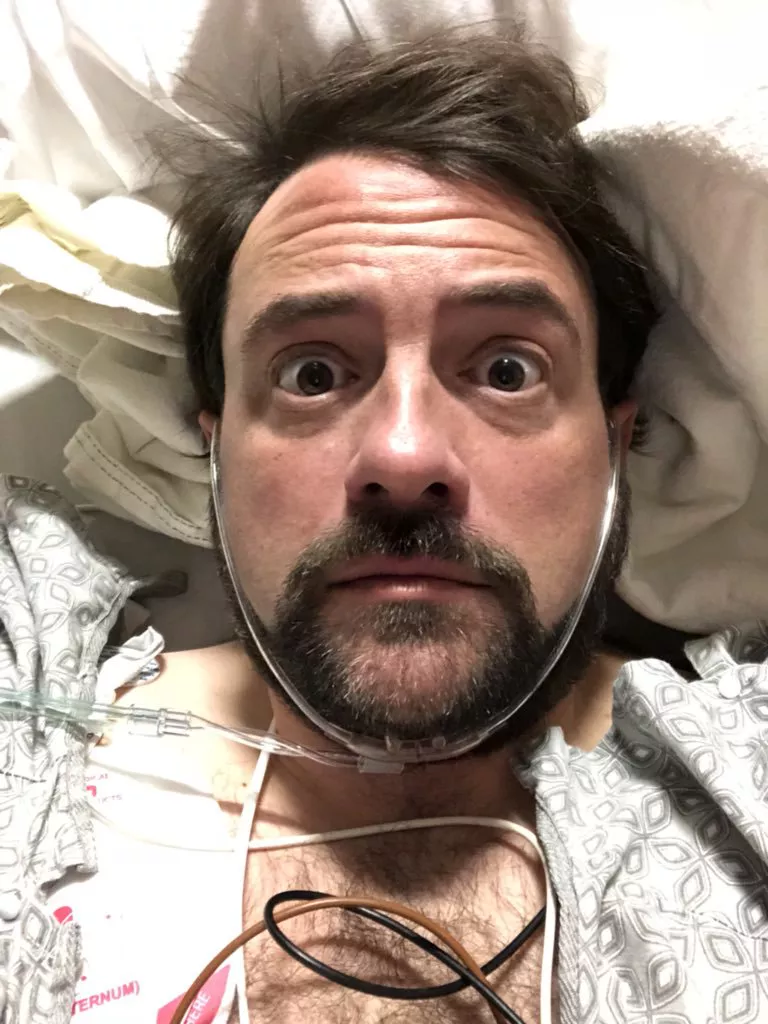 (Image/ Source: twitter.com)
Kevin Smith's health scare was a major shock for him and his fans! The director had a heart attack in 2018, and was extremely lucky to survive it. His attack was so serious that it's often referred to as 'The Widow Maker', but he's now gone on to make a successful recovery.
26. Shawn East's broken toe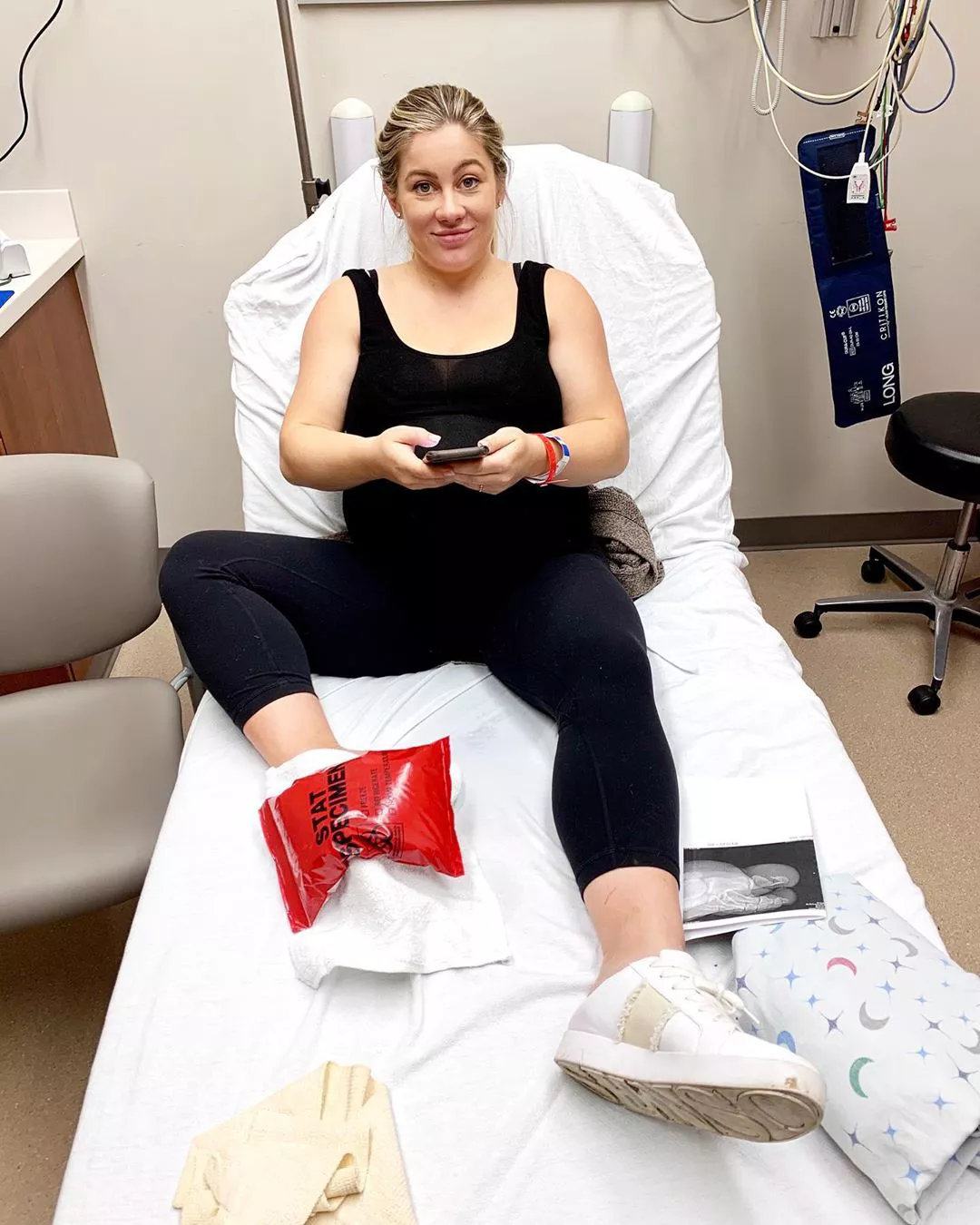 (Image/ Source: instagram.com)
The former gymnast ended up in hospital during her pregnancy – but not in the way you would expect! She ended up breaking her big toe weeks before she was due to give birth, but managed to keep her spirits up. She took to Instagram and wrote:
"All is good, just adding a little more swag to my big mama waddle these days."
27. Nina Dobrev has a severe allergic reaction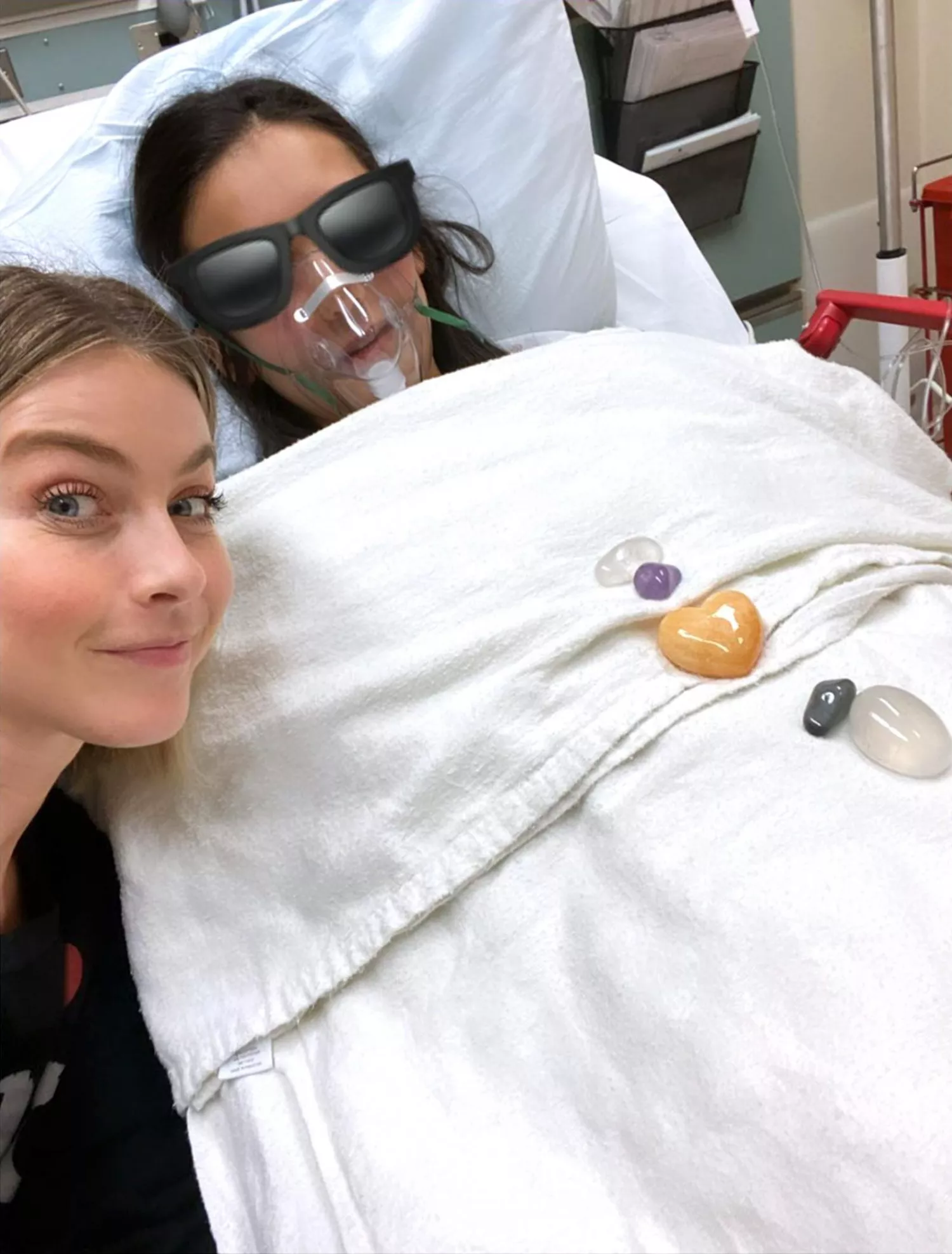 (Image/ Source: instagram.com)
Getting admitted to hospital for an allergic reaction really isn't ideal. Just ask Nina Dobrev. Pal Julianna Hough was on hand for moral support, and even brought a few healing crystals along to 'help' her recovery. We love that Nina kept her sunglasses on for the selfies…
28. Mario Lopez somehow rips his biceps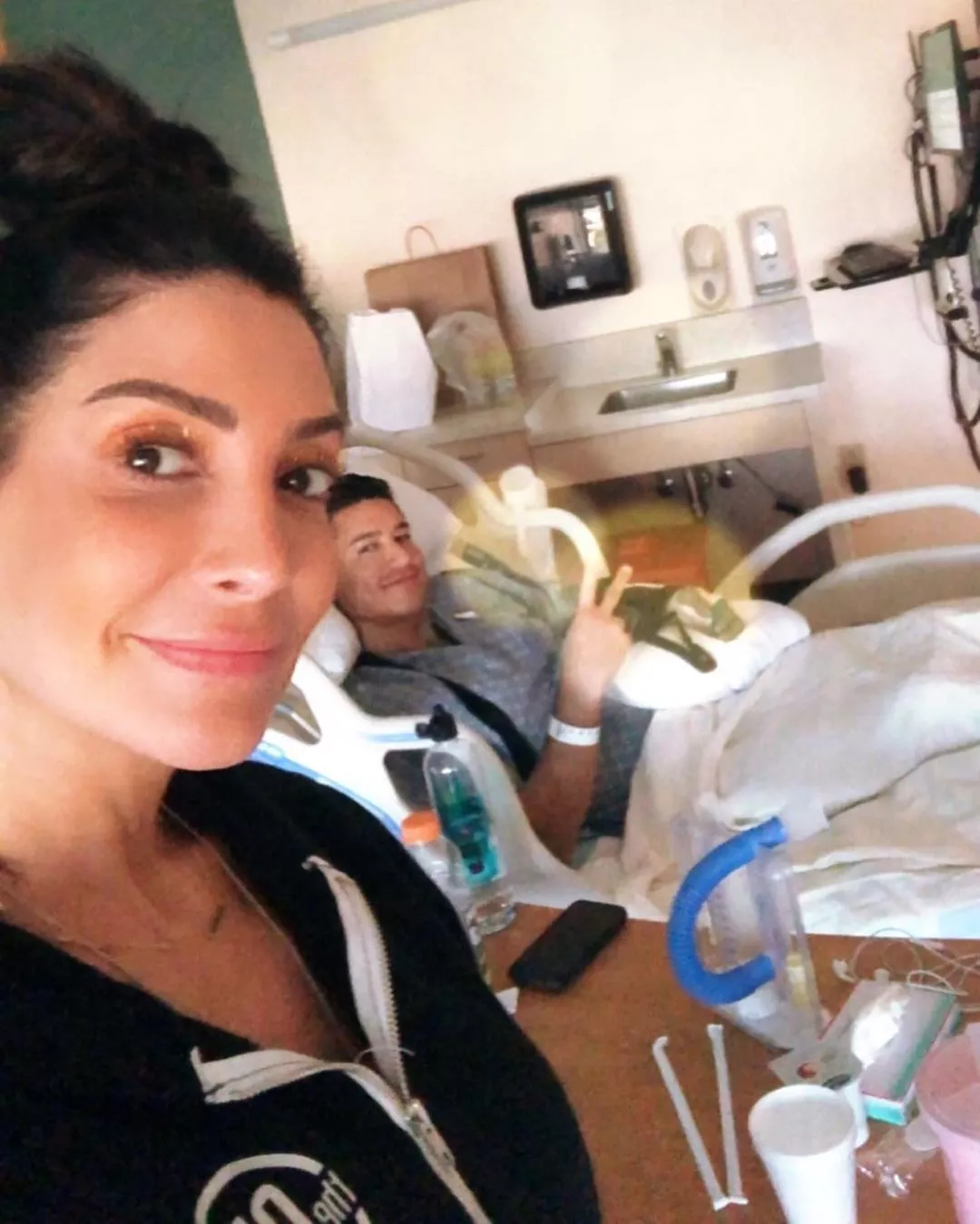 (Image/ Source: instagram.com)
The actor and TV host ended up tearing his biceps during some intense sparring training (ouch) and he required immediate surgery. Luckily, his wife Courtney, who also happens to be a nurse, was able to take care of him during his recovery. He's a lucky man!
29. Elle King has a skiing accident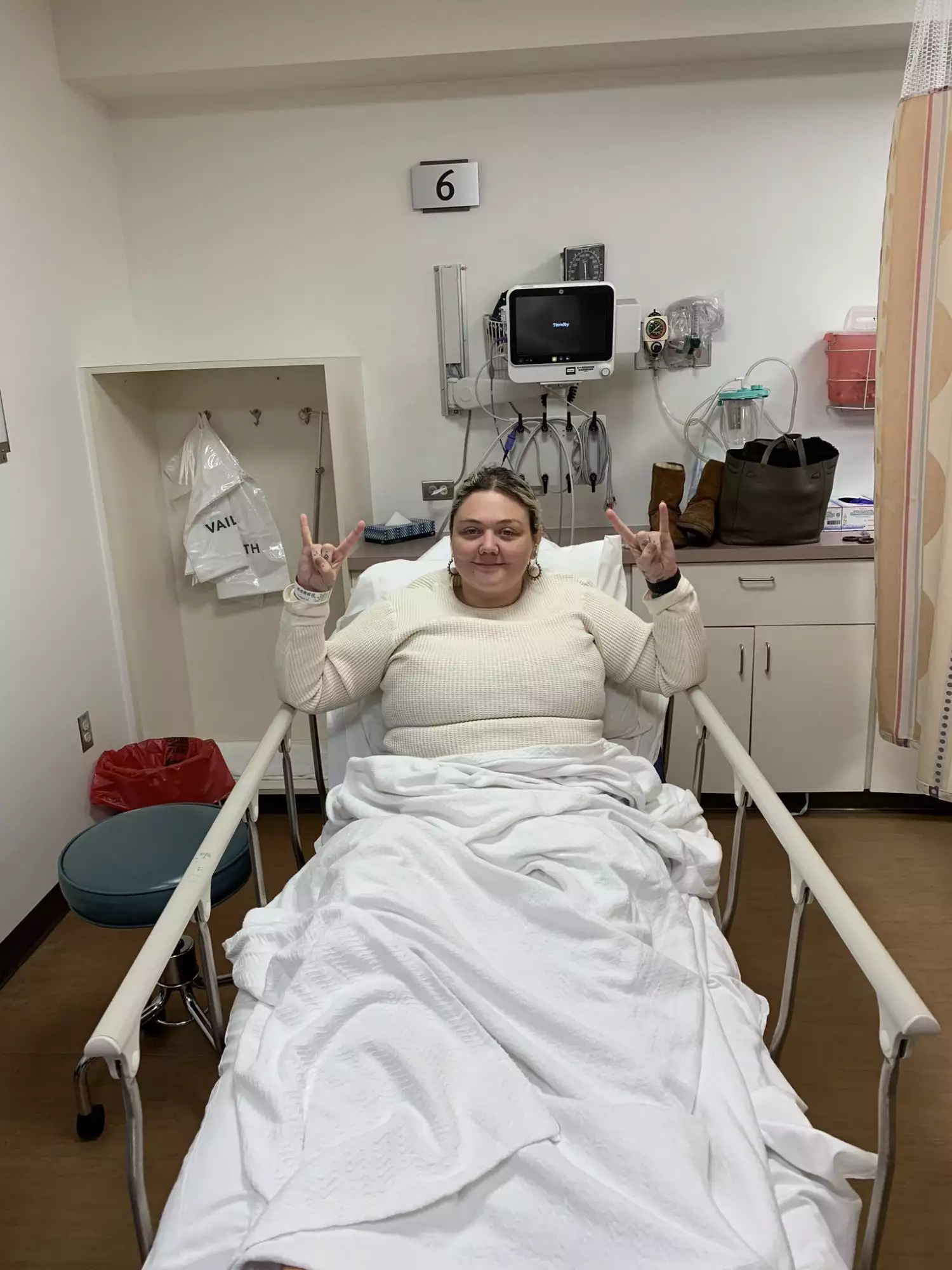 (Image/ Source: twitter.com)
The singer had a dramatic skiing accident back in 2019, which required a trip to the emergency room. However, despite tearing her anterior cruciate ligament in her knee, Elle was in good spirits. She updated fans with the message:
"My knee's about the size of an elephant's foot. But I'm ok."
30. Lena Dunham's broken elbow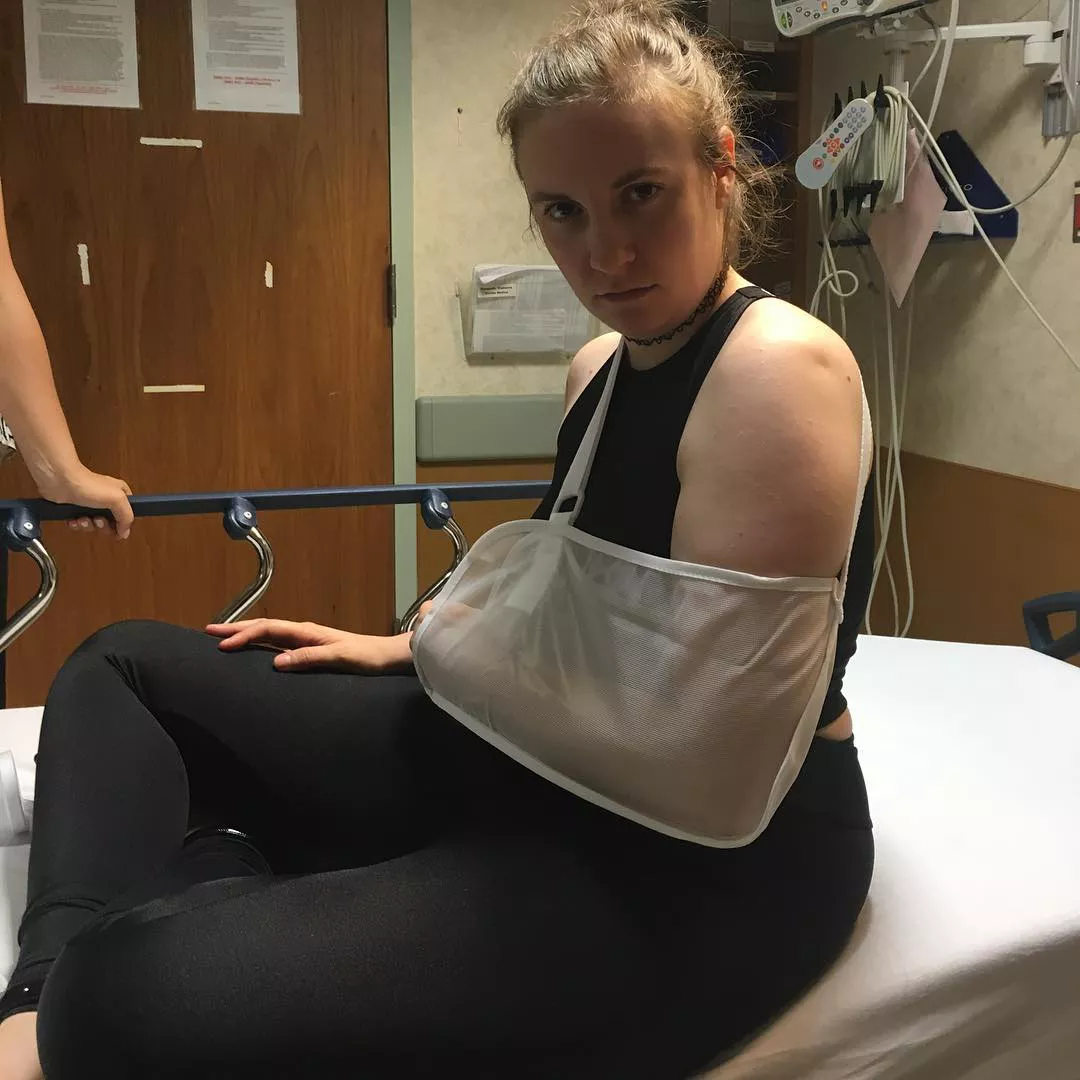 (Image/ Source: instagram.com)
Lena is certainly no stranger to a hospital selfie, and she didn't disappoint when she once again landed in the emergency room in 2016. This time, she'd broken her elbow, and captioned her Instagram photo with the words:
"I do all my own stunts".
She had her arm in a sling for a fair few weeks.