Unseen Images Of Jenna Ortega
By Sarah Jones
4 months ago
1. Flower power
(Image/ Source: pinterest.com)
Let's face it- we're used to seeing the
Wednesday
starlet in her classic black attire. And while her wardrobe is pretty typical in this photo, the surprise appearance of cream roses gives her look a (slightly) more feminine appearance than usual. We wished we looked as good as her in a skin-tight latex bodysuit!
2. Buckle up
(Image/ Source: instagram.com)
Now that
Wednesday
has become something of a global phenomenon, Jenna has become an overnight superstar. She now has a whopping 36.9 million photos on Instagram, and fans have gone particularly wild for this super sassy photo of the star in her in a sheer top. Brownie points for making huge belts cool again.
3. Feeling spooky?
(Image/ Source: pinterest.com)
If anyone was going to score 10/10 for Halloween, we'd bet it would be Jenna Ortega. But the star is looking a lot less scary here than we'd hoped! The 20-year-old actress looks much younger than her age as she sports teeny tiny shorts and silver hoops. We really hope she steps up her Halloween game next year…
4. Wednesdaying
(Image/ Source: instagram.com)
We don't know about you, but we love seeing a few sneaky behind-the-scenes pics from our favorite shows. Here's Jenna getting suitably gothed up in hair and make-up on the set of Netflix's
Wednesday
, complete with lashings of fake blood. If you're wondering why there's so much blood and you haven't seen the show yet- brace yourself!
5. Goth chic
(Image/ Source: pinterest.com)
All black items? Check. Super long off-duty leather jacket? Check. Sexy lace dress? Check. Yep- Jenna Ortega really is a goth princess through and through. We love her off-the-shoulder touch with her leather jacket, which really complements that sheer dress. The heels add a subtle feminine touch to this classic grungy look.
6. Fresh faced
(Image/ Source: pinterest.com)
While we're used to seeing the starlet in heavy black attire and thick make-up, it's actually quite refreshing to see the twenty-year-old actress looking happy, bright and fresh-faced. Showing off her cute new mani, the
Wednesday
star is absolutely glowing. We want to know what her skincare secrets are…
7. Scarlet woman
(Image/ Source: pinterest.com)
Jenna Ortega's NOT wearing black? While we love her signature style, we can't help but admire this cute little red two-piece, which actually looks amazing on the star. We're also crushing on those cream Adidas trainers, which will definitely be making their way into our shopping carts in the not-too-distant future.
8. Work-life balance
(Image/ Source: pinterest.com)
Life is a bit of a balancing act these days. And it seems like this is something Jenna knows all too well! Here she is clowning around in a posh garden with an enormous pot- as you do. She's once again wearing red, as well as her signature sky-high heels. How she's managing to hold that pose in that outfit, we'll never know.
9. Off-screen cuddles
(Image/ Source: instagram.com)
Jenna Ortega seems to be the life and soul of the
Wednesday
cast. Here she is having a cuddle with a crew member while shooting in Bucharest, Romania. Taking to Instagram shortly after Wednesday was released, the star wrote: "Special thank you to the cast, Nirvana, Enrique, Logi, Coral, Mihail & Jason, Dana, Axel, Petru, Addy, Tim, Avant Garde, Angeles Music Academy, every background member, the entire crew. Everyone who watches."
10. Street side selfie
(Image/ Source: pinterest.com)
If we looked like Jenna, we'd probably be taking selfies while walking down the street too. We're not sure if the star is filming or just hanging out on the weekend, but either way, her makeup is popping. Perhaps she's just feeling smug as Netflix has just commissioned
Wednesday
for yet another season.
11. Early years
(Image/ Source: instagram.com)
How cute was Jenna Ortega back in the day? Here she is at age six, when she just started to fall in love with acting. Jenna has often labelled herself as a "weird" child who would have done anything to become an actress. She landed her first role when she was just ten years old in a TV advert- and the rest is history.
12. Beach babes
(Image/ Source: pinterest.com)
With so many tv and film accolades under her belt, it seems like the actress doesn't really have much time off these days. So it's refreshing to see starlet kicking back and hitting the beach with her pals in California- even if one of her friends isn't looking all that pleased about the selfies going on!
13. Family
(Image/ Source: instagram.com)
Jenna has always made it clear just how much her family mean to her. Her parents and her six brothers and sisters help keep her grounded, and have supported the star every step of the way." I love that I [come] home to the Coachella Valley [after filming] and see my family and friends who have been with me from day one. It's nice to have them by my side always."
14. Girls night
(Image/ Source: instagram.com)
As Jenna's status has continued to soar, she's picked up a fair few celebrity friends along the way. Here she is enjoying a night out with
Dance Moms
alum Maddie Ziegler, who has been one of her best pals for years now. "She was somebody that I instantly clicked with," Jenna said in an interview. "I feel like we're the same person in different fonts."
15. You
(Image/ Source: pinterest.com)
Remember when Jenna Ortega popped up in the second season of the Netflix show
You
? She played Ellie Alves, the neighbor of murderer Joe Goldberg, alongside Penn Badgley and Victoria Pedretti. Here she is with her top-secret script as she gets stuck into some table reads with the cast. Baseball hats are go!
16. Colgate smile
(Image/ Source: colgate/ dailymail.co.uk)
Jenna did a LOT of TV commercials back in the day. It was the beginning of her career as a child actress, and while her parents weren't exactly convinced of her career choices at first, they quickly rallied round to support the star with her dreams. Here she is starring in a Colgate ad when she was ten years old.
17. Top of the class
(Image/ Source: pinterest.com)
Who's super proud of their high school diploma? Jenna certainly is! Here the star is mucking around on set with her new qualification, which was actually delivered to her while she was filming a movie when she was 17. She later took to Instagram to share a few snaps of her wearing her gap and gown in her trailer.
18. Mother and daughter time
(Image/ Source: instagram.com)
Jenna's always had a close relationship with her mom, who is Puerto Rican. Meanwhile, Jenna's father is of Mexican heritage- and their cultures are super important to the star. "It's important to embrace your culture today because there are so many different ethnicities in America. You are you. You've got to stay true to yourself, and you can't change yourself in order to fit in."
19. Jenna and Penn
(Image/ Source: pinterest.com)
The young starlet became super close to her cast mates during the filming of
You
. The stars would often hang out in their trailers together, which meant a LOT of time spent with murder-in-chief Penn Badgley, aka Joe Goldberg. Here they are after a long day of filming. What's with all the bags though, Joe?
20. Budding star
(Image/ Source: instagram.com)
Apparently Jenna's mom wasn't exactly enthusiastic about her daughter's acting dreams at first. The starlet revealed that her parents said there was "no way in Hell" they'd let her act, and her mom eventually bought Jenna a monologue book in an attempt to shut her up. However, this backfired massively, as Jenna then started acting out 'dramatic' monologues for her mom, which included her 'hysterically crying'. This impressed her mom so much that she started recording Jenna on video.
21. Driver's seat
(Image/ Source: pinterest.com)
The classic "hot actress poses next to fancy car" photo has done the rounds on Instagram for years now, so it's no great surprise that Jenna's embraced it. However, she's looking slightly more off-duty than usual thanks to her ripped mom jeans and trainers. Those signature silver hoops are still in place though!
22. Signature sweater
(Image/ Source: pinterest.com)
Jenna Ortega certainly isn't shy when it comes to taking selfies, and this gorgeous blue embroidered jumper has featured in a fair few of them over the last couple of years or so! It seems to be the
Wednesday
starlet's all-time favorite comfort jumper when she's working on those long-haul filming schedules.
23. Vacation time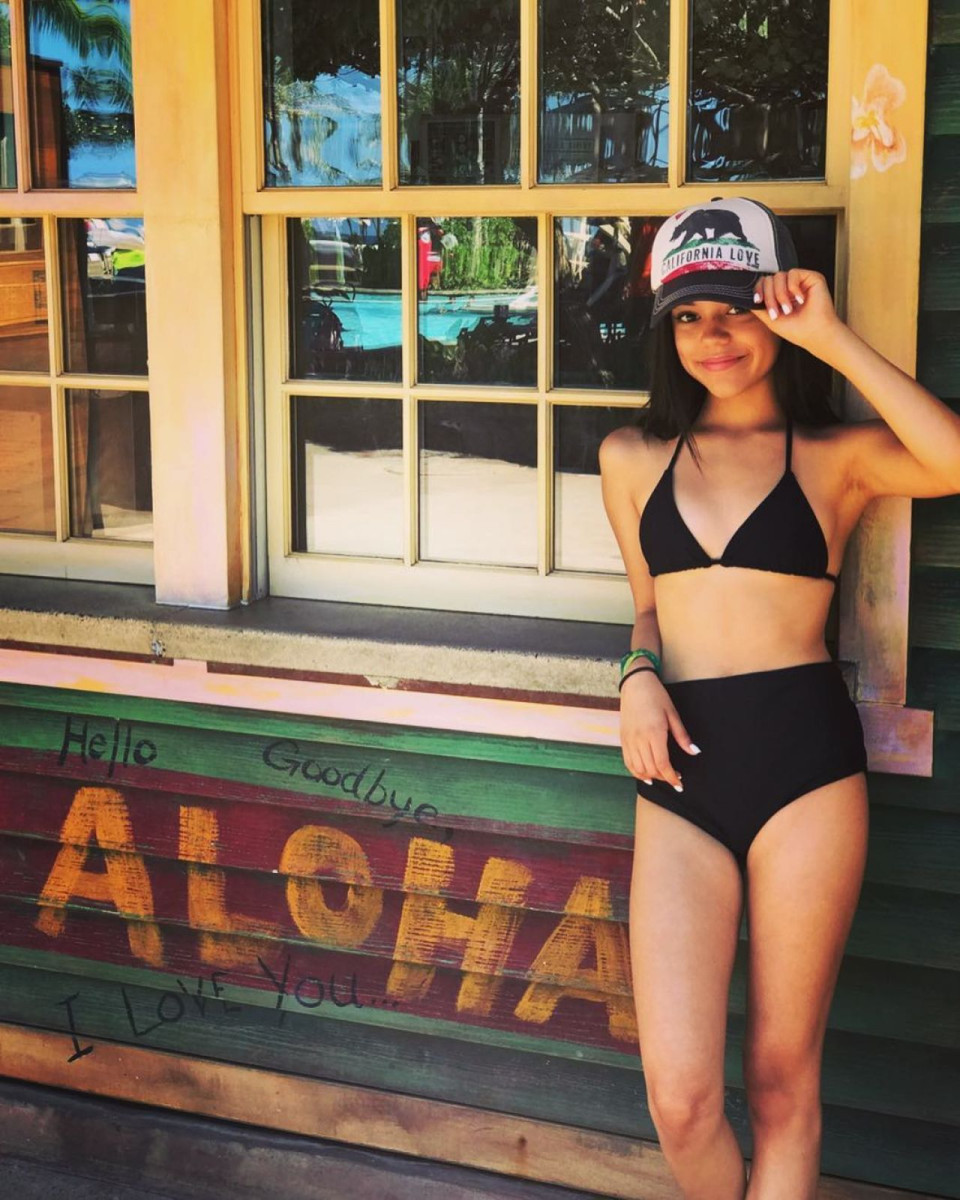 (Image/ Source: theplace2.ru)
Aloha to you too, Jenna! Here the actress is taking a much-needed break away from her hectic filming schedule. This photo was taken as the star spent some time soaking up the sun in Hawaii with her loved ones. We love her laid-back holiday style! Brownie points go to the baseball hat, which seems to be one of Jenna's favorite accessories these days.
24. Hot dawg
(Image/ Source: instagram.com)
As Jenna started to spend more and more time acting out her at-home monologues, her mom's friend from high school got in touch. She happened to know a casting director, and was keen to pass Jenna's details over. Some cute clips of Jenna were forwarded to him, and she was then asked to come in and audition. This photo is taken from one of those early clips of Jenna!
25. Glamazon
(Image/ Source: pinterest.com)
After she starred in the hit Netflix show
Wednesday
, Jenna Ortega's wardrobe went suitably goth. While she was getting ready for a fancy celebrity party, she shared this sneaky snap with fans, which gives a few subtle nods to her alter ego; there's the classic Wednesday white blouse, complete with a tie and checked bodice.
26. Sibling love
(Image/ Source: instagram.com)
With six brothers and sisters, Jenna's family life has always been pretty busy. But the actress has missed out on a lot of family time over the years, as well as normal activities like prom or graduation. "I think that's such an important part of life that I missed out on and wish I had had. I haven't really lived a normal lifestyle".
27. Down time
(Image/ Source: pinterest.com)
When the starlet DOES get some down time, she seems like nothing more than reading, listening to music and catching up with loved ones. There are still chores to do though! The
You
star said: "I get home from the set and they [my family] do not forget to tell me that there are dishes in the sink waiting for me. They keep my feet on the ground."
28. Come fly with me
(Image/ Source: instagram.com)
Now and again, Jenna will share a cute snap of her and her mom on Instagram- including this one of the pair jetting off on a flight to Romania as Jenna filmed
Wednesday
. And it seems the star's parents still worry about her quite a lot. "They get very nervous, especially because I haven't been home as much…I think it's hard for them to see me less and less and less", she said. "I'm a small girl, I travel a lot. They're more worried about the safety aspect of it all."
29. The glass box
(Image/ Source: pinterest.com)
Who could forget Joe's glass box in
You
? Most people never make it out alive, so it's understandable that Jenna's looking a bit upset about being in there! There's even a blood-soaked bed in shot, which tells you everything you need to know about Joe's temperament that day. We're not giving away any spoilers though…
30. Childhood dreams
(Image/ Source: instagram.com)
Jenna Ortega scored her first major TV role at age of ten, when she appeared in the CBS show
Rob
. And she's certainly very pleased about it! The starlet then went on to appear in
CSI: NY
, as well as the hit movie
Iron Man 3
. It didn't take long for her to be picked up by Disney, who catapulted Jenna into stardom.
31. The Black Hooded Outfit
Image source: allure.com
Ortega was channelling her gothy black vibes a while before she was cast as Wednesday - here showing off a sheer black hooded outfit, and dark black eyeliner that we definitely all tried at least once for our MySpace photos when we were younger. She's definitely come a long way with makeup and hair since then.
32. The Red Wolf Cut
Image source: allure.com
While Jenna Ortega is now best known for black hair and pigtails, she underwent a huge change in her style when she unveiled this new hair do on the premiere carpet. She shows off not only a shorter, choppy wolf cut, but a change in color to a reddy brown finish!
33. A More Revealing Lingerie Snap
Image source: musicmundial.com
The actress here posed with a more natural looking face of makeup and some earring accessories, before revealing that she was wearing a thin white lingerie dress that she then posted to Instagram. It's not overly revealing by today's standards, but she knew what she was doing!
34. Her Cute Tiny Ponytail
Image source: pinterest.com
Ortega here channelling her youth with an adorable little ponytail, and one of those black chokers that we definitely all had at some point. A younger looking Ortega here shows off black nail polish, which could be an unexpected foreshadowing to her Wednesday casting!
35. Ortega Poses With Official Wednesday Script
Image source: indiewire.com
It looks like she's already getting into character based on the completely unbothered expression she has on her face during this exciting time. This selfie reveals the script for Chapter One of the Netflix show Wednesday, while the actress herself still has light brown hair and definitely not in character yet!
36. Longer Waves
Image source: byrdie.com
You can usually tell when a photo is a throwback based on eyebrows and hair - don't ask us why, we just know. Thinner and less outlined eyebrows along with long, loose beach waves for some reason screams 'this is what I looked like 10 years ago'. Because we've all been there.
37. Bored, Jenna?
Image source: twitter.com
She's fed up about something, that's for sure. But here she is again showing off black nail varnish as a shout out to her character Wednesday! The fringe suggests that it could be around the same time she was playing her though. The phone case has certainly seen better days.
38. Messy Up Do
Image source: pinterest.com
Proving that she looks good with pigtails, her hair down or now up in a messy bun, Ortega poses in what looks like it could be the back of a car. Based on the outfit and that big feather detailing on her top, she could be on the way to another premiere. We're loving the hair, though.
39. Gothy Vibes
Image source: youngerhollywood.com
Here when she was younger, Ortega is definitely giving off that 'goth phase' vibe with her dark black hair, messy bun, huge loop earrings, very dark winged eyeliner and black clothes. Here she looks like she's on TV for an interview or maybe to promote something else she's been in.
40. A Beanie Hat... With A Veil?
Image source: femalefirst.com
If you thought you'd already seen it all celebrity fashion wise, how about a casual beanie hat with a formal lace veil attached to it? Is this the two sides of her fashion sense trying to come out at once? It doesn't mean it doesn't look great though - we're sure Wednesday would approve, because it's black.
41. Jenna The Football Fan
Image source: twitter.com
Did you know Jenna was into football? Here she is posing in her football shirt looking out onto the pitch. Apparently the actress has spoken about how she actually almost became a footballer as a career instead of an actress! They're both performing in their own ways.
42. Casual Selfie
Image source: pinterest.com
Here Jenna is showing off another hair and style look with this casual selfie - her hair here looks more mousy brown with a messy bed head look tied back, complete with someone everyone must own at least one of: a plaid shirt. She's also rockin' a great makeup look.
43. Where Could This Be?
Image source: pinterest.com
Is she on a plane? Train? Automobile? Is she in an airport not wanting to be disturbed? Either way her earbuds say she's listening to the latest and greatest playlist and she doesn't want to talk. Wanting to take selfies, though? That's a different matter.
44. Cute Winter Hat
Image source: pinterest.jp.com
Who says you can't wear a woolly winter hat when it looks warm outside? Either that or it's actually freezing and she's just forgotten to put on a coat. It looks like she's styled her hair in cute side buns, too. A casual look, but still a win - as always for Jenna Ortega!
45. Cheeky Selfie
Image source: pinterest.com
It's probably a rite of passage for celebrities to have at least one cheeky mirror selfie on their social media feeds - bonus points if you're scrunching up your face, winking and looking 'casual'. Here's Jenna in a black hoody, messy bun look and it's up to you to decide what she's trying to do with her other hand.
46. Yoghurt, Anyone?
Image source: pinterest.com
This one's almost like a riddle - does she want us to know she's eating a yoghurt? Is she telling us she's finished the yoghurt? Is she trying to promote the yoghurt? Your guess is as good as ours, but she's obviously enjoying her snack downtime wearing a comfy green hoody.
47. Posing In The Bathroom
Image source: pinterest.com
We all collectively know that the bathroom is probably the best place for selfies because of the mirror potential, and least it looks like she keeps hers nice and tidy! She may have forgotten to put on pants, though, or else she's wearing very short shorts under there.
48. The Era Of Glittery Hair Clips
Image source: pinterest.com
Blue is actually Jenna's color isn't it! Or maybe we're just not used to seeing her in anything brighter than black recently. She's also wearing adorable glitter hair clips which were definitely in fashion at some point - we all had them, but do you still have yours somewhere?
49. Naughty Or Nice List?
Image source: thelist.com
You can't even recognize that it's her, can you! Here's a very young Jenna Ortega wearing a cute Santa's hat posing in front of a Christmas tree. She definitely has to be on the nice list looking at this photo - because even Santa and his elves couldn't say no to this face.
50. Beach Day
Image source: pinterest.com
Celebrities sure do like to remind us how often they can hang out on beaches, looking great in a bikini, don't they? Here Jenna is posing in the sun and looking pretty happy about it. White bikinis don't work for everybody, but they definitely work for Jenna Ortega.