Young Celebs Who Look Just Like Old Celebs
1. Helen Mirren & Jennifer Lawrence

imagesource: Metro UK
British Helen Mirren has been a screen siren for over 50 years now. Jennifer Lawrence is one of today's s*x symbol, with her big eyes and full cheeks, people compare her to her British counterpart - young Helen Mirren an awful lot. What do you think?
2. Sophia Loren & Sofia Vergara

imagesource: Bright Side
Both Sofia Vergara and Sophia Loren share similar looks and personas. Modern day Sofia Vergara's sultry looks have shot her into superstardom in Hollywood, similar to her counterpart, Sophia Loren who was Hollywood's sexy screen siren for many years.
3. Ava Gardner & Liv Tyler

imagesource: Bright Side
Liv Tyler's delicately fair skin, dark hair and green eyes are what make her Ava Gardner's doppelganger. Ava Gardner was one of the biggest film stars of the 1940s and 50s - and Liv was definitely Hollywood's favorite actress throughout the 90s and 00s.
4. Sade & Jourdan Dunn

imagesource: Yahoo News UK
Sade was and still is one of the most beautiful and unique looking celebrities of the 80s. She doesn't seem to age and still looks as beautiful as ever so it must definitely be a compliment for supermodel, Jourdan Dunn to be compared to her in the looks department.
5. Tom Selleck & Ian Somerhalder

imagesource: Pinterest
The 70s and 80s mustache hunk, Tom Selleck reminds us a lot of The Vampire Diaries heart throb, Ian Somerhalder. Ian may not have the tache to match Selleck's but he's certainly just as handsome as the movie star was back in his heyday. Do you see this one?
6. Audrey Hepburn & Lily Collins

imagesource: Reddit
Both Audrey Hepburn and Lily Collins share a talent that not many people can really nail - acting! The two actresses share petite facial features and striking thick eyebrows. Collins has been compared to the late actress for many years now since being in the public eye.
7. Audrey Hepburn & Rooney Mara

imagesource: The Cut
Audrey Hepburn's lookalike, Rooney Mara has the same cropped bangs, close lipped smile and bold brows so it's not wonder Mara gets compared to the late Audrey Hepburn a lot. It's no surprise that Mara produced and starred in the biopic about the icons life.
8. Clark Gable & George Clooney
imagesource: Quora
The soft eyes and devilishly handsome looks make the late Clark Gable and George Clooney dead ringers of each other. Legendary actor Clark Gable was the heartthrob of his generation and it's definitely fair to say that George Clooney was and still is Hollywood's heartthrob.
9. Shalom Harlow & Olivia Wilde

imagesource: Brightside
Shalom Harlow and Olivia Wilde both have the same square shaped face and almond eyes and both are extremely beautiful women. This combo seems to be the key to them being very photogenic. Olivia is certainly growing older gracefully - she doesn't seem to be ageing at all!
10. Mick Jagger & Harry Styles

imagesource: Ultimate Classic Rock
It's safe to say that Harry Styles has a very unique look but so did legendary Rolling Stones singer, Mick Jagger. Both share similar nose and eyes and both have women falling at their feet. Well, Mick Jagger doesn't so much anymore, but he did at one time.
11. Helen Hunt & Leelee Sobieski

imagesource: PopSugar
1990s star and actress Helen Hunt and Leelee Sobieski have an extremely close resemblance. It's remarkable. Their oval face shape and serious stare have us questioning if they're actually related? Could it be long lost sisters? Or just amazing doppelgangers?
12. Fred Astaire & Vincent Cassel

imagesource: Bright SIde
Does French actor Vincent Cassel have the same dance moves as Fred Astaire? Maybe not, but we know for sure that they both look very similar in a lot of ways. Both have a strong chin and a slight grin - Vincent is a chip off the ole' block! This is a good one, what do you think?
13. Dorothy Dandridge & Maya Rudolph

imagesource: Pinterest
Actresses Dorothy Dandridge and Maya Rudolph share a lot of similar features, both share an oval-shaped face, a subtle smile and dark brown eyes. Maya Rudolph and Dorothy Dandridge are both very successful actresses of their respective generations, we love that for them.
14. Raquel Welch & Minka Kelly

imagesource: StyleCaster
Friday Night Lights star, Minka Kelly has quite a resemblance to actress Raquel Welch in more than one way. Their wide set eyes, stunning smile, beautiful long brown hair and full lips make the pair look like twins. If Minka looks anything like Raquel when she's older then she's very lucky!
15. Jayne Mansfield & Megan Fox

imagesource: elle
Megan Fox has had a slight transformation since first stepping out onto the red carpet. She may not share Jayne Mansfield's platinum blonde hair and brown eyes, but their full pouts and bold brows make the pair look nearly identical. Fox is today's Mansfield.
16. Carla Bruni & Bella Hadid

imagesource: Daily Mail
Carla Bruni and Bella Hadid are both extremely successful catwalk models and have had a lot of success in the fashion world. Bella Hadid's high cheekbones make her a dead ringer for Bruni back in the 1990s. Hadid is today's Carla Bruni for sure!
17. Zora Neale Hurston & Queen Latifah

imagesource: Pinterest
Queen Latifah is truly unique but when it comes to her looks, she has a resemblance of the novelist and folklorist Zora Neale Hurston. The singer and actress and Zora Neale Hurston both have very similar features making Latifah, Hurston's doppelganger for sure.
18. Marlon Brando & Dave Franco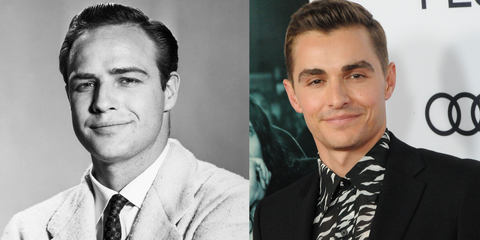 imagesource: elle
The coiffed hair, thick eyebrows and matching smirks make this pair look like they could be related! Their good looks and talent have got them both very far in Hollywood, making them sought-after leading men in some of the biggest movies of all time.
19. Lucille Ball & Debra Messing
imagesource: New York Post
Many people hold out hope that Debra Messing will get the chance to play Lucille Ball one day in a movie about her life. The fiery redheads seem to have more than their looks in common, and the pair are both said to have very similar personalities too.
20. Ginger Rogers & Christina Aguilera

imagesource: Pinterest
Christina Aguilera's 1940s icon Ginger Rogers shares a lot of similarities with the 00s blonde bombshell. They both made in Hollywood as singers, both donned the platinum blonde hair and are both as beautiful as each other. Literally twins, and we love them both!
21. Burt Reynolds & Mark Ruffalo

imagesource: Marie Claire
The handsome devil that was Burt Reynolds was both gorgeous to look at and a very talented actor. Mark Ruffalo & Burt Reynolds are both notoriously laid-back actors. Some say Ruffalo is this generations Reynolds, just a bit more rugged around the edges.
22. Marilyn Monroe & Gwen Stefani

imagesource: El Mundo
Gwen Stefani's timeless platinum blonde locks have always set her apart from the rest of the trend following celebs out there, The singer first started out with her blonde hair to emulate the screen star, but has loved it so much she's kept it since the late 90s. The red pout is just the cherry on top!
23. Cybill Shepherd & Reese Witherspoon

imagesource: Pinterest
Everyone's favourite blonde, Reese Witherspoon looks almost identical to The Last Picture Show starlet, Cybill Shepherd. With both of their piercing blue eyes and gorgeous features it's no wonder that both of these actresses have had great careers in the public eye.
24. Paul Newman & Ansel Elgort

imagesource: Yahoo Sport
Both Paul Newman and Ansel Elgort have worked on a number of successful films, both actors have full lips, and a movie star jawline. Ansel Elgort has been compared to Paul Newman on a number of occasions and it's definitely not a huge compliment in many ways.
25. Robert Redford & Brad Pitt

imagesource: Quora
The floppy blonde hair and chiseled jawline prove this pair are very alike. Both Hollywood actors were the heartthrobs of their respective generations and have both aged like fine wines (Robert Redford is no longer in the public eye after an extremely successful career).
26. Priscilla Presley & Lana Del Rey

imagesource: Pinterest
The dark hair, bold eyeliner and unique hair accessories make these two look like one and the same. Del Rey has admitted that Elvis's songs became the soundtrack of her life early on so it's no coincidence that she looks similar to his wife, Priscilla.
27. James Dean & Scott Eastwood

imagesource: The Rebel Heart
Scott Eastwood took after his father when it came to his devilishly handsome good looks. He has largely been compared to his father, Clint Eastwood but also to the Rebel Without A Cause actor, the late James Dean. The pair both have both mastered the famous eye squint.
28. Jeff Bridges & Liam Hemsworth

imagesource: Bright Side
Jeff Bridges had that laid back attitude, he was the cool guy of Hollywood at one point, just like Liam Hemsworth. A young, clean cut Bridges was the spitting image of the youngest Hemsworth brother, Liam. The Aussie actor has lot of hearts throbbing like Bridges did all those years back.
29. James Brolin & Christian Bale

imagesource: Pinterest
The deep set brown eyes. prominent nose and strong brows make these two basically twins. Well, not exactly twins but they look a lot alike don't they?! A young Josh Brolin could have given Christian a run for his money to get the main role in Batman.
30. Judy Garland & Katherine Heigl

imagesource: Celebrities And Their Vintage Doppelgangers
Despite the difference in hair colors, these two look like twins. Back in the day Judy Garland had a round shaped face, dark eyes and a button nose just like Katherine Heigl. Both Judy & Katherine have had extremely successful acting careers in their time.